T. T. V. Dhinakaran Wiki, Biography, Political Party, AIADMK, Caste, Family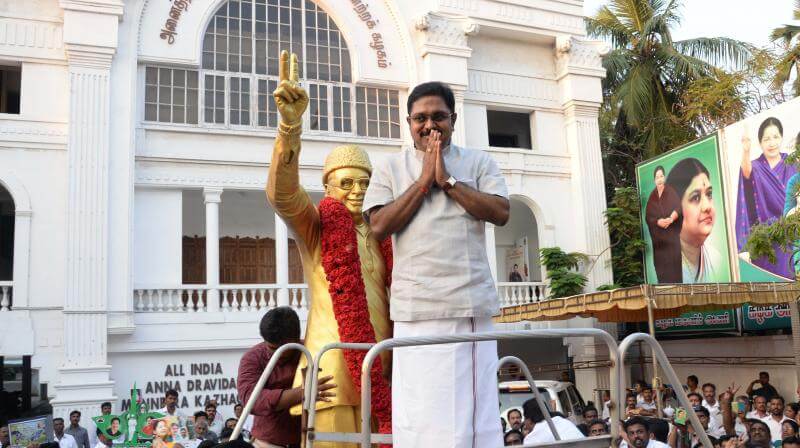 T.T.V Dinakaran is an Indian Politician and former Deputy General Secretary of the political party, All Indian Anna Dravida Munnetra Kazhagam (AIADMK). He launches his won Political Party named "Amma Makkal Munnetra Kazhagam" on 15 March 2018. T.T.V Dinakaran along with  18 disqualified MLA's and other supporters gathered at Melur to unveil their Party name. He is the son of Vanithamani and nephew of AIADMK's former chief Sasikala Natarajan. Dhinakaran comes from a Mannargudi family and one among TTV brothers Sudhakaran and Bhaskaran. He is former Member of Parliament in Rajya Sabha. Recently, he has taken a huge victory with a difference of 40,707 votes and won the RK Nagar by-election. He became a Member of Legislative Assembly. He was also a Member of Lok Sabha, representing Periyakulam from 1999 to 2004, and was runner-up in the seat as 2004 general election when he was defeated by J. M. Aaron Rashid. Check out below for T. T. V. Dhinakaran Wiki, Biography, Political Party, AIADMK, Caste, Family, Net Worth
Read Other Biographies: Amma Makkal Munnetra Kazhagam | P. Vetrivel | E. Madhusudhanan Wiki | Deepa Jayakumar |  H.Raja | Piyush Manush | Thirumugan Gandhi | Arun Krishnamurthy | Karuppaiah aka Karu Nagarajan Wiki (BJP) | Subburaman Thirunavukkarasar Wiki (Congress) | Marudhu Ganesh Wiki (DMK) | Jayalalithaa Daughter Amrutha Sarathy Wiki | Jayalalitha Sister Shailaja Jayaram Wiki
T. T. V. Dhinakaran Political Life
In 1998, T. T. V. Dhinakaran was introduced into ADMK party with the influence of V.K.Sasikala, along with other Mannarkudi family members. He won a general election from Periyakulam constituency in 1999 and elected to Lok Sabha from ADMK party.
Later in 2004 he was also a member of Rajya Sabha and served till 2010. In 2011, after J Jayalalitha sacked Mannargudi Mafia family from AIADMK party for being corruptive in many cases, Dhinakaran is one among the person.
Later in 2012, V. Sasikala was back to Poes Garden however Jayalalithaa not extended any invitation to other family members. Dhinakaran has also been credited with grooming O Panneerselvam in 2001 and important person in ADMK from Family of Mannargudi.
Soon after J Jayalalithaa's death, O.Pannerselvam was made the Cheif Minister of Tamil Nadu and V.K.Sasikala was made the General Secretary of the AIADMK party. Later in 2017, V K Sasikala make him as the Sidelined deputy general secretary of AIADMK Party. While he was a candidate in the RK Nagar election, Delhi police registered a case against him regarding an allegation of attempting to bribe the Election Commission of India (ECI) for the AIADMK's election symbol.
It is claimed that Sukesh Chandrasekhar, a middle man was found with 1.3 crores, was raided and arrested in Delhi. He told in an investigation that the money had given by Dhinakaran for the AIADMK Symbol 'Two Leaves' which allegedly meant as a bribe for the ECI in exchange for the symbol. He has been charged with conspiracy and corruption in the case and later, he was released.
After all these cases, he again filed his papers as an independent candidate for the RK Nagar by-election. Before he filing his nomination, he met his aunt Sasikala in Bengaluru parappana agrahara prison and discussed about his participation.
In RK Nagar by-election, T.T.V Dhinakaran has taken a huge victory with a difference of 40,707 votes. The result was unexpected by the people and there were many question raised for the vote differences.
He has won the RK Nagar by-election massively without the two-leaves symbol and the support of most of the ruling party members. This victory is a historic one for him.
Read Other Biographies: P. Vetrivel | E. Madhusudhanan Wiki | Deepa Jayakumar |  H.Raja | Piyush Manush | Thirumugan Gandhi | Arun Krishnamurthy | Karuppaiah aka Karu Nagarajan Wiki (BJP) | Subburaman Thirunavukkarasar Wiki (Congress) | Marudhu Ganesh Wiki (DMK) | Jayalalithaa Daughter Amrutha Sarathy Wiki | Jayalalitha Sister Shailaja Jayaram Wiki
T. T. V. Dhinakaran Political Career
Lok sabha MP 1999-2004 from periyakulam.
Rajya sabha MP 2004-2010
Member of the legislative Assembly of Tamil nadu 2017
T. T. V. Dhinakaran Biography
| | |
| --- | --- |
| Name | T. T. V. Dhinakaran |
| Real Name | T. T. V. Dhinakaran |
| Nickname | Dhinakaran |
| Profession | Indian Politician and Member of Legislative Assembly |
| Date of Birth | 13 December 1963 |
| Age | 54 |
| Father Name | T. Vivekanandam |
| Mother Name | T. Vanithamani |
| Height | 5 ft 6 in |
| Weight | 86 Kg |
| Zodiac Sign / Sun Sign | Not Known |
| Religion | Hinduism |
| Educational Qualification | Yet to be Updated |
| Hobbies | Yet to be Updated |
| Hometown | Mannargudi, Tamil Nadu, India |
| Nationality | Indian |
| Married | Yes |
| Wife Name | D. Anuradha |
| Current City | Chennai, Tamil Nadu, India |
T. T. V. Dhinakaran Facebook: https://www.facebook.com/ttvdinakaran/
T. T. V. Dhinakaran Twitter: https://twitter.com/ttvdhinakaran
T. T. V. Dhinakaran Instagram: Yet to be updated
T. T. V. Dhinakaran Images
Read Other Biographies: P. Vetrivel | E. Madhusudhanan Wiki | Deepa Jayakumar |  H.Raja | Piyush Manush | Thirumugan Gandhi | Arun Krishnamurthy | Karuppaiah aka Karu Nagarajan Wiki (BJP) | Subburaman Thirunavukkarasar Wiki (Congress) | Marudhu Ganesh Wiki (DMK) | Jayalalithaa Daughter Amrutha Sarathy Wiki | Jayalalitha Sister Shailaja Jayaram Wiki