Jassie Gift Wiki, Biography, Age, Songs List, Family, Images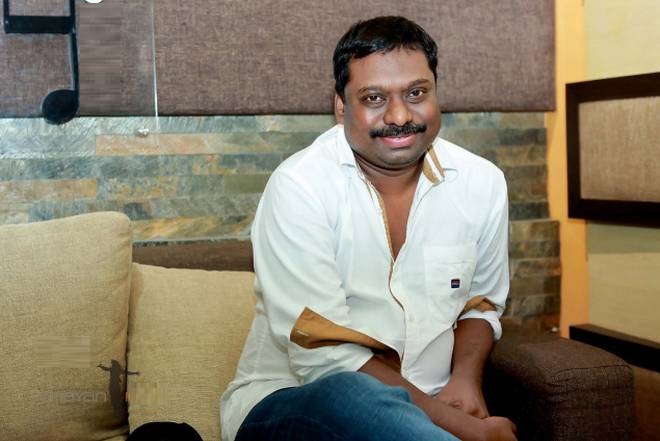 Jassie Gift is an Indian movie music composer and playback singer, who works predominantly works in Malayalam film industry. He not only compose songs for Malayalam movie he used to compose songs for other languages like Kannada, Telugu and Tamil films. He made his debut song for the movie Saphalam in the year 2003. He recently worked for the movie Solli Vidava / Prema Baraha which is a Tamil and Kannada movie. Check out below for Jassie Gift Wiki, Biography, Age, Songs List, Family, Images and more.
Read other biographies: Santhosh Narayanan | HipHop Tamizha Adhi | Anirudh Ravichander | D Imman | Sam CS | Darbuka Siva 
Jassie Gift Details
Jassie Gift was born in Thiruvananthapuram, Kerala, India. Jassie Gift family is now residing in Bangalore, Karnataka. His father name is Gift Israel and his mother name will be updated soon. He did his schooling in Mar Thoma High School, Thiruvananthapuram and he did his graduation in University College Thiruvananthapuram, Kerala. He is much fond of music from his childhood, with that, he is highly influenced by western music. Moreover, he is the singer and keyboard player of the band Moby Dick. Jassie Gift wife name is Athulya Jayakumar who is an information technology researcher at Kannur University and they both got married on 12 September 2012.
He entered into the Malayalam film industry with the guidance of director Jayaraj. Once before he enters into the movie music composition he composed songs for a couple of music albums in Malayalam in that Soona Soona is a hit album. His medley of western and Indian music became quite popular among the listeners which create a new genre of Malayalam film dance music. He made his first composition for the movie Saphalam and he became popular in Kerala with his song "Lajjavathiye" in the movie 4 the people. He also composed music for Tamil and Telugu movies as well. He made his debut Tamil movie Thee Nagar in the year 2007 and he made his debut Kannada movie Hudugaata. He also grabs the Best Music Director award at The Bangalore Times Film Awards 2011.
Jassie Gift Biography
| | |
| --- | --- |
| Name | Jassie Gift |
| Real Name | Jassie Gift |
| Nickname | Jassie |
| Profession | Film Music composer and Playback singer |
| Date of Birth | Yet to be Updated |
| Age | Yet to be Updated |
| Zodiac sign | Yet to be Updated |
| Father Name | Gift Israel |
| Mother Name | Yet to be Updated |
| Religion | Christian |
| Educational Qualification | Graduate |
| School | Mar Thoma High School, Thiruvananthapuram, |
| College | University College Thiruvananthapuram, Kerala |
| Hobbies | Composing, Singing, and Listening Music |
| Hometown | Thiruvananthapuram, Kerala, India |
| Nationality | Indian |
| Married | Yes |
| Wife Name | Athulya Jayakumar |
| Current City | Bangalore, Karnataka |
Jassie Gift Facebook: https://www.facebook.com/jassie.gift
Jassie Gift Twitter: Yet to be updated
Jassie Gift Instagram: Yet to be updated
Jassie Gift a
s a Composer
Year
Film Title
Language
Notes
2003
Saphalam
Malayalam
2003
The King Maker Leader
Malayalam
2004
4 the people
Malayalam
Won Vanitha Film Award for Popular Song[Best Music Director]Won Asianet Film Award for popular Singer
2004
Ennittum
Malayalam
2004
Rain Rain Come Again
Malayalam
2005
December
Malayalam
2006
Aswaroodan
Malayalam
2006
Balram vs. Tharadas
Malayalam
2007
Hudugaata
Kannada
2007
Thee Nagar
Tamil
2007
Saval
Telugu
2008
Vilayattu
Tamil
2008
Shambhu
Malayalam
2009
Pattalam
Tamil
2009
Hatrick Hodi Maga
Kannada
2009
Parichaya
Kannada
2010
Pokkiri Raja
Malayalam
2010
3 Char Sau Bees
Malayalam
2011
Sanju Weds Geetha
Kannada
Won Filmfare Award for Best Music Director
Won Suvarna Film Award for Best Music Director
Won The Bangalore Times Best Music Director Award
2011
China Town
Malayalam
2011
Shyloo
Kannada
Ishaan Dev Best male singer& up coming singer (Mirchi Music Awards 2011 south )
2011
Angane Thudangi
Malayalam
2011
Seniors
Malayalam
2012
Dev Son of Mudde Gowda
Kannada
2012
Nidra
Malayalam
2012
Kiladi Kitty
Kannada
2012
Naughty Professor
Malayalam
2012
Achante Aanmakkal
Malayalam
2012
Galaate
Kannada
2012
Thiruvasagam
Tamil
2012
Myna
Kannada
Nominated Filmfare Award for Best Music DirectorWon Mirchi Music Award South-Composer of the year

Won ETV Sangeet Samman Award for Best Music Director

2013
D Company
Malayalam
Guest Composer
2013
Dirty Picture: Silk Sakkath Maga
Kannada
2014
Aryan
Kannada
2014
Masala Republic
Malayalam
2014
Hara
Kannada
2014
Sivajinagara
Kannada
2015
Rebel
Kannada
2015
Male
Kannada
2015
Love You Alia
Kannada
2015
Style
Malayalam
2016
Appuram bengal Eppuram thiruvithamkoor
Malayalam
2016
Tyson
Kannada
2016
Kala Bhairava
Kannada
2016
Crazy Boy
Kannada
2016
Eera Veyil
Tamil
2016
Dum
Malayalam
2016
Zoom
Malayalam
Guest Composer
2017
Hai
Kannada
2017
Chicken Kokkachi
Malayalam
2017
Jani
Kannada
25th film as composer in Kannada
2018
Rajasimha
Kannada
2018
Solli Vidava / Prema Baraha
Tamil / Kannada
As a singer – 

Kannada songs
Mandakiniye Née Seedilina Kiliye Album: Hudugata
Stylo Stylo Album: Hudugata
Ommeme Heegu: Hudugata
Kode Kode Kobri Mitayi: Suntaragaali
Rock Your Body: Krishna
Duniya Ninde Nee Hodimaga : Hatrick Hodi Maga
Ravana Seethe Kadda : Sanju Weds Geetha
Ee Manasinali : Shyloo
Kariya Kariya : Shivajinagara
Nannedeya Pustaka, Marethu Bidu and Bulbul : Male
Malayalam songs
Annakkili Album: 4 The People
Lajjavathiye Ninte Album: 4 The People
Ninte Mizhimuna Album: 4 The People
Kannampothi Album: Rain Rain Come Again
Kiss of Death Album: Rain Rain Come Again
Krishna Album: Rain Rain Come Again
Maya Mazhayae Album: Rain Rain Come Again
Nillu Nillu Album: Rain Rain Come Again
Poovinnullil Album: Rain Rain Come Again
Thenmmadikate Album: Rain Rain Come Again
Pavakali album: Makalkku
Kadumthudi: December
Niramanam: December
Matthaapoo Album: Balram vs. Tharadas
Pada Pedichu Album: Ennittum
Kunninte Meethe: Achanurangatha Veedu
Pottu Thotta: Palunku
Ente Saghiye: Nanma
Anthivarum Album: Aswaroodan
Azhakaalila Album: Aswaroodan
Oru Penkidaavu Album: Prajapathy
Nerathe Kalathethi: Speed Track
Chemban Kaale: Annan Thampi
Attam Bombumayi: One Way Ticket
Thattum Muttum Thalam Album: Puthiya Mukham
Gokula Paala: Parthan Kanda Paralokam
Ponalle Minnalle: Robin Hood
Ole oleIn Ghost House Inn
Manikya Kallin album: Pokkiri Raja
Muthu Penne: Njan steve lopez
Uppinu Pokana: Utopiayile rajavu
Kavalam Kayalil: ATM
Kalla Kannaal Karalinakath: Anyarkku Praveshanamilla
Onnu Randu Moonu: Gold Coins
Theyyamthara: Kadam Katha
Title Track: Masterpiece
Mylanchi: Masterpiece
Mutta Song: Rosapoo
Thamarapoo: Kuttanadan Marpappa
Peda Glassu: BTech
Tamil songs
Ketta Kodukkira Boomi Album: Sandakozhi Chinmayee, Ganga, Jassie Gift, Sujatha Composer : Yuvan Shankar Raja
Ramana Porandhalum Album: Sadhu Miranda Jassie Gift, Vineetha Composer : Deepak Dev
Unna Petha Aatha Album: Kedi Jassie Gift, Suchitra Composer : Yuvan Shankar Raja
Sevvanam Selaikatti Album : Mozhi Jassie Gift Composer : Vidyasagar
Veyilodu Vilaiyadi Album : Veyil Kailash Kher, Jassie Gift, Tippu, Prasanna RagavendarComposer : G V Prakash Kumar
Andang Kaka Album : Anniyan Jassie Gift, KK, Shreya Goshal, Saindhavi Composer : Harris Jayaraj
Gundu Manga Thoppukkulle Album : Sachein Jassie Gift, Malathi Laksman Composer : Devi Sri Prasad
Undan Vizhimunai Album : 4 Students Jassie Gift, Ganga Composer : Jassie Gift
Lajjavathiye Album : 4 Students Jassie Gift, Chorus Composer : Jassie Gift
Annakilli Album : 4 Students Jassie Gift, Chorus Composer : Jassie Gift
Lajjavathiye (English Version) Album : 4 Students Jassie Gift Composer : Jassie Gift
Are are Shambo Album : Alibhabha Jassie Gift. Composer: Vidhyasagar
Kaatu Puli Adichi ( Album- Peranmai ) Jassie Gift, Kay Kay. Composer – Vidhyasagar
Kiliye kiliye Album : "'Something Something Unakum Yenakum "' Jassie Gift, Devi Sri Prasad. Composer – Devi Sri Prasad
Annakkiliye Album: Kai thunindavan Jassie Gift, Anitha Shaiq Composer : Ishaan Dev
Anbillama Karanchadhu Album: Mandhira Punnagai Jassie Gift, Composer : Vidhyasagar
Peela Peela Album: Thaanaa Serndha Koottam Nakash Aziz, Jassie Gift, Mali, Composer: Anirudh Ravichander
Karakudi Ilavarasi En Nenja Album: Kalakalappu 2 Jassie Gift, Sudharshan Ashok Composer: Hiphop Tamizha
Telugu Songs
Malleswarive Album: Yuva Sena
Vonee vesukunna, Album: Yuva Sena
Ye Dikkuna Nuvvunna, Album: Yuva Sena
Tension Odhu Mama, Album: Aaru
Nuvvasalu Nachale, Album: Ashok (film)
Bulligownu, Album: Ranam
Ammadi Alladi, Album: Vallabha
College Papala, Album: Vikramarkudu
Rabasa Rabasa, Album: Yuvakulu
Seema Chintakayalu, Album: Yuvakulu
Ossa Re, Album: Happy
Korameenu, Album: Raju Bhai
Rolling Title Music,Album: Magadheera
Nath Nath Badrinath,Album: Badrinath (film)
Kodikoora silugani,Album: Andarivadu
Adire Adire,Album: Nuvvostanante Nenoddantana
Osey Osey,Album: Julayi
Pavu takkuva Tommidi,Album: Nachavule
Nuvvante naku chala istame,Album: Heart Attack
Yerra Yerra Cheera: Current Theega(2014)
Jassie Gift Images
Read other biographies: Sivamani | Stephen Devassy | Justin Prabhakaran | Hitesh Sonik | A.H.Kaashif | Leon James |  C Sathya