Haricharan Wiki, Biography, Age, Songs List, Family, Images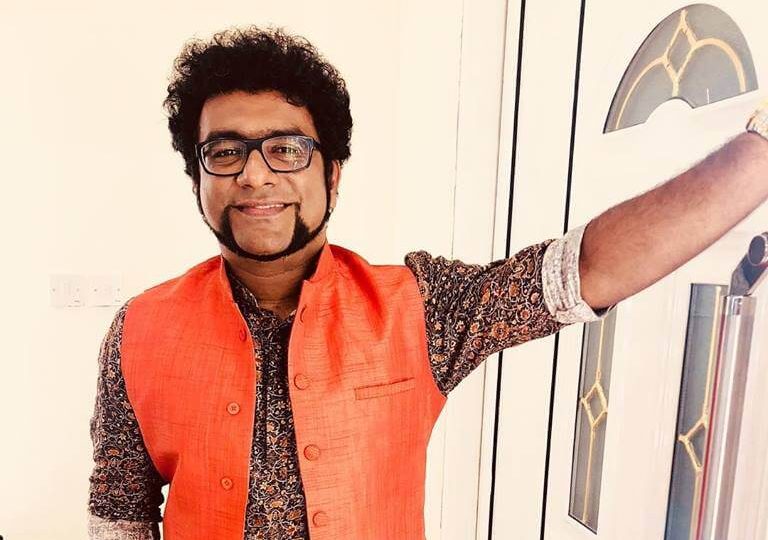 Haricharan is an Indian Vocalist, Playback singer and Musician, who mostly works in Tamil, Malayalam and Telugu film industries. He made his debut songs "Unakkena Iruppen", "Thottu Thottu", and "Kaadhal" along with Harini Sudhakar from the movie Kaadhal which is composed by Joshua Sridhar in the year 2004. Now he is working in various movies like Kannakkol, Abrahaminte Santhathikal, My Story and Sammohanam. Check out below for Haricharan Wiki, Biography, Age, Songs List, Family, Images and more.
Read other biographies: Mahathi | Aparna Vinod | Hebah Patel | Aalap Raju | Sanam Puri | Reena Bhardwaj 
Haricharan Details
Haricharan was born on 20 March 1987 in Chennai, Tamil Nadu, India. Haricharan grandfather is P. S. Ganapathy was an organiser of mic-less Carnatic concerts under the name "Aalapanaa" and his grandmother Smt. Alamelu Ganapathy who is the national award winner in Mathematics and she is been in academics for 35 years. Moreover, his father G. Seshadri is a B grade artist in AIR and who is a bank employee and his mother Latha is a librarian in P. S. Senior Secondary School. He did his schooling in  P.S.Senior Secondary School, Chennai and he did his graduation in Misrimal Navajee Munoth Jain Engineering College and Loyola college Pondicherry University. Then he started learning Carnatic music at the age of Seven under Smt. Sethu Mahadevan, and then from other stalwarts like K. V. Narayanaswamy, T. M. Prabhavathi and P. S. Narayanaswamy. Haricharan wife name is Pavithramala they both got married in 2013.
He started his music career in the year 2004, from the movie Kaadhal which is composed by the Music Director Joshua Sridhar at the age of 17 and in this movie he made three songs as the debut. Then his song "Unakkena Iruppen" was nominated for the National Film Awards in 2005, with that, he became widely popular among the people. Later he recorded various hit songs for different music directors across the south, predominantly in Tamil, Kannada, Telugu and Malayalam languages. Moreover, he became famous from the song "Thuli Thuli" and he is one of the playback singer mostly used by Yuvan Shankar Raja. He has also sung the Rotaract Change Anthem for RI Dist 3230. In the year 2012, he sang alongside Rajinikanth for the song "Maattram Ondrudhaan Maradhadhu" for the movie Kocadaiiyaan which is composed by A. R. Rahman and it is released in 2014.
Haricharan Biography
| | |
| --- | --- |
| Name | Haricharan |
| Real Name | Haricharan Seshadri |
| Nickname | Hari |
| Profession | Singer |
| Date of Birth | 20 March 1987 |
| Age | 31 (As of July 2018) |
| Zodiac sign | Yet to be Updated |
| Father Name | G. Seshadri |
| Mother Name | Latha |
| Religion | Hindu |
| Educational Qualification | B.E (computer science) and Pursuing MBA |
| School | P.S.Senior Secondary School, Chennai |
| College | Misrimal Navajee Munoth Jain Engineering College and Loyola college Pondicherry University |
| Hobbies | Singing and Listening Music |
| Hometown | Chennai, Tamil Nadu, India |
| Nationality | Indian |
| Married | Yes |
| Wife Name | Pavithramala |
| Current City | Chennai, Tamil Nadu, India |
Haricharan Facebook: https://www.facebook.com/haricharanmusic/
Haricharan Twitter: https://twitter.com/haricharanmusic
Haricharan Instagram: https://www.instagram.com/haricharanmusic
Haricharan Songs list
Year
Film
Song
Music Director
Co-Singer(s)
Language
2004
Kaadhal
"Unakkena Iruppen"
"Thottu Thottu"
"Kaadhal"
Joshua Sridhar
Harini Sudhakar
Tamil
2005
February 14
"Idhu Kadhala"
Bharathwaj
Tamil
2006
Parijatham
"Unnai Kandene"
Dharan
Shruthi
Tamil
Pattiyal
"Poga Poga Boomi Virikiradhe"
Yuvan Shankar Raja
Vijay Yesudas, Harini Sudhakar, Saindhavi
Tamil
Unnale Unnale
"Vaigaasi Nilave"
Harris Jayaraj
Madhushree
Tamil
Kalabha Kadhalan
"Mann Meedu"
Niru
Tamil
2007
Deepavali
"Thoduven"
Yuvan Shankar Raja
Maya
Tamil
Kannamoochi Yenada
"Megam Megam"
"Andru Vandhadhum"
Shweta Mohan
Shankar Mahadevan
Tamil
Vel
"Ottraikannale"
Suchitra
Tamil
Thottal Poo Malarum
"Arabu Naade"
"Ennai Pidicha"
Yuvan Shankar Raja
Tamil
Chennai 600028
"Jalsa"
Ranjith, Tippu, Karthik, Premgi Amaren
Tamil
Kalloori
"Sariya Idhu Thavara"
"Unnarugil Varugayil"
"Kalloori"
Joshua Sridhar
—
Harini Sudhakar
—
Tamil
Vaazhthugal
"Pookal Rasithathu"
"Endhan Vaanamum"
"Kannil Vandhadhum"
Yuvan Shankar Raja
—
Mahathi
—
Tamil
2008
Yaaradi Nee Mohini
"Oh Baby Oh Baby"
Andrea Jeremiah, Naveen, Bhargavi
Tamil
Vennila Kabadi Kuzhu
"Uyiril Yedho"
V. Selvaganesh
Tamil
Saroja
"Dosth Bada Dosth"
Yuvan Shankar Raja
Naveen, Rahul Nambiar
Tamil
Dhaam Dhoom
"Aazhiyile"
Harris Jayaraj
Tamil
Laadam
"Siru Thoduthalile"
Dharan
Bombay Jayashree
Tamil
2009
Siva Manasula Sakthi
"MGR Illenge"
Yuvan Shankar Raja
Tamil
Ayan
"Oyaayiyae"
Harris Jayaraj
Benny Dayal, Chinmayi
Tamil
Adhe Neram Adhe Idam
"Adhu Oru Kaalam"
"Mudhal Murai"
Premgi Amaren
Premgi Amaren
Harini, Tippu
Tamil
Thiru Thiru Thuru Thuru
"Jillena Veesum"
Mani Sharma
Saindhavi
Tamil
Siddu
"Kelu Kelu"
Dharan
Ganja Karuppu
Tamil
Leelai
"Unnai Partha Pinbu"
Satish Chakravarthy
Marrianne
Tamil
2010
Paiya
"Thuli Thuli"
Yuvan Shankar Raja
Tanvi Shah
Tamil
Angadi Theru
"Un Perai Sollum"
G. V. Prakash Kumar
Naresh Iyer, Shreya Ghoshal
Tamil
Baana Kaathadi
"Kuppathu Rajakkal"
Yuvan Shankar Raja
Rahul Nambiar, Sathyan
Telugu
The Thriller
"Priyankari"
Dharan
Mamta Mohandas
Malayalam
Boss Engira Bhaskaran
"Yaar Indha Penthan"
Yuvan Shankar Raja
Tamil
2011
Deiva Thirumagal
"Aariro"
G. V. Prakash Kumar
Tamil
Om Shakti
"Kadhal Desam"
Mani Sharma
Shweta Mohan
Telugu
Ponnar Shankar
"Kodi Katti Koduthalum"
Ilaiyaraaja
Sathyan
Tamil
Ko
"Gala Gala"
Harris Jayaraj
Tippu, Krish, Sayanora Philip
Tamil
Yuvan Yuvathi
"24 Hours"
Vijay Antony
Tamil
Avan Ivan
"Rasathi"
Yuvan Shankar Raja
Tamil
Mankatha
"Machi Open The Bottle"
Mano, Tippu, Naveen, Premgi Amaren
Tamil
Velayudham
"Rathathin Rathamay"
Vijay Antony
Srimathumitha
Tamil
Rowthiram
"Senganthal"
Prakash Nikki
Tamil
Panjaa
"Yela Yela"
Yuvan Shankar Raja
Shweta Pandit
Telugu
Rajapattai
"Podi Paiyyan Polave"
Tamil
Vettai
"Damma Damma"
Shweta Mohan
Tamil
Pesu
"En Per Devadhai"
Roshini
Tamil
2012
Marina
"Kadhal Oru"
Girissh G
M. M. Manasi
Tamil
Maalai Pozhudhin Mayakathilaey
"Yaaro Ivalo"
Achu
Tamil
Padmasree Bharat Dr. Saroj Kumar
"Mozhikalum Mounangalum"
Deepak Dev
Malayalam
Mallu Singh
"Oru Kinginikkaattu Vannu"
M. Jayachandran
Navraj Hans
Malayalam
Thaandavam
"Oru Paadhi Kadhavu"
G. V. Prakash Kumar
Vandana Srinivasan
Tamil
Ustad Hotel
"Vaathilil Aa Vaathilil"
Gopi Sunder
Malayalam
Endukante… Premanta!
"Nee Choopule"
G. V. Prakash Kumar
K. S. Chithra
Telugu
Andala Rakshasi
"Yemito"
Radhan
Telugu
Sundarapandian
"Kadhal Vandhu"
N. R. Raghunanthan
Tamil
Ladies and Gentlemen
"Pranayame"
Ratheesh Vega
Saindhavi
Malayalam
916
"Kiliye Cherukiliye"
"Chenthamara Theno"
M. Jayachandran
K.S. Chithra
Mridula Warrier
Malayalam
Kumki
"Ayayayyo Aananthamey"
D. Imman
Tamil
Mr. Nookayya
"Oke Oka Jeevitham"
Yuvan Shankar Raja
Telugu
2013
Kadal
"Anbin Vaasale"
A.R.Rahman
Tamil
Ambikapathy
"Unnal Unnal"
Hariharan, Pooja Vaidyanath
Tamil
Googly
"Googly Gandasare"
"Yeno Yeno Aagide"
Joshua Sridhar
Kannada
Neram
"Kaatru Veesum"
Rajesh Murugesan
Tamil
Malayalam
Yaaruda Mahesh
"Pudhu Paarvai"
Gopi Sunder
Priya Himesh
Telugu
Thillu Mullu
"Aaja Aaja"
Yuvan Shankar Raja
Priya Himesh
Tamil
Theeya Velai Seiyyanum Kumaru
"Enna Pesa"
C. Sathya
Tamil
Maryan
"Sonapareeya"
A.R.Rahman
Javed Ali, Nakash Aziz
Tamil
Thalaivaa
"Thalaivaa Thalaivaa"
G. V. Prakash Kumar
Pooja Vaidyanath
Tamil
KQ
"Azhakolum Maariville"
Stephen Devassy
Saptaparna Chakraborty
Malayalam
Pattathu Yaanai
"Raja Raja Naandhanae"
S. Thaman
Udit Narayan
Tamil
Ainthu Ainthu Ainthu
"Vizhiyile Vizhiyile"
Simon
Chinmayi, Blaaze
Tamil
Pattam Pole
"Mazhaye Thoomazhaye"
M. Jayachandran
Mridula Warrier
Malayalam
Endrendrum Punnagai
"Ennatha Solla"
Harris Jayaraj
Karthik
Tamil
London Bridge
"Kannaadi Vaathil"
Rahul Raj
Malayalam
Kalimannu
"Ganapathi"
M. Jayachandran
Malayalam
2014
Aaha Kalyanam
"Bon Bon"
Dharan
Sunidhi Chauhan
Tamil
Kochadaiiyaan
"Maattram Ondrudhaan Maaradhadhu"
"Manamaganin Sathiyam"
A.R.Rahman
Rajinikanth, V. Umashankar
—
Tamil
Bangalore Days
"Ethu Kari Raavilum"
Gopi Sunder
Malayalam
Amara Kaaviyam
"Yedhedho Ennam"
M. Ghibran
Padmalatha
Tamil
Pulivaal
"Kichu Kichu"
N. R. Raghunanthan
Anitha
Tamil
Vaaraayo Vennilaave
"Unnidam Ondrai"
"Intha Aylesa"
Karthik Raja
Aditi Paul, Saindhavi
Ramya NSK, Ranjith, Rita
Tamil
Saivam
"Ore Oru Ooril"
G. V. Prakash Kumar
Tamil
Manglish
"Daffodle Poove"
Gopi Sunder
Jyothsna
Malayalam
Megha
"Kalvane"
Ilaiyaraaja
Ramya NSK
Tamil
Manam
"Edi Prema Prema"
Anup Rubens
Telugu
Mundasupatti
"Idhu Enna Kannil"
Sean Roldan
Tamil
Oru Oorla Rendu Raja
"Mazhakaatha"
D. Imman
Vandana Srinivasan & Maria Roe Vincent
Tamil
Vaayai Moodi Pesavum
"Podhum Nee Ini"
Sean Roldan
Chennai Strings
Tamil
Kaaviya Thalaivan
"Vaanga Makka Vaanga"
"Aye Mr. Minor"
"Sandi Kuthirai"
"Alli Arjuna Series-Vandhanam Vandhanam"
A.R.Rahman
–
Dr.Narayan
Shashaa Tirupati
Bela Shende
Tamil
I
"Pookkalae Sattru Oyivedungal"
Shreya Ghoshal
Tamil
Thirudan Police
"Deivam Enbathenna"
Yuvan Shankar Raja
Tamil
Pradhi Nayagan
"Naadaga Gaanangal"
A.R.Rahman
K. S. Chithra
Malayalam
Govindudu Andarivadele
"Kokkokodi"
Yuvan Shankar Raja
Karthik (singer), M. M. Manasi, Rita
Telugu
Lovers
"O Maina Maina"
JB
Tamil
Iyobinte Pusthakam
"Raave"
Neha Nair & Yakzan Gary Pereira
Neha Nair
Malayalam
Lingaa
"Unmai Orunaal Vellum"
A.R.Rahman
Tamil
Kayal
"Paravayaa Parakkurom"
"Unna Ippo Paakanum"
D. Imman
Vandana Srinivasan
Tamil
Vellaikaara Durai
"Koodha Kathu"
Shreya Ghoshal
Tamil
Cousins
"Neeyen Vennila"
M. Jayachandran
Chinmayi
Malayalam
2015
Nanbenda
"Thene Thene Sendhene"
Harris Jayaraj
Praveen Saivi
Tamil
Gopala Gopala
"Bhaje Bhaaje"
Anup Rubens
Anup Rubens
Telugu
Malli Malli Idi Rani Roju
"Varinche Prema"
Gopi Sunder
Gopi Sunder
Telugu
Mandya to Mumbai
"Kelamma Chinnamma"
Charan Raj
Mridula Warrier
Kannada
Picket 43
"Manjormakal"
Ratheesh Vega
Malayalam
Manoharudu
"Poolane Kunukeyamanta"
A.R.Rahman
Shreya Ghoshal
Telugu
Tamasha
"Chali Kahaani"
Sukhwinder Singh, Haripriya
Hindi
Style (2015 film)
"Chenthamara Chundil"
Jassie Gift
Shweta Mohan
Malayalam
Jo and the Boy
"Ponveyil"
Rahul Subrahmanian
Malayalam
2016
Krishna Gaadi Veera Prema Gaadha
"Nuvvante nanavvu"
Vishal Chandrasekhar
Sinduri vishal
Telugu
Oopiri
"Pothaama"
Gopi Sunder
Anirudh Ravichander
Telugu
Kalam
"Puthu Puthu"
Prakash Nikki
Thor Nishanlee, Tha Mystro, Mark Thomas & Prakash Nikki
Telugu
24
"Punnagaye"
A.R.Rahman
Shashaa Tirupati
Tamil
Thodari
"Pona usuru vandhuruchu"
"Adada idhuyenna"
D. Imman
Shreya Ghoshal
Vandana Srinivasan
Tamil
Pelli Choopulu
"Merise Merise"
Vivek Sagar
Pranavi Acharya
Telugu
Majnu
"Oorike Ala"
Gopi Sundar
Telugu
Chennai 600028 II
"Nee Kidaithai"
Yuvan Shankar Raja
Chinmayi
Tamil
2017
Ezra (2017 film)
"Lailakame"
Rahul Raj
Malayalam
Comrade in America
"Kannil Kannil"
Gopi Sundar
Sayanora Philip
Malayalam
Kaatru Veliyidai
"Tango Kelaayo"
A. R. Rahman
Diwakar
Tamil
"Azhagiye"
Arjun Chandy, Jonita Gandhi
Tamil
Cheliyaa
"Hamsaro"
Telugu
Ninnu Kori
"Hey Badhulu Cheppavey"
Gopi Sundar
Telugu
Spyder
"Ciciliya Ciciliya"
Harris Jayaraj
Shakthisree Gopalan
Telugu
Hello
"Merise Merise"
Anup Rubens
Srinidhi
Telugu
"Thalachi Thalachi"
Telugu
Nimir
"Nenjil Mamazai"
B. Ajaneesh Loknath
Shweta Mohan
Tamil
2018
Kannakkol
"Uchi Malai Pillaiyare"
Bobby
Tamil
Abrahaminte Santhathikal
"Mulla Poovithalo"
Serin Francis
Malayalam
My Story
"Mizhi mizhi"
Shaan Rahman
Shreya Ghoshal
Malayalam
Sammohanam
"O Cheli Thaara", "Oohalu Oorege Gaalantha"
Vivek sagar
Telugu
Haricharan Images
Read other biographies: Rimi Tomy | Chinnaponnu | Karthik (Singer) | Pradeep Kumar (Singer) | Tippu | Harini