Sharreth Wiki, Biography, Age, Movies, Songs, Family, Images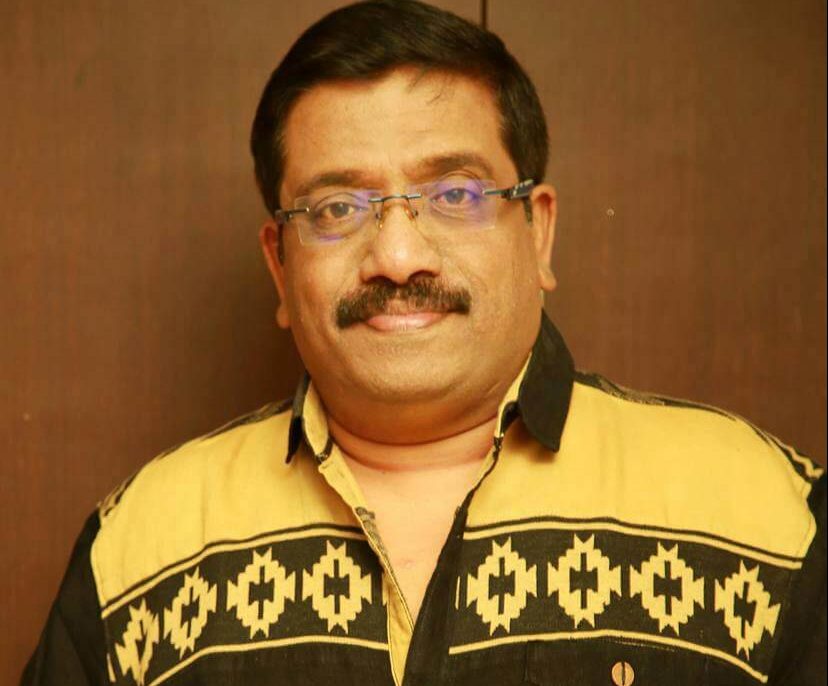 Sharreth is an Indian Music director and playback singer, who mostly composed songs and film scores for Malayalam Film Industry. He not only compose songs for Malayalam movie he also composes songs for other language movies like Tamil, Telugu and Hindi films as well. He made his debut song for the movie Kshanakkathu which is a Malayalam movie in the year 1990. Now he is working for the movies like Hadiyya, Parole, Autorsha and Neeli. Check out below for Sharreth Wiki, Biography, Age, Movies, Songs, Family, Images and more.
Read other biographies: Amresh Ganesh | Achu Rajamani |  Santhosh Narayanan | HipHop Tamizha Adhi | A. H. Kaashif 
Sharreth Details
Sharreth was born on  3 October 1969 in Kollam, Kerala, India. Sharreth family is now residing in Chennai, Tamil Nadu, India and his father name is Vasudevan and his mother name is Indiradevi. His schooling and graduation details will be updated soon. He learned Carnatic music from the Carnatic music virtuoso M. Balamuralikrishna. He started his music career from the year 1990 from the Malayalam movie Kshanakkathu.
Once before he appeared as a Music director he made his first song Onningu Vannenki along with singer K. S. Chithra and the song was composed by Shyam for the movie Dum Dum Dum Swaramelam in the year 1985. In the year 2008, he grabbed the Filmfare Award for the Best Music Director, with that, he won the Kerala State Film Award for Best Music Director in the year 2011 for the movie Ivan Megharoopan. Moreover, he is the first Kerala State Film Award for Best Classical Music Singer for his song Bhavayami for the movie Meghatheertham. He also appeared as a judge in various TV reality shows and he is the permanent judge of the TV reality show Idea Star Singer till the end of Season 5.
Sharreth Biography
| | |
| --- | --- |
| Name | Sharreth |
| Real Name | Sujith Vasudevan |
| Nickname | Sharreth |
| Profession | Music director and playback singer |
| Date of Birth | 3 October 1969 |
| Age | 48 (As of July 2018) |
| Zodiac sign | Yet to be Updated |
| Father Name | Vasudevan |
| Mother Name | Indiradevi |
| Religion | Hindu |
| Educational Qualification | Yet to be Updated |
| School | Yet to be Updated |
| College | Yet to be Updated |
| Hobbies | song composing, Singing, listening music |
| Hometown | Kollam, Kerala, India |
| Nationality | Indian |
| Married | Yes |
| Wife Name | NA |
| Current City | Chennai, Tamil Nadu, India |
Sharreth Facebook: https://www.facebook.com/sharrethofficial/
Sharreth Twitter: https://twitter.com/SharrethVI
Sharreth Instagram: https://www.instagram.com/Sharrethvi/
Sharreth Movies list as Music director
Year
Film Title
Language
Notes
1990
Kshanakkathu
Malayalam
Debut Film
1991
Ottayal Pattalam
Malayalam
Mukesh, Madhubala
1994
Rudraksham
Malayalam
Suresh gopi
Pavithram
Malayalam
Starring Mohanlal.
Sagaram Sakshi
Malayalam
Starring Mammootty.
Vilakku Vecha Neram
Malayalam
Background Score Only
1995
Thacholi Varghese Chekavar
Malayalam
Starring Mohanlal.
Sindoora Rekha
Malayalam
Starring Suresh Gopi.
1998
Daya (film)
Malayalam
Background Score Only
1999
Devadasi (film)
Malayalam
2000
Ayyappantamma Neyyappam Chuttu
Malayalam
Sparsham
Malayalam
Cover Story
Malayalam
Suresh gopi
Raja Ko Rani Se Pyar Ho Gaya
Hindi
Hindi Debut.
Background Score Only
2001
Achaneyanenikkishtam
Malayalam
Background Score Only
Vakkalathu Narayanankutty
Malayalam
Background Score Only
2002
Sesham
Malayalam
2003
Magic Magic 3D
Tamil
2005
The Campus (2005 film)
Malayalam
Background Score Only
Kanne Madanguka
Malayalam
Background Score Only
June R
Tamil
Debut Tamil Film[3]
2006
Shyaamam
Malayalam
2008
Thirakkatha
Malayalam
Filmfare Award for Best Music Director – Malayalam
2009
Kalavaramaye Madilo
Telugu
Debut Telugu Film
Chal Chala Chal
Hindi
Background Score Only.
Paleri Manikyam
Malayalam
Mammootty
Meghatheertham
Malayalam
First recipient of Kerala State Film Award for Best Classical Music Singer for his song Bhavayami.
2010
Pulliman
Malayalam
Kalabhavan mani
Nalla Pattukare
Malayalam
Star singers
Kanyakumari Express (film)
Malayalam
Suresh gopi
Orange
Malayalam
Background Score Only
Kushti
Hindi
Background Score Only
2011
180
Tamil / Telugu
2012
Thalsamayam Oru Penkutty
Malayalam
Ivan Megharoopan
Malayalam
Kerala State Film Award for Best Music Director
2013
Ente
Malayalam
Naa Bangaaru Talli
Telugu
The Reporter (film)
Malayalam
2014
Kathai Thiraikathai Vasanam Iyakkam
Tamil
Guest Composer.
Drushyam
Telugu
2017
Hadiyya
Malayalam
2018
Naa Nuvve
Telugu
Parole
Malayalam
Mammootty starrer.
Autorsha
Malayalam
Neeli
Malayalam
Sharreth As singer
Year
Film
Co-Singer(s)
Music Director
Song
1985
Onningu Vannenkil
K. S. Chithra
Shyam
Dum dum dum swaramelam
1986
Ice Cream
Cochin Ibrahim
Johnson
Premamennaalenthu
1990
His Highness Abdullah
K. J. Yesudas, M. G. Sreekumar, Raveendran
Raveendran
Devasabhaathalam
1995
Sindoora Rekha
Sharreth
Paahiraama Prabhu
Thacholi Varghese Chekavar
Srinivas
Sharreth
Veeraalipattin
1997
Aaraam Thampuran
K. J. Yesudas
Raveendran
Sandatham
1999
Devadasi (film)
G. Venugopal
Traditional Slokam in
Lakshmi Ashtakam
Namasthesthu
Devadasi (film)
Sharath
Paaraalum Maalore
Devadasi (film)
K. S. Chithra
Sharreth
Yamuna Nadhiyozhukum
2000
Cover Story
M. G. Sreekumar, K. S. Chithra
Sharreth
Ini Maanathum
Sparsham
Sharreth
Pandenno Kettathaane
Sparsham
Sharreth
Thengi Mounam
2002
Shesham
Sharreth
Ethetho
2003
Nala Damayanthi
Ramesh Vinayagam
Pei Muzhi
2005
June R
Sharreth
Eano Eano
2006
Kalabham
K. J. Yesudas, K. Krishnakumar
Raveendran
Varoo Varoo
2008
Thirakkatha
Sharreth
Oduviloru
2009
Meghatheertham
K. S. Chithra
Sharreth
Mazhayaal
Meghatheertham
Sharreth
Bhavayaami. Kerala State Film Award for Best classical singer
Meghatheertham
Sharreth
Dhyanam Kondu
Paleri Manikyam
Hariharan
Sharreth
Tum Jo Mujh Mein
Seetha Kalyanam
Madhu Balakrishnan, Karthik, Anuradha Sriram
Srinivas
Seetharaamam
2010
Kadaksham
M. Jayachandran
Omanapennalle
Pulliman
Traditional Folk
Aanandam
Kavalar Kudiyirippu
Priya Hemesh
James Vasanthan
Kodi Kodi Aasaikal
Kadhaksham
Solo
M. Jayachandran
Omana pennllayo
2011
180
Sharreth
Niyayam Thaana
Pranayam
M. Jayachandran
Kalamozhi
2012
Ivan Megharoopan
K.S.Chithra
Sharreth
Vishukili
2013
Ente
Solo
Sharreth
Engengo
The Reporter
Solo
Sharreth
Karukkal nirathi
The Reporter
Solo
Sharreth
Vaarmthiye
2014
Ulavacharu Biryani
Solo
Ilaiyaraaja
Raayaleni Lekhane [Telugu song]
Oggarane
Solo
Ilaiyaraaja
Bareyada Saalanu [Kannada song]
Drishya
Solo
Ilaiyaraaja
Devare Kelu [Kannada song][Remake of Drishyam Malayalam movie]
Nadan
Ouseppachan
Sargavedhikale [Malayalam song]
Varsham
Solo
Bijibal
Karimukilukal [Malayalam song]
2015
Touring Talkies
Anitha
Ilaiyaraaja
Nenju Porukuthilayae [Tamil song]
Touring Talkies
Solo
Ilaiyaraaja
Kathirunthaen [Tamil song]
Kida Poosari Magudi
Solo
Ilaiyaraaja
Intha kaalathile [Tamil song]
Kanal
Solo
Ouseppachan
Maaya Nagarame[Malayalam song]
2015
Tharai Thappattai
Solo
Ilaiyaraaja
Idarinum [Tamil song]
2018
Naa… Nuvve
Solo
Sharreth
Premika [Telugu Song]
Sharreth TV Shows
| year | Program | Channel | Notes |
| --- | --- | --- | --- |
| 2007 | IdeaStar Singer2007 | Asianet | |
| 2008 | IdeaStar Singer2008 | Asianet | |
| 2009-2010 | IdeaStar Singer season 4 | Asianet | |
| 2009 | Zee Tamil Sa Re Ga Ma Pa 2009 Challenge | Zee Tamil | Tamil show |
| 2010-2011 | IdeaStar Singer season 5 | Asianet | |
| 2012 | Gandharva Sangeetham | Kairali TV | |
| 2013 | Super star the ultimate | Amrita TV | |
| 2013 | Josco Indian voice season 2 | Mazhavil Manorama | |
| 2013 | Candyman Indian Voice Junior | Mazhavil Manorama | |
| 2014 | Super Star | Amrita TV | |
| 2015 | Bhima Indian Music League | Flowers TV | |
| 2016 | Super Star Junior | Amrita TV | |
| 2018–Present | Super 4 | Mazhavil Manorama | |
Sharreth Independent Albums
Sangeetha Paravai (Tamil)
Chitra Pournami (1994)
Sarana Manthram (1994)
Chaithra Geethangal (1997)
Pasupathaasthram -Sree Kadampuzha Bhagavathi (1997)
Gopeechandanam – Guruvayoorpuran Songs (1999)
Onappoovu
Gurudevan (2001)
Veendum (2003)
Sree Gananaatham (2008)
Devapampa (2009)
Sasthavu (2010)
Strawberry Theyyam (2014)
Njanappana (ART OF LIVING (2014)
Pahimam Padmanabha (2015)
Green Symphony (2015)
Paavana Pamba (2016)
Sharreth Awards
2011 – Kerala State Film Award for Best Music Director – Ivan Megharoopan
2009 – Kerala State Film Award for Best Classical Music Singer – "Bhavayami" from Meghatheertham
2008 – Filmfare Award for Best Music Director (Malayalam) – Thirakkatha
2008 – Mullassery Raju Music Award – Thirakkatha
Sharreth Images
Read other biographies: Stephen Devassy  | Sivamani| Justin Prabhakaran | Rimi Tomy | Nikhita Gandhi | Sunidhi Chauhan | Rahul Nambiar