Vineeth Sreenivasan Wiki, Biography, Age, Movies, Images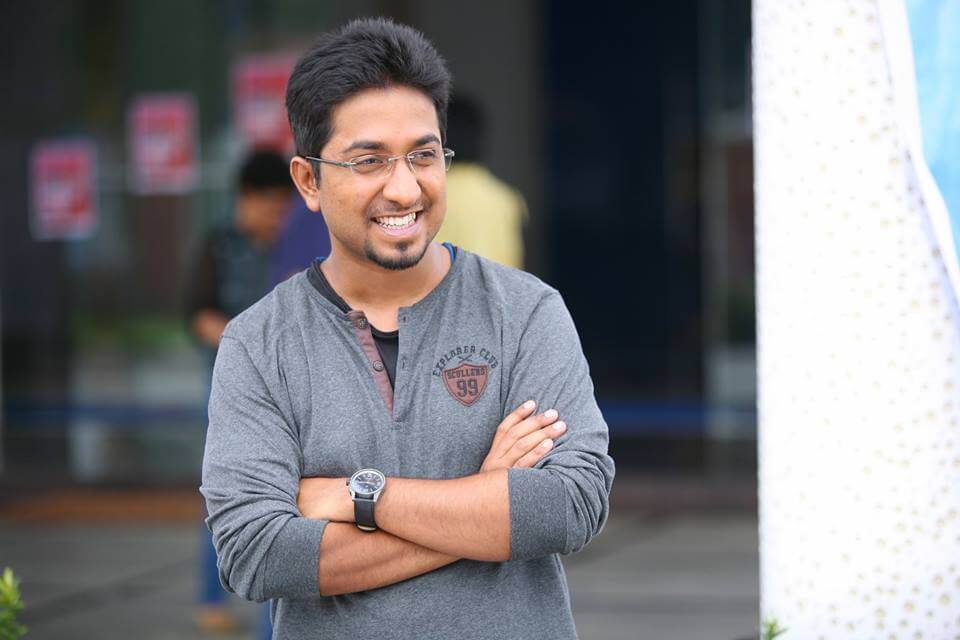 Vineeth Sreenivasan is an Indian Playback singer, actor, director, screenwriter, producer and composer, who primarily works in the Malayalam film and television industry. He made his singing debut with the Malayalam song "Kasavinte Thattamittu," for the movie "Kilichundan Mampazham," along with Sujatha Mohan in 2002. In 2008, he made his acting debut with the Mollywood movie "Cycle," directed by Johny Antony. His directorial debut movie was "Malarvaadi Arts Club," in the year 2010. Check out below for Vineeth Sreenivasan Wiki, Biography, Age, Movies, Images and more.
Read other biographies: Lena Actress | Gokul Suresh | Vijay babu | Laila Mehdin | Maqbool Salmaan | Aditi Ravi
Vineeth Sreenivasan Early Life and Career
Vineeth Sreenivasan was born on 1 October 1985 in Kuthuparamba, Kerala, India. Vineeth Sreenivasan family is now residing in Chennai, Tamil Nadu, India. His father name is Sreenivasan, a Malayalam screenwriter and actor and his mother name is Vimala. He has a brother named Dhyan Sreenivasan, a Mollywood actor. He completed his schooling in Rani Jai Higher Secondary School, Nirmalagiri, Kerala and finished his graduation in mechanical engineering at KCG College of Technology, Chennai. Vineeth Sreenivasan wife name is Divya Narayanan and they got married on 18 October 2012. Then the couple has a son named Vihaan Divya Vineeth, who was born on 30 June 2017.
In the beginning, Vineeth Sreenivasan was a part of band Malayalee along with Jakes Bejoy, Shaan Rahman and Arjun Sasi. In the year 2008, he made his acting debut with the Malayalam movie "Cycle," along with Vinu Mohan, Bhama, Sandhya and more. His second movie was "Makante Achan", in which, he had acted along with his father. Moreover, he has written lyrics for most of his songs, and also directed his own music videos. One of his music album named "Coffee @ MG Road," became a super-hit instantly. Vineeth Sreenivasan has also won the AMMA Best Male Singer Award 2008 for his songs "Mampullikkavil" and "Jillu Jillu". He also won the Best Male new face of the year 2008 by Asianet. He wrote the script, Lyrics and directed his debut movie, for which he won the best debutant director. In his third movie "Thira," he introduced his younger brother Dhyan Sreenivasan. In 2018, he worked in the movies like Aravindante Athidhikal and Naam.
Vineeth Sreenivasan Biography
| | |
| --- | --- |
| Name | Vineeth Sreenivasan |
| Real Name | Vineeth Sreenivasan |
| Nickname | Vineeth |
| Profession | Playback singer, actor, director, screenwriter, producer and composer |
| Date of Birth | 1 October 1985 |
| Age | 33 (as of November 2018) |
| Zodiac sign | Yet to be Updated |
| Father Name | Sreenivasan |
| Mother Name | Vimala |
| Siblings | Dhyan Sreenivasan |
| Religion | Hindu |
| Educational Qualification | Mechanical Engineer |
| School | Rani Jai Higher Secondary School, Nirmalagiri, Kerala |
| College | KCG College of Technology, Chennai |
| Hobbies | Singing |
| Hometown | Kuthuparamba, Kerala, India |
| Nationality | Indian |
| Married | Yes |
| Wife Name | Divya Narayanan |
| Affairs/Girlfriends | NA |
| Children | Vihaan Divya Vineeth |
| Current City | Chennai, Tamil Nadu, India |
Vineeth Sreenivasan Facebook: https://www.facebook.com/official.vineethsreenivasan/
Vineeth Sreenivasan Twitter: https://twitter.com/Vineeth_Sree?lang=en
Vineeth Sreenivasan Instagram: https://www.instagram.com/vineeth84
Vineeth Sreenivasan Movies List
Year
Title
Credited as
Notes
Director
Writer
Producer
2010
Malarvaadi Arts Club
Yes
Yes
No
2012
Thattathin Marayathu
Yes
Yes
No
2013
Thira
Yes
Yes
No
Debut of his brother Dhyan Sreenivasan
2015
Oru Vadakkan Selfie
No
Yes
No
Directed by G. Prajith
2016
Jacobinte Swargarajyam
Yes
Yes
No
Debut production venture of Big Bang Entertainments
Aanandam
No
No
Yes
Directed and written by Ganesh Raj
Vineeth Sreenivasan Actor
Year
Title
Role
Notes
2008
Cycle
Roy
2009
Makante Achan
Manu
2011
Traffic
Raihan
The movie received good reviews and collected so many awards
Chappa Kurishu
Ansari
2012
Padmasree Bharat Dr. Saroj Kumar
Shyam
2014
Om Shanti Oshana
Dr Prasad Varkey
Extended Cameo Appearance
Ormayundo Ee Mukham
Gautham
2015
Oru Vadakkan Selfie
Jack Tracker / Nivin
Oru Second Class Yathra
Nandu
Kunjiramayanam
Kunjiraman
2016
Jacobinte Swargarajyam
Yusuf Shah
Cameo Appearance
Oru Muthassi Gada
Zachariah (young)
Extended Cameo Appearance
2017
Aby
Aby
Oru Cinemakkaran
Alby
Aana Alaralodalaral
Hashim Jamaludeen
2018
Aravindante Athidhikal
Aravindan
Naam
Himself
Cameo Appearance
Dubbing artist
Note Book – Voice for Skanda Ashok
Positive – Voice for Skanda Ashok
Albums
Year
Song
Album
2007
Friends Forever
Malayalee
Minnalazhakey
Malayalee
Neeyente Khalbil Kayari
Monjulla Painkili
2008
Coffee @ Mg Road
Coffee @ MG Road
College
Coffee @ MG Road
Masha Allah
Coffee @ MG Road
Palavattam
Coffee @ MG Road
Let Me Tell You A Story
Coffee @ MG Road
O Saathi
Coffee @ MG Road
Peythu Peythu
Coffee @ MG Road
Poonkuyile
Coffee @ MG Road
Ethra Rathrikalil
Violet
Azhakee Nee Charathu
Violet
Kingini Kaattile
Minnaminni
Thumbila Chorunnan
Ente Nadu Ente Veedu Ente Onam
Kuttanaattile Vallakkari
Ente Nadu Ente Veedu Ente Onam
Thinkalazhcha Kaalathu
Ente Nadu Ente Veedu Ente Onam
Ente Nadu Ente Veedu Ente Onam
Ente Nadu Ente Veedu Ente Onam
2009
Puthilanji Thazhvarayil
Kumkumam
Kulirmazha Pookkalum
Kumkumam
Anuraga Painkiliye
Mounam Pranayam
Anthikkili Chengila Ketti
Varumo Vasantham
Nilachandanam Pozhiyave
Varumo Vasantham
Ekanaay
Alone
Ninne
La Cochin
2010
Unaru Keralame
Legends from CAN-TEEN
2011
Neelathamara
Liquidize
2012
Azhakhe
Parayathe
2013
Anbe
Anbe
2018
Veendum
Pallathi
Playback singer
Year
Song
Film
Co-Singer
2002
Kasavinte Thattamittu
Kilichundan Mampazham
Sujatha Mohan
2004
Karale Karalinte
Udayananu Tharam
Rimi Tomy
2005
Naran Theme
Naran
K S Chithra
Omanapuzha
Chanthupottu
Solo
2006
Ente Khalbile
Classmates
Solo
Pidiyana
Thuruppu Gulan
Solo
Thevaram
Rasathanthram
Solo
Mayajalakathin
Out of Syllabus
Kokkokko
Speed Track
Rimi Tomy
Karineela
Chakkara Muthu
Sujatha Mohan
Hridhayavum Hridhayavum
Notebook
Jyotsna
Kallayipuzha
Wanted
Maama Nee Mongathayya
Rasikan
Kilukam Kilukilukkam
Kilukkam Kilukilukkam
Kamba Kamba
Chacko Randaaman
2007
Manam Thelinja
Goal
Jyotsna
Nagaram Viduram
Ore Kadal
Solo
Sankadathinu
Panthaya Kozhi
Solo
Tharaka Malarukal
Arabikatha
Sujatha Mohan
Chela Thumbile
Yes Your Honour
Solo
Palakuri Kandu
Solo
Oru Vaku Minadathe
July 4
Manmadhanalle
Inspector Garud
Rimi Tomy
Kannum Chimmi
Mambullikavil
Katha Parayumbol
Shweta Mohan
Theni Payum
Vinodayathra
Solo
Indhumukhee
Aayur Rekha
Kanne Kannadi
Challenge
Aalilayum
Veeralipattu
Manjari
Yaduni
Paradesi
Oru Kaanakanavin
Kangaroo
Atho Thamasa
Boss I Love You
Ennomalalle
Athisayan
Rimi Tomy
Sararanthal
Chengathipoocha
Nin Hridayamounam
Flash
Muthu Mazha
Big B
Jyotsna Radhakrishnan
2008
Varna Pyinkilli
Cycle
Puthiyoreenam
Kanaponnin
Solo
Kanmaniye Punyam
Annan Thambi
Solo
Neelanilapoothinkal
Gopalapuram
Janmatheeratengo
Pachamarathanalil
Shaarike
Jubilee
Aaranu Nee
Akkam Pakkam
Shakespeare M.A. Malayalam
Poonila Punchiri
Aandavan
We are in Love
Minnaminnikoottam
KoonillaKunnin
Anthiponvettam
Njanoru Rajavaayal
Kabadi Kabadi
Rimi Tomy
Jillu Jillu
Mayabazar
2009
Ee Vennilavinte Geetham
Makante Achan
Othorumichoru
Ninakayi
Ithu Nangalude Lokham
Neela Koovala
Kadha, Samvidhanam Kunchakko
Unnam Marannu
2 Harihar Nagar
Ondu Besarada Dina
AUTO(Kannada)
Rajakumari
LollyPop
Pacha Vellam
Calendar
Oorma Thirivil
Passenger
Aaro Nilavayi
Ee Pattanathil Bhootham
Kashmir Poove
Currency
2010
Vadakka Therkka
Aval Peyar Thamizharasi (Tamil)
Manya Maha Janangale
Malarvaadi Arts Club
Lavan Kashmalan
Ayiram Katham
Innori Mazhayil
Changayi
Aval Appadi Ontrum Azhagillai
Angadi Theru
Ranjith (singer)
Neerpalunkumzhi
Orange
Shweta Mohan
2011
Akkare Ninnoru Poonkaatu
Spanish Masala
Sujatha Mohan
2012
Kesu Ninte
Padmasree Bharat Dr. Saroj Kumar
Anuraagathin Velayi
Thattathin Marayathu
Shyaamambaram
Aayiram Kannumayi
Oh Sahiba – Theme Song
Ee Pakalariyathe
Theevram
Shweta Mohan
2013
Theerathe Neelunne
Thira
Solo
Jillam Jillada
Pottas Bomb
Solo
Sorry Please Thank You
Nam duniya Nam Style(Kannada)
Tipu
2014
Kaatu Mooliyo
Ohm Shanthi Oshaana
Mannil Pathiyum
God's Own Country
Divya S. Menon
Iru Hrudayam Onnay
Parayan Baaki Vechathu
Assalumundiriye
Polytechnic
Mridula Warrier
Surumakalezhuthiya
To let Ambadi Talkies
Doore Doore
Ormayundo Ee Mukham
Ee Mizhikalin
Mridula Warrier
2015
Ettum Pottum
You Too Brutus
Chennai Pattanam
Oru Vadakkan Selfie
Enne Thallendammaava
Shaan Rahman
Aluva Puzha
Premam
Solo
Ambazham Thanalitta
Oru Second Class Yathra
Mridula Warrier
Oru Vidha Aasai
Maari
Dum Dum Dum
Kohinoor
Solo
Aa Oruthi Aval Oruthi
Anarkali
Manjari
Ayyayyo Ayyayyo
Kunjiramayanam
Solo
Thumbappoove Sundari
Ende Maavum Poothe
Adi Kapyare Kootamani
Shaan Rahman, Arun Alat, Rzee
Ullathu Chonnaal
Rajamma @ Yahoo
2016
Chiriyo Chiri Punchiri
Action Hero Biju
Doorangal Thaandippokum
Aakashavani
Ee Shishirakaalam
Jacobinte Swargarajyam
Dubai
Muzhuthingal
Oru Murai Vanthu Parthaya
Kurumbathi Chundari nee
Annmariya Kalippilaanu
Oruthikku Pinnil
Pretham
Vineeth Sreenivasan (Female Voice)
Thennal Nilavinte
Oru Muthassi Gadha
Aparna Balamurali
2017
Hrudayavaathil
C/O Saira Banu
Jyotsna Radhakrishnan
Janah Meri janah
Cappuccino
Kannake
Oru Cinemakkaran
Teenu Tellance
Entammede Jimikki Kammal
Velipadinte Pusthakam
Shaan Rahman
2018
Manikya Malaray Povi
Oru Adaar Love
Kanne Thai Malare
Aravindante Athidhikal
Shaan Rahman
Rasathi
Liya Susan Verghese
Moovandan Manchottil
Oru Pazhaya Bomb Kadha
Konjam Sirikkirean
Amutha
Vineeth Sreenivasan Images
Read other biographies: Sasha Gopinath | Annapoorna Lekha| Manjima Mohan | Aneesh Menon