Sujatha Mohan Wiki, Biography, Age, Songs List, Images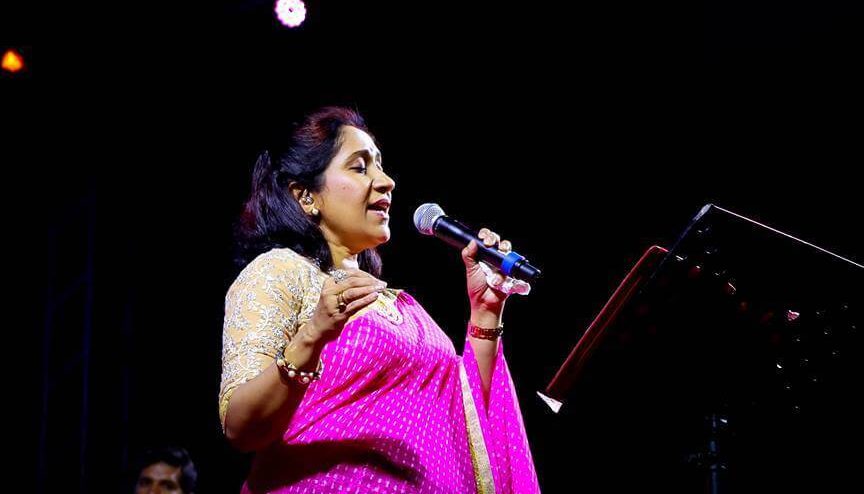 Sujatha Mohan is an Indian Playback singer, who prominently works in Tamil and Malayalam film industry. Sujatha Mohan has been credited as Sujatha, with that, she has not only sung songs for Tamil and Malayalam movies she also sung for Telugu, Kannada and Hindi movies. She made her debut song for the Tamil movie Kavikuyil and the song is "Kaadhal Oviyam Kandaen" which is composed by Illayaraja in the year 1977. Her debut Telugu song is Paruvam Vaanaga for the movie Roja which is composed by A. R. Rahman. Her debt Hindi song is Rafta Rafta Haule Haule for the movie Hulchul in the year 2004. She made her debut Malayalam Song "Doore Kizhakudikkum" for the movie Chithram. Moreover, she has sung more Malayalam songs and it makes her as fourth most prolific Malayalam singer. Check out below for Sujatha Mohan Wiki, Biography, Age, Songs List, Images.
Read Other Biographies: Shweta Mohan | Anuradha Sriram | Benny Dayal | Singer Diwakar | Singer Priyanka
Sujatha Mohan Early Life and Career
Sujatha Mohan was born on 31 March 1963 in Thiruvananthapuram, Kerala, India. Sujatha Mohan family now residing in Chennai, Tamilnadu, India. Moreover, she is the Granddaughter of Parur T. K. Narayana Pillai, who is the first Chief Minister of erstwhile Travancore-Cochin State once after the independence. Sujatha Mohan father, mother and schooling details will be updated soon. Sujatha Mohan Husband name is Krishna Mohan they both got married on 9 May 1981. She has a daughter named Shweta Mohan who is also a playback singer. Sujatha Mohan exploded her fame in the year of seventies named as Baby Sujatha, in her school days who sing along with K. J. Yesudas in his stage shows all over the world. The first song that recorded by her is "Kannezhuthy Pottuthottu" when she is studying the sixth standard and that song was composed by M. K. Arjunan in the year 1975, which is a Malayala movie Tourist Bungalow. Later she continued her career in Malayalam film industry.
Sujatha Mohan has made her debut in Tamil song "Kaadhal Oviyam Kandein" for the movie Kavikuyil in the year 1977 but this song was not added to that movie. Her first release song in Tamil is "Kalai Paniyil" for the movie Gayathri in the year 1978, which is also composed by Illayaraja. Later she sang more songs for Illayaraja like Johnny, Kavikuyil and Ilamai Kolangal.  After her marriage, she left from playback singer and entered in the year 1988. In 1980's she has sung songs for A. R. Rahman and she have sung the song "Pudhu Vellai Mazhai" from Mani Ratnam's 1992 for the film Roja. Later she has sung many songs in Tamil as well. Moreover, she also appeared as a judge in junior, IDEA star singer, AIRTEL super singer.
Sujatha Mohan Biography
| | |
| --- | --- |
| Name | Sujatha |
| Real Name | Sujatha Mohan |
| Nickname | Suju Chechi |
| Profession | Indian playback singer |
| Date of Birth | 31 March 1963 |
| Age | 55 |
| Zodiac sign | Yet to be Updated |
| Father Name | Yet to be Updated |
| Mother Name | Yet to be Updated |
| Height | 1.72 m |
| Weight | 62 Kg |
| Religion | Hindu |
| Educational Qualification | Yet to be Updated |
| School | Yet to be Updated |
| College | Yet to be Updated |
| Hobbies | Reading Books and Listening Music |
| Hometown | Thiruvananthapuram, Kerala, India |
| Nationality | Indian |
| Married | Yes |
| Husband Name | Krishna Mohan |
| Current City | Chennai, Tamilnadu, India |
Sujatha Mohan Facebook: https://www.facebook.com/sujathamohanofficial/
Sujatha Mohan Twitter: https://twitter.com/sujathamohan
Sujatha Mohan Instagram: Yet to be updated
Sujatha Mohan Tamil Hits songs
Year
Song Title
Film
Music Director
1977
"Kaadhal Oviyam Kandaen"
Kavikuyil
Ilayaraja
1977
"Kaalai Paniyil"
Gayathri
Ilayaraja
1980
"Oru Iniya Manathu"
Johnny
Ilayaraja
1992
"Pudhu Vellai Mazhai"
Roja
A. R. Rahman
"Kadhal Rojave"
1993
"Netru Illatha Matram"
Pudhiya Mugam
A. R. Rahman
"Enveetu Thottathil"
Gentleman
A. R. Rahman
"Aathangara Marame"
Kizhakku Cheemayile
A. R. Rahman
1994
"Kathirikka Kathirikka"
Duet
A. R. Rahman
"Kaatru Kuthirayile"
Kadhalan
A. R. Rahman
"Meenaponnu"
Nattamai
Sirpy
"Kizhakku Sevakkayile"
Seevalaperi Pandi
Adithyan
"Nee Kattum Selai"
Pudhiya Mannargal
A. R. Rahman
"Vaadi Saathukodi"
"Innal Oru Ponnal"
Manitha Manitha
A. R. Rahman
"Porale Ponnuthayi"
Karuththamma
A. R. Rahman
"Pachaikili Padum Pattu"
1995
"Malarodu Malaringu"
Bombay
A. R. Rahman
"Idhu Annai Bhoomi"
"Thamarai Poovukum"
Pasumpon
Vidyasagar
"Ini Achham Illai"
Indira
A. R. Rahman
"Anandham Anandham Anandham"
Murai Maman
Vidyasagar
"Thilana Thilana"
Muthu
A. R. Rahman
1996
"Chittu Chittu Kuruvi"
Ullathai Allitha
Sirpy
"Naalai Ulagam"
Love Birds
A. R. Rahman
"Sollamalae"
Poove Unakkaga
S. A. Rajkumar
"Machinichi"
"Rukku Rukku"
Avvai Shanmughi
Deva
"Kaadhala Kaadhala"
"Mellisaye"
Mr. Romeo
A. R. Rahman
1997
"Poo Pookkum Osai"
Minsara Kanavu
A. R. Rahman
"Oru Pattampoochi"
Kadhalukku Mariyadhai
Ilayaraja
"Chandiranai Thottadhu Yaar"
Ratchagan
A. R. Rahman
"Chalakku Chalakku"
Suryavamsam
S. A. Rajkumar
"Rosappu Chinna Rosappu"
"Thirunaalu ther azagha"
1998
"Athisayam"
Jeans
A. R. Rahman
"Saravana Bhava"
Kadhala Kadhala
Karthik Raja
"Garuda Garuda"
Natpukkaga
Deva
"Yedho Oru Paatu"
Unnidathil Ennai Koduthen
S. A. Rajkumar
"Malligai Poove Malligai Poove"
"Vaanam Bhadiyen"
"En Uyire"
Uyire
A R Rahman
"Kumbakonam Sandhayil Paartha"
Simmarasi
S. A. Rajkumar
"Pacha Manna Thottu"
1999
"Oru Poyyavadhu"
Jodi
A. R. Rahman
"Neethaana Neethaana"
Unnai Thedi
Deva
"Kadhal Neethanaa"
Time
Ilayaraja
"Niram Pirithu"
"Un Per Solla Asaidhaan"
Minsara Kanna
Deva
"Boy Frienda"
"Athikalayil Sevalai"
Nee Varuvai Ena
S. A. Rajkumar
"Iravaa Pagalaa"
Poovellam Kettuppar
Yuvan Shankar Raja
"Mudhal Murai"
Sangamam
A. R. Rahman
"Sotta Sotta Tajmahal"
Tajmahal
A. R. Rahman
"Engal Veetil Ellam Naalum"
Vaanathaipola
S. A. Rajkumar
"Vaanil Vennila"
"Anandham Anandham"
Kannupada Poguthaiya
S. A. Rajkumar
"Saranam Bhava"
Sethu
Ilayaraja
2000
"Purave"
Eazhaiyin Sirippil
Deva
"Pennkiliye"
Sandhitha Velai
Deva
"Devadhai Vamsam"
Snegithiye
Vidyasagar
"Radhai Manathil"
"Kalloori Malare"
"Nilave Vaan Nilave"
Maayi
S. A. Rajkumar
"Aruppu Kottai"
Vallarasu
Deva
"Aalangatti Mazhai"
Thenali
A. R. Rahman
2001
"Un Azhagukku"
Aalavandhan
Shankar-Ehsaan-Loy
"Vaadi Vaadi Natukkatai"
Alli Thanda Vaanam
Vidyasagar
"Un Samayal Araiyil"
Dhill
Vidyasagar
"Desingu Raja"
Dumm Dumm Dumm
Karthik Raja
"Pineapple Kannadhodu"
Samudhiram
Sabesh-Murali
"Aagayam Pookkal"
Vinnukum Mannukum
Sirpy
"Unakenna Unakenna Solo"
"Unakenna Unakenna Duet"
"Manjal Poosum"
Friends
Ilayaraja
"Penkaloda Potti"
"Paadava Paadava"
Little John
Pravin Mani
"Hey Mister"
"Azhagaana Sooriyan"
Manadhai Thirudivittai
Yuvan Shankar Raja
"Adhisaya Thirumanam"
Paarthale Paravasam
A. R. Rahman
"Chella Nam Veetukku"
Poovellam Un Vasam
Vidyasagar
"Mazhaye O Mazhaye"
Punnagai Desam
S. A. Rajkumar
"Amul Baby"
Vaanchinathan
Karthik Raja
"Kavidhaigal Sollavaa"
Ullam Kollai Poguthae
Karthik Raja
"Gokulathu Radhai"
Aanandham
S. A. Rajkumar
"Kalyana Vaanil"
"Rasika Rasika"
Star
A. R. Rahman
"May Matham Katru"
Shahjahan
Mani Sharma
"Desing Rajathaan"
Thavasi
Vidyasagar
2002
"Maaya Maaya"
Baba
A. R. Rahman
"Theendi Theendi"
Bala
Yuvan Shankar Raja
"Vikkuthe"
Thamizh
Bharadwaj
"Thiru Thiruda"
Five Star
Parasuram
"Golmol"
Thenkasi Pattanam
Suresh Peters
"Azhagana Ilamaan Ondru"
"Ini Naanum Naanillai"
Hey! Nee Romba Azhaga Irukke
Srinivas
"Sundari"
Kannathil Muthamittal
A. R. Rahman
"Sakala Kalavallavane"
Pammal K Sambantham
Deva
"Kadhal Pisase"
Run
Vidyasagar
"Sil Sil Silala"
Unnai Ninaithu
Sirpy
"Happy New Year"
"Ennai Thallatum"
"Thappu Thandaa"
Villain
Vidyasagar
"Adi One Inch Two Inch"
Youth
Mani Sharma
2003
"Aasai Aasai"
Dhool
Vidyasagar
"Pookalin Kathinile"
Kadhaludan
S. A. Rajkumar
"Uchi Kilaiyilae"
"Nenjodu"
Kadhal Kondein
Yuvan Shankar Raja
"Dholna"
Parasuram
A. R. Rahman
"Maankuttiye"
Priyamana Thozhi
S. A. Rajkumar
"Thithikkuthe"
Thittikudhey
Vidyasagar
"Azhakooril Poothavale"
Thirumalai
Vidyasagar
2004
"Nenjam Ellaam"
Ayutha Ezhuthu
A. R. Rahman
"Kokkara Kokkarako"
Ghilli
Vidyasagar
"Sakkara Inikkira Sakkara"
New
A. R. Rahman
2005
"Annanoda Paatu"
Chandramukhi
Vidyasagar
"Rangola Hola"
Ghajini
Harris Jayaraj
"Mazhaye Mazhaye"
June R
Sharreth
2006
"Ennai Konjam Konjam"
Aadhi
Vidyasagar
"Atrai Thingal"
Sivappathigaram
Vidyasagar
2007
"Ae Manpuru Mangaye"
Guru
A. R. Rahman
"Katrin Mozhiye"
Mozhi
Vidyasagar
2008
"Chellam Chellam"
Kuselan
G. V. Prakash Kumar
"Ennamo Seithai"
Kadhalna Summa Illai
Vidyasagar
"Samayame"
Vidyasagar
2009
"Kadhal "
Ilamai Itho Itho
Vidyasagar
2010
"Maanja Maanja"
Maanja Velu
Mani Sharma
"Unnai Ninaithadume"
Aadu Puli
Sundar C Babu
"Vizhi Oru Paadhi"
Chikku Bukku
Colonial Cousins
"Thambikkottai Kanga"
Thambikottai
D. Imman
2011
"Manmatha kadhal"
Suriya Nagaram
Benvialey
2016
"Mazhai Nindrum"
Irandu Manam Vendum
Mohammed Ali
Sujatha Mohan as Telugu songs
| Song Title | Film | Music Director |
| --- | --- | --- |
| Paruvam Vaanaga | Roja | A. R. Rahman |
| Naa Cheli Rojave | Roja | A. R. Rahman |
| Dole Dole Dolaku | Vamshoddharakudu | Koti |
| Nee Style Naakishtam | Raghavendra (film) | Mani Sharma |
| Ko Ko Komali | Narasimha Naidu | Mani Sharma |
| Ninna Kuttesinadhi | Narasimha Naidu | Mani Sharma |
| Bava Bava | Bhalevadivi Basu | Mani Sharma |
| Chandamama | Seema Simham | Mani Sharma |
| Oorantha Utsavam | Chennakeshava Reddy | Mani Sharma |
| Andala Aadabomma | Samarasimha Reddy | Mani Sharma |
| Tella Tellani Cheera | Devi Putrudu | Mani Sharma |
| Kuchi Kuchi Kunamma | Bombay (film) | A. R. Rahman |
| Cheppave Chirugali | Okkadu | Mani Sharma |
| Jhummandi Vallantha | Mitrudu | Mani Sharma |
| Manasa Vacha | Iddaru Mitrulu | Mani Sharma |
| Mayadari Mayadari Andhama | Pavitra Bandham | M. M. Keeravani |
| Sarasamika Sunday | Tarak | Mani Sharma |
| Chema Chekka | Azad (2000 film) | Mani Sharma |
| Are Eelakotti | Eduruleni Manishi | S. A. Rajkumar |
| Gutthonkaya | Kalyana Ramudu | Mani Sharma |
| Sorry Sorry | Bavagaru Bagunnara | Mani Sharma |
| Swagatham | Siva Rama Raju | S. A. Rajkumar |
| Nandamuri Chandamama | Samba (2004 film) | Mani Sharma |
| Rajugari Thotalona | Gorintaku (2008 film) | Mani Sharma |
| Oh Vana Padithe | Merupu Kalalu | A.R. Rahman |
| Ammo Ammayena | Vasantam | S. A. Rajkumar |
| Chiguraaku Chatu Chilaka | Gudumba Shankar | Mani Sharma |
| Jampanduve | Vasantam | S. A. Rajkumar |
| Chakkera | Naani | A.R. Rahman |
| Boppayi Boppayi | Veerabhadra (film) | Mani Sharma |
| Kallallona Yevo | Andala Ramudu (2006 film) | S. A. Rajkumar |
| Jadathoti Kodithe | Lakshmi Narasimha | Mani Sharma |
| Sukku Sukku | Lakshyam | Mani Sharma |
| Mokka Jonna Thotalo | Subash Chandra Bose (film) | Mani Sharma |
| Nerajana Jana | Rajababu (2006) | S. A. Rajkumar |
| Vachinda Megam | Yuva | A.R. Rahman |
| Mallellona Illaira | Allari Pidugu | Mani Sharma |
| Varudo Marudo | Thamboolalu | Raj |
| Puvvullo Daagunna | Jeans | A.R. Rahman |
| Chemanthi Poobanthi | Kushi Kushiga | S. A. Rajkumar |
| Kosindi Kannekoyila | Hitler (1997 film) | Koti |
| Nanny Laalinchu Sangeetham | Cheppave Chirugali | S. A. Rajkumar |
| Happy New Year | Cheppave Chirugali | S. A. Rajkumar |
| Raja Hamsavo | Ganesh (film) | Mani Sharma |
| Vinaro Bhagyamu | Annamayya (film) | M. M. Keeravani |
| Ele Else Maradala | Annamayya (film) | M. M. Keeravani |
| Telugu Padaniki | Annamayya (film) | M. M. Keeravani |
| Naa Into Mundunna | Gentleman (1993 film) | A.R. Rahman |
| Jalaku Jalaku | Suryavamsam (1998 film) | S. A. Rajkumar |
| Swathi Chinuka | Anaganaga O Ammayi | Mani Sharma |
| Aakashana Egiremaina | Manasantha Nuvve | R. P. Patnaik |
| Abbaba Iddu | Choodalani Vundi | Mani Sharma |
| Chilaka | Sankranthi | S. A. Rajkumar |
| Gusa Gusalade | Gentleman (2016 film) | Mani Sharma |
| Rangola Rangola | Ghajini (2005 film) | Harris Jayaraj |
| Eppudeppudu | Rajakumarudu | Mani Sharma |
| Nuvve Nuvve | Kalisundam Raa | S. A. Rajkumar |
| Divvi Divvi | chandralekha (1998 film) | Sandeep Chowtha |
| Konchem Konchem | Munna (film) | Harris Jayaraj |
| Vana Vallappa | Annayya (2000 film) | Mani Sharma |
| Gusa Gusale | Annayya (2000 film) | Mani Sharma |
| Satya Bhama | Simharasi | S. A. Rajkumar |
| Ososi Poolateega | Palnati Brahmanayudu | Mani Sharma |
| Kavvinchake | Raja (1999 film) | S. A. Rajkumar |
| Premante Yemitante | Seenu (1999 film) | Mani Sharma |
| Thilottama" | Master | Deva |
| "Punnamila" | Prematho Raa | Mani Sharma |
Sujatha Mohan as Hindi songs
| Year | Film | Song |
| --- | --- | --- |
| 2004 | Hulchul | "Rafta Rafta Haule Haule" |
| 2001 | Abhay | "Koyal Se Mili" |
| 2000 | Pukar | "Hai Jaana" |
| 1999 | Taal | "Ishq Bina Kya" |
| 1998 | Kabhi Na Kabhi | "Tum Ho Meri Nigahon" |
| 1998 | 1947 Earth | "Ishwar Allah" |
| 1997 | Vishwavidhaata | "Kal Nahin Tha" |
| 1996 | Love Birds | " Ho Kal Jab" |
| 1993 | Chor Chor | "Dil Hai Sanam" |
Malayalam Christian songs
"Ithupole Enne Snehicheedaan En Jeevanai"
"Kaval Malakhamare Snehapratheekam"
"Ponnu Meera Kunthirikkam"
"Alakadalum Kuliralayum"
"Vannu Vazhaname"
"Yesuve ninne kaanuvar"
"Vazhiyethennarinjeela"
Malayalam album songs
"Ilamyel Kondu Njaan" – Ithal (2016)
"Maayumee thaazvarayooram" – Album (2015)
"Vaadyaghosham" – Kerala Piravi Day (2014)
"Kanna Neeyengupoi" – Nandagopalam (2013)
"Kayalthirakalil Kanneeralakalil" – Kulirmazhayai (2011)
"Athramel Athramel" – Danaha (2011)
"Ravereyayittum" – Pranayamarmaram (2009)
"Ee Manjil" – Spandanam (2010)
"Ennennum" – (2010)
"Manju Peyyume" – Purple (2009)
Malayalam
"Doore Kizhakudikkum" – Chithram
"Kadume Nadumellam" – Chithram
"Kunu Kune" – Yodha
"Pranayamanithooval" – Azhakiya Ravanan
"Engane njan Urakkendu" – Desadanam
"Ethrayo Janmamayi" – Summer in Bethlahem
"Varamanjaladiya" – Pranayavarnangal
"Minnal Kaivala Charthi" – Harikrishnans
"Kakkakarumban" – Ee Puzhayum Kadannu
"Perariya" – Soothradharan
"Thotturummi Irikkan Kothiyayi" – Rasikan
"Manju Peyyanu" – Chandranudikkunna Dikhil
"Marannittum" – Randaam Bhavam
"Pala Medhuvai" – Bucket
"Onnam Kili" – Kilichundan Mampazham
"Onnanam Kunninmele" – Kilichundan Mampazham
"Kandu Kandu" – Mampazhakkalam
"Karumizhi Kuruvi" – Meesa Madhavan
"Thattam Pidichu" – Paradesi
"Aaroraal Pularmazhayil" – Pattalam
"Juneile Nilamazhayil" – Nammal Thammil
"Rakkilithan" – Perumazhakkalam
"Kallayi Kadavathu" – Perumazhakkalam
"Dhoore Dhoore" – Seetha Kalyanam
"Ketille Vishesham" – Seetha Kalyanam
"Neelakasham" – Jomonte Suvisheshangal
Sujatha Mohan As Judge
| Year | Title | Channel | Language |
| --- | --- | --- | --- |
| 2008 | Airtel Super Singer 2 | STAR Vijay | Tamil |
| 2008-2009 | Munch Star singer junior | Asianet | Malayalam |
| 2010-2011 | Airtel Super Singer 3 | STAR Vijay | Tamil |
| 2010-2012 | Munch Star singer junior 2 | Asianet | Malayalam |
| 2013 | Indian Voice | Mazhavil Manorama | Malayalam |
| 2013-2014 | Airtel Super Singer 4 | STAR Vijay | Tamil |
| 2013-2014 | Indian Voice season 2 | Mazhavil Manorama | Malayalam |
| 2014 | Surya Singer | Surya TV | Malayalam |
| 2016 | Super singer junior | Amrita TV | Malayalam |
| 2017 | Sa Re Ga Ma Pa Little Champs | Zee Tamizh | Tamil |
| 2018-Present | Super 4 | Mazhavil Manorama | Malayalam |
Sujatha Mohan 
Awards 
Kerala State Film Awards:
2008 – Best Female Playback Singer for "Baasuri" from Rathri Mazha
1999 – Best Female Playback Singer for "Varamanjaladiya" from Pranayavarnangal
1996 – Best Female Playback Singer for "Pranayamanithooval" from Azhakiya Ravanan
Tamil Nadu State Film Awards:
2001 – Best Female Playback Singer for "Un Samayal Arayil" from Dhill
1996 – Best Female Playback Singer for "Poo Pookkum Oosai" from Minsara Kanavu
1993 – Best Female Playback Singer for "Netru Illatha Maatram" from Pudhiya Mugam "En Veetu Thottathil" from Gentle man
Kerala Film Critics Award
2003 – Best Female Playback Singer for Vellithira' &`Kasthuriman
2004 – Best Female Playback Singer for Thudakkam
2005 – Best Female Playback Singer for paranju theeratha vishengal
Asianet Film Awards:
2004 – Best Female Playback for"Kandu Kandu" from Mampazhakkalam
2001 – Best Female Playback for "Perariya" from Soothradharan
1998 – Best Female Playback for "Varamanjalaadiya from Pranayavarnangal
Other prominent awards & nominations:
2015 – Asiavision Awards for Best Female Playback Singer – Ottamandaram
2014 – Thikkurishi Award(shared with shewta) for movie Ottamandaram
2013 – JFW magazine Women Achievers Award.
2009 – Swaralaya Yesudas Award
2008 – Best female singer award in GMMA (Gulf Malayalam Music Awards)
The Film Critics award 11 times
The Cinema Express award
The Dinakaran award
Vanitha award for 'Kallai Kadavathu' in 'Perumazhakkalam'
Mathrubhoomi Award for 'Kallai Kadavathu' in 'Perumazhakkalam'
Raju Pilakkad Film Award
Lifetime Achievement Award from Zee Tamil saregamapa little champs she got the award from her mother
south Indian bank women's achivers award
Sujatha Mohan Images
Read Other Biographies: Shweta Mohan | Anuradha Sriram | Benny Dayal | Singer Diwakar | Singer Priyanka | Singer Praniti | Benny Dayal | Super Singer Rakshitha | Priyanka Super Singer | NithyaShree Raman | Diwakar | Anuradha Sriram