Mr and Mrs Chinnathirai Season 3 | Contestants | Episodes | Timings | Winner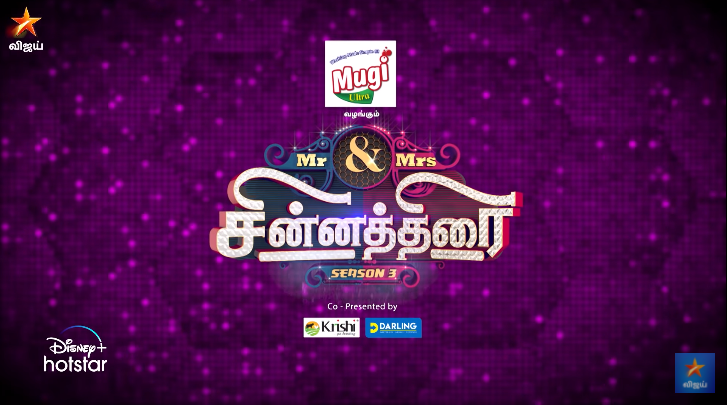 In terms of entertainment, Star Vijay TV never disappoints the audience with its reality show. To grab the attention of viewers and audience after the end of Cook with Comali 2, the channel comes up with a new show Mr & Mrs Chinnathirai Season 3. With this revamped version, it brings new contestants, games, dance, theme-based scenes, emotions, etc. The show is back with a bang after a covid pandemic. Watch all the latest episodes of Mr and Mrs Chinnathirai 3 show online on the Hotstar app.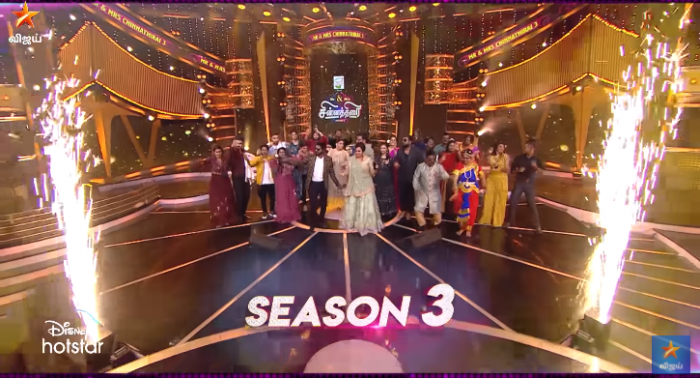 This popular reality show has 12 celebrity couples either participate with real-life partners or reel life partners which compete for the challenges and tasks to win the title. It features television artist couples and the judges are Gopinath, Devadarshini.
Ma Ka Pa Anand and Archana will be hosting this new season. Recently the promo has been released on the channel and social media. The audience is excited about this new season which will bring more fun and entertainment on the weekends, starts from April 24, 2021. Viewers can also watch this show online on the Disney+ Hotstar app which is available for both Android and iOS.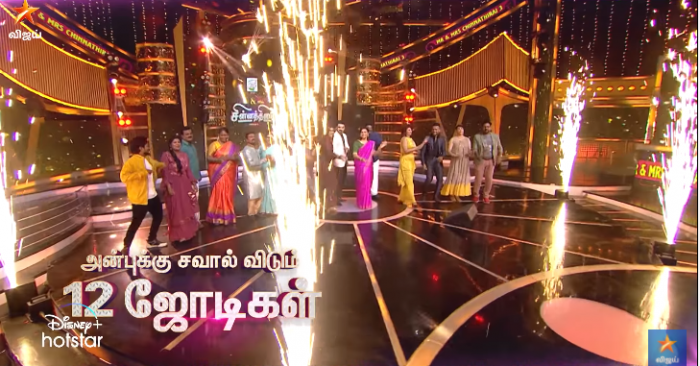 Mr and Mrs Chinnathirai Season 3 Contestants
Here's the couples who are participating in Mr and Mrs Chinnathirai Season 3,
Manikandan (Aishwarya Rajesh Brother) with his wife Sofia (Manikandan – Sofia)
Singer Velmurugan with his wife Kala (Velmurugan – Kala)
Actress Myna Nandhini with her husband Yogeshwaran aka Yogesh (Yogesh – Nandhini)
Comedian Badava Gopi with his wife Haritha (Gopi – Haritha)
Actress Dheepa with her husband Shankar (Deepa – Shankar)
Singer Diwakar with his wife Abhinaya (Diwakar – Abhinaya)
Put Chutney Raj Mohan with his wife Kavitha (Raj Mohan – Kavitha)
KPY Sarath with his wife Krithika Ravi (Sarath – Krithika)
Singer Roshini with her husband Jack (Jack – Roshini)
KPY Vinoth – Iswarya
Ajay Kumar – Anandhi
Yuvaraj – Gayathri
Mr & Mrs Chinnathirai Promo
Watch the latest promo of Mr and Mrs Chinnathirai Season 3,
Mr & Mrs Chinnathirai 3 Full Season
Show Name: Mr & Mrs Chinnathirai season 3
Genre: Game Reality Show
Host: Archana, Ma Ka Pa Anand
Judges: Neeya Naana Gopinath, Devadarshini
Channel: Star Vijay TV
Timing: 06:30 PM – 08:00 PM ( Saturday – Sunday)
Running time: 90 minutes
Streaming Platform: Disney+ Hotstar
Thanks for visiting Newsbugz.com For more Entertainment news