Baakiyalakshmi Serial (Tamil) – Today [20 October 2023] Episode | Promos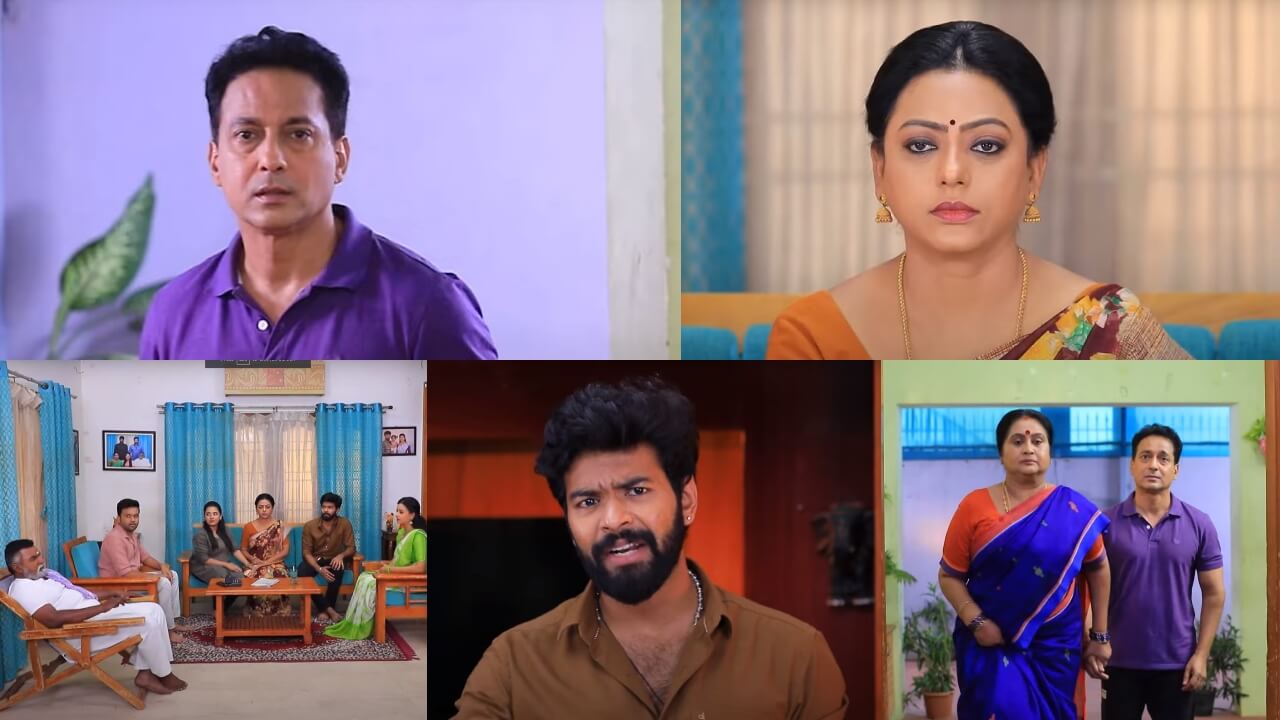 Baakiyalakshmi or Bhagyalakshmi (பாக்கியலட்சுமி) is a Tamil television serial that airs on Star Vijay TV. The family drama is an official remake of the Hindi serial Bhagyalakshmi. The Telugu version of the serial titled Intinti Gruhalakshmi stars Kasthuri in the lead role. Bhagyalakshmi Serial (Tamil) features Suchitra, Vishal, Velu Lakshmanan, and Nehah Menon in the lead roles. The serial is scheduled for Monday to Saturday at 8:30 PM. Vijay TV's Baakiyalakshmi serial is being produced by KJ Ganesh under the Venus Infotainment banner.
Sathish Kumar aka Gopi posted a video on his Instagram page saying that he is leaving the Baakiyalakshmi serial. The video went viral on social media platforms. Many fans commented on their disappointment with him leaving the serial. There is no news from the makers about who will be replacing Sathish as Gopi.
Bhagyalakshmi Story Plot
The story written by Leena Gangopadhyay showcases the daily difficulties that a woman faces every second of her life. With increasing awareness, social revolutions, and changing times women have come a long way from being restricted to their household chores and family. They have now reached a stage where they can assert their free will and speak up for their rights.
Baakiyalakshmi Promo Videos
Watch the promo videos of the Vijay TV serial Baakiyalakshmi,
Baakiyalakshmi Serial Today Episode – [20 October 2023]
Baakiyalakshmi S1 E945 – A Shocker for Baakiyalakshmi
Baakiyalakshmi gets suspicious of Malini when she pretends to visit Chezhiyan for office work. Later, Ganesan's parents meet up with Baakiyalakshmi and reveal that their son is still alive and he is searching for Amirtha and their daughter.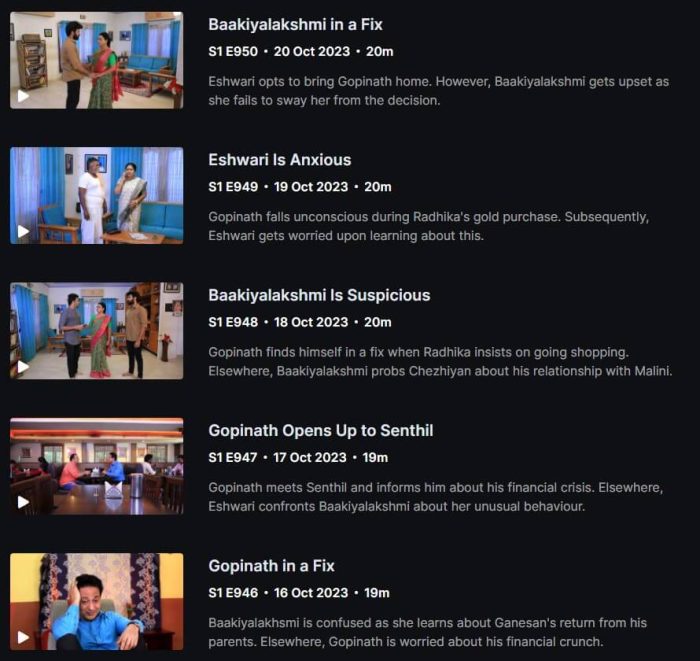 Baakiyalakshmi Serial Cast
Here are the cast members of the Baakiyalakshmi serial,
Suchitra as Baakiyalakshmi
Vishal as Ezhil
Velu Lakshmanan as Chezhiyan
Nehah Menon as Iniya
Sathish as Gopinath
Arvind Kathare as Gopinath (Not Yet Confirmed)
Rajya Lakshmi
Rozario
Baakiyalakshmi Serial Full Details
| | |
| --- | --- |
| Name | Baakiyalakshmi |
| Director | Siva Sekar |
| Channel | Star Vijay |
| Timing | 8:30 PM |
| Genre | Family Drama |
| Release Date | 30 July 2020 |
| Starring | Suchitra, Vishal, Velu Lakshmanan, Nehah Menon |
| Language | Tamil |
| Running Time | 30 minutes |
Baakiyalakshmi Serial Full Episode
Watch full episodes of the Baakiyalakshmi serial on Disney+ Hotstar,