Santhanam Wiki, Biography, Age, Wife, Movies, Images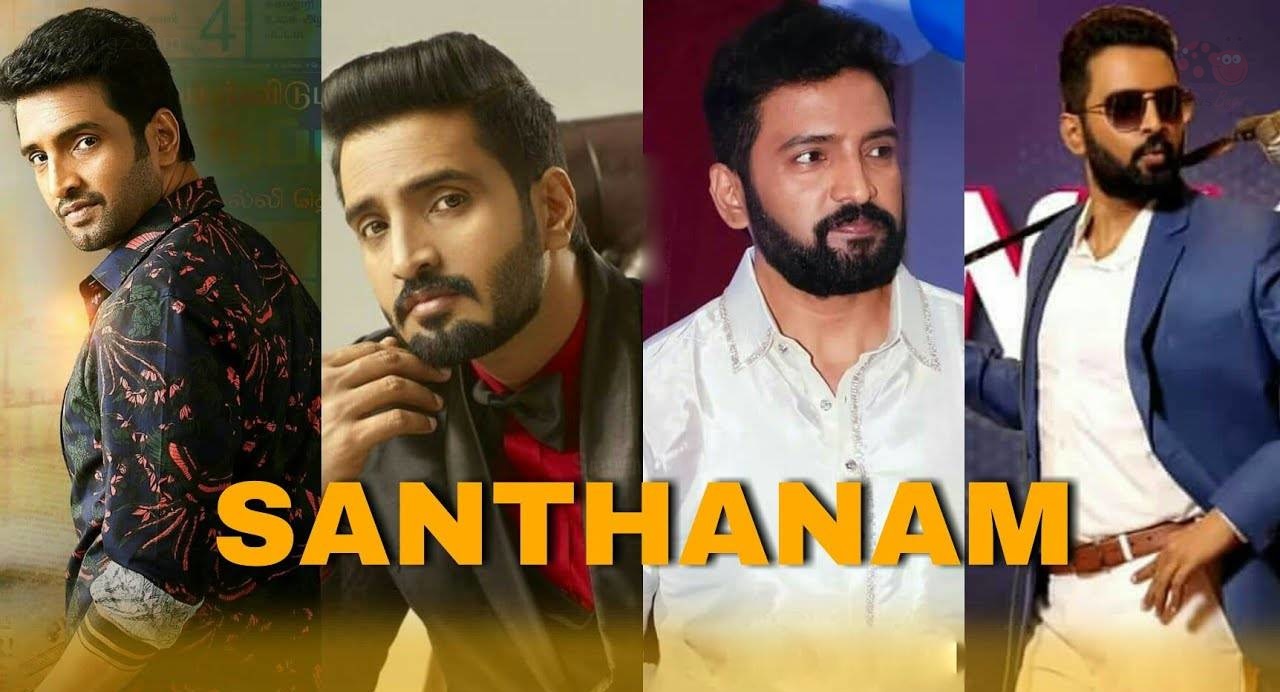 Santhanam is an Indian film actor and producer, who predominantly appears in the Tamil Cinema. He began his career as a Comedian on Television he rose to fame through his performances in the STAR Vijay's Lollu Sabha, Santhanam enacted the lead role in the spoofs of Tamil films. He then has given a chance by the actor Silambarasan to the feature in the supporting role in Manmadhan (2004) and then Santhanam was signed to appear in comedy roles in Tamil films. He has won good reviews for his work in Sachien (2005) and also in Polladhavan (2007). His new movie Gulu Gulu first look has been released and it is viral on all social media platforms.
Santhanam was born on 21 January 1980, and he is the son of Neelamegam. Santhanam has appeared in one of the leading roles in Shankar's Production Arai En 305-il Kadavul (2008). Then he successfully became one of the stable comedians in the Tamil film Industry. Santhanam has won Vijay Award for the Best Comedian for the movie Oru Kal Oru Kannadi (2012). Santhanam has starred in the leading roles in the action comedy Vallavanukku Pullum Aayudham (2014), Inimey Ippadithaan (2015), Dhilluku Dhuddu (2016), and Sakka Podu Podu Raja in 2017. Now he is involved in the leading roles in the Tamil Cinema.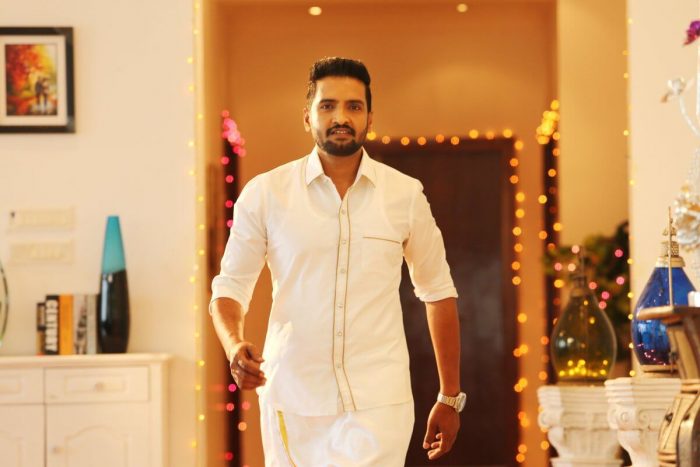 Biography
Name
Santhanam
Real Name
Santhanam
Nickname
Santa
Profession
Actor, Comedian, Producer
Date of Birth
21 January 1980
Age
42 (as of 2022)
Zodiac sign
Yet to be updated
Family
Father: Neelamegam
Mother: Yet to be updated
Marital Status
Married
Affairs/Girlfriends
NA
Wife
Usha
Children
Son
Religion
Hindu
Educational Qualification
Graduate
School
Marya Nivas Matriculation Higher Secondary School, Pozhichalur, Chennai
College
Meenakshi Krishnan Polytechnic College, Pammal, Chennai
Hobbies
Traveling, Listening Music, Singing
Birth Place
Pozhichalur, Chennai, Tamil Nadu
Hometown
Chennai, Tamil Nadu, India
Current City
Chennai, Tamil Nadu, India
Nationality
Indian
Social Media Profiles
Santhanam WEBSITE
Movies
| Year | Film | Role(s) | Notes |
| --- | --- | --- | --- |
| 2002 | Pesadha Kannum Pesume | Vikram's classmate | Tamil film debut |
| 2002 | Kadhal Azhivathillai | Simbhu's friend | |
| 2003 | Alai | | |
| 2004 | Manmadhan | Bobby | |
| 2005 | Sachien | Santhanam | |
| 2005 | Englishkaran | College Student | |
| 2005 | February 14 | College Student | |
| 2005 | Oru Kalluriyin Kathai | David | |
| 2005 | Anbe Aaruyire | Jackie | |
| 2006 | Idhaya Thirudan | Mahesh | |
| 2006 | Something Something... Unakkum Enakkum | Arivu | |
| 2006 | Sillunu Oru Kaadhal | Rajesh | |
| 2006 | Vallavan | Bala | |
| 2006 | Rendu | Seenu | |
| 2007 | Veerasamy | Veera Saamy's friend | |
| 2007 | Mudhal Kanave | Sathish | |
| 2007 | Viyabari | Personal Assistant | |
| 2007 | Kireedam | Balasubramaniam | |
| 2007 | Veerappu | Puli's Friend | |
| 2007 | Thottal Poo Malarum | Ravi's friend | |
| 2007 | Azhagiya Tamil Magan | Murugan | |
| 2007 | Machakaaran | | |
| 2007 | Polladhavan | Sathish | |
| 2007 | Billa | Krishna | |
| 2008 | Kaalai | | |
| 2008 | Vaitheeswaran | | |
| 2008 | Kannum Kannum | Murali | |
| 2008 | Santosh Subramaniam | Srinivasan | |
| 2008 | Arai Enn 305-il Kadavul | Raasu | Debut in a lead role |
| 2008 | Kuselan | Nagercoil Nagaraj | |
| 2008 | Jayamkondaan | Bhavani | |
| 2008 | Mahesh, Saranya Matrum Palar | | |
| 2008 | Silambattam | Sama | |
| 2009 | Siva Manasula Sakthi | Vivek | Vijay Award for Best Comedian |
| 2009 | Thoranai | Vellaichamy | |
| 2009 | Maasilamani | Pazhani | |
| 2009 | Vaamanan | Chandru | |
| 2009 | Modhi Vilayadu | Kaduku | |
| 2009 | Malai Malai | Vimal Haasan | |
| 2009 | Kandein Kadhalai | Mokkai Raasu | |
| 2009 | Kandhakottai | Velu | |
| 2009 | Balam | | |
| 2010 | Theeradha Vilaiyattu Pillai | Kumar | |
| 2010 | Guru Sishyan | | |
| 2010 | Maanja Velu | Manikkam | |
| 2010 | Thillalangadi | Dr. Putti Paul | |
| 2010 | Moscowin Kavery | Devaraj | |
| 2010 | Boss Engira Bhaskaran | Nallathambi | Vijay Award for Best Comedian |
| 2010 | Enthiran | Siva | |
| 2010 | Mandhira Punnagai | Senthil | |
| 2010 | Chikku Bukku | Vijay | |
| 2010 | Ayyanaar | Shiva | |
| 2010 | Aattanayagan | Lingam's friend | |
| 2010 | Chutti Chathan | Scientist Vasu | |
| 2011 | Siruthai | Kaatuppoochi | Vijay Award for Best Comedian |
| 2011 | Thambikottai | Saisa | |
| 2011 | Singam Puli | Buji Babu | |
| 2011 | Vaanam | "Tantana Tan" Seenu | |
| 2011 | Kandaen | Saami | |
| 2011 | Udhayan | Mukundhan | |
| 2011 | Deiva Thirumagal | Vinod | |
| 2011 | Markandeyan | Yaanaimudi | |
| 2011 | Yuvan Yuvathi | Sakkarai | |
| 2011 | Vanthaan Vendraan | Delhi | |
| 2011 | Vellore Maavattam | Kumaravel | |
| 2011 | Velayudham | Speed | |
| 2011 | Osthe | Selvam | |
| 2012 | Vinayaka | Senthil | Scenes of Santhanam reshot for Tamil version only |
| 2012 | Muppozhudhum Un Karpanaigal | Chandru | |
| 2012 | Kadhal Pisase | Srinath | |
| 2012 | Oru Kal Oru Kannadi | Parthasarathi (Partha) | Vijay Award for Best Comedian |
| 2012 | Leelai | Vicky | |
| 2012 | Kalakalappu | Vettupuli | |
| 2012 | Ishtam | Thiyagu | |
| 2012 | Saguni | Appadurai (Rajni) | |
| 2012 | Naan Ee | Poottu Govindhan | |
| 2012 | Mirattal | Chari | |
| 2012 | Thaandavam | Sathyan | |
| 2012 | Podaa Podi | Himself | Guest appearance in "Love Pannlama" song |
| 2012 | Neethaane En Ponvasantham | Prakash | |
| 2013 | Alex Pandian | Kaalayan | |
| 2013 | Kanna Laddu Thinna Aasaiya | Kaalkattu Kaliyaperumal | Also producer |
| 2013 | Settai | Nagaraj (Nadupakka Nakki) | |
| 2013 | Theeya Velai Seiyyanum Kumaru | Nokia | Vijay Award for Best Comedian |
| 2013 | Thillu Mullu | American Mappilai | Guest appearance |
| 2013 | Singam 2 | Susai | |
| 2013 | Pattathu Yaanai | Poongavanam (Gouravam) | |
| 2013 | Thalaivaa | Logu | |
| 2013 | Ainthu Ainthu Ainthu | Gopal | |
| 2013 | Ya Ya | Rajkiran (Sehwag) | |
| 2013 | Raja Rani | Sarathy | |
| 2013 | Vanakkam Chennai | Narayanan | |
| 2013 | All in All Azhagu Raja | Kalyanam/Kaali | |
| 2013 | Endrendrum Punnagai | Baby | |
| 2014 | Veeram | Bail Perumal | |
| 2014 | Salalah Mobiles | Azhagarsamy | Malayalam film debut |
| 2014 | Inga Enna Solluthu | Ezhumugam | |
| 2014 | Idhu Kathirvelan Kadhal | Mayilvaganam | |
| 2014 | Bramman | Nandhu | |
| 2014 | Thalaivan | Kannan | |
| 2014 | Vallavanukku Pullum Aayudham | Shakthi | Also producer |
| 2014 | Vanavarayan Vallavarayan | Anjali's suitor | Guest appearance |
| 2014 | Aranmanai | Paalsaamy | |
| 2014 | Lingaa | Lingaa's sidekick | |
| 2015 | I | Babu | |
| 2015 | Aambala | Inspector RDX Rajasekhar | |
| 2015 | JK Enum Nanbanin Vaazhkai | Thothathri "Paartha" | |
| 2015 | Nannbenda | Sivakozhundhu (kozhundhu) | |
| 2015 | Inimey Ippadithaan | Seenu | Also producer |
| 2015 | Vaalu | Tyre | |
| 2015 | Vasuvum Saravananum Onna Padichavanga | Vasu | |
| 2016 | Vaaliba Raja | Raja | |
| 2016 | Idhu Namma Aalu | Sherlock Holmes | Guest appearance |
| 2016 | Dhilluku Dhuddu | Kumar | |
| 2016 | Tamilselvanum Thaniyar Anjalum | Nasa | |
| 2016 | Nambiar | Nambiar | |
| 2017 | Enakku Vaaitha Adimaigal | Santhanam | Guest appearance |
| 2017 | Sakka Podu Podu Raja | Santa | |
| 2019 | Dhilluku Dhuddu 2 | Viji | Also producer |
| 2019 | A1 | Saravanan | |
| 2020 | Dagaalty | Guru | |
| 2020 | Biskoth | Raja /Rajasimma | |
| 2021 | Parris Jayaraj | Jayaraj | |
| 2021 | Dikkiloona | Mani | |
| 2021 | Sabhaapathy | Sabhaapathy | |
| TBA | Agent Kannayiram | TBA | Post-production |
| TBA | Gulu Gulu | TBA | Pre-production |
Television
| Year | Show | Role | TV Channel |
| --- | --- | --- | --- |
| 2000-2001 | Tea Kadai Bench | | Win TV |
| 2003 | Annamalai | Sakthi | Sun TV |
| 2003 | Sagalai Vs Ragalai | | STAR Vijay |
| 2003–2004 | Lollu Sabha | | STAR Vijay |
Awards
| Year | Award | Category | Film | Result |
| --- | --- | --- | --- | --- |
| 2009 | 4th Vijay Awards | Best Comedian | Siva Manasula Sakthi | Won |
| 2010 | 58th Filmfare Awards South | Best Supporting Actor | Boss Engira Bhaskaran | Nominated |
| 2010 | Ananda Vikatan Cinema Awards | Best Comedian | Boss Engira Bhaskaran | Won |
| 2010 | Edison Awards (India) | Best Comedian | Boss Engira Bhaskaran | Won |
| 2010 | 5th Vijay Awards | Best Comedian | Boss Engira Bhaskaran | Won |
| 2011 | 59th Filmfare Awards South | Best Supporting Actor | Deiva Thirumagal | Nominated |
| 2011 | 59th Filmfare Awards South | Best Supporting Actor | Siruthai | Nominated |
| 2011 | Ananda Vikatan Cinema Awards | Best Comedian | Deiva Thirumagal | Won |
| 2011 | Ananda Vikatan Cinema Awards | Best Comedian | Velayudham | Won |
| 2011 | 6th Vijay Awards | Best Comedian | Deiva Thirumagal | Won |
| 2011 | SIIMA Awards | Best Comedian | Vaanam | Won |
| 2012 | 7th Vijay Awards | Best Comedian | Oru Kal Oru Kannadi | Won |
| 2012 | Ananda Vikatan Cinema Awards | Best Comedian | Oru Kal Oru Kannadi | Won |
| 2012 | 60th Filmfare Awards South | Best Supporting Actor | Oru Kal Oru Kannadi | Nominated |
| 2012 | SIIMA Awards | Best Comedian | Oru Kal Oru Kannadi | Nominated |
| 2012 | Chennai Times Award | Best Comedian | Oru Kal Oru Kannadi | Won |
| 2012 | Norway Tamil Film Festival Awards | Best Comedian | Oru Kal Oru Kannadi | Won |
| 2012 | Edison Awards (India) | Best Comedian | Oru Kal Oru Kannadi | Won |
| 2013 | 8th Vijay Awards | Best Comedian | Theeya Velai Seiyyanum Kumaru | Won |
| 2013 | SIIMA Awards | Best Comedian | Theeya Velai Seiyyanum Kumaru | Nominated |
| 2013 | Behindwoods Gold Medal Award | Best Acting Performance | Raja Rani | Won |
| 2013 | Behindwoods Gold Medal Award | Best Acting Performance | Endrendrum Punnagai | Won |
| 2015 | SIIMA Awards | Best Comedian | Vasuvum Saravananum Onna Padichavanga | Nominated |
| 2015 | Vijay Awards | Best Comedian | Aranmanai | Nominated |
| 2018 | Kalaimamani Award | Contribution to the field of art and literature | N/A | Won |
Images
Here are the latest photos of Santhanam,