Kamal Haasan Wiki, Biography, Age, Wife, Movies, Images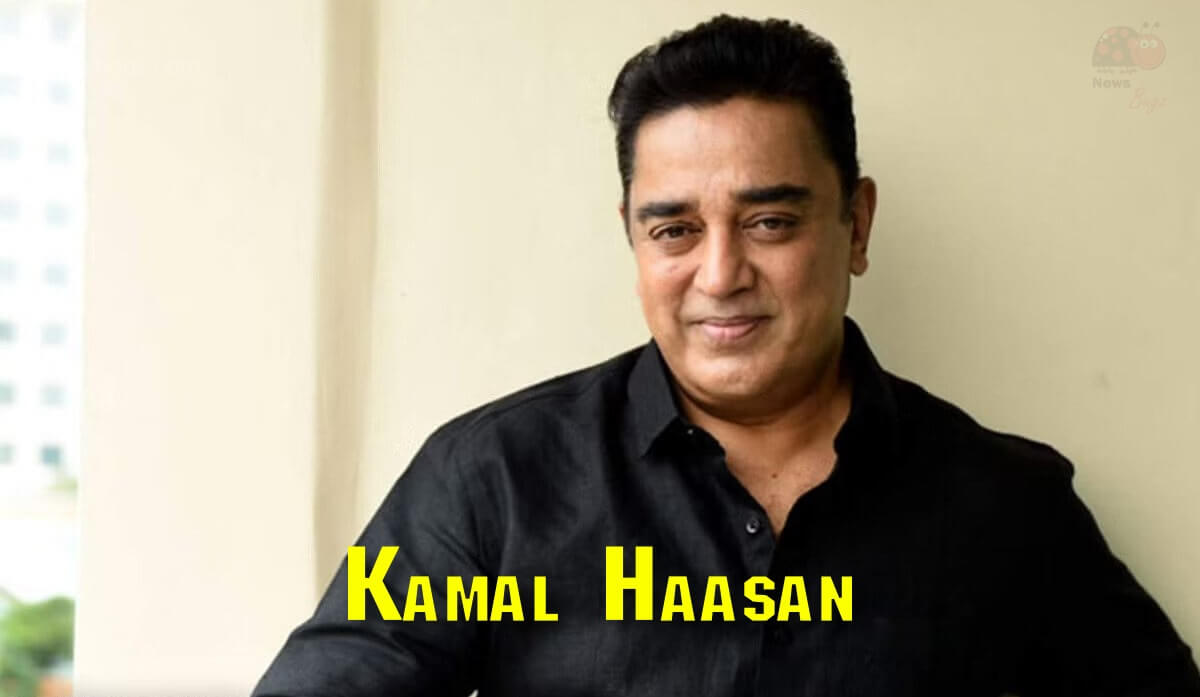 Kamal Haasan is an Indian actor, director, screenwriter, producer, playback singer, lyricist, and philanthropist. He primarily works in Tamil cinema and debuted as a child artist in the film Kalathoor Kannamma, which was released in the year 1960. Since then, he has acted in more than 200 films in central Indian languages such as Tamil, Telugu, Kannada, Malayalam, Telugu, and Hindi. His production company, Rajkamal International, has produced several of his films. He is the host of the famous Television reality show Bigg Boss Tamil. He wrote and sang the Pathala Pathala for his movie Vikram with Anirudh Ravichander. Kamal is the narrator for Ponniyin Selvan: 1 Tamil version. His Indian 2 movie BTS photos went viral on the internet. He celebrated his birthday in the Happy Birthday Kamal Haasan show, telecasted on Vijay TV. The #KH234 movie announcement became trending on the internet.
In 1973, Director K. Balachander introduced Kamal into a fledged role in the film Arangetram. In the same year, he acted as an antagonist in the film Sollathaan Ninaikkiren with the director K. Balachander. In 1974, His first lead role was in Malayalam film Kanyakumari which the film receives critical acclaim and won him a Filmfare award.
Kamal has experimented a lot with his movies as Director, Screenplay writer, Dancer, Producer, Playback singer, Lyricist, and more. He is the first actor in Tamil cinema who worked for more than 60 years. He was honored with the show Kamal 50 which is organized and telecasted by Vijay Television.
Biography
Name
Kamal Haasan
Real Name
Alwerpettai Aaandavar
Nickname
Universal Hero, Ulaga Nayagan
Profession
Actor, Dancer, Director, Producer, Politician
Date of Birth
7 November 1954
Age (as of 2022)
68
Zodiac sign
Scorpio
Family
Father: D. Srinivasan (Lawyer)
Mother: Rajalakshmi Srinivasan
Brother: Chandrahasan and Charuhasan (Actor)
Sister: Nalini Raghu
Marital Status
Married
Affairs/Girlfriends
Gautami Tadimalla (actress; 2004 – 2016)
Wifes
Vani Ganapathy (Dancer, 1987 – 1988)
Sarika Thakur (Actress, 1988 – 2004)
Children
Daughter: Shruti Hassan (Actress), Akshara Haasan (Actress), and Subbalakshmi
Religion
Hindu
Educational Qualification
Graduate
School
Sir M.Ct. Muthiah Chettiar Boys Higher Secondary School, Chennai
Hindu Higher Secondary School, Chennai.
College
Yet to be updated
Hobbies
Reading, Singing, Writing, Listening to music
Birth Place
Paramakudi, Tamil Nadu, India
Hometown
Paramakudi, Tamil Nadu, India
Current City
Chennai, Tamil Nadu, India
Nationality
Indian
Social Media Profiles
Interesting Facts
He has been a part of the film industry for 62 years, as of 2022.
Kamal Haasan is the one and only Indian actor to win more than 18 Filmfare awards. He is fluent in Tamil, Malayalam, English, Hindi, Telugu, Bengali, Kannada, and French.
He was attracted to film and fine arts as encouraged by his father. His mother Rajalakshmi was a physician friend of Avichi Meiyappa Chettiar (AVM).
M. Saravanan, a son of Avichi Meiyappa Chettiar recommended Kamal for their production film Kalathur Kannamma in the year 1959 as child artist.
In 1973, Kamal played a lead role in the film Arangetram.
Later K. Balachander's Apoorva Raagangal made Kamal an established actor in Tamil Film Industry. In the late 90s, Kamal ruled the Kollywood box office with his back-to-back hits the box office along with his rival Super Star Rajinikanth.
Kamal Haasan announces his party name on 21 February 2018 which is most awaited by the people of Tamil Nadu, especially by his fans. Named Makkal Neethi Maiam Kamal called his party's name thrice after hoisting the party's flag near the stage in Madurai along with Arvind Kejriwal, the Chief Minister of Delhi.
In 2017, Kamal was roped with Vijay Television to host the most controversial reality show Bigg Boss Tamil. He used the show as his political platform and voiced his views on politics, life, and everything thought-provoking only in his films.
In 1978, Kamal Haasan married dancer Vani Ganapathy and divorced after ten years. Later, he married an actress Sarika and start living together in 1988. Both married after the birth of their first child, Shruthi Haasan. Shruti Haasan is a leading actress in south India. Their younger daughter, Akshara, was assistant director for the film Vishwaroopam.
Later, the couple filed for divorce. After a year, Kamal lived with former actress Gautami Tadimalla who had starred with him in several films during the 1990s and from 2005 to 2016. Later, Gautami announced on her blog that she had ended her relationship with him.
Filmography
Movies as Actor
| Year | Film | Role | Language | Notes |
| --- | --- | --- | --- | --- |
| 1960 | Kalathur Kannamma | Selvam | Tamil | Child artist |
| 1962 | Parthal Pasi Theerum | Babu & Kumar | Tamil | Child artist |
| 1962 | Paadha Kaanikkai | Ravi | Tamil | Child artist |
| 1962 | Kannum Karalum | Babu | Malayalam | Child artist |
| 1963 | Vanambadi | Ravi | Tamil | Child artist |
| 1963 | Anandha Jodhi | Balu | Tamil | Child artist |
| 1970 | Maanavan | | Tamil | Uncredited role (Special appearance in the song "Visiladichan Kunjugala") |
| 1971 | Annai Velankanni | Jesus | Tamil | Uncredited role |
| 1972 | Kurathi Magan | | Tamil | Uncredited role |
| 1973 | Arangetram | Thiagu | Tamil | |
| 1973 | Sollathaan Ninaikkiren | Kamal | Tamil | |
| 1974 | Paruva Kaalam | Chandran | Tamil | |
| 1974 | Gumasthavin Magal | Mani | Tamil | |
| 1974 | Naan Avanillai | Appu | Tamil | |
| 1974 | Kanyakumari | Sankaran | Malayalam | |
| 1974 | Anbu Thangai | Buddha | Tamil | Uncredited role (Special appearance in the song "Mannargal Vanagum") |
| 1974 | Vishnu Vijayam | Vishnu | Malayalam | |
| 1974 | Aval Oru Thodar Kathai | Prasad | Tamil | |
| 1974 | Panathukkaga | Kumar | Tamil | |
| 1975 | Cinema Paithiyam | Natarajan | Tamil | |
| 1975 | Pattampoochi | Siva | Tamil | |
| 1975 | Aayirathil Oruthi | Kamal | Tamil | |
| 1975 | Then Sindhudhe Vaanam | Ravi | Tamil | |
| 1975 | Melnaattu Marumagal | Raja | Tamil | |
| 1975 | Thangathile Vairam | Kumar | Tamil | |
| 1975 | Pattikkaattu Raja | Mahesh | Tamil | |
| 1975 | Njan Ninne Premikkunnu | Suresh | Malayalam | |
| 1975 | Maalai Sooda Vaa | | Tamil | |
| 1975 | Apoorva Raagangal | Prasanna | Tamil | |
| 1975 | Thiruvonam | Prem Kumar | Malayalam | |
| 1975 | Mattoru Seetha | | Malayalam | |
| 1975 | Raasaleela | | Malayalam | |
| 1975 | Andharangam | Kaanthan | Tamil | |
| 1976 | Agni Pushpam | Somu | Malayalam | |
| 1976 | Appooppan | Babumon | Malayalam | |
| 1976 | Samasya | | Malayalam | |
| 1976 | Manmadha Leelai | Madhu | Tamil | |
| 1976 | Anthuleni Katha | Arun | Telugu | Guest appearance |
| 1976 | Swimming Pool | | Malayalam | |
| 1976 | Aruthu | | Malayalam | |
| 1976 | Satyam | Kumaran | Tamil | |
| 1976 | Oru Oodhappu Kan Simittugiradhu | Ravi | Tamil | |
| 1976 | Unarchigal | Selvam | Tamil | |
| 1976 | Kuttavum Shikshayum | | Malayalam | |
| 1976 | Kumaara Vijayam | Kumar | Tamil | |
| 1976 | Idhaya Malar | Mohan | Tamil | |
| 1976 | Ponni | Maran | Malayalam | |
| 1976 | Nee Ente Lahari | | Malayalam | |
| 1976 | Moondru Mudichu | Balaji | Tamil | |
| 1976 | Mogam Muppadhu Varusham | Ramesh | Tamil | |
| 1976 | Lalitha | Balu | Tamil | |
| 1977 | Uyarndhavargal | Aarumugam | Tamil | |
| 1977 | Siva Thandavum | | Malayalam | |
| 1977 | Aasheervaadam | | Malayalam | |
| 1977 | Avargal | Janardhan (Johnny) | Tamil | |
| 1977 | Madhura Swapanam | | Malayalam | |
| 1977 | Aaina | Prem Kapoor | Hindi | Uncredited role |
| 1977 | Sreedevi | Venugopal | Malayalam | |
| 1977 | Unnai Suttrum Ulagam | Raja | Tamil | |
| 1977 | Kabita | Gopal | Bengali | |
| 1977 | Ashtamangalyam | | Malayalam | |
| 1977 | Nirakudam | Devan | Malayalam | |
| 1977 | Ormakal Marikkumo | Chandrasekharan | Malayalam | |
| 1977 | 16 Vayathinile | Gopalakrishnan (Chappani) | Tamil | |
| 1977 | Aadu Puli Attam | Madan | Tamil | |
| 1977 | Aanandham Paramaanandham | Babu | Malayalam | |
| 1977 | Naam Pirandha Mann | Ranjith | Tamil | |
| 1977 | Kokila | Vijaykumar | Kannada | |
| 1977 | Satyavan Savithri | Sathyavan | Malayalam | |
| 1977 | Aadhya Paadam | | Malayalam | |
| 1978 | Madanolsavam | Raju | Malayalam | |
| 1978 | Kaathirunna Nimisham | Raju | Malayalam | |
| 1978 | Anumodhanam | | Malayalam | |
| 1978 | Avalude Ravukal | Un­known | Malayalam | Guest appearance |
| 1978 | Nizhal Nijamagiradhu | Sanjeevi | Tamil | |
| 1978 | Aval Viswasthayayirunnu | Anto | Malayalam | Guest appearance |
| 1978 | Maro Charitra | Balu | Telugu | |
| 1978 | Ilamai Oonjal Aadukirathu | Prabhu | Tamil | |
| 1978 | Amara Prema | Raju | Telugu | Partially reshot, remake of Madanolsavam |
| 1978 | Sattam En Kaiyil | Babu & Rathinam | Tamil | |
| 1978 | Padakuthira | | Malayalam | Guest appearance |
| 1978 | Vayasu Pilichindi | Raja | Telugu | |
| 1978 | Vayanadan Thamban | Vayanadan Thamban | Malayalam | |
| 1978 | Sakka Podu Podu Raja | Un­known | Tamil | Guest appearance |
| 1978 | Sigappu Rojakkal | Dileep | Tamil | |
| 1978 | Manidharil Ithanai Nirangala | Velu | Tamil | |
| 1978 | Aval Appadithan | Arun | Tamil | |
| 1978 | Thappida Thala | Amrit Lal | Kannada | Guest appearance |
| 1978 | Thappu Thalangal | Amrit Lal | Tamil | Guest appearance |
| 1978 | Yaetta | Ramu | Malayalam | |
| 1979 | Sommokadidi Sokokadidi | Rangadu & Shekar | Telugu | |
| 1979 | Sigappukkal Mookkuthi | | Tamil | |
| 1979 | Neeya? | Kamal | Tamil | |
| 1979 | Allauddinum Albhutha Vilakkum | Alauddin | Malayalam | |
| 1979 | Allaudinaum Arputha Vilakkum | Alauddin | Tamil | |
| 1979 | Thaayillamal Naan Illai | Raja | Tamil | |
| 1979 | Ninaithale Inikkum | Chandru | Tamil | |
| 1979 | Andamaina Anubhavam | Chandru | Telugu | |
| 1979 | Idi Katha Kaadu | Janardhan | Telugu | |
| 1979 | Kalyanaraman | Raman & Kalyanam | Tamil | |
| 1979 | Nool Veli | Kamal Haasan | Tamil | Guest appearance as himself |
| 1979 | Guppedu Manasu | Kamal Haasan | Telugu | Guest appearance as himself |
| 1979 | Mangala Vaathiyam | | Tamil | |
| 1979 | Neela Malargal | Chandran | Tamil | |
| 1979 | Azhiyatha Kolangal | Gowrishankar | Tamil | Guest appearance |
| 1979 | Pasi | Kamal Haasan | Tamil | Guest appearance as himself |
| 1980 | Ullasa Paravaigal | Ravi | Tamil | Simultaneously filmed in Telugu as Prema Pichi |
| 1980 | Natchathiram | Kamal Haasan | Tamil | Guest appearance |
| 1980 | Guru | Guru | Tamil | Tamil–Telugu bilingual film |
| 1980 | Guru | Guru | Telugu | Tamil–Telugu bilingual film |
| 1980 | Varumayin Niram Sivappu | Rangan | Tamil | Simultaneously filmed in Telugu as Aakali Rajyam |
| 1980 | Maria My Darling | Raghu | Kannada | Kannada–Tamil bilingual film |
| 1980 | Maria My Darling | Raghu | Tamil | Kannada–Tamil bilingual film |
| 1980 | Saranam Ayyappa | | Tamil | Guest appearance |
| 1981 | Aakali Rajyam | J. Ranga Rao | Telugu | Simultaneously filmed in Tamil as Varumayin Niram Sivappu |
| 1981 | Meendum Kokila | Manian | Tamil | |
| 1981 | Prema Pitchi | Ravi | Telugu | Simultaneously filmed in Tamil as Ullasa Paravaigal |
| 1981 | Ram Lakshman | Ram | Tamil | |
| 1981 | Raja Paarvai | Raghu | Tamil | 100th Film[a] Simultaneously filmed in Telugu as Amavasya Chandrudu |
| 1981 | Thillu Mullu | Charu Haasan | Tamil | Guest appearance |
| 1981 | Kadal Meengal | Selvanayagam & Rajan | Tamil | |
| 1981 | Ek Duuje Ke Liye | Vasu | Hindi | |
| 1981 | Savaal | P. P. Raja | Tamil | |
| 1981 | Sankarlal | Dharmalingam & Mohan | Tamil | Simultaneously filmed in Telugu as Andagaadu |
| 1981 | Amavasya Chandrudu | Raghu | Telugu | Simultaneously filmed in Tamil as Raja Paarvai |
| 1981 | Tik Tik Tik | Dilip | Tamil | |
| 1981 | Ellam Inba Mayyam | Velu | Tamil | |
| 1982 | Vazhvey Maayam | Raja | Tamil | |
| 1982 | Andagaadu | Dharmalingam & Mohan | Telugu | Simultaneously filmed in Tamil as Sankarlal |
| 1982 | Anthiveyilile Ponnu | | Malayalam | |
| 1982 | Neethi Devan Mayakkam | Military officer | Tamil | Simultaneously shot in Telugu as Edi Dharmam Edi Nyayam? (Guest appearance) |
| 1982 | Moondram Pirai | Srinivasan (Seenu) | Tamil | |
| 1982 | Maattuvin Chattangale | Un­known | Malayalam | Uncredited role (Special appearance in the song "Maattuvin Chattangale") |
| 1982 | Simla Special | Gopu | Tamil | |
| 1982 | Sanam Teri Kasam | Sunil Sharma | Hindi | |
| 1982 | Sakalakala Vallavan | Velu | Tamil | |
| 1982 | Ezham Rathri | | Malayalam | Guest appearance |
| 1982 | Rani Theni | Miller | Tamil | Guest appearance |
| 1982 | Yeh To Kamaal Ho Gaya | Ratan Chander & Ajay Saxena | Hindi | |
| 1982 | Pagadai Panirendu | Anand | Tamil | |
| 1982 | Agni Sakshi | Kamal Haasan | Tamil | Guest appearance |
| 1983 | Zara Si Zindagi | Rakesh Kumar Shastri | Hindi | |
| 1983 | Uruvangal Maralam | Kamal Haasan | Tamil | Guest appearance |
| 1983 | Sattam | Inspector Raja | Tamil | |
| 1983 | Sagara Sangamam | Balakrishna | Telugu | |
| 1983 | Salangai Oli | Balakrishna | Tamil | |
| 1983 | Sadma | Somu | Hindi | |
| 1983 | Poikkal Kudhirai | Un­known | Tamil | Guest appearance |
| 1983 | Benkiyalli Aralida Hoovu | Un­known | Kannada | Guest appearance (Special appearance in the song "Munde Banni") |
| 1983 | Thoongathey Thambi Thoongathey | Gopi & Vinoth | Tamil | |
| 1984 | Yeh Desh | Mathur | Hindi | Guest appearance |
| 1984 | Ek Nai Paheli | Sandeep | Hindi | |
| 1984 | Yaadgar | Rajnath | Hindi | |
| 1984 | Raaj Tilak | Suraj | Hindi | |
| 1984 | Enakkul Oruvan | Madhan & Upendhra | Tamil | |
| 1984 | Karishmaa | Sunny | Hindi | |
| 1985 | Oru Kaidhiyin Diary | David & Inspector Shankar | Tamil | |
| 1985 | Kaakki Sattai | Murali | Tamil | |
| 1985 | Andha Oru Nimidam | Kumar | Tamil | |
| 1985 | Uyarndha Ullam | Anandh | Tamil | |
| 1985 | Saagar | Raja | Hindi | |
| 1985 | Geraftaar | Kishan Kumar Khanna | Hindi | |
| 1985 | Mangamma Sabatham | Ashok & Raja | Tamil | |
| 1985 | Japanil Kalyanaraman | Kalyanam & Raman | Tamil | |
| 1985 | Dekha Pyar Tumhara | Vishal | Hindi | |
| 1986 | Swathi Muthyam | Sivaiah | Telugu | |
| 1986 | Naanum Oru Thozhilali | Bharath | Tamil | Simultaneously shot in Telugu as Andarikante Ghanudu |
| 1986 | Vikram | Vikram | Tamil | |
| 1986 | Manakanakku | Film director | Tamil | Guest appearance |
| 1986 | Oka Radha Iddaru Krishnulu | Krishna | Telugu | |
| 1986 | Punnagai Mannan | Sethu & Chaplin Chellappa | Tamil | |
| 1987 | Kadhal Parisu | Mohan | Tamil | |
| 1987 | Vrutham | Balu | Malayalam | |
| 1987 | Kadamai Kanniyam Kattupaadu | Kamal Haasan | Tamil | Guest appearance |
| 1987 | Per Sollum Pillai | Ramu | Tamil | |
| 1987 | Nayakan | Sakthivelu (Velu Naicker) | Tamil | |
| 1987 | Pushpaka Vimana | Unemployed graduate | Silent | Also known as Pushpak and Pesum Padam |
| 1988 | Sathya | Sathyamurthy | Tamil | |
| 1988 | Daisy | James | Malayalam | |
| 1988 | Soora Samhaaram | ACP Athiveera Pandiyan | Tamil | |
| 1988 | Unnal Mudiyum Thambi | Udhayamoorthy | Tamil | |
| 1989 | Apoorva Sagodharargal | Sethupathi, Appukutty, Rajadurai | Tamil | |
| 1989 | Chanakyan | Johnson | Malayalam | |
| 1989 | Vetri Vizha | Vetrivel | Tamil | |
| 1989 | Indrudu Chandrudu | G. K. Rayudu, Chandru | Telugu | |
| 1990 | Michael Madana Kama Rajan | Michael, Madhanagopal, Kameshwaran, Raju | Tamil | |
| 1991 | Gunaa | Gunasekharan | Tamil | |
| 1992 | Singaravelan | Singaravelan | Tamil | |
| 1992 | Thevar Magan | Shakthivel | Tamil | |
| 1993 | Maharasan | Vadivelu | Tamil | |
| 1993 | Kalaignan | Indrajith | Tamil | |
| 1994 | Mahanadhi | Krishnaswamy | Tamil | |
| 1994 | Magalir Mattum | | Tamil | Guest appearance |
| 1994 | Nammavar | Selvam | Tamil | |
| 1995 | Sathi Leelavathi | Shakthivel | Tamil | |
| 1995 | Subha Sankalpam | Dasu | Telugu | |
| 1995 | Kuruthipunal | Adhi Narayanan IPS | Tamil | Bilingual film |
| 1995 | Drohi | Adhi Narayan Rao IPS | Telugu | Bilingual film |
| 1996 | Indian | Senapathy, Chandrabose | Tamil | |
| 1996 | Avvai Shanmughi | Pandian (Avvai Shanmughi) | Tamil | |
| 1997 | Chachi 420 | Jaiprakash Paswan (Lakshmi Godbhole) | Hindi | |
| 1998 | Kaathala Kaathala | Ramalingam | Tamil | |
| 2000 | Hey Ram | Saket Ram | Tamil | Bilingual film |
| 2000 | Hey Ram | Saket Ram | Hindi | Bilingual film |
| 2000 | Thenali | Thenali Soman | Tamil | |
| 2001 | Aalavandhan | Major Vijay Kumar, Nandha Kumar | Tamil | Bilingual film |
| 2001 | Abhay | Major Vijay Kumar, Abhay | Hindi | Bilingual film |
| 2001 | Paarthale Paravasam | Kamal Haasan | Tamil | Guest appearance as himself |
| 2002 | Pammal K. Sambandam | Pammal Kalyana Sambandham | Tamil | |
| 2002 | Panchatanthiram | Ramachandramurthy | Tamil | |
| 2003 | Anbe Sivam | Nallasivam | Tamil | |
| 2003 | Nala Damayanthi | Kamal Haasan | Tamil | Guest appearance as himself |
| 2004 | Virumaandi | Virumaandi | Tamil | |
| 2004 | Vasool Raja MBBS | Rajaraman | Tamil | |
| 2005 | Mumbai Xpress | Avinasi | Tamil | Bilingual film |
| 2005 | Mumbai Xpress | Avinash | Hindi | Bilingual film |
| 2005 | Rama Shama Bhama | Dr. Shyam Sajjan | Kannada | |
| 2006 | Vettaiyaadu Vilaiyaadu | DCP Raghavan | Tamil | |
| 2008 | Dasavathaaram | Govindarajan Ramaswamy,Rangarajan Nambi,Christian Fletcher,Balram Naidu,Krishnaveni,Vincent Poovaragan,Khalifulla Khan,Avatar Singh,Shinghen Narahashi,George W. Bush | Tamil | |
| 2009 | Unnaipol Oruvan | The anonymous caller | Tamil | Bilingual film |
| 2009 | Eenadu | The anonymous caller | Telugu | Bilingual film |
| 2010 | Four Friends | Kamal Haasan | Malayalam | Guest appearance as himself |
| 2010 | Manmadan Ambu | Raja Mannar | Tamil | |
| 2013 | Vishwaroopam | Wisam Ahmed Kashmiri | Tamil | Bilingual film |
| 2013 | Vishwaroop | Wisam Ahmed Kashmiri | Hindi | Bilingual film |
| 2015 | Uttama Villain | Manoranjan | Tamil | |
| 2015 | Papanasam | Suyambulingam | Tamil | |
| 2015 | Thoongaa Vanam | C. K. Diwakar | Tamil | Bilingual film |
| 2015 | Cheekati Rajyam | C. K. Diwakar | Telugu | Bilingual film |
| 2016 | Meen Kuzhambum Mann Paanaiyum | Swami | Tamil | Guest appearance |
| 2018 | Vishwaroopam II | Wisam Ahmed Kashmiri | Tamil | Bilingual film |
| 2018 | Vishwaroop II | Wisam Ahmed Kashmiri | Hindi | Bilingual film |
| 2022 | Vikram | Vikram | Tamil | Post Production |
| 2023 | Indian 2 | Senapathy | Tamil | Paused Filming |
| 2024 | KH234 | | Tamil | Announced 6/11/2022 |
Movies as Director, Producer, and Writer
| Year | Film | Language | Credited as | Credited as | Credited as |
| --- | --- | --- | --- | --- | --- |
| Year | Film | Language | Director | Producer | Writer |
| 1980 | Guru | Tamil | N | N | Y |
| 1981 | Meendum Kokila | Tamil | N | N | Y |
| 1981 | Raja Paarvai | Tamil | N | Y | Y |
| 1981 | Amavasya Chandrudu | Telugu | N | Y | Y |
| 1986 | Vikram | Tamil | N | Y | Y |
| 1987 | Kadamai Kanniyam Kattupaadu | Tamil | N | Y | N |
| 1988 | Sathya | Tamil | N | Y | N |
| 1989 | Apoorva Sagodharargal | Tamil | N | Y | Y |
| 1989 | Indrudu Chandrudu | Telugu | N | N | Y |
| 1990 | Michael Madana Kama Rajan | Tamil | N | N | Y |
| 1992 | Thevar Magan | Tamil | N | Y | Y |
| 1994 | Mahanadi | Tamil | N | N | Y |
| 1994 | Magalir Mattum | Tamil | N | Y | Y |
| 1995 | Kuruthipunal | Tamil | N | Y | Y |
| 1997 | Chachi 420 | Hindi | Y | Y | N |
| 1997 | Virasat | Hindi | N | N | Y |
| 1998 | Kaathala Kaathala | Tamil | N | N | Y |
| 1999 | Biwi No.1 | Hindi | N | N | Y |
| 2000 | Hey Ram | Tamil | Y | Y | Y |
| 2000 | Hey Ram | Hindi | Y | Y | Y |
| 2001 | Aalavandhan | Tamil | N | N | Y |
| 2001 | Abhay | Hindi | N | N | Y |
| 2002 | Panchatanthiram | Tamil | N | N | Y |
| 2003 | Anbe Sivam | Tamil | N | N | Y |
| 2003 | Nala Damayanthi | Tamil | N | Y | Y |
| 2004 | Virumaandi | Tamil | Y | Y | Y |
| 2005 | Mumbai Xpress | Tamil | N | Y | Y |
| 2005 | Mumbai Xpress | Hindi | N | Y | Y |
| 2008 | Dasavathaaram | Tamil | N | | Y |
| 2009 | Unnaipol Oruvan | Tamil | N | Y | Y |
| 2009 | Eenadu | Telugu | N | Y | Y |
| 2010 | Manmadan Ambu | Tamil | N | N | Y |
| 2013 | Vishwaroopam | Tamil | Y | Y | Y |
| 2013 | Vishwaroop | Hindi | Y | Y | Y |
| 2015 | Uttama Villain | Tamil | N | Y | Y |
| 2015 | Thoongaa Vanam | Tamil | N | Y | Y |
| 2015 | Cheekati Rajyam | Telugu | N | Y | Y |
| 2018 | Vishwaroopam II | Tamil | Y | Y | Y |
| 2018 | Vishwaroop II | Hindi | Y | Y | Y |
| | | | N | Y | N |
| 2022 | Vikram | Tamil | N | Y | N |
Movies as Distributor
1986 – Hare Radha Hare Krishna
1991 – Gunaa
1995 – Paasavalai
1996 – Avvai Shanmughi
1998 – Kaathala Kaathala
2002 – Pammal K. Sambandam
2002 – Panchathantiram
2005 – Rama Shama Bhama
2021 – 83
Other Crew Positions
Year
Film
Language
Position
1971
Nootrukku Nooru
Tamil
Assistant director,
Assistant choreographer
1971
Sudarum Sooravaliyum
Tamil
Voice artist; dubbed for Chandramohan
1971
Savaale Samali
Tamil
Assistant choreographer
1971
Srimanthudu
Telugu
Assistant choreographer
1971
Annai Velankanni
Tamil
Assistant director,
Assistant choreographer
1972
Sange Muzhangu
Tamil
Assistant choreographer
1972
Naan Yen Pirandhen
Tamil
Assistant choreographer (along with Puliyur saroja)
1972
Nrithasala
Malayalam
Assistant choreographer
1973
Kasi Yathirai
Tamil
Assistant choreographer
1973
Suryagandhi
Tamil
Assistant choreographer
1973
Sollathaan Ninaikkiren
Tamil
Assistant director
1974
Manyasree Viswamithran
Malayalam
Choreographer
1974
Vellikizhamai Viratham
Tamil
Assistant choreographer
1974
Naan Avanillai
Tamil
Assistant choreographer
1974
Panathukkaga
Tamil
Assistant choreographer
1975
Then Sindhudhe Vaanam
Tamil
Choreographer (The song "Yezhuthatha Paadal")
1976
Unarchigal
Tamil
Assistant director
1977
Avargal
Tamil
Choreographer
1977
Aaina
Hindi
Assistant choreographer
1982
Simla Special
Tamil
Choreographer
1982
Sanam Teri Kasam
Hindi
Choreographer
1983
Uruvangal Maralam
Tamil
Choreographer
1988
Rambo III
English
Assistant Make-up artist (worked under Michael Westmore)
1996
Star Trek: First Contact
English
Assistant Make-up artist (worked under Michael Westmore)
2000
Hey Ram
Tamil
Choreographer
2004
Virumaandi
Tamil
Choreographer
Co-Editor
2006
Aran
Tamil
Narrator
2011
Pazhassi Raja
Tamil
Narrator
2015
Uttama Villain
Tamil
Choreographer
2015
Thoongaa Vanam
Tamil
Make-up artist
2019
Sye Raa Narasimha Reddy
Tamil
Narrator for Tamil dubbed version
2022
Ponniyin Selvan: I
Tamil
Narrator for Tamil version
Television
As a Host and Guest
2016 – Pattimandram
2017 – Jananayakanoppam Ulakanayakanum
2017 to 2022 – Bigg Boss Tamil
2018 – Bigg Boss Malayalam Season 1
2018 – Bigg Boss Telugu Season 2
2019 – Bigg Boss Hindi Season 13
2021 – Rockstar as
2022 – Bigg Boss Ultimate
2022 – Bigg Boss Malayalam Season 4
Music Videos
1968 – Mile Sur Mera Tumhara
2020 – Arivum Anbum
Documentaries
Discography
| Year | Film | Song | Language | Music director | Lyrics |
| --- | --- | --- | --- | --- | --- |
| 1975 | Andharangam | Nyayiru Oli Mazhaiyil | Tamil | G. Devarajan | Nethaji |
| 1977 | Siva Thandavum | Peethaambaraa Oh Krishnaa | Malayalam | M. B. Sreenivasan | M. B. Sreenivasan |
| 1978 | Padakuthira | Ragalolayaay Kamalolayaay Neelayaamini | Malayalam | Kannur Rajan | Mankombu Gopalakrishnan |
| 1978 | Aval Appadithan | Panneer Pushpangale | Tamil | Ilaiyaraaja | Gangai Amaran |
| 1978 | Sigappu Rojakkal | Ninaivo Oru Paravai | Tamil | Ilaiyaraaja | Vaali |
| 1980 | Maria My Darling | Rasathi Unna Pakka Aasai | Tamil | Shankar–Ganesh | Pulamaipithan |
| 1980 | Maria My Darling | Obba Ninge | Kannada | Shankar–Ganesh | Chi. Udayashankar |
| 1980 | Saranam Ayyappa | Anna Vaada | Tamil | Chandrabose | |
| 1981 | Raja Paarvai | Vizhiyorathu Kanavum | Tamil | Ilaiyaraaja | Gangai Amaran |
| 1981 | Savaal | Thanniya Potta | Tamil | M. S. Viswanathan | Kannadasan |
| 1982 | Moondram Pirai | Narikathai | Tamil | Ilaiyaraaja | Vairamuthu |
| 1983 | Sadma | Ek Daf Ek Jungle Tha | Hindi | Ilaiyaraaja | Gulzar |
| 1984 | Oh Maane Maane | Ponmaanai Theduthe | Tamil | Ilaiyaraaja | Mu. Metha |
| 1985 | Dekha Pyar Tumhara | Na Baba Na Baba | Hindi | Laxmikant–Pyarelal | Anjaan |
| 1985 | Japanil Kalyanaraman | Appappoi Ammammoi | Tamil | Ilaiyaraaja | Vaali |
| 1986 | Vikram | Vikram..Vikram... | Tamil | Ilaiyaraaja | Vairamuthu |
| 1986 | Oka Radha Iddaru Krishnulu | Vey..Vey.. | Telugu | Ilaiyaraaja | Veturi |
| 1987 | Per Sollum Pillai | Ammamma Vanthathingu | Tamil | Ilaiyaraaja | Pulamaipithan |
| 1987 | Nayakan | Thenpandi Cheemayile | Tamil | Ilaiyaraaja | Pulamaipithan |
| 1988 | Sathyaa | Potta Padiyudhu | Tamil | Ilaiyaraaja | Pulamaipithan |
| 1989 | Apoorva Sagodharargal | Raja Kaiya Vachchaa | Tamil | Ilaiyaraaja | Vaali |
| 1990 | Appu Raja | Raja Naam Mera | Hindi | Ilaiyaraaja | Prem Dhawan |
| 1990 | Michael Madana Kama Rajan | Sundhari Neeyum Sundharan Njanum | Tamil | Ilaiyaraaja | Poovachal Khadar |
| 1991 | Gunaa | Kanmani Anbodu | Tamil | Ilaiyaraaja | Vaali |
| 1992 | Singaravelan | Pottu Vaitha Kathal Thitam | Tamil | Ilaiyaraaja | Vaali |
| 1992 | Singaravelan | Sonnapadi Kellu | Tamil | Ilaiyaraaja | Vaali |
| 1992 | Thevar Magan | Sandhu Pottu | Tamil | Ilaiyaraaja | Vaali |
| 1992 | Thevar Magan | Inji Idupazhagi | Tamil | Ilaiyaraaja | Vaali |
| 1993 | Kalaignan | Kokkarakko | Tamil | Ilaiyaraaja | Vaali |
| 1994 | Mahanadhi | Engeyo Thikkudesai | Tamil | Ilaiyaraaja | Vaali |
| 1994 | Mahanadhi | Peigala Bhoodhama | Tamil | Ilaiyaraaja | Vaali |
| 1994 | Mahanadhi | Thanmanam Ulla Nenjum | Tamil | Ilaiyaraaja | Vaali |
| 1994 | Mahanadhi | Pirar Vaada(Poem) | Tamil | Ilaiyaraaja | Bharathiyar |
| 1995 | Sathi Leelavathi | Marugo Marugo | Tamil | Ilaiyaraaja | Vaali |
| 1996 | Avvai Shanmughi | Rukku Rukku | Tamil | Deva | Vaali |
| 1997 | Ullaasam | Mutthey Mutthamma | Tamil | Karthik Raja | Paarthi Bhaskar |
| 1998 | Kaathala Kaathala | Kaasumela | Tamil | Karthik Raja | Vaali |
| 1998 | Kaathala Kaathala | Madonna Paadala Nee | Tamil | Karthik Raja | Vaali |
| 1998 | Kaathala Kaathala | Saravana Bhava | Tamil | Karthik Raja | Vaali |
| 1998 | Kaathala Kaathala | Anaconda | Tamil | Karthik Raja | Vaali |
| 2000 | Hey Ram | Ram Ram | Tamil | Ilaiyaraaja | Kamal Haasan |
| 2000 | Hey Ram | Ramaranalum | Tamil | Ilaiyaraaja | Vaali |
| 2000 | Hey Ram | Sanyaas Mantra | Tamil | Ilaiyaraaja | |
| 2000 | Hey Ram | Hey! Ram | Hindi | Ilaiyaraaja | Sameer Anjaan |
| 2000 | Hey Ram | Chahe Pandit Ho | Hindi | Ilaiyaraaja | Sameer Anjaan |
| 2000 | Hey Ram | Sanyaas Mantra | Hindi | Ilaiyaraaja | |
| 2000 | Thenali | Alangatti Mazhai | Tamil | A. R. Rahman | Kalaikumar |
| 2000 | Thenali | Injerungo Injerungo | Tamil | A. R. Rahman | Thamarai |
| 2001 | Aalavandhan | Kadavul Paadhi | Tamil | Shankar–Ehsaan–Loy | Vairamuthu |
| 2001 | Aalavandhan | Siri Siri | Tamil | Shankar–Ehsaan–Loy | Vairamuthu |
| 2001 | Abhay | Kal Tak Mujhko Gaurav Tha | Hindi | Shankar–Ehsaan–Loy | Javed Akhtar |
| 2001 | Abhay | Hey! Who Are you | Hindi | Shankar–Ehsaan–Loy | Javed Akhtar |
| 2001 | Abhay | Hans De Hans De | Hindi | Shankar–Ehsaan–Loy | Javed Akhtar |
| 2002 | Panchathanthiram | Kadhal Piriyamal | Tamil | Deva | Vairamuthu |
| 2002 | Panchathanthiram | Vandhen Vandhen | Tamil | Deva | Vairamuthu |
| 2002 | Pammal K. Sambandam | Kandhasamy Maadasamy | Tamil | Deva | Kamal Haasan |
| 2003 | Anbe Sivam | Anbe Sivam | Tamil | Vidyasagar | Vairamuthu |
| 2003 | Anbe Sivam | Eley Machi | Tamil | Vidyasagar | Vairamuthu |
| 2003 | Anbe Sivam | Naatukkoru Seithi | Tamil | Vidyasagar | Vairamuthu |
| 2003 | Nala Damayanthi | Sudupattadha | Tamil | Ramesh Vinayagam | Vaali |
| 2003 | Nala Damayanthi | Stranded on the street | Tamil | Ramesh Vinayagam | Vaali |
| 2004 | Vasool Raja MBBS | Kalakapovathu Yaaru | Tamil | Bharathwaj | Vairamuthu |
| 2004 | Vasool Raja MBBS | Alwarpettai Aluda | Tamil | Bharathwaj | Vairamuthu |
| 2004 | Virumaandi | Onnavida | Tamil | Ilaiyaraaja | Kamal Hassan |
| 2004 | Virumaandi | Andha Kandamani | Tamil | Ilaiyaraaja | Muthulingam |
| 2004 | Virumaandi | Anna Lakshmi | Tamil | Ilaiyaraaja | Muthulingam |
| 2004 | Virumaandi | Karbagraham Vitu Samy Veliyerathu | Tamil | Ilaiyaraaja | Muthulingam |
| 2004 | Virumaandi | Kombulae Poova Suthi | Tamil | Ilaiyaraaja | Ilaiyaraaja |
| 2004 | Virumaandi | Maada Vilakkae | Tamil | Ilaiyaraaja | Muthulingam |
| 2005 | Mumbai Xpress | Yele Nee Etti | Tamil | Ilaiyaraaja | Vaali |
| 2005 | Mumbai Xpress | Kurangu Kaiyil Maalai | Tamil | Ilaiyaraaja | Vaali |
| 2005 | Mumbai Xpress | Idemi Vintha | Telugu | Ilaiyaraaja | Chandrabose |
| 2006 | Pudhupettai | Neruppu Vaayinil | Tamil | Yuvan Shankar Raja | |
| 2008 | Dasavathaaram | Oh...Ho...Sanam | Tamil | Himesh Reshammiya | Vairamuthu |
| 2008 | Dasavathaaram | Mukundha Mukundha | Tamil | Himesh Reshammiya | Vaali |
| 2009 | Unnaipol Oruvan | Allah Jaane | Tamil | Shruti Haasan | Manushyaputhiran |
| 2009 | Unnaipol Oruvan | Nilai Varumaa | Tamil | Shruti Haasan | Kamal Haasan |
| 2010 | Manmadan Ambu | Dhagudu Dhattham | Tamil | Devi Sri Prasad | Kamal Haasan |
| 2010 | Manmadan Ambu | Neela Vaanam | Tamil | Devi Sri Prasad | Kamal Haasan |
| 2010 | Manmadha Banam | Dhagulu Dhanda | Telugu | Devi Sri Prasad | Sahithi |
| 2010 | Manmadha Banam | Neelakasam | Telugu | Devi Sri Prasad | Ramajogayya Sastry |
| 2012 | Vishwaroopam | Thuppaki Engal Tholile | Tamil | Shankar–Ehsaan–Loy | Vairamuthu |
| 2012 | Vishwaroopam | Unnai Kaanadhu Naan | Tamil | Shankar–Ehsaan–Loy | Kamal Haasan |
| 2012 | Vishwaroopam | Anu Vidhaiththa Boomiyile | Tamil | Shankar–Ehsaan–Loy | Kamal Haasan |
| 2012 | Vishwaroopam | Undalaenandhi Naa Kannu | Telugu | Shankar–Ehsaan–Loy | Ramajogayya Sastry |
| 2012 | Vishwaroopam | Anu Vinasa Varshamidhi | Telugu | Shankar–Ehsaan–Loy | Ramajogayya Sastry |
| 2012 | Vishwaroop | Main Radha Tu Shaam | Hindi | Shankar–Ehsaan–Loy | Javed Akhtar |
| 2012 | Vishwaroop | Koi Kahin | Hindi | Shankar–Ehsaan–Loy | Javed Akhtar |
| 2015 | Uttama Villain | Single kisske Loveaa | Tamil | Ghibran | Viveka |
| 2015 | Uttama Villain | Uttama Introduction : Villuppattu | Tamil | Ghibran | Subhu Arumugam |
| 2015 | Uttama Villain | Saagavaram | Tamil | Ghibran | Kamal Haasan |
| 2015 | Uttama Villain | Iraniyan Naadagam | Tamil | Ghibran | Kamal Haasan |
| 2015 | Uttama Villain | Mutharasan Kadhai | Tamil | Ghibran | Kamal Haasan |
| 2015 | Uttama Villain | Lavve Lavvaa | Telugu | Ghibran | Ramajogayya Sastry |
| 2015 | Uttama Villain | Thandhanatthom : Uthamudi Parichayam | Telugu | Ghibran | Ramajogayya Sastry |
| 2015 | Uttama Villain | Srushti Niyamam | Telugu | Ghibran | Ramajogayya Sastry |
| 2015 | Uttama Villain | Naa Rudhirapu Oka Thrunam : Hiranya Samhaaram | Telugu | Ghibran | Kamal Haasan |
| 2015 | Thoongaa Vanam | Neeye Unakku Raja | Tamil | Ghibran | Vairamuthu |
| 2015 | Cheekati Rajyam | Dhairyam Veedi Sainyam | Telugu | Ghibran | Ramajogayya Sastry |
| 2015 | Avam | Kaarirulae | Tamil | Sundaramurthy K S | Madhan Karky |
| 2016 | Muthuramalingam | Therkku Desa Singamadaa | Tamil | Ilaiyaraaja | Panchu Arunachalam |
| 2018 | Vishwaroopam II | Naanaagiya Nadhimoolamae | Tamil | Ghibran | Kamal Haasan |
| 2018 | Vishwaroop II | Tu Srotu Hai | Hindi | Ghibran | Prasoon Joshi |
| 2019 | Happi | Zindagi Dish | Hindi | Ilaiyaraaja | Jaideep Sahni |
| 2020 | Arivum Anbum | Pothunalam Enpathu | Tamil | Ghibran | Kamal Haasan |
| 2021 | A Tribute to Venmurasu | Shades of Blue: A Musical Tribute to Venmurasu | Tamil | Rajan Somasundaram | Jeyamohan |
| 2022 | Vikram | Pathala Pathala | Tamil | Anirudh Ravichander | Kamal Haasan |
| 2022 | Vikram Hitlist | Mathuga Mathuga, Badle Badle | Telugu & Hindi | Anirudh Ravichander | Chandrabose (Telugu Version) & Raqueeb Alam (Hindi Version) |
Lyricist
| Year | Film | Song(s) |
| --- | --- | --- |
| 2000 | Hey Ram | Nee Partha |
| 2000 | Hey Ram | Ram Ram |
| 2002 | Pammal K. Sambandam | Kandhasamy Maadasamy |
| 2004 | Virumaandi | Onnavida |
| 2009 | Unnaipol Oruvan | Unnaipol Oruvan |
| 2009 | Unnaipol Oruvan | Nilai Varumaa |
| 2009 | Unnaipol Oruvan | Vaanam Ellai |
| 2010 | Manmadan Ambu | Dhagudu Dhattham |
| 2010 | Manmadan Ambu | Who's The Hero |
| 2010 | Manmadan Ambu | Neela Vaanam |
| 2010 | Manmadan Ambu | Kamal Kavidhai |
| 2010 | Manmadan Ambu | Manmadan Ambu |
| 2013 | Vishwaroopam | Unnai Kaanadhu Naan |
| 2013 | Vishwaroopam | Anu Vidhaiththa Boomiyile |
| 2015 | Uttama Villain | Kadhalaam Kadavul Mun |
| 2015 | Uttama Villain | Saagaavaram |
| 2015 | Uttama Villain | Iraniyan Naadagam |
| 2015 | Uttama Villain | Mutharasan Kadhai |
| 2015 | Uttama Villain | Uttaman Kadhai |
| 2015 | Uttama Villain | |
| 2018 | Vishwaroopam II | Naanaagiya Nadhimoolamae |
| 2018 | Vishwaroopam II | Saadhi Madham |
| 2022 | Vikram | Pathala Pathala |
Awards
1990 – Padma Shri Award (Government of India)
2014 – Padma Bhushan Award (Government of India)
2016 – Chevalier Award (Ordre des Arts et des Lettres) from the Government of France.
2010 – CNN-IBN Indian of the Year Award (CNN-IBN)
2009 – FICCI Living Legend Award (Federation of Indian Chambers of Commerce and Industry)
1980 – Kalaimamani Award (Government of Tamil Nadu)
1999 – Nadigar Thilagam Sivaji Ganesan Award (Government of Tamil Nadu)
2000 – Honorary Award (Government of West Bengal)
2010 – Honorary Award (Government of Kerala)
2010 – Special Achievement Award (United Progressive Alliance)
2014 – NTR National Award (Government of Andhra Pradesh)
2005 – Honorary doctorate Award (Sathyabama Deemed University)
2019 – Honorary doctorate Award (Centurion University of Technology and Management)
2011 – Honorary Award Award (Government of India)
2004 – Abraham Kovoor National Award for Humanist Activities Award (Bharatheeya Yukthivadi Sangham)
2014 – Honoured Maestro Award (Whistling Woods International (WWI))
2016 – Prix Henri-Langlois French Award (Prix Henri-Langlois French Award)
2014 – Lifetime Achievement Award (The Tamil Chamber of Commerce)
2013 – Lifetime Achievement Award (Puthiya Thalaimurai TV)
2018 – Supernova of the year Award (Outlook)
2009 – Viswa Kala Bharathi Award (The Bharat Kalachar)
2016 – Eenam Swaralaya Bharat Murali Award (Eenam Swaralaya International Cultural Organization)
2013 – Legendary Performance award for the film Vishwaroopam (Behindwoods.com)
2015 – K.Balachandher Gold Medal of Excellence in Indian Cinema Award (Behindwoods.com)
2015 – Outstanding Contribution to Music Award (Radio Mirchi)
2018 – Game Changer of the Year Award (Galatta Tamil)
1991 to 2005 – Most Talented Hero Award (India Today)
2011 – Best Entertaining Bharatanatyam Dancer Award (BIG FM)
2007 – Contemporary living legend of the year Award (UFO Digital Cinema Company, Mumbai)
2007 – Rastrabhushan Award (FIE Foundation)
2009 to 2010 – Lifetime Achievement Award (Rotary Club of Madras)
2014 – Shifa Al Jazeera Excellence Award (Shifa Al Jazeera Medical Group, Bahrain)
2019 – The Legend of Indian Cinema Award (Retailers Association of India (RAI))
2003 – Amrita Hospitals & Medical Group, India Award (ATMA Award)
2019 – Best Host Award for Bigg Boss Tamil 2 (Asian Television) – Nominated
2008 – Best Actor Award (Ananda Vikatan Cinema) for Dasavathaaram – Won
2008 – Best Screenplay Award (Ananda Vikatan Cinema) for Dasavatharam – Won
2016 – S. S. Vasan Lifetime Achievement Award (Ananda Vikatan Cinema) – Won
2009 – Special Jury Award (Asianet Film) – Won
2012 – Popular Tamil Actor Award (Asianet Film) – Won
2013 – Popular Tamil Actor Award (Asianet Film) – Won
1985 – Best Supporting Actor Award (BFJA) for Saagar – Won
2001 – Most Outstanding Work of the Year Award (BFJA) for Hey Ram – Won
1982 – Best Actor Award (Cinema Express) for Moondram Pirai – Won
1987 – Best Actor Award (Cinema Express) for Nayakan – Won
1989 – Best Film (Producer) Award (Cinema Express) for Apoorva Sagodharaglal – Won
1990 – Best Actor Award (Cinema Express) for Michael Madhana Kamarajan – Won
1992 – Best Film (Producer) Award (Cinema Express) for Thevar Magan – Won
1995 – Best Film (Producer) Award (Cinema Express) for Kuruthipunal – Won
1996 – Best Actor Award (Cinema Express) for Indian – Won
2006 – Best Actor Award (Film Fans Association) for Vettaiyaadu Vilaiyaadu – Won
2008 – Best Actor Award (Film Fans Association) for Dasavathaaram – Won
1982 – Best Actor Award (Filmfare) for Ek Duuje Ke liye – Nominated
1984 – Best Actor Award (Filmfare) for Sadma – Nominated
1986 – Best Supporting Actor (Filmfare) for Saagar – Nominated
1986 – Best Actor Award (Filmfare) for Saagar – Won
1998 – Best Actor Award (Filmfare) for Chachi 420 – Nominated
1998 – Best Story Award (Filmfare) for Virasat – Won
1974 – Best Actor Award (Filmfare South) for Kanyakumari – Won
1975 – Best Actor Award (Filmfare South) for Apporva Raagangal – Won
1976 – Best Actor Award (Filmfare South) for Oru Oodhappu Kan Simittugiradhu – Won
1977 – Best Actor Award (Filmfare South) for 16 Vayadhinile – Won
1977 – Best Actor Award (Filmfare South) for Avargal – Nominated
1978 – Best Actor Award (Filmfare South) for Sigappu Rojakal – Won
1978 – Best Actor Award (Filmfare South) for Ilamai Oonjal Aadukirathu – Nominated
1978 – Best Actor Award (Filmfare South) for Maro Charitra – Nominated
1978 – Best Actor Award (Filmfare South) for Yaetta – Won
1979 – Best Actor Award (Filmfare South) for Ninaithale Inikkum – Nominated
1981 – Best Actor Award (Filmfare South) for Raja Paarvai – Won
1981 – Best Actor Award (Filmfare South) for Aakali Rajyam – Won
1983 – Best Actor Award (Filmfare South) for Sagara Sangamam – Won
1986 – Best Actor Award (Filmfare South) for Swati Mutyam – Nominated
1987 – Best Actor Award (Filmfare South) for Pushpaka Vimana – Won
1989 – Best Film Award (Filmfare South) for Apoorva Sagodharagal – Won
1989 – Best Actor Award (Filmfare South) for Indrudu Chandrudu – Won
1991 – Best Actor Award (Filmfare South) for Guna – Won
1992 – Best Actor Award (Filmfare South) for Thevar Magan – Won
1995 – Best Actor Award (Filmfare South) for Kuruthipunal – Won
1995 – Best Actor Award (Filmfare South) for Subha Sankalpam- Nominated
1996 – Best Actor Award (Filmfare South) for Indian – Won
2000 – Best Actor Award (Filmfare South) for Hey Ram – Won
2001 – Best Actor Award (Filmfare South) for Aalavandhan- Nominated
2003 – Best Actor Award (Filmfare South) for Anbe Sivam – Nominated
2008 – Best Actor Award (Filmfare South) for Dasavthaaram-Nominated
2009 – Best Actor Award (Filmfare South) for Unnaipol Oruvan – Nominated
2009 – Best Actor Award (Filmfare South) for Eeenadu- Nominated
2013 – Best Director Award (Filmfare South) for Vishwaroopam – Nominated
2015 – Best Actor Award (Filmfare South) for Papanasam – Nominated
1983 – Best Actor Award (Nandi) for Saagara Sangamam- Won
1986 – Best Actor Award (Nandi) for Swathi Muthyam – Won
1989 – Best Actor Award (Nandi) for Indrudu Chandrudu – Won
1982 – Best Actor Award (National Film) for Moondram Pirai – Won
1987 – Best Actor Award (National Film) for Nayakan – Won
1992 – Best Regional Film – Tamil Producer Award (National Film) for Thevar Magan -Won
1996 – Best Actor Award (National Film) for Indian – Won
1960 – Best Child Artist Award (Rashtrapathi) for Kalathur Kannamma – Won
2003 – Best Actor Award (SICA) for Anbe Sivam – Won
2015 – Lifetime Achievement Award (SICA) – Won
1997 – Best Story Writer Award (Star Screen) for Virasat – Won
2010 – Best Actor Award (French Film Society) for Manmadan Ambu – Won
1977 – Best Actor Award (Tamil Nadu State Film) for 16 Vayathinile – Won
1980 – Best Actor Award (Tamil Nadu State Film) for Varumayin Niram Sivappu – Won
1982 – Best Actor Award (Tamil Nadu State Film) for Moondram Pirai – Won
1989 – Best Actor Award (Tamil Nadu State Film) for Apoorva Sagodharagal – Won
1992 – Best Actor Award (Tamil Nadu State Film) for Thevar Magan – Won
1992 – Second Best Film (as Producer) (Tamil Nadu State Film) for Thevar Magan – Won
1996 – Best Actor Award (Tamil Nadu State Film) for Indian – Won
2006 – Best Actor Award (Tamil Nadu State Film) for Vettaiyaadu Vilaiyaadu – Won
2008 – Best Actor Award (Tamil Nadu State Film) for Dasavathaaram – Won
2006 – Chevalier Sivaji Ganesan Award for Excellence in Indian Cinema Award (Vijay Awards)
2008 – Most Popular Hero of the Year (Vijay Awards) for Dasavathaaram – Won
2008 – Best Villain Award (Vijay Awards) for Dasavathaaram – Won
2008 – Best Comedian Award (Vijay Awards) for Dasavathaaram – Won
2008 – Best Story-Screenplay Writer Award (Vijay Awards) for Dasavathaaram – Won
2011 – Best Playback Singer by an Actor Award (Vijay Awards) for Manmadam Ambu – Won
2013 – Best Actor Award (Vijay Awards) for Vishwaroopam – Won
2013 – Favourite Director Award (V. Shantaram Awards) for Vishwaroopam – Won
2002 – Best Actor Award (V. Shantaram Awards) for Pammal K. Sambandam – Won
2003 – Best Story and Screenplay Award (V. Shantaram Awards) for Anbe Sivam – Won
2003 – Best Story and Screenplay Award (V. Shantaram Awards) for Anbe Sivam – Won
2003 – Best Playback Singer Award (V. Shantaram Awards) for Anbe Sivam – Won
2008 – Best Actor Award (V. Shantaram Awards) for Dasavathaaram – Nominated
1997 – Best Actor in a Comic Role Award (Zee Cine Awards) for Chachi 420 – Won
2020 – Pride of Indian Cinema Award (Zee Cine Awards) – Won
2015 – Best Actor Award (MGR-Sivaji Academy Award) for Uttama Villain – Won
2015 – Best Film Award (International Film Festival of Los Angeles Independent Film Festival) for Uttama Villain – Won
2015 – Best Actor Award (International Film Festival of Los Angeles Independent Film Festival) for Uttama Villain – Won
2004 – Director in Focus Award (Puchon International Fantastic Film Festival (South Korea)) for Virumaandi – Won
2000 – Director In Focus Award (International Film Festival Rotterdam) for Hey Ram – Won
2013 – Lifetime Achievement Award (15th Mumbai International Film Festival) – Won
2016 – Lifetime Achievement Award (7th Norway Tamil Film Festival Awards) – Won
2016 – Outstanding Contribution in India Cinema Award (7th London Indian Film Festival) – Won
2013 – Represent in Indian Cinema Award (New York Festivals International Film & TV Awards) – Won
2013 – Special Jury Award (4th Jagran Film Festival) for Vishwaroopam – Won
Images
Check out the recent photos of Kamal Haasan,
Movie Images
Kamal Haasan Getups