Dhanush Wiki, Biography, Age, Movies, Songs, Family, Awards, Images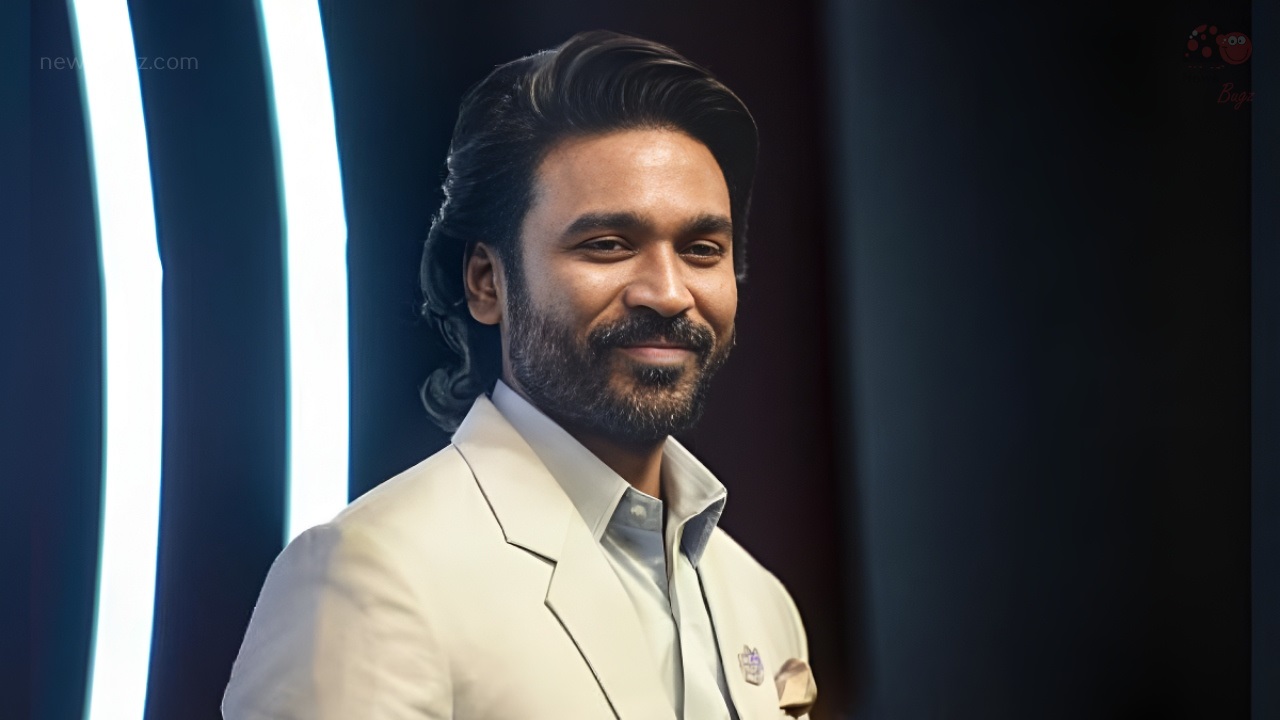 Dhanush is an Indian actor, singer, and producer who mostly works in Tamil films. He made his acting debut in the Thulluvatho Ilamai movie directed by his father, Kasthuri Raja. His second venture was Kadhal Konden, which was directed by his brother Selvaragavan. Dhanush also produced several of his own movies like 3, Velaiilla Pattadhari, Maari, and more. Dhanush did his Hollywood debut The Gray Man movie. In 2023, his performance in the Vaathi movie was critically acclaimed. As per reports, Savukku Shankar joined hands with Vetrimaran for his biopic and he asked Dhanush to play his role.
Biography
Name
Dhanush
Birth Name
R K Vengadesha Prabhu
Real Name
Venkatesh Prabhu Kasthuri Raja
Nickname
Dhanush K Raja
Profession
Actor, Producer, Director, Writer, Lyricist, Screenwriter, Singer
Date of Birth
28 July 1982
Age (as of 2023)
41
Zodiac sign
Leo
Father
Kasthuri Raja (Filmmaker)
Mother
Vijaylakshmi
Brother
Selvaraghavan (Elder, Director)
Sisters
K. Vimala Geetha, Karthika Devi (Doctor)
Father-in-law
Rajinikanth (Actor)
Marital Status
Separated
Affairs/Girlfriends
Aishwarya R. Dhanush
Shruti Haasan (Actor, Rumoured)
Trish Krishnan (Actor, Rumoured)
Wife
Aishwarya Rajinikanth (2004 – 2022)
Son
Yatra (Born 2006), Linga (Born 2010)
Religion
Hindu
Educational Qualification
Graduate
School
Thai Sathya Matriculation High School, Chennai
College
Madurai Kamaraj University, Madurai
Hobbies
Listening to music, Reading, Watching Movies
Birth Place
Chennai, Tamil Nadu, India
Hometown
Chennai, Tamil Nadu, India
Current City
Chennai, Tamil Nadu, India
Nationality
Indian
Social Media Profiles
Interesting Facts
He has millions of followers on social media. His Instagram account has 6.1M followers and Twitter has 11.5M followers (as of August 2023).
He sang Why This Kolaveri Di which became a huge sensation and went viral on the Internet.
Several of his movies like Sullan, Yaaradi Nee Mohini, Aadukalam, and more became blockbuster hits.
He did his directional debut with the Pa Paandi film in which he played a prominent role.
He introduced actor Shivkarthikeyan as a lead actor in the Ethir Neechal movie.
Controversies: In 2011, after 3 movies there was a rumor that Dhanush and Shruti Haasan was having an affair. But his wife Aishwarya Dhanush slammed such rumors.
In 2016, A old couple Kathiresan and Meenaal from Thiruppuvanam filed a case that they are the real parents of Dhanush. They filed a petition to several authorities namely, the Police, CM's Special Cell, and others to help them get their son back. They also asked Dhanush to pay Rs.65,000 a month for maintenance but it was later found that the claims made by the couple were not true.
In 2017, Indian singer RJ Suchitra tweeted that she was assaulted by Dhanush. But her husband cleared the issues and cleared that her Twitter was hacked.
Movies
As Actor
| Year | Film | Role(s) | Language | Note(s) |
| --- | --- | --- | --- | --- |
| 2002 | Thulluvadho Ilamai | Mahesh | Tamil | |
| 2003 | Kaadhal Kondein | Vinod | Tamil | |
| 2003 | Thiruda Thirudi | Vasudevan | Tamil | |
| 2004 | Pudhukottaiyilirundhu Saravanan | Saravanan | Tamil | |
| 2004 | Sullan | Subramani (Sullan) | Tamil | |
| 2004 | Dreams | Sakthi | Tamil | |
| 2005 | Devathaiyai Kanden | Babu | Tamil | |
| 2005 | Adhu Oru Kana Kaalam | Srinivasan | Tamil | |
| 2006 | Pudhupettai | Kokki Kumar | Tamil | |
| 2006 | Thiruvilaiyaadal Aarambam | Thiru Kumaran | Tamil | |
| 2007 | Parattai Engira Azhagu Sundaram | Azhagu Sundaram (Parattai) | Tamil | |
| 2007 | Polladhavan | Prabhu Shankar | Tamil | |
| 2008 | Yaaradi Nee Mohini | Vasudevan | Tamil | |
| 2008 | Kuselan | Himself | Tamil | Guest appearance in the song "Cinema Cinema" |
| 2009 | Padikkadavan | Radhakrishnan (Rocky) | Tamil | |
| 2010 | Kutty | Kutty | Tamil | |
| 2010 | Uthamaputhiran | Siva Ramakrishnan | Tamil | |
| 2011 | Aadukalam | K. P. Karuppu | Tamil | |
| 2011 | Seedan | Saravanan | Tamil | Guest appearance |
| 2011 | Mappillai | Saravanan | Tamil | |
| 2011 | Venghai | Selvam | Tamil | |
| 2011 | Mayakkam Enna | Karthik Swaminathan | Tamil | |
| 2012 | 3 | Ram | Tamil | |
| 2013 | Proprietors: Kammath & Kammath | Himself | Malayalam | Guest appearance |
| 2013 | Ethir Neechal | Himself | Tamil | Guest appearance in the song "Local Boys" |
| 2013 | Raanjhanaa | Kundan Shankar | Hindi | |
| 2013 | Maryan | Maryan | Tamil | |
| 2013 | Naiyaandi | Chinna Vandu | Tamil | |
| 2014 | Velaiilla Pattadhari | Raghuvaran | Tamil | |
| 2015 | Shamitabh | Danish (Shamitabh) | Hindi | |
| 2015 | Anegan | Ashwin / Murugappa / Kaali | Tamil | |
| 2015 | Vai Raja Vai | Kokki Kumar | Tamil | Guest appearance |
| 2015 | Maari | Maari | Tamil | |
| 2015 | Thanga Magan | Thamizh | Tamil | |
| 2016 | Thodari | Poochiyappan | Tamil | |
| 2016 | Kodi | Kodi / Anbhu | Tamil | |
| 2017 | Pa Paandi | Pandian Palanisamy | Tamil | Also director and screenwriter |
| 2017 | Velaiilla Pattadhari 2 | Raghuvaran | Tamil | Also screenwriter |
| 2017 | VIP 2 | Raghuvaran | Telugu | Also screenwriter |
| 2018 | The Extraordinary Journey of the Fakir | Ajatashatru Lavash Patel | English | |
| 2018 | Vada Chennai | Anbhu | Tamil | |
| 2018 | Maari 2 | Maariyappan (Maari) | Tamil | |
| 2019 | Asuran | Sivasamy | Tamil | |
| 2019 | Enai Noki Paayum Thota | Raghu | Tamil | |
| 2020 | Pattas | Sakthi (Pattas) / Dhiraviyaperumal | Tamil | |
| 2021 | Karnan | Karnan | Tamil | |
| 2021 | Jagame Thandhiram | Suruli | Tamil | |
| 2021 | Atrangi Re | S. Venkatesh Vishwanath Iyer (Vishu) | Hindi | |
| 2022 | Maaran | Mathimaaran | Tamil | |
| 2022 | The Gray Man | Lone Wolf | English | |
| 2022 | Thiruchitrambalam | Thiruchitrambalam (Pazham) | Tamil | |
| 2022 | Naane Varuven | TBA | Tamil | Post-production |
| 2023 | Vaathi | Balamurugan | Tamil | Filming |
| 2023 | Sir | Bala Gangadhar Tilak | Telugu | Filming |
| 2023 | Captian Miller | Captian Miller | | |
| 2024 | Tere Ishk Mein | Kundan Shankar | Hindi | |
| TBA | D50 | TBA | | Also Director and Writer |
As Producer
| Year | Film |
| --- | --- |
| 2012 | 3 |
| 2013 | Ethir Neechal |
| 2014 | Velaiilla Pattadhari |
| 2015 | Kaaki Sattai |
| 2015 | Kaaka Muttai |
| 2015 | Maari |
| 2015 | Naanum Rowdy Dhaan |
| 2016 | Visaranai |
| 2016 | Amma Kanakku |
| 2017 | Cinema Veeran |
| 2017 | Pa Paandi |
| 2017 | Velaiilla Pattadhari 2 |
| 2017 | Tharangam |
| 2018 | Kaala |
| 2018 | Vada Chennai |
| 2018 | Maari 2 |
| 2023 | Wunderbar Production 15 |
Discography
| Year | Title | Album | Other artist(s) |
| --- | --- | --- | --- |
| 2004 | "Naattu Sarakku" | Pudhukottaiyilirundhu Saravanan | |
| 2005 | "Thunda Kaanom" | Devathaiyai Kanden | Anuradha Sriram |
| 2006 | "Enga Area" | Pudhupettai | |
| 2010 | "Un Mele" | Aayirathil Oruvan | Andrea Jeremiah |
| 2011 | "Oda Oda" | Mayakkam Enna | Selvaraghavan |
| 2011 | "Kadhal En Kadhal" | Mayakkam Enna | |
| 2012 | "Why This Kolaveri Di" | 3 | |
| 2012 | "Kannazhaga" | 3 | Shruti Haasan |
| 2013 | "Teddy Bear" | | |
| 2013 | "Nijamellam" | Ethir Neechal | |
| 2014 | "Amma Amma" | Velaiilla Pattadhari | |
| 2014 | "Po Indru Neeyaga" | Velaiilla Pattadhari | |
| 2014 | "What a Karavad" | Velaiilla Pattadhari | |
| 2015 | "Danga Maari" | Anegan | |
| 2015 | "No problem" | Vajrakaya | Kannada song |
| 2015 | "Pazhankala" | Irandaam Ulagam | Megha |
| 2015 | "Oh Oh" | Thanga Magan | Nikitha, Sweta Mohan |
| 2015 | "Jodi Nilavu" | Thanga Magan | |
| 2015 | "Maari Thara Local" | Maari | |
| 2015 | "Don'u Donu'u Don'u" | Maari | |
| 2015 | "Bagulu Odayam Dagulu Mari" | Maari | |
| 2016 | "Maalai Varum Vannilla" | Nenjam Marappathillai | |
| 2016 | "Kodi" | Kodi | |
| 2016 | "Thikka" | Thikka | |
| 2017 | "Solli Tholaiyen Ma" | Yaakkai | |
| 2017 | "Soorakathu"&"Venpanimalare" | Pa Paandi | Swetha Mohan, Sean Roldan |
| 2017 | "Pudhuvai" | Yaadhumaagi Nindran (Music Video) | |
| 2017 | "Life of Raghuvaran" | Velaiilla Pattadhari 2 | |
| 2017 | "Torture of Raghuvaran" | Velaiilla Pattadhari 2 | |
| 2018 | "Goindhammavala" | Vada Chennai | |
| 2018 | "Engleesu loves" | Pakkiri | |
| 2018 | "Local Sarakka" | Padaiveeran | |
| 2018 | "Ezhava" | Ezhumin | |
| 2018 | "Maari Gethu" | Maari 2 | Chinnaponnu |
| 2018 | "Rowdy Baby" | Maari 2 | Dhee and M.M Manasi |
| 2019 | "Nenjodu Vinaya" | Brother's Day | |
| 2019 | "Polladha Bhoomi" | Asuran | |
| 2019 | "Kannazhagu Rathiname" | Asuran | |
| 2020 | "Chill Bro" | Pattas | |
| 2020 | "Kaathodu Kaathanen" | Jail | Aditi Rao Hydari |
| 2021 | "Thattaan Thattaan" | Karnan | |
| 2021 | "Tata Bye Bye" | Vanakkam Da Mappilei | |
| 2021 | "Nethu" | Jagame Thandhiram | |
| 2021 | "Rakita Rakita Rakita" | Jagame Thandhiram | |
| 2021 | "Little Little" | Atrangi Re | |
| 2021 | "Little Little" | Galatta Kalyanam | |
Lyrics
| Year | Title | Album |
| --- | --- | --- |
| 2011 | "Kadhal Yen Kadhal" | Mayakkam Enna |
| 2012 | "Why This Kolaveri Di" | 3 |
| 2012 | "Unna Pethavvan" | 3 |
| 2012 | "Po Nee Po" | 3 |
| 2012 | "Nee Partha" | 3 |
| 2012 | "Kannazhaga" | 3 |
| 2012 | "Boomi Enna Suthude" | Ethir Neechal |
| 2012 | "Nijamellam Maranthu" | Ethir Neechal |
| 2012 | "Kadal Raasa Naan" | Maryan |
| 2014 | ""Amma Amma"" | Velaiilla Pattadhari |
| 2014 | "Ey Inga Paru" | Velaiilla Pattadhari |
| 2014 | "Vellailla Pattathari" | Velaiilla Pattadhari |
| 2014 | "Po Indru Neeyaga" | Velaiilla Pattadhari |
| 2014 | "Udhungada Sangu" | Velaiilla Pattadhari |
| 2014 | "What a Karuvad" | Velaiilla Pattadhari |
| 2014 | "Move your body" | Vai Raja Vai |
| 2015 | "Enna Solla" | Thanga Magan |
| 2015 | "Jodi Nilave" | Thanga Magan |
| 2015 | "Oh oh" | Thanga Magan |
| 2015 | "Tak bak" | Thanga Magan |
| 2015 | "Thara Local" | Maari |
| 2015 | "Don'u Don'u" | Maari |
| 2015 | "Oru Vitha Asai" | Maari |
| 2016 | "Kodi" | Kodi |
| 2017 | "Venpanimalare " | Pa Paandi |
| 2017 | "Soorakathu" | Pa Paandi |
| 2018 | "Maari Thara Local" | Maari 2 |
| 2018 | "Anandhi" | Maari 2 |
| 2019 | "Ilamai Thirumbuthe" | Petta |
| 2019 | "Nenjodu Vinaya" | Brother's Day |
| 2021 | "Nethu" | Jagame Thandhiram |
| 2021 | "Little Little" | Galatta Kalyanam |
| 2022 | "Thaai Kelavi" | Thiruchitrambalam |
| 2022 | "Megham Karukaatha" | Thiruchitrambalam |
| 2022 | "Thenmozhi" | Thiruchitrambalam |
| 2022 | "Kanneer Sindha" | Thiruchitrambalam |
| 2022 | "Rendu Raaja" | Thiruchitrambalam |
| 2023 | "Vaa Vathi" | Vaathi |
| 2023 | "One Life" | Vaathi |
National Film Awards
2011 – Best Actor for Aadukalam – Won
2014 – Best Children's Film for Kaaka Muttai (co-producer) – Won
2015 – Best Feature Film in Tamil (co-producer) for Visaranai – Won
2019 – Best Actor for Asuran – Won
Filmfare Awards
2014 – Best Male Debut for Raanjhanaa – Won
2014 – Best Actor for Raanjhanaa – Nominated
2022 – Best Actor for Atrangi Re – Nominated
Filmfare Awards South
| Year | Category | Film | Result |
| --- | --- | --- | --- |
| 2003 | Best Actor | Kadhal Kondein | Nominated |
| 2008 | Best Actor | Yaaradi Nee Mohini | Nominated |
| 2010 | Best Male Playback Singer | "Un Mele Aasaidhaan" from Aayirathil Oruvan | Nominated |
| 2011 | Best Actor | Aadukalam | Won |
| 2012 | Best Male Playback Singer | Why This Kolaveri Di from 3 | Won |
| 2012 | Best Actor | 3 | Won |
| 2013 | Best Actor | Maryan | Nominated |
| 2013 | Best Actor (Critics) | Maryan | Won |
| 2014 | Best Actor | Velaiyilla Pattathari | Won |
| 2014 | Best Film | Velaiyilla Pattathari | Nominated |
| 2015 | Best Film | Kaaka Muttai (co-producer) | Won |
| 2015 | Best Actor | Anegan | Nominated |
| 2016 | Best Film | Visaranai (co-producer) | Nominated |
| 2016 | Best Actor | Kodi | Nominated |
| 2016 | Best Director | Pa Paandi | Nominated |
| 2016 | Best Male Playback Singer | "No Problem" from Vajrakaya | Nominated |
| 2018 | Best Actor | Vada Chennai | Won |
| 2018 | Best Film | Vada Chennai | Nominated |
Vijay Awards
| Year | Category | Film | Result |
| --- | --- | --- | --- |
| 2007 | Best Actor | Polladhavan | Nominated |
| 2007 | Favorite Hero | Polladhavan | Nominated |
| 2008 | Best Entertainer of the Year | Yaaradi Nee Mohini | Won |
| 2008 | Best Actor | Yaaradi Nee Mohini | Nominated |
| 2011 | Favorite Hero | Aadukalam | Nominated |
| 2011 | Best Actor | Aadukalam | Nominated |
| 2011 | Best Lyricist | "Voda Voda" from Mayakkam Enna | Nominated |
| 2011 | Best Crew (actor) | Aadukalam | Won |
| 2011 | Best Entertainer of the Year | Aadukalam & Mayakkam Enna | Won |
| 2012 | Best Actor | 3 | Won |
| 2012 | Best Male Playback Singer | Why This Kolaveri Di from 3 | Nominated |
| 2012 | Best Lyricist | "Po Nee Po" from 3 | Won |
| 2012 | Favorite Hero | 3 | Won |
| 2013 | Best Actor | Maryan | Nominated |
| 2013 | Best Crew (producer) | Ethir Neechal | Won |
| 2013 | Favorite Hero | Maryan | Nominated |
| 2014 | Best Lyricist | "Amma Amma" from Velaiyilla Pattathari | Nominated |
| 2014 | Favorite Hero | Velaiyilla Pattathari | Nominated |
| 2014 | Favorite Film (producer) | Velaiyilla Pattathari | Nominated |
| 2014 | Best Actor | Velaiyilla Pattathari | Won |
| 2014 | Best Film (producer) | Velaiyilla Pattathari | Won |
| 2017 | Best Entertainer of the Year | Pa Paandi, Velaiilla Pattadhari 2 | Won |
South Indian International Movie Awards
| Year | Category | Film | Result |
| --- | --- | --- | --- |
| 2011 | Best Actor | Aadukalam | Won |
| 2011 | Best Male Playback Singer | "Voda Voda" from Mayakkam Enna | Won |
| 2011 | Sensation of South Indian Cinema | Various films | Won |
| 2011 | Best Lyricist | "Pirai Thedum" from Mayakkam Enna | Nominated |
| 2012 | Best Actor | 3 | Won |
| 2012 | Best Lyricist | "Kannazhaga" from 3 | Won |
| 2012 | Best Singer | "Why This Kolaveri Di" from 3 | Won |
| 2012 | Best Debutant Producer | Wunderbar Films for 3 | Nominated |
| 2012 | Sensation of Innovative Marketing | Wunderbar Films for 3 | Won |
| 2013 | Best Actor (Critics) | Maryan | Won |
| 2014 | Best Actor | Velaiyilla Pattathari | Won |
| 2014 | Best Lyricist | "Amma Amma" from Velaiyilla Pattathari | Won |
| 2014 | Pride of South Indian Cinema | — | Won |
| 2015 | Best Film (co-producer) | Kaaka Muttai | Nominated |
| 2015 | Best Actor | Anegan | Nominated |
| 2016 | Best Film | Visaranai (co-producer) | Nominated |
| 2017 | Best Debut Director | Pa Paandi | Nominated |
| 2017 | Best Lyricist | Pa Paandi | Nominated |
| 2018 | Best Actor | Vada Chennai | Won |
| 2018 | Best Film | Vada Chennai (co-producer) | Won |
| 2019 | Best Actor | Asuran | Won |
| 2021 | Best Actor | Pattas | Nominated |
Edison Awards
2013 – Best Actor for Maryan – Won
2014 – Best Actor for Velaiyilla Pattathari – Won
2015 – Best Producer for Kaaka Muttai – Won
2015 – Mass Hero for Maari – Won
2018 – Best Actor for Vada Chennai – Won
2019 – Best Actor for Asuran – Won
Vikatan Award
2014 – Best Actor for Velaiyilla Pattathari – Won
2015 – Best Film for Kaaka Muttai – Won
2016 – Best Film for Visaranai – Won
2018 – Best Actor for Vada Chennai – Won
2019 – Best Actor for Asuran – Won
IIFA Utsavam
2015 – Best Lyricist (Tamil) for Don-u Don-u Don-u from Maari – Won
2015 – Best Male Playback Singer (Tamil) for Danga Maari from Anegan – Nominated
2015 – Best Male Playback Singer (Kannada) for No Problem from Vajrakaya – Won
Other Honours and Recognition
Stylish Star Of South Cinema – Chennai Times Award (2011)
CNN Top Song of 2011 Award – Why This Kolaveri Di (2011)
Asianet Most Popular Actor (Tamil) (2011)
Chennai Time Award – Best Actor for 3 (2012)
Behindwoods Gold Medal – Best Acting Performance for Maryan (2014)
IIFA Award for Star Debut of The Year – Male (2014)
Zee Cine Award for Best Male Debut (2014)
SICA Award – Best Actor for Velaiyilla Pattathari (2015)
Tamil Nadu State Film Award – Special Prize for Kaaka Muttai (2017)
MGR Sivaji Academy Award – Sensational Debut Director for Pa Paandi (2018)
Vanitha Film Awards – Best Actor Tamil for Vada Chennai (2018)
Nominations
Big Star Entertainment Awards – Most Entertaining Debutant Actor for Raanjhanaa (2013)
Star Screen Award Most Promising Newcomer – Male for Raanjhanaa (2013)
Star Screen Award Best Actor – Popular Choice for Raanjhanaa (2013)
Images
Check out the latest photos of actor Dhanush,