Rajinikanth Enters Politics | Superstar Rajinikanth confirms his entry after a long await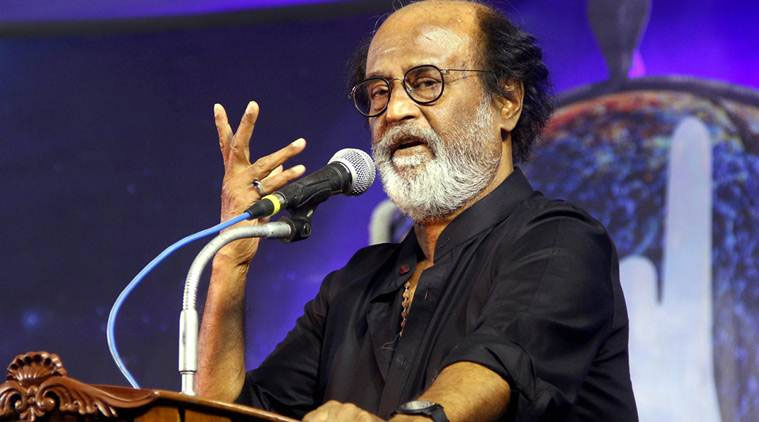 Superstar Rajinikanth had previously announced that he would make his official statement on his political entry today(31.12.2017). As expected by millions of his fans he made that big announcement today at his fans meet. Superstar Rajinikanth is one of the most awaited person into Tamil Nadu politics for a long while by his fans as well as the people. But he has been postponing his entry for quite a long time say for more than a decade. In 2017 he has been frequent in organizing press meet with his fans and arranging photo sessions with them, thus it left his fans and the others about his next big move.
Sunday Superstar Rajinikanth enters the Ragavendhra Kalyana Mandapam in T Nagar Chennai, wearing a white kurta. Meanwhile, the huge fan club and the media was ready to record his words. Without further delay he said,
"I will form my own political party and contest from all 234 seats in the next assembly election."
He made this statement among the furious response from his fans. Also, he added a quote from Bagavat Gita meaning, one should do his duty and leave the rest to God. He still added,
"About Lok Sabha polls, I will decide then. I am not here for money or fame, you have already given that to me a thousand times over. I am not enamored by position or post. At 45, I didn't have that, at 68 will I get that? Will I not be a mad man then? Am I not deserving of being called a spiritual?"
Even if he didn't make this decision now it would be wrong and that guild would follow him till grave, he added. He also stated about the Tamil Nadu's current political status that the people themselves feel shame on seeing the political happenings of the past year.
"We have to change, we have to change everything fast. Devoid of caste, a spiritual governance, spiritual politics, honesty and transparency. That's my goal."
he said when asked about his vision. After making his announced and meeting his fans he left to his house to greet his fans.
Rajinikanth has been meeting his fans for the last 6 days and has been approximately 1000 fans that he interact daily. His friend Kamal Hassan who had recently made his political entry has tweeted to greet Rajinikanth who enters politics. Also, BJP state president Tamilisai Soundararajan has tweeted with indirect referenced that he would support BJP. Let us see what happens and comment below your views on Rajinikanth's political entry.
சகோதரர் ரஜினியின் சமூக உணர்வுக்கும் அரசியல் வருகைக்கும் வாழ்த்துக்கள். வருக வருக

— Kamal Haasan (@ikamalhaasan) December 31, 2017
Welcome actor Rajinikanths political entry with motto of corruption free good governance which is the sole aim of BJP

— Dr Tamilisai Soundararajan (@DrTamilisaiBJP) December 31, 2017