LV Revanth Wiki, Biography, Age, Family, Songs List, Images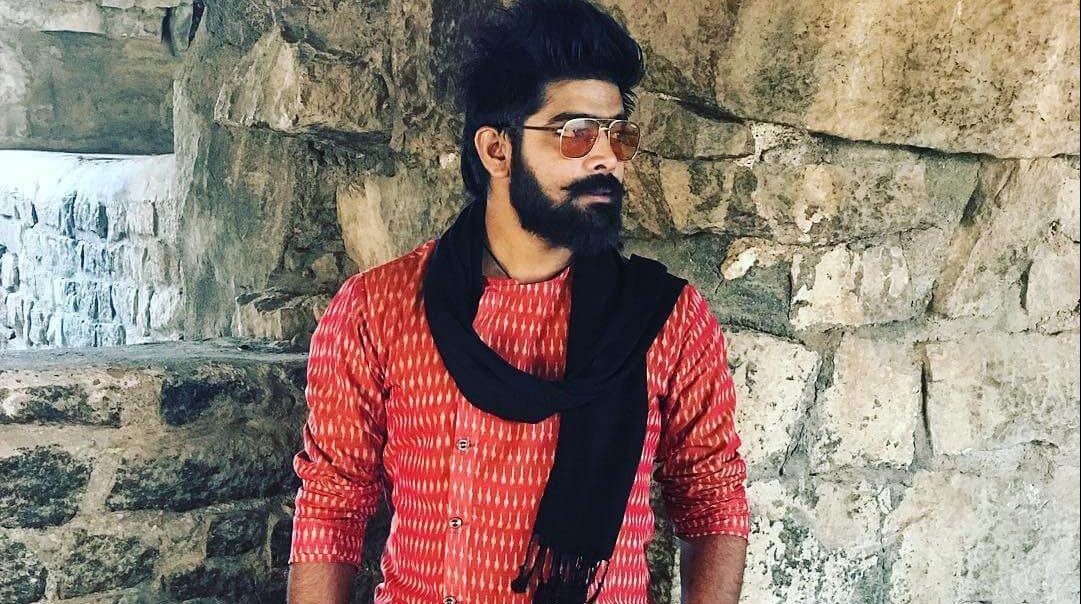 Lolla Venkata Revanth Kumar Sharma known as LV Revanth is an Indian playback singer in Telugu film industry. He is the winner of Indian Idol season 9 in 2017. He also won the title of Rock Star, Spicy Singer on Maa TV and Superstar of the South. He has sung around 200 songs for Telugu and Kannada films. One of his popular songs is 'Manohari' from the blockbuster film Baahubali: The Beginning, for which he got IIFA Utsavam and MAA Music Award nominations for best male playback singer. Check out below for LV Revanth Wiki, Biography, Age, Family, Songs List, Images, and More.
Read other biographies: Reena Bhardwaj | Chinnaponnu | Karthik (Singer) | Pradeep Kumar (Singer) | Tippu
LV Revanth Details
LV Revanth was born on 10 February 1990 in Srikakulam, Andhra Pradesh, India. He did his schooling at Bala Bhanu Vidyalayam located in Srikakulam and was graduated from Dr V.S Krishna Government College, Vishakhapatnam. His father passed away before he was born. His mother Seetha Subbalaxmi supported and encouraged him to take part in Indian Idol after watching N. C. Karunya win the competition. He has an older brother named Santosh Kumar. Revanth worked as a catering boy when he was younger to support himself and participated in singing competitions.
After graduation, he moved to Hyderabad to pursue a career in playback singing. He started his career with music talent shows. In 2017, LV Revanth sang his first Bollywood song Sabse Bada Kalakar in a reality show on Sony Entertainment Television. Recently, he sang two songs Telisiney Na Nuvvey and Oopiri aaguthunnadey in 2017 Telugu hit movie, Arjun Reddy.
LV Revanth Biography
| | |
| --- | --- |
| Name | LV Revanth |
| Real Name | Lolla Venkata Revanth Kumar Sarma |
| Nickname | Revanth |
| Profession | Indian playback singer |
| Date of Birth | 10 February 1990 |
| Age | 28 (As of 2018) |
| Zodiac sign | Aquarius |
| Father Name | Yet to be Updated |
| Mother Name | Seetha Subbalaxmi |
| Religion | Hindu |
| Educational Qualification | Yet to be Updated |
| School | Bala Bhanu Vidyalayam, Srikakulam |
| College | Dr. V.S Krishna Government College, Vishakhapatnam |
| Hobbies | Singing, Song composing, Traveling |
| Hometown | Srikakulam, Andhra Pradesh, India |
| Nationality | Indian |
| Married | No |
| Wife Name | NA |
| Current City | Hyderabad, Telangana, India |
LV Revanth Facebook: https://www.facebook.com/singerrevanthLVofficial/
LV Revanth Twitter: https://twitter.com/singerrevanth
LV Revanth Instagram: https://www.instagram.com/singerrevanth/
LV Revanth Website: http://www.singerrevanth.in/
LV Revanth Songs list
Year
Film
Song
Composer
Language
Unknown
Nayaka Nayaka
Hari Hari Srihari
Rakshana
Ye Deshki Dhadkan
Saranamanthram
Ni Kaallaku Mokkemu Ayyappa
K. Ramachari
Telugu
Shabari Prasadam
Nayaka Nayaka
Shivanagam
Munni Baby
Voice of Youth (Album)
Everyday
Nitish Narayan
2008
Maha Yagnam
Jalak Diklaja
Vandemataram Srinivas
Telugu
2009
Illa Choodu Okasari
Lovvenduku Pettaduru Devudu
Prasad
Telugu
Posani Gentleman
Gentleman
Arjun
Telugu
Vatapatra Sai
Sruthilayalerugani
Illayaraja
Telugu
Vesavi Selavullo
Dola Dola
Praveen Moghal
Telugu
2010
Kothimooka
Ammalarra
Mani Sharma
Telugu
Lokame Kothaga
Edalone Enno Unna
Lalith – Manomurthy
Telugu
Lokame Kothaga
Maa Voori Maharshi
Evadabba Sommani
Visshu-Subbu
Telugu
Kala Nijamaithe
Mangala
Mangala (Theme)
Viswa
Telugu
2011
Anukokunda Emjarigindhante-
I am Lekkallo
Kaasarla Shyam
Telugu
Badrinath
Amba Dari
M. M. Keeravani
Telugu
Chiranjeeva
Graduate
Gadichina Kashanamu
Sandeep
Telugu
Kandireega
Premey
S. Thaman
Telugu
Madatha Kaja
Gungudu Gudu Gudu
Sri Vasanth
Telugu
Madatha Kaja
Nuvvila
Baby Aa Popula Dabba
Shekar Chandra
Telug§u
Rajanna
Okka Kshanam
M. M. Keeravani
Telugu
Raa Ree Ro Rela
Vey Vey
Thrilling
Navvakunda
Rajendra Prasad
Telugu
Vykuntapali
Pranaley Poyeloga
Anil Gopireddy
Telugu
2012
Anarkali
Nee Style
P.N. Roy
Telugu
Bus Stop
Bus Stop Title Song
J.B.
Telugu
Kalalake Kanulochina
Chaduvukune Rojullo
Edhi Sweetage
Jeevith Krupa
Telugu
Chanakyudu
Chanakyudu
K Valisha Babji
Telugu
Daiva Swaranjali
Yekkadunnavayya
Telugu
Dammu
Ruler (Movie Version)
M. M. Keeravani
Telugu
Disco
Prema Enduke Ila
Mantra Anand
Telugu
Ee Rojullo
Cell Song
J.B.
Telugu
Edho Edho
Idi Mamulu Prema Katha Kadu
Thodunanuko
Quddus
Telugu
Jollyga Enjoy Cheddam
Guntur Kurrallu
Kuna Praveen Kumar
Telugu
Nelavanka
Maa Abbai Engineering Student
Ninne Neeku Chupedi
Chinni Charan
Telugu
Memu Vayasuku Vachham
Love you Antundhi
Shekar Chandra
Telugu
Naa Ishtam
Haayi Haayiga
Chakri
Telugu
Premalo Padithe
Premalo Padithe
Charavarthy
Telugu
Rowdigari Pellam
Apakunda Endukanta
Arjun
Telugu
Seesaku Pagulu
Shirdi Sai
Vasthunna Baba
M. M. Keeravani
Telugu
Sudigadu
Gajibiji Gathukula Roaddu
Sri vasanth
Telugu
Jagaalu Mottham
Yem Babu Laddu Kavala
Rani Rani
M M Sreelekha
Telugu
2013
Athadu Aame O Scooter
Drumm Drumm
Chinni Krishna
Telugu
Coffee with My wife
Chakkani Vaadey
Manthra Anand
Kannada
Govinda Govinda
Saayare Sayya
DK Bose
Mr. D K Bose
Achu Rajamani
kannada
Emo Gurram Egaravachu
Bullabbayini Edipinchina Neelaveni
M. M. Keeravani
Telugu
Boore Buttalo Padda Gurram
Gurudu
Gurudu
Anand
Telugu
Love Life
Pakka Dindi
Srinivas Raju
Telugu
Mahesh
Match Ke Pone
Gopi Sunder
Telugu
Music Magic
Kothale Koyokandira
Padmanav T
Telugu
Na Rakumarudu
Thapeshwaram Khaja
Achu Rajamani
Telugu
Nenu Chala Worst
Yamma Yama
Pardhu
Telugu
Park
O Baby Bangaru
M. M. Srilekha
Telugu
Parking
Nannu Nuvve
Babu Sastry
Telugu
Prema Katha Chitram
I Just Love You Baby
J.B.
Telugu
Vennelaina Cheekataina
Remix by J.B.
Telugu
Priyatama Nevachata Kusalama
Allari Allaripilla
Sai Karthik
Telugu
Romance
Anu Anu
Ryee Ryee
Lachimi Lachimi
Sri Vasanth
Telugu
Ryee Ryee
Snehame Thoduga
Tholi Tholi Tholakari
Chukka Srinivas
Telugu
2014
10th Lo Luck Inter Lo Kick B-Techlo
10th Classlo Luck
J. S. Raju
Telugu
Aa Aiduguru
Edhurey Ledhuani
Anand
Telugu
Ak Rao
AAA Ak Rao
K.S.Rao
Telugu
Ali Baba Okkade Donga
Nene Neevanna
Sai Srikanth
Telugu
Apartment
Jaadu No 1
Quddus
Telugu
Yem Maya Chesinave
Dikkulu Choodaku Ramayya
Chembisthri
M. M. Keeravani
Telugu
Hrudaya Kaleyam
Nene Sampoo
RK
Telugu
I am in Love
Paddhendhellu Kharchayyayi
Pradeep K K
Telugu
Just Business
Bhajana Bhajana
Ajay Patnaik
Telugu
Yem Mayo
Kotha Janta
Charminar Galli
J.B.
Telugu
Kulfi
Gunde Enthaga
Yuvan Shankar Raja
Telugu
Laddu Babu
Laddu Babu
Chakri
Telugu
Love You Bangaram
Rendu Kallu Saalavata
Mahith Narayan
Telugu
Lovers
Lovers Title Song
J.B.
Telugu
Pedavi Chivara
Mirchi Lanti Kurrade
Michi Lanti Kurrade
J.B.
Telugu
Luck is my name
Types of Love
Mukunda
Chesededo
Mickey J Meyer
Telugu
Nakenduku Nachave
Nakenduku Nachave
A.R.Sunny
Telugu
Nenu Naa Friends
Are Mamu
Chinnicharan
Telugu
Golilaata
Pancha Boothalu Sakshigha
Naadantha Oka Roote
Vara Prasad
Telugu
Pawanism
Yemaindo
Kanishka
Telugu
Pelladandi Preminchaka Matrame
Lifelone Gelichanne
Vamsi-Ganesh
Telugu
Raghuvaran B Tech
Luckkanna Mate Nillu
Anirudh Ravichander
Telugu
Nippulanti Nirudyogi
Rangageethagalu
Manujadhama
R. Paramasivan
Kannada
Vichakshana
Prakshalana
Jagannath Sindhi
Telugu
Sandella Mardala
2015
Anaganaga Oka Chitram
O Sanjana
Vinod Yajamanya
Telugu
Baahubali: The Beginning
Manohari
M. M. Keeravani
Telugu
Evariki Evaru
Na Manase
Chinni Krishna
Telugu
Hora Hori
Raanantavenduke
Koduri Kalyani
Telugu
Kai Raja Kai
Okati Rendu Mudu
J.B.
Telugu
Benjilaga Vacchindira
Kai Raja Kai
Preminchu Pelladu
Nannu Thadime Thapana Yedhuko
Ajay Patnaik
Telugu
Rey
Dance
Chakri
Telugu
Swimming Pool
Galullo Ragalaki
Pradeep Chandra
Telugu
Vandanam
Abbayi Boyfriend
J.B.
Telugu
Vikramarkudi Love Story
Misslle Strength
Ghantasala N.Viswanath
Telugu
2016
Bhadram Be Careful Brotheru
Hello Hello Na Darling
J.B.
Telugu
Digbandhana
Dikkule Mokku
Ram Sudhanvi
Telugu
Dll Unna Raju
Okate Malli
Gowtham
Telugu
Dwaraka
Allabbi Allabbi
Sai Karthik
Telugu
Eedo Rakam Aado Rakam
Ko Ko Kodi
Sai Karthik
Telugu
Intlo Deyyam Nakem Bhayam
Sathamaanam Bhavathi
Sai Karthik
Telugu
Jakkanna
Helper
Dinesh
Telugu
Janu Nuvvekkada
Urlme Merupal
Murali Leon
Telugu
Kathanam
Kalalaaye
Sabu Varghese
Telugu
Kalalanni Pandy
Krishnashtami
Krishnashtami
Dinesh
Telugu
Gokula Thilaka
Nagabharanam
Raava Bangaram
Gurukiran
Telugu
Nenena
Kaalam Kadhalo
Ajay Arasada
Telugu
Rudhiraagrahavva
Nenu Seethadevi
Kalaganaledu
Chaitanya Raja
Telugu
Nuvvunte Nee Jaathaga
Konchem Konchem
Telugu
Pidugu
Gola Gola
R. Karthik Kumar
Telugu
Premam
Evadu Evadu
Gopi Sundar
Telugu
Speedunnodu
Ammayini Abbbayi Chudagane
Sri Vasanth
Telugu
Kasai Katthi Padhunu
Aatakundhoy
Rekkalatho Chukkalakegira
Ye Sunami Ina
Srirastu Subhamastu
Desi girl
S. Thaman
Telugu
Supreme
Andam Hindolam (Remix)
Raj-Koti
Telugu
Thikka
Nee Kosam
S. Thaman
Telugu
2017
Arjun Reddy
Telisiney Na Nuvvey (Breakup Song)
Radhan
Telugu
Oopiri Aaguthunnadhey
Darre
Beautiful Oh Baby
G.R.Naren
Telugu
Darsakudu
Akasam Dinchi
Sai Kartheek
Telugu
Kalyana Vaibhogam (TV Show)
Kalyana Vaibhogam (Title Track)
Meenakshi Bhujang
Telugu
Luckunnodu
Aisa Laga
Praveen Lakkaraju
Telugu
Ravera
What DA F
Nakshatram
Layire Layire
Bheems Ceciroleo
Telugu
Om Namo Venkatesaya
Vayyari Kalahamsika
M. M. Keeravani
Telugu
Oxygen
Adi Lekka (The Soul of Telugu)
Yuvan Shankar Raja
Telugu
Raja the Great
Raja The Great Title Song
Sai Kartheek
Telugu
Sabse Bada Kalakar(Reality Show)
Sabse Bada Kalakar(Title Track)
Hindi
Samayam
Gaganamloni
Ghana Shyam
Telugu
Sivalinga
Saarah Saarah
S. Thaman
Telugu
Ungarala Rambabu
Nuvve Naa Adhrushtam
Ghibran
Telugu
2018
Balakrishnudu
Entha Varalaina
Mani sharma
Telugu
Gang
Naala Nenu
Anirudh Ravichander
Telugu
Gang Title Track
Jai Simha
Priyam Jagame Anandhamayam
Chirrantan Bhatt
Telugu
Yevevo Yevevo Cheppalanipisthundhi
Mental Madhilo
Edhola Edhola
Prashanth R Vihari
Telugu
Psv Garuda Vega
Premale
Sri Charan Pakala
Telugu
Krishnarjuna Yudham
Ela Ela
Hiphop Tamizha
Telugu
I Wanna Fly
Vijetha
Salaam Salaam
Harshavardhan Rameshwar
Telugu
LV Revanth Awards
| Year | Award | Category | Nominated Work | Result |
| --- | --- | --- | --- | --- |
| 2010 | Super Singer 5 | Music Reality Show | | Runner Up |
| 2011 | Maa Music Awards | Best Playback Singer – Male | Vey Vey Debbaku Debba from the Film Rajanna | Winner |
| 2011 | BIG FM | Best Debut Singer – Male | Ambadari and Chiranjeeva Chiranjeeva from the film Badrinath | Winner |
| 2013 | Super Singer 7 | Music Reality Show | | Runner Up |
| 2014-2015 | Super Singer 8 | Music Reality Show | | Group Winner |
| 2015 | Maa Music Awards | Best Playback Singer – Male | Manohari from the film Baahubali – The Beginning | Nominated |
| 2015 | IIFA Utsavam Awards | Best Playback Singer – Male | Manohari from the film Baahubali: The Beginning | Nominated |
| 2015-2016 | TSR-TV9 Awards | Special Jury Award | | Winner |
| 2016-2017 | Indian Idol 9 | Music Reality Show | | Winner |
| 2017 | Teluguflame T.V. Awards | Best Play Back Singer | Kalyana Vaibhogam (Title Track) | Winner |
LV Revanth Images
Read other biographies: Harini  | A. R. Reihana | Mahathi | Aparna Vinod | Hebah Patel | Aalap Raju | Sanam Puri