Akkineni Nagarjuna Wiki, Biography, Age, Movies, Family, Images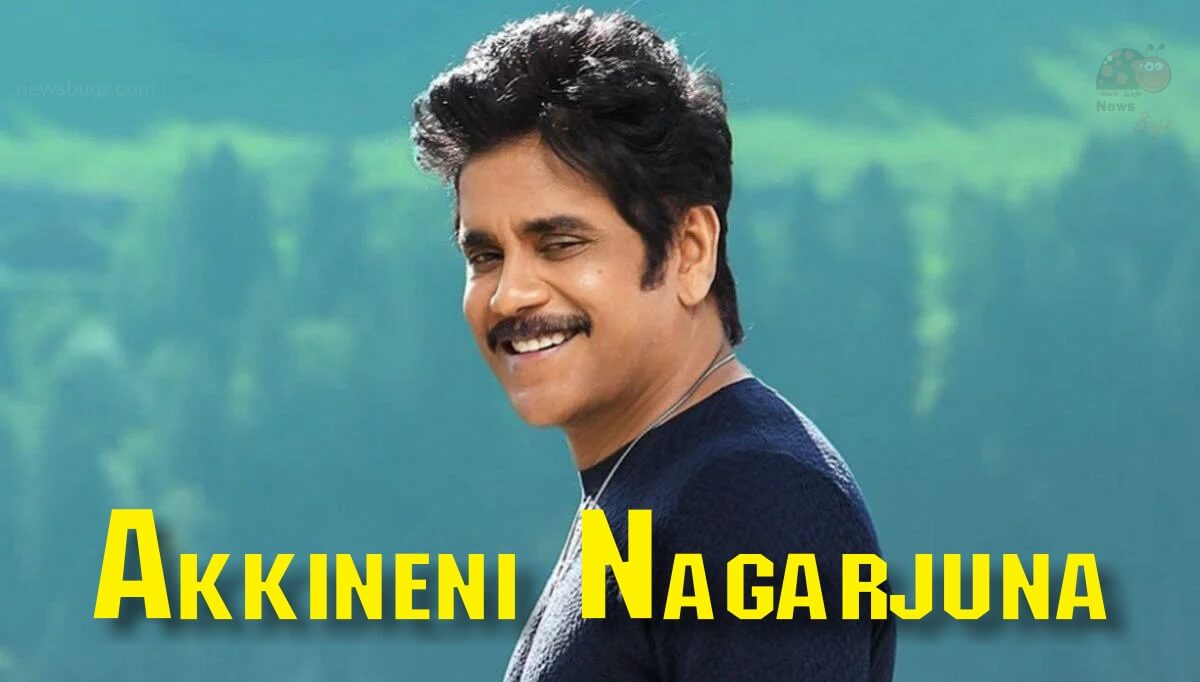 Akkineni Nagarjuna is an Indian actor, film producer and businessman, who predominantly works in Telugu film industry. He not only works in Telugu film industry he used to appear in Tamil, Kannada, Malayalam and Hindi film industry. He made his debut movie Vikram as Vikram in the year 1986 and his debut Hindi movie is Iddaru Iddare as Ravi in the year 1990. Then he made his debut Tamil movie titled Ratchagan as Ajau in the year 1997. As a producer, he made his debut movie Kalyani in the year 1979. Nagarjuna's role in The Ghost movie was appreciated by the audience and received good reviews from critics. The Ghost movie trailer received more than 39 lakhs views within 24 hours.
Nagarjuna wife names are Daggubati Lakshmi Ramanaidu and Amala Akkineni. Daggubati Lakshmi Ramanaidu is his first wife who is from the Daggubati family, with that, she is the daughter of D. Ramanaidu, a prominent film-maker, and sister of the actors Venkatesh and Suresh Babu. They both got married in 1984, and this couple has a son named Naga Chaitanya was born on 1986 who is a prominent actor in Telugu film industry. Then Akkineni Nagarjuna married Amala Akkineni and this couple has a son named Akhil Akkineni who was born in 1994. On 29 January 2017, his elder son Chaitanya got married to Samantha Ruth Prabhu in a private ceremony.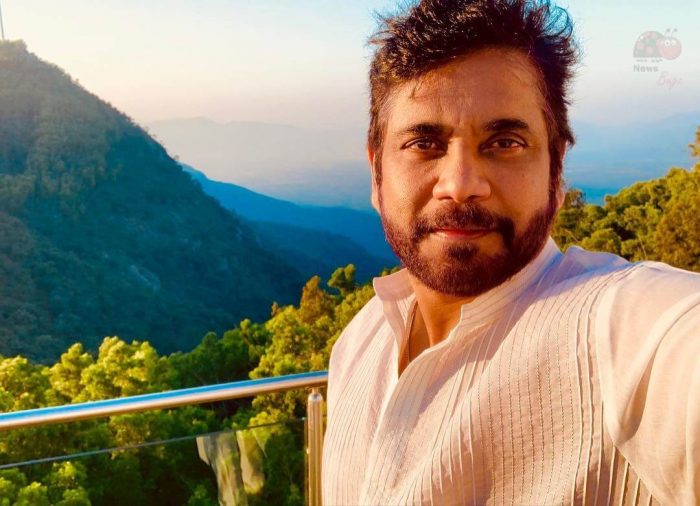 He started his acting career in the year 1967, as a child artist from the movie Sudigundalu directed by veteran Adurthi Subbarao. Later he made his debut movie Vikram in the lead role directed by Madhusudhana Rao in the year 1986. Then he appeared in the movies like Majnu which is directed by Dasari Narayana Rao, and the movie received positive reviews for his performance. In the year 1988, he featured in the blockbuster movie Aakhari Poratam with directed Sridevi and Suhasini by K. Raghavendra Rao. In 1989, he featured in the movie Geetanjali directed by Manirathnam, and the movie has won the National Film Award for Best Popular Film Providing Wholesome Entertainment in 1990. After the success of Geetanjali immediately he saw another success movie titled Siva directed by Bollywood director Ram Gopal Varma.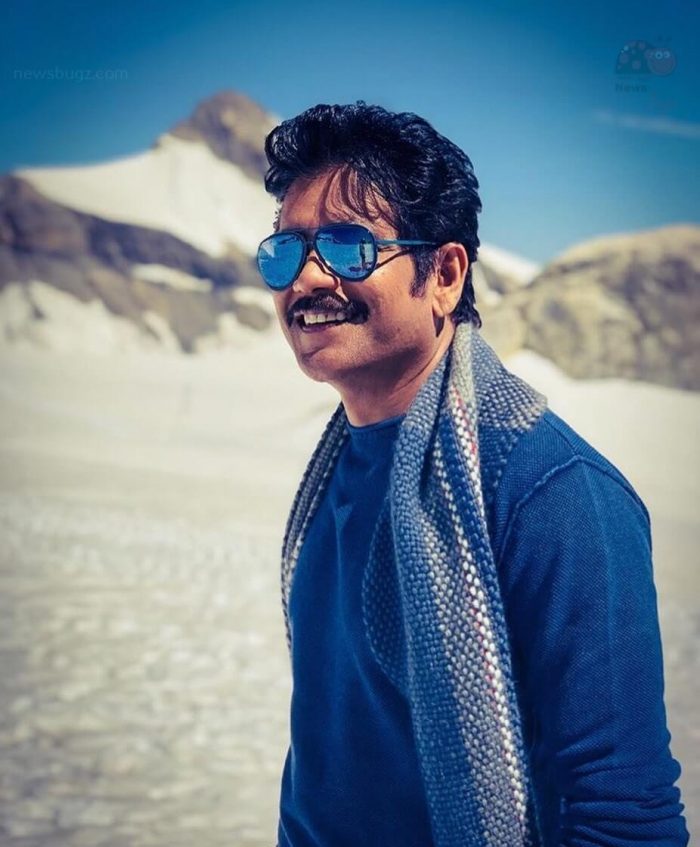 Later in 1994, he starred in a Hindi-Telugu bilingual movie Criminal directed by Mahesh Bhatt. In the same year, he starred and produced a movie titled Ninne Pelladata directed by Krishna Vamsi. This movie was won the National Film Award for Best Feature Film in Telugu and Filmfare Award for Best Film – Telugu. Then in 1997, he made his debut Tamil movie titled Ratchagan. Then in the following years, he featured in various Tamil, Hindi and Telugu movies and received a huge acclaim among the people. As a producer, he made his debut television show Yuva in the year 2009. Moreover, he is the major shareholder of television channel Maa TV. Then in the year 2013 he becomes as a co-owner of Mumbai Masters of the Indian Badminton League with Sunil Gavaskar, and Mahi Racing Team India along Mahendra Singh Dhoni. Now he endorses Kalyan Jewellers in Telangana and Andhra Pradesh. Akkineni Nagarjuna and his wife Amala are the co-founders of  Blue Cross of Hyderabad, which is a registered society recognized by the Animal Welfare Board of India. In the year 2010, he starred in an HIV/AIDS animated software tutorial created by TeachAIDS, a nonprofit founded at Stanford University.
Biography
Name
Akkineni Nagarjuna
Real Name
Akkineni Nagarjuna
Nickname
Akkineni
Profession
Actor, Producer, Businessman
Date of Birth
29 August 1959
Age (as of 2022)
63
Zodiac sign
Virgo
Family
Father: Nageswara Rao Akkineni (Actor and Producer)
Mother: Annapurna Akkineni
Brothers: Akkineni Venkat
Sisters: Akkineni Sathyavathi, Akkineni Naga Susheela, and Akkineni Saroja
Marital Status
Married
Affairs/Girlfriends
Amala Akkineni (Actress)
Wife
Lakshmi Ramanaidu Daggubati (1984 – 1990)
Amala Akkineni (1992 – Present)
Children
Son: Naga Chaitanya and Akhil Akkineni
Religion
Hindu
Educational Qualification
M.S. in Automobile Engineering
Bachelors of Engineering
School
Hyderabad Public School, Hyderabad
College
The Little Flower Junior College, Hyderabad
College of Engineering, Guindy
Eastern Michigan University, Michigan, USA
Hobbies
Reading, Workout, Listening to music, Driving, Swimming
Birth Place
Chennai, Tamil Nadu, India
Hometown
Hyderabad, Telangana, India
Current City
Hyderabad, Telangana, India
Nationality
Indian
Social Media Profiles
Akkineni Nagarjuna INSTAGRAM
Movies
| Year | Title | Role |
| --- | --- | --- |
| 1986 | Vikram | Vikram |
| 1986 | Captain Nagarjun | Nagarjuna |
| 1986 | Aranyakanda | Chaitanya |
| 1987 | Majnu | Rajesh |
| 1987 | Sankeertana | Kaasi |
| 1987 | Collector Gari Abbai | Ravi |
| 1987 | Agni Putrudu | Kalidaasu |
| 1987 | Kirai Dada | Vijay |
| 1988 | Aakhari Poratam | Vihari |
| 1988 | Chinababu | Venu Gopal |
| 1988 | Murali Krishnudu | Murali Krishna |
| 1988 | Janaki Ramudu | Ranga (Ramu)[a] |
| 1989 | Vijay | Vijay |
| 1989 | Vicky Daada | Vikram |
| 1989 | Geetanjali | Prakash |
| 1989 | Agni | Pavan Kumar |
| 1989 | Siva | Siva |
| 1990 | Prema Yuddham | Kalyan |
| 1990 | Neti Siddhartha | Siddhartha |
| 1990 | Iddaru Iddare | Ravi |
| 1991 | Nirnayam | Vamsi Krishna |
| 1991 | Chaitanya | Chaitanya |
| 1991 | Shanti Kranti | Inspector Subash |
| 1991 | Jaitra Yatra | Teja |
| 1992 | Killer | Eeswar Prasad (Prem Krishna)[a] |
| 1992 | Antham | Raghav (Shekar)[a] |
| 1992 | President Gari Pellam | Raja |
| 1993 | Rakshana | Bose |
| 1993 | Varasudu | Vinay |
| 1993 | Allari Alludu | Kalyan (Rajesh)[a] |
| 1994 | Govinda Govinda | Seenu |
| 1994 | Hello Brother | Deva / Ravi Varma[b] |
| 1994 | Criminal | Dr. Ajay Kumar |
| 1995 | Gharana Bullodu | Raju |
| 1995 | Sisindri | Raja |
| 1995 | Vajram | Chakri |
| 1996 | Ramudochadu | Ram |
| 1996 | Ninne Pelladata | Seenu |
| 1997 | Annamayya | Annamacharya |
| 1998 | Aavida Maa Aavide | Vikranth |
| 1998 | Auto Driver | Jagan |
| 1998 | Chandralekha | Raj Kapoor (Seeta Rama Rao)[a] |
| 1999 | Seetharama Raju | Ramaraju |
| 1999 | Ravoyi Chandamama | Sashi |
| 2000 | Nuvvu Vastavani | Chinni Krishna |
| 2000 | Ninne Premistha | Srinivas |
| 2000 | Azad | Chandra Shekar Azad |
| 2001 | Eduruleni Manishi | Surya Murthy / Satya[b] |
| 2001 | Bava Nachadu | Ajay |
| 2001 | Adhipathi | Jagan |
| 2001 | Akasa Veedhilo | Chandra Sekhar (Chandu)[a] |
| 2001 | Snehamante Idera | Aravind |
| 2002 | Santosham | Karthikeya |
| 2002 | Manmadhudu | Abhiram |
| 2003 | Sivamani | CI Sivamani |
| 2004 | Nenunnanu | Venu Madhav |
| 2004 | Mass | Ganesh (Mass)[a] |
| 2005 | Super | Akhil |
| 2006 | Sri Ramadasu | Kancherla Gopanna |
| 2006 | Boss - I Love You | Gopal Krishna |
| 2007 | Don | Suri |
| 2008 | Krishnarjuna | Lord Krishna (Bangaram) |
| 2008 | King | Raja Chandra Pratap Varma aka King (Bottu Seenu, Sarath)[a] |
| 2010 | Kedi | Ramesh (Rummy)[a] |
| 2010 | Ragada | Satya Reddy |
| 2011 | Gaganam | Major N. Raveendra |
| 2011 | Rajanna | Rajanna |
| 2012 | Shirdi Sai | Shirdi Sai Baba |
| 2012 | Damarukam | Mallikharjuna |
| 2013 | Greeku Veerudu | Chandu |
| 2013 | Sri Jagadguru Aadi Sankara | Chandaludu |
| 2013 | Bhai | Vijay |
| 2014 | Manam | Seetharamudu / Nageshwar Rao "Bittu"[b] |
| 2016 | Soggade Chinni Nayana | Bangarraju / Dr. Ram Mohan[b] |
| 2016 | Oopiri | Vikramaditya |
| 2016 | Nirmala Convent | Himself |
| 2017 | Om Namo Venkatesaya | Hathiram Bhavaji |
| 2017 | Raju Gari Gadhi 2 | Rudra |
| 2018 | Officer | Sivaji Rao IPS |
| 2018 | Devadas | Deva |
| 2019 | Manmadhudu 2 | Sambasiva Rao / Sam |
| 2021 | Wild Dog | Vijay Varma |
| 2022 | Bangarraju | Bangarraju / Dr. Ram Mohan[b] |
| 2022 | The Ghost | Vikram Gandhi |
Cameo Appearance
| Year | Title | Role |
| --- | --- | --- |
| 1961 | Velugu Needalu | 8 month old baby |
| 1967 | Sudigundalu | Child artist |
| 1987 | Trimurtulu | Himself |
| 1988 | Rao Gari Illu | Himself |
| 1995 | Ghatothkachudu | Chitha |
| 2006 | Style | Mass |
| 2010 | Thakita Thakita | Nag |
| 2015 | Dongaata | Himself |
| 2015 | Akhil | Himself |
| 2015 | Size Zero | Himself |
| 2016 | Premam | Vikram's father |
Movies in Other Languages
| Year | Title | Role | Language |
| --- | --- | --- | --- |
| 1990 | Shiva | Shiva | Hindi |
| 1992 | Khuda Gawah | Inspector Raja Mirza | Hindi |
| 1992 | Drohi | Raghav (Shekhar)[a] | Hindi |
| 1995 | Criminal | Dr. Ajay Kumar | Hindi |
| 1996 | Mr. Bechara | Ajay | Hindi |
| 1997 | Ratchagan | Ajay Padmanabhan | Tamil |
| 1998 | Angaarey | Raja Lokhande | Hindi |
| 1998 | Zakhm | Raman Desai | Hindi |
| 2002 | Agni Varsha | Yavakri | Hindi |
| 2003 | LOC Kargil | Major Padmapani Acharya | Hindi |
| 2011 | Payanam | Major N. Raveendran | Tamil |
| 2015 | Inji Iduppazhagi | Himself | Tamil |
| 2016 | Thozha | Vikramadhithya (Vikram) | Tamil |
| 2022 | Brahmāstra: Part One – Shiva | Anish | Hindi |
Movies as Producer
| Year | Film |
| --- | --- |
| 1979 | Kalyani |
| 1980 | Pilla Zamindar |
| 1980 | Buchi Babu |
| 1981 | Premabhishekam |
| 1981 | Prema Kanuka |
| 1982 | Yuvaraju |
| 1983 | Sri Ranga Neethulu |
| 1995 | Sisindri |
| 1996 | Ninne Pelladata |
| 1998 | Aahaa..! |
| 1998 | Sri Sita Ramula Kalyanam Chootamu Raarandi |
| 1998 | Chandralekha |
| 1999 | Prema Katha |
| 1999 | Seetharama Raju |
| 2000 | Yuvakudu |
| 2002 | Manmadhudu |
| 2003 | Satyam |
| 2004 | Mass |
| 2005 | Super |
| 2011 | Rajanna |
| 2013 | Bhai |
| 2013 | Uyyala Jampala |
| 2014 | Manam |
| 2014 | Oka Laila Kosam |
| 2016 | Soggade Chinni Nayana |
| 2016 | Nirmala Convent |
| 2017 | Rarandoi Veduka Chudham |
| 2017 | Hello |
| 2018 | Rangula Ratnam |
| 2019 | Manmadhudu 2 |
| 2022 | Bangarraju |
Television
2014 to 2016 – Meelo Evaru Koteeswarudu as Host
2019 to present – Bigg Boss as Host
2020 – Loser as Producer
2022 to Present – Bigg Boss Non-Stop as Host
Music Videos
1995 – "Apna Desh to Apna Ho" (Meri Jann Hindustan)
2013 – "Betiyaan" (Save the Girl Child)
Awards and Nominations
CineMAA Awards
2006 – Best Actor (Male) for Mass – Won
2012 – Special Jury Award (Best Actor) for Rajanna – Won
2013 – Special Jury Award (Best Actor) for Shirdi Sai – Won
2015 – Special Jury Award (Best Film) for Manam – Won
2015 – Exceptional Performance Award for Manam – Won
Filmfare Awards South
| Year | Film | Category | Result |
| --- | --- | --- | --- |
| 1987 | Majnu | Best Actor – Telugu | Nominated |
| 1988 | Aakhari Poratam | Best Actor – Telugu | Nominated |
| 1988 | Murali Krishnudu | Best Actor – Telugu | Nominated |
| 1989 | Geetanjali | Best Actor – Telugu | Nominated |
| 1989 | Siva | Best Actor – Telugu | Nominated |
| 1992 | Antham | Best Actor – Telugu | Nominated |
| 1994 | Hello Brother | Best Actor – Telugu | Nominated |
| 1995 | Gharana Bullodu | Best Actor – Telugu | Nominated |
| 1996 | Ninne Pelladatha | Best Actor – Telugu | Nominated |
| 1996 | Ninne Pelladatha | Best Film – Telugu (as producer) | Won |
| 1997 | Annamayya | Best Actor – Telugu | Won |
| 1998 | Chandralekha | Best Actor – Telugu | Nominated |
| 1998 | Chandralekha | Best Film – Telugu (as producer) | Nominated |
| 1999 | Prema Katha | Best Film – Telugu (as producer) | Nominated |
| 2000 | Azad | Best Actor – Telugu | Nominated |
| 2002 | Manmadhudu | Best Film – Telugu (as producer) | Nominated |
| 2002 | Santosham | Best Actor – Telugu | Nominated |
| 2004 | Mass | Best Actor – Telugu | Nominated |
| 2005 | Super | Best Film – Telugu (as producer) | Nominated |
| 2005 | Super | Best Actor – Telugu | Nominated |
| 2006 | Sri Ramadasu | Best Actor – Telugu | Nominated |
| 2011 | Rajanna | Best Film – Telugu (as producer) | Nominated |
| 2011 | Rajanna | Best Actor – Telugu | Nominated |
| 2012 | Damarukam | Best Actor – Telugu | Nominated |
| 2013 | Uyyala Jampala | Best Film – Telugu (as producer) | Nominated |
| 2014 | Manam | Best Film – Telugu (as producer) | Won |
| 2014 | Manam | Best Actor – Telugu | Nominated |
| 2016 | Oopiri | Best Actor – Telugu | Nominated |
Nandi Awards
| Year[a] | Film | Category | Result |
| --- | --- | --- | --- |
| 1996 | Ninne Pelladatha | Akkineni Award for Best Home-viewing Feature Film (as producer) | Won |
| 1997 | Annamayya | Best Actor | Won |
| 2000 | Prema Katha | Best Feature Film – Kansya (Bronze) (as producer) | Won |
| 2000 | Yuvakudu | Special Jury Award (as producer) | Won |
| 2002 | Santosham | Best Actor | Won |
| 2002 | Manmadhudu | Best Feature Film – Swarna (Gold) (as producer) | Won |
| 2006 | Sri Ramadasu | Best Actor | Won |
| 2011 | Rajanna | Special Jury Award (Actor) | Won |
| 2011 | Rajanna | Best Feature Film – Rajata (Silver) (as producer) | Won |
National Film Awards
1997 – Best Feature Film in Telugu (as producer) for Ninne Pelladata – Won
1998 – Special Mention for Annamayya – Won
South Indian International Movie Awards
2012 – Best Actor (Telugu) for Rajanna – Nominated
2012 – Special Appreciation (Best Actor) for Rajanna – Won
2015 – Best Film (Telugu) for Manam – Won
2017 – Best Actor (Telugu) for Oopiri – Nominated
IIFA Utsavam
2017 – Best Performance in a Supporting Role (Male) for Oopiri – Won
Other Awards
| Year | Film | Awards | Category | Result |
| --- | --- | --- | --- | --- |
| 1986 | Vikram | Vamsee Berkeley Awards | Best Actor | Won |
| 1989 | Geetanjali | Andhra Pradesh Cinegoers Awards | Best Actor | Won |
| 1989 | Geetanjali | Bharatamuni Awards | Best Actor | Won |
| 1989 | Siva | Vamsee Berkley Awards | Best Actor | Won |
| 1989 | Siva | Cinema Express Awards | Best Actor | Won |
| 1996 | Ninne Pelladata | Akruthi Film Awards | Best Actor | Won |
| 1997 | Annamayya | Screen Videocon Awards | Best Actor | Won |
| 1997 | Annamayya | Bharatamuni Awards | Best Actor | Won |
| 2000 | Azad | Andhra Pradesh Film Journalists Association Awards | Best Actor | Won |
| 2005 | Mass | CineMAA Awards | Best Actor | Won |
| 2012 | Rajanna | 1st South Indian International Movie Awards | Special Appreciation (Actor) | Won |
| 2012 | Rajanna | CineMAA Awards | Best Actor (Jury) | Won |
| 2013 | Shirdi Sai | CineMAA Awards | Best Actor (Jury) | Won |
Images
Take a look at the latest photos of Akkineni Nagarjuna,