Vijay Sethupathi Wife Jessy Sethupathi Wiki, Biography, Age, Details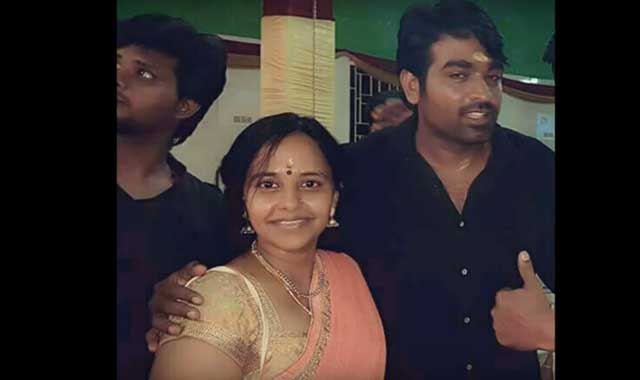 Jessy Sethupathi is the wife of leading actor Vijay Sethupathi. Vijay Sethupathi is a leading actor in Kollywood (Tamil) cine industry. Jessy Sethupathi was married to Vijay Sethupathi in the year 2003. She is supportive and confident about Vijay Sethupathi's career which allows him to shine in the field he is working. Check out Vijay Sethupathi Wife Jessy Sethupathi Wiki, Biography, Age, Family, Career, Kids and other details
Read other Biographies: Vijay Sethupathi | Aarthi (Sivakarthikeyan Wife) | Ravikumar Rajendran (Inru Netru Naalai) | Rathna Kumar (Meyaadha Maan) | Karthick Naren (D16) | Milind Raju (Aval)
Jessy Sethupathi Details
Vijay Sethupathi was working in Dubai. Meanwhile, he got in touch with Jessy whom he loved. He came to India to meet his girl and to start a new life in Chennai. In the year 2003, Vijay Sethupathi married Jessy. They both started a life in Chennai during which Vijay Sethupathi joined the Koothu Pattarai as an accountant and an actor. He acted in several movies as a friend for the lead actors.
During this time, Jessy Sethupathi was very supportive to him and she stood on his side while he started working on his career. Jessy Sethupathi knew Vijay Sethupathi's talent and she also knew that her husband will one day become a star in Kollywood film industry. Her belief and confidence along with Vijay Sethupathi's determination towards acting made him a talented actor in Kollywood. He acts various genres of movies and he is known for his hard work and passion towards acting.
Vijay Sethupathi Wife Jessy Sethupathi
| | |
| --- | --- |
| Name | Jessy Sethupathi |
| Nickname | Jessy |
| Profession | House Wife |
| Date of Birth | Yet To Be Updated |
| Age | Yet To Be Updated |
| Hometown | Chennai, Tamil Nadu, India |
| Nationality | India |
| Married | Yes! Spouse: Vijay Sethupathi |
| Current City | Chennai, Tamil Nadu, India |
Jessy Sethupathi & Vijay Sethupathi
They got married in the year 2003 and since then they both live happily. They gave birth to two kids. Vijay Sethupathi son is named Surya Sethupathi (He is named after Vijay Sethupathi's friend who passed away in an accident). Vijay Sethupathi Daugther name is Shreeja Sethupathi.
Jessy Sethupathi's In-Laws are Kallimuthu and Saraswathi (Father and Mother of Actor Vijay Sethupathi). Surya Sethupathi son of Vijay Sethupathi made his debut in the movie "Naanum Rowdy Than" where he plays the role of Vijay Sethupathi's childhood.
Read other Biographies: Aarthi Doss (Sivakarthikeyan Wife) | Ravikumar Rajendran (Inru Netru Naalai) | Rathna Kumar (Meyaadha Maan) | Karthick Naren (D16) | Milind Raju (Aval)