Suma Rajkumar (Bigg Boss) Biography, Wiki, Career, Family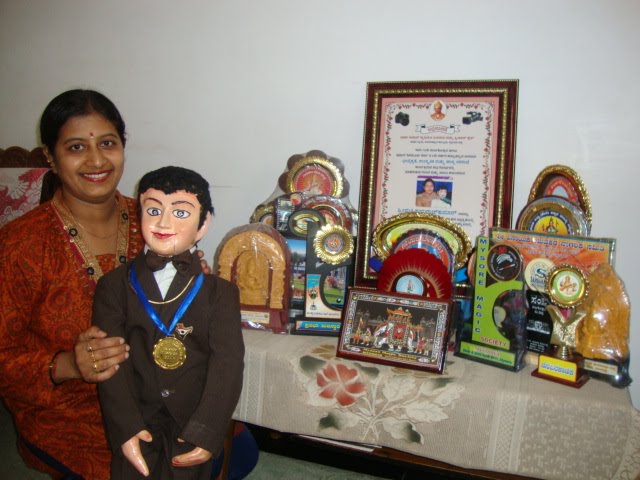 Suma Rajkumar is a motivational speaker who hails from Mysuru of Karnataka. She is a ventriloquist, a magician and an anchor who have anchored many events in Mysuru. Basically, she is a homemaker who does other activities as a part-time. Suma Rajkumar is one of the six commoner contestants in the fifth season of Kannada's most famous reality show "Bigg Boss" hosted by Kannada superstar Sudeep. Check out below for Suma Rajkumar (Bigg Boss) Biography, Wiki, Career, Family and other details
Read other biographies: Jaya Sreenivasan | Dayal Padmanabhan | Sihi Kahi Chandru | Karthik Jayaram | Shruti Prakash | Anupama Gowda | Krishi Thapanda | Niveditha Gowda | Sameer Acharya | Tejaswini Prakash | Jaganath Chandrashekarr | Megha | Riaz Pasha | Diwakar | Ashita Chandrappa | Chandan Shetty | Vaishnavi Chandran Menon 
Suma Rajkumar Profile and Career
Suma Rajkumar hails from Mysuru of Karnataka. She is a homemaker who is trained in ventriloquism. Apart from being a homemaker, she entertains people with few magic tricks and she had anchored few shows in her hometown. She is a good motivational speaker and has experience in public speaking. She is famous for her speeches among the youths.
Suma Rajkumar (Bigg Boss) Biography
| | |
| --- | --- |
| Name | Suma Rajkumar |
| Nickname | Sumakka |
| Profession | Homemaker, ventriloquist, Magician and anchor |
| Date of Birth | Update Soon |
| Age | Update Soon |
| Hometown | Mysuru, Karnataka |
| Nationality | Indian |
| Married | Yes |
| Current City | Mysuru, Karnataka |
Suma Rajkumar Bigg Boss
Suma Rajkumar was very eager to participate in the Bigg Boss season 5 and she attended the audition where she was able to prove herself. Suma got through the auditions and she was elected as one of the commoner entry in the fifth season of the Bigg Boss Kannada hosted by Sudeep.
But unfortunately, she was nominated for the first-week eviction. Along with other nominees, she was left with public voting for the elimination process. As it was the first week, she was not able to impress the public with her talent which made her as the first elimination of the season. When asked about the elimination she said she was true inside the home but not able to impress the public.
Read other biographies: Jaya Sreenivasan | Dayal Padmanabhan | Sihi Kahi Chandru | Karthik Jayaram | Shruti Prakash | Anupama Gowda | Krishi Thapanda | Niveditha Gowda | Sameer Acharya | Tejaswini Prakash | Jaganath Chandrashekarr | Megha | Riaz Pasha | Diwakar | Ashita Chandrappa | Chandan Shetty | Vaishnavi Chandran Menon