Indrans Wiki, Biograpy, Age, Movies, Family, Images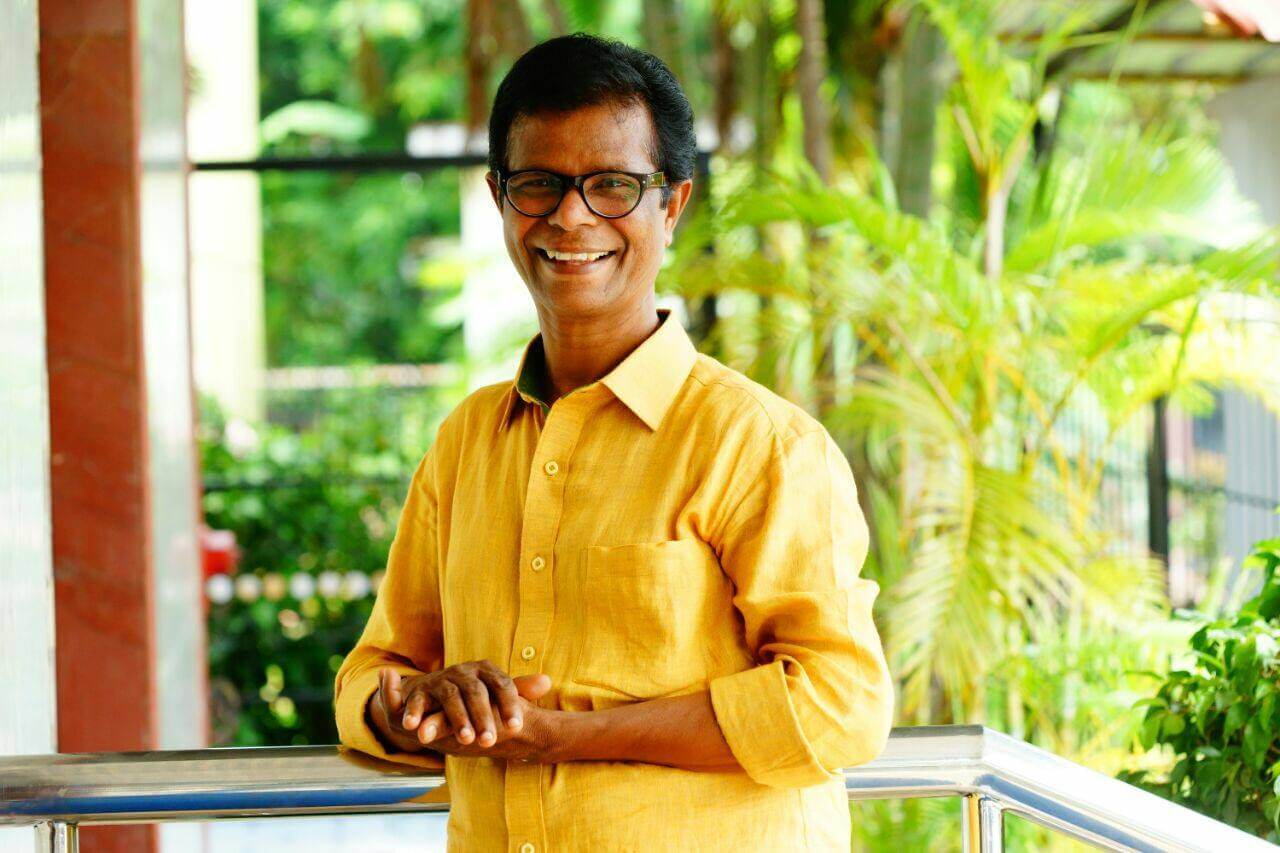 Indrans is an Indian movie actor, who predominantly works in the Mollywood film industry. His real name is Surendran Kochuvelu. He is not only a film actor, but also a former costume designer of Mollywood film industry. He made his acting debut with the Mollywood movie "Choothaattam," directed by K Sukumaran Nair in the year 1981.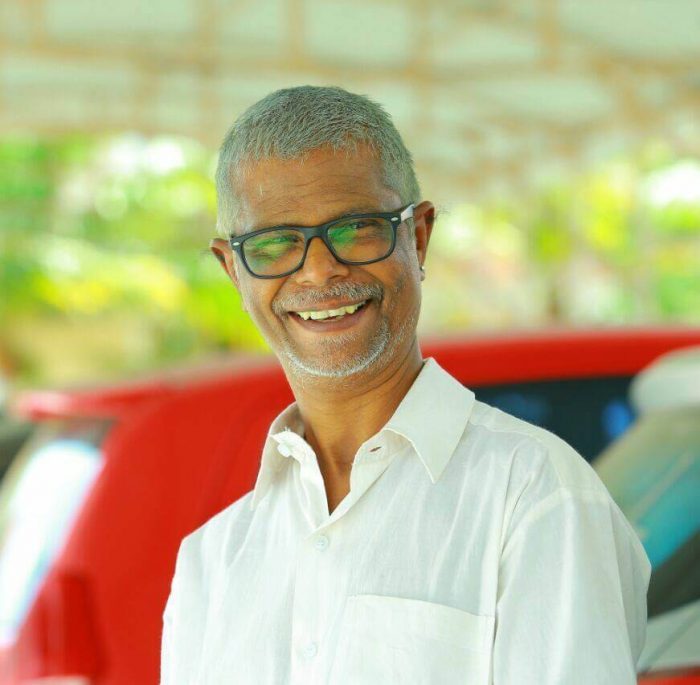 Read other Biographies: Sathyan Anthikad | Tinu Pappachan | Vineeth Sreenivasan | Rajesh M Selva | Aju Varghese | Ajmal Ameer | Beena Antony
Indrans Early Life and Career
Indrans was born in 1956 in Thiruvananthapuram, Kerala, India. His family is now residing in Thiruvananthapuram, Kerala, India. His father name is Palavila Kochuvelu and his mother name is Gomathi. He was the second son among the seven children. He has four sisters and two brothers. He completed his schooling in Government Higher Secondary school, Kumarapuram and his graduation details will be updated soon. Indrans wife name is Santhakumari and they got married on 23 February 1985. The couple has two children, a daughter named Mahitha and a son named Mahendran. After completing his schooling, he started to work with his uncle as a tailor. Later, he joined in the amateur arts clubs and started his acting career in dramas. He made his acting debut with the Malayalam television serial "Kaliveedu," which was telecasted on Doordarshan. Then opened his tailor shop named " Indrans," which later became as his stage name.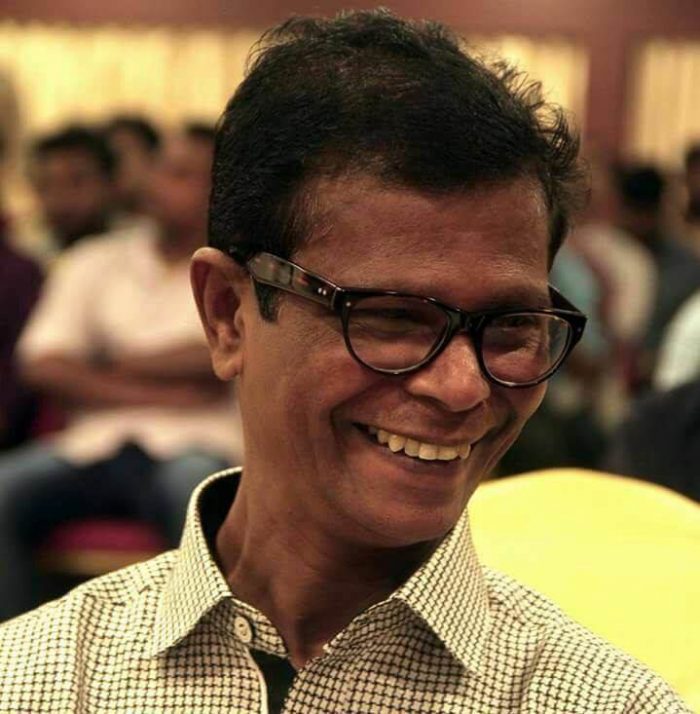 In the year 1981, Indrans made his movie debut with the Malayalam movie "Choothattam," along with Prem Nazir, Jayabharathi and Jose Prakash. In that movie, he appeared as an actor and a costume designer. He has worked as a costume designer for several years and his notable works include Aniyatha Valakal (1980), Choothaattam (1981), Oru Madapravinte Katha (1983), Vanitha Police (1984), Sammelanam (1985), Principal Olivil (1985) and more. In the 1993 film "Meleparambil Anveedu," he starred in a small role as a marriage broker. Then he made his breakthrough with the movie CID Unnikrishnan B.A., B.Ed. in the year 1994. Then appeared as a comedy actor for various movies. He has also won the Kerala State Film Award – Special Mention and the Kerala State Film Award for Best Actor for his performance in the movie Aalorukkam in 2017. He has acted in more than 550 movies.
Indrans Biography
| | |
| --- | --- |
| Name | Indrans |
| Real Name | Surendran Kochuvelu |
| Nickname | Indrans |
| Profession | Actor, Former Costumer Designer |
| Date of Birth | 1956 |
| Age | 62 (as of 2018) |
| Zodiac sign | Yet to be Updated |
| Father Name | Palavila Kochuvelu |
| Mother Name | Gomathi |
| Siblings | Yet to be Updated |
| Religion | Hindu |
| Educational Qualification | Yet to be Updated |
| School | Government Higher Secondary school, Kumarapuram |
| College | Yet to be Updated |
| Hobbies | Travelling |
| Hometown | Thiruvananthapuram, Kerala, India |
| Nationality | Indian |
| Married | No |
| Wife Name | Santhakumari |
| Affairs | NA |
| Children | Mahitha, Mahendran |
| Current City | Thiruvananthapuram, Kerala, India |
Indrans Facebook: https://www.facebook.com/indrans.actor/
Indrans Twitter: https://twitter.com/actorindrans
Indrans Instagram: Yet to be updated
Indrans Movies List
Malayalam
Nithyaharitha Nayakan 2018
Dakini (2018)
Ladoo (2018)
Mandharam (2018)
Oru Pazhaya Bomb Kadha (2018)
Pettilambattra (2018)
School Diary (2018)
Premasoothram (2018)
Chanakyathantaram (2018)
Kammara Sambhavam (2018)
Aabhasam (2018)
Vikadakumaran (2018)
Lolans (2018)
Shirk (2018)
Kalyanam (2018)
Kala Viplavam Pranayam (2018)
Pathirakalam (2018)
Kinar (2018)
Sakhavinte Priyasakhi (2018)
Aami (2018)
Daivame Kaithozham K. Kumar Akanam (2018)
Aadu 2 (2017)
Aana Alaralodalaral (2017)
Nilavariyathe (2017)
Paipin Chuvattile Pranayam (2017)
Aalorukkam (2017)
Paathi (2017)
God say (2017)
Chakkaramaavin Kombathu (2017)
Parava (2017)
Samarpanam (2017)
Rakshadikari Baiju oppu (2017)
Chicken Kokkachi (2017)
Alamara (2017)… Sriram Shetty
Puthan Panam 2017
Kaadu Pookkunna Neram 2017
C/O Saira Banu (2016)…Contract supervisor
Daffadar (2016)
Pinneyum (2016)
Muthugauv (2016)
Amoeba (2016)
Kaadu Pookkunna Neram (2016)
Pa Va (2016)
Leela (2016) … Dasappappi
Maanasaandarapetta Yezdi (2016)
Salt Mango Tree (2015)
Oru Second Class Yathra (2015)
Lukka Chuppi (2015)
Ammakkoru Tharattu (2015)
Ennu Ninte Moideen (2015) … Vaidyar
Aadu Oru Bheegara Jeeviyanu (2015) … P. P. Sasi
Kunjiramayanam (2015) … Paramu
Buddhanum Chaplinum Chirikkunnu (2014)
Seconds (2014)
Flat No.4B (2014)
Karanavar (2014)
Odum Raja Aadum Rani (2014)
Apothecary (2014)… Joseph
Praise the Lord (2014) … Chacko
Mannar Mathai Speaking 2 (2014)…. Ponnappan
Swapaanam(2014)
David & Goliath(2013)…Autha
Nadodimannan(2013)
Vedivazhipadu(2013) … Rajappan
Kanyaka Talkies(2013)…Philippose
Issac Newton S/O Philippose(2013)
Money Back Policy (2013)…. Kumar
Players(2013)
Good, Bad, Ugly (2013)…. Arogya Swami
Police Maman (2013)…Lukose
For Sale (2013)… Madhu
Dolls(2013)….Stephen Perera
Cowboy (2013) … Driver Krishnankutty
I Love Me …. Advocate (2012)
Mullasseri Madhavankutty Nemam P O (2012)
Ee Adutha Kaalathu(2012)
Hero(2012)
Prabhuvinte Makkal(2012)
Trivandrum Lodge(2012)
Maanthrikan (2012)
Parudheesa(2012)
916 (2012)
Ozhimuri(2012)
Poppins(2012)
Red Alert (2012)
Lakshmi Vilasm Renuka Makan Reghuraman(2012)
Naadakame Ulakam (2011)
Lucky Jokers(2011)
Bakthajanagalde Sradhakku(2011)
Yathra Thudarunnu (2011)
Teja Bhai & Family(2011) …. Raghavan Nair
Kunjettan (2011)
Manushyamrigam (2011)
Kalabha Mazha (2011)
Shivapuram (2011)
Paachuvum Kovaalanum(2011)
Killadi Raman (2011)
Manikiakkallu (2011)
Sandwich (2011)
Innanu Aa Kalyanam (2011)
Nanban …. Virumandi Santhanam's Assistant [Tamil Movie] (2012)
Cheriya Kallanum Valiya Policum (2010)…. Mani
Nanthuni (2010)
April Fool (2010)
Kadaaksham (2010)
Thoovalkattu (2010)
Annarakannanum Thannalayathu (2010)
Aakasha Yathra (2010)
Advocate Lakshmanan Ladies Only (2010)
Avan (2010)
Inganeyum Oral (2010)
Thaskkara Lahala (2010)
Canvas (2010)…. Shailan
Ramaanam (2010)… Eramullanikka
Sahasram (2010)
Oru Small Family (2010)…. Kuttan
Tournament(2010)
Chitrakkuzhal (2010)
Shudharil Shudhan (2009)…. Ramankunju
Dalamarmarangal(2009)
Utharaswayamvaram (2009) …. Chellappan
Swapnamaalika (2009)
Paribhavam (2009)
Patham Adhyayam (2009)
Kaanchipurathe Kalyanam (2009)
Bharya Onnu Makkal Moonnu (2009)
Pathaam Nilayile Theevandi (2009)
Rahasya Police (2009)
Venalmaram (2009)…Chinkaram
Twenty:20 (2008)
Mayakazhcha (2008)….Ramakrishnan
Robo (2008)…. Vijayan
Oru Pennum Randaanum(2008)
Kovalam (2008)
Dhe Ingottu Nokkiye (2008)
Vilapangalkkappuram(2008)….Bheeran
Bullet (2008)
Magic Lamp (2008)…. Sankaranunni
Kabadi Kabadi(2008)…. Basheer
Crazy Gopalan (2008)
Athisayan (2007)
Veeralipattu (2007)
Black Cat (2007) … Washington
Kangaroo (2007) …. Chellappan
Nanma (2007) …. Naanu
Panthaya Kozhi (2007) …. Rajappan
Mouryan (2007)
Indrajith (2007)
Novel (2007)
Drishtaantham (2007)
Madhuchandralekha (2006) …. Lukose
Pachakuthira (2006)
Mahasamudram (2006)
Narakaasuran (2006)
Vrindaavanam (2006)
Kilukkam Kilukilukkam (2006) …. Bakkar
Ponmudipuzhayorathu (2005) …. Supran
Udayananu Tharam (2005) …. Vijayan Varkala
Iruvattam Manavaatti (2005) …. Chandrappan
Athbhutha Dweepu (2005) …. Chandrappan
Kochi Rajavu (2005) …. Canteen Manager
Pandippada (2005) …. Veeramani
Nerariyan CBI (2005) …. Devaswam
Mayookham(2005)
Kalyana Kurimanam(2005)….. Balan
Vacation (2005)
Bus Conductor (2005)
Hai (2005)
Finger Print (2005)
Videsi Nair Swadehi Nair (2005)
Sheelaabathi (2005)
OK Chacko Cochin Mumbai (2005)….Kumbalam Sasi
Kalyana Kurimanam (2005)
Thalamelam (2004) …. Nakulan
Kusruthi (2004) …. Champion Bhaskaran
C.I. Mahadevan 5 Adi 4 Inchu (2004) …. Narayanan
Vellinakshatram (2004)
Kanninum Kannadikkum (2004) …. M. A. Chengamangalam
Chathikkatha Chanthu (2004) …. Pappan
Kathavasheshan (2004)
Govindankutty Thirakkilanu (2004)…. Arumukham
Nizhalkoothu (2004)
Priyam Priyankaram (2004)
Vellithira (2003) …. Iyamkutty
C.I.D. Moosa (2003) …. Theekkanal Varkey
Meerayude Dukhavum Muthuvinte Swapnavum(2003) …. Chandran
Balettan (2003) …. Koya
Pattalam(2003) …. Velayudhan
Varum Varunnu Vannu (2003) …. Echappan
Achante Kochumolu (2003)…. Lucko
Kalavarkey (2003) ….Moosakka
The Fire (2003)
Videsi Nair Swadesi Nair (2002) …. Kochu Preman
Valkannadi (2002) …. Kanaran
Snehithan (2002) …. Studio Owner
Oomappenninu Uriyadappayyan (2002) …. Madhavan
Kuberan (2002) …. Abdu
Kakke Kakke Koodevide (2002)
Kadha (2002)
Kaattuchembakam (2002)
Pakalppooram (2002)
Kayamkulam Kanaaran (2002)
Adheena (2002)
Ee Bhargavi Nilayam (2002)
Suvarna Mohangal (2002)
Jagathi Jagadish in Town (2002) …. Moosa
Nizhalkkuthu (2002) (aka Serviteur de Kali, Le (France), aka Shadow Kill (International: English title)) …. Barber
Rakshasa Rajav (2001)
Nagaravadhu (2001)
Megasandesam (2001) …. Thommy
Uthaman (2001) …. Abdulla Haji
Bharthavudyogam (2001) …. Madhavan
Fort Kochi (2001)
One Man Show (2001) …. Achuthan
Nalacharitham Nalaam Divasam (2001)
Ennum Sambhavami Yuge Yuge (2001)
Akashathe Paravakal (2001) …. Kuttappan
Korappan The Great (2001)
Kakkakkuyyil (2001)
Onnam Raagam (2001)
Vezhambal (2001)
Raajapattam (2001)
Agrahaaram (2001)
Priyam (2000)
Mark Antony (2000)
Neelakashathe Nizhal Pakshikal (2000)
Aanamuttathe Aangalamar (2000)…. Manmadan
Naadan Pennum Nattu Pramaniyum (2000)
Vinayapoorvam Vidhyaadharan (2000)
Summer Palace (2000)
The Warrant (2000)…Narayanan
Pilots (2000)
Sahayathrikakku Snehapoorvam (2000)
Sathyam Sivam Sundaram (2000)
Shayanam (2000)
Ente Priyappetta Muthuvinu (2000)
Darling Darling (2000)
Vasanthiyum Lakshmiyum Pinne Njaanum (1999)
Swastham Grihabaranam (1999) …. Vilakkoothi Vasu
Onnam Vattam Kandappol (1999)
James Bond (1999)
Jananayakan(1999)…..Thottapilli Thoma
Chandranudikkunna Dikhil (1999)
American Ammayi (1999)
Pattabhishekam (1999)
KusruthiKuruppu (1998)
Punjabi House (1998)
Grama Panchayath (1998) …. Bhaskaran
Alibabayum Arara Kallanmarum (1998) …. E. T. Lukose
Vaachalam (1997)
Manthramothiram (1997) …. Sundareshan
Kalyana Unnikal (1997)
Kadhanayakan (1997) …. Sreedharan
Hitler Brothers (1997) …. Balaraman
Kilukil Pambaram (1997)
My Dear Kuttichaathan (1997)
Shobhanam (1997)
Ekkareyanente Manasam (1997) …. Bhargavan
The Car (1997) …. Idiyan Vikraman
Swapna Lokathe Balabhaskaran (1996) …. Kunjunni
Sulthan Hyderali (1996)
Sugavaasam (1996)
April 19 (1996)
Dominic Presentation (1996) …. Velayudan
King Solomon (1996)
Kudumba Kodathi (1996)
Sathyabhamakkoru Premalekhanam (1996) …. Purushothaman
Man of the Match (1996) …. 'Neerkoli' Narayanan
Mandrika Kuthira (1996)
Kanjirapally Kariyachan (1996)
Kinnam Katha Kallan (1996)
Kalyana Sowgandhikam (1996) …. Krishnankutty
Kaathil Oru Kinnaram (1996) …. Rameshan/Rajappan
Excuse Me Ethu Collegila (1996)
Hitlist(1996)…. Devandarji
Dilliwala Rajakumaran (1996)
Three Men Army (1995) …. 'Basha' Surendran
Thovalapookkal (1995)
Sphadikam (1995)
Punnaram (1995)
Mazhavilkoodaram (1995)
Mannar Mathai Speaking (1995) …. Ponnappan
Mangalam Veettil Manaseswari Gupta (1995) …. Dasan
Kusruthikaatu (1995) …. Arogya Swami
Street (1995)
Kokkarakko (1995)
Kalyanji Aandaji (1995)
Radholsavam (1995)
Tom and Jerry (1995)
Thumbolikkadappuram (1995)
Parvathi Parinayam (1995)
Mangalyasoothram (1995)
Kalamasseriyil Kalyanayogam (1995) …. Palarivattam Philipose
Kakkakum Poochakkum Kalyanam (1995) …. Balakrishnan
Avittam Thirunaal Aarogya Sriman (1995) …. Mangalan Mankombu
Aniyan Bava Chetan Bava (1995) …. Balan
Sundari Neeyum Sundaran Njanum (1995)
Aadyathe Kanmani (1995) …. Narayanankutty
Vardhakya Puranam (1994)
Vadhu Doctoranu (1994) …. Natheli
Pavam Ia Ivachan (1994)
Manathe Kottaram (1994)
Moonnam Loka Pattalam (1994)….Prashna Kumaran
Malappuram Haji Mahanaya Joji (1994)
CID Unnikrishnan B.A., BEd (1994)
Meleparambil Anveedu(1993)…Marriage Broker Paramasivam
Kavadiyattam (1993) …. Tea Shop Employee
Janam (1993) …. Party Member
Aagneyam (1993) …. Rajappan
Utsava Melam (1992)
Kaazhchakkppuram (1992) …. Teashop Worker
Ayalathe Addeham (1992) …. Abu
Adharam (1992) …. Divakaran
Dhanam (1991)
Maala Yogam (1990) …. Kochu Raman
Rajavazhcha (1990)
Aazhikkoru Muthu (1989)…. Icecream Seller
Innale (1989) …. Hospital Attendant
Aparan (1988) …. Bit role
Moonam Pakkam (1988)
Sarvakalasala (1987)
Principal Olivil (1985)
Sammelanam(1985)….Man at toddy shop
Jwalanam (1985)
Choothaattam (1981)
Tamil
Nanban (2012)… Govindan
Aadum Koothu (2005)
Costume designer[edit]
Aniyatha Valakal (1980)
Choothaattam (1981)
Oru Madapravinte Katha (1983)
Vanitha Police (1984)
Sammelanam (1985)
Principal Olivil (1985)
Namukku Parkkan Munthiri Thoppukal (1986)
Toovanathumbikal (1987)
Sarvakalasala (1987)
Moonam Pakkam (1988)
Aazhikkoru Muthu (1989)
Season (1989)
Innale (1989)
Rajavazhcha (1990)
Cheriya Lokavum Valiya Manushyarum (1990)
Maala Yogam (1990)
Njan Gandharvan (1991)
Kaazhchakkppuram (1992)
Ayalathe Addeham (1992)
Kavadiyattam (1993)
Bhagyavan (1993)
Sphadikam (1995)
Kalyana Uniikal (1997)
Singer
Television serials
Kadalinakare (Asianet)
Devimahatmyam (Asianet)
Sabarimala sridharmashashtha (Asianet)
Nirupama Fans (Flowers tv)
Satyam shivam sundaram (Amrita tv)
Kaliveedu (Doordarshan)
Indrans Images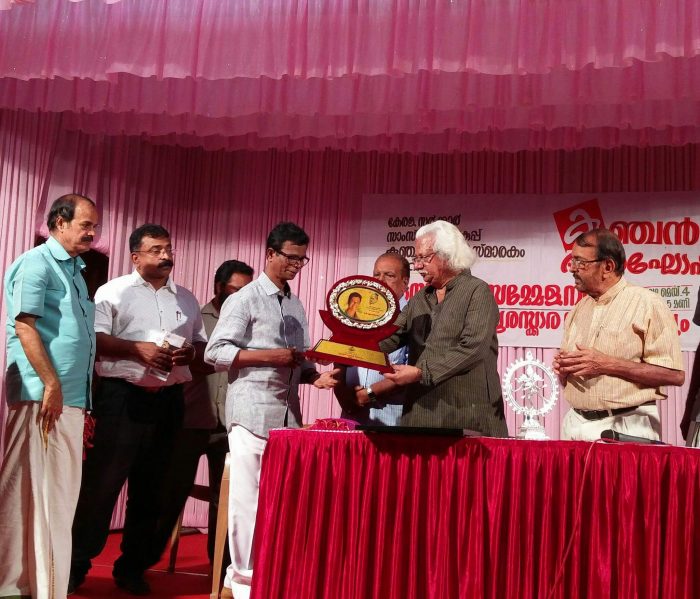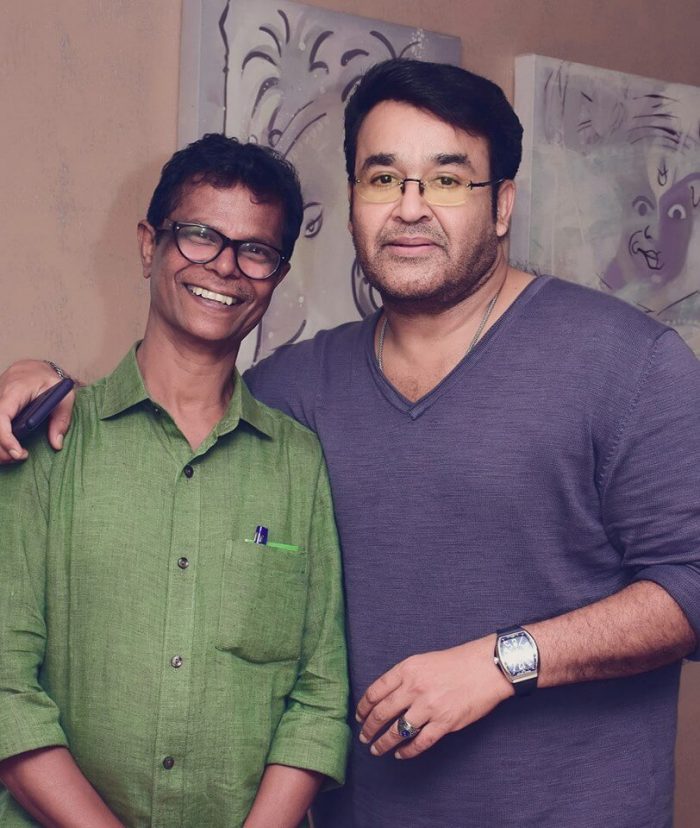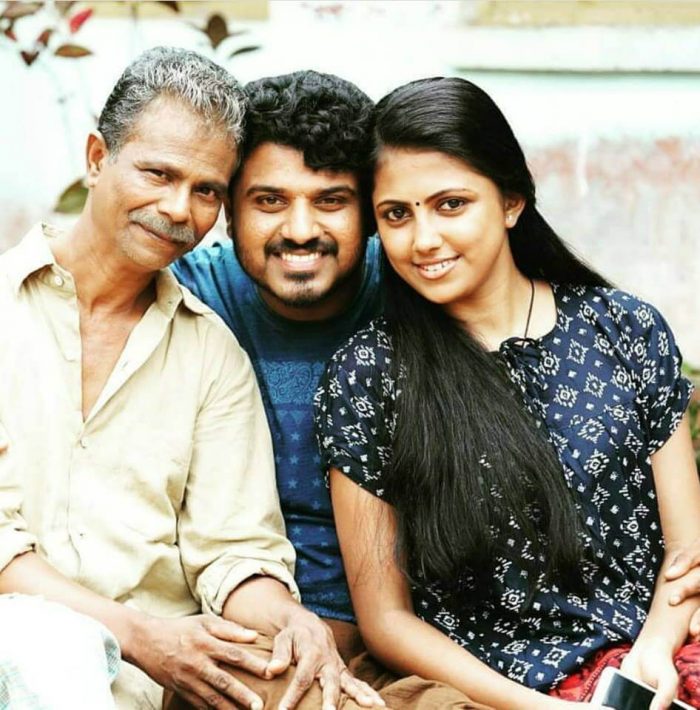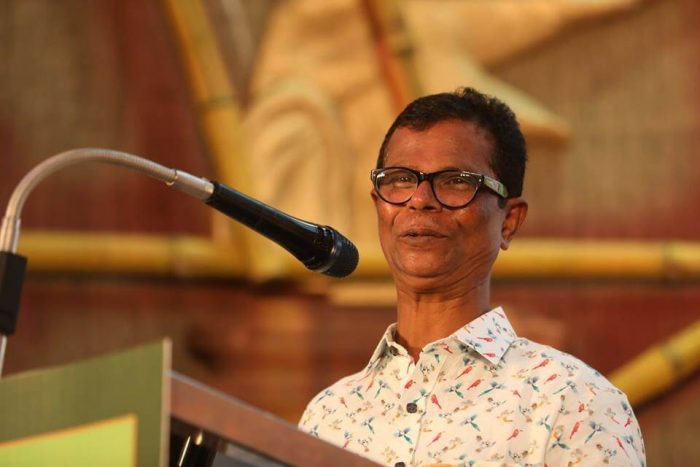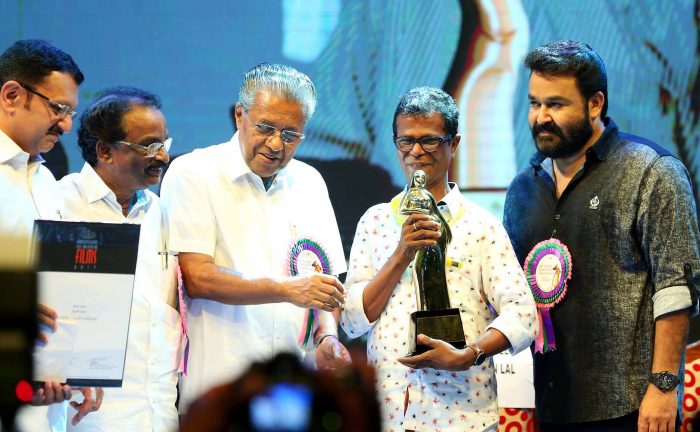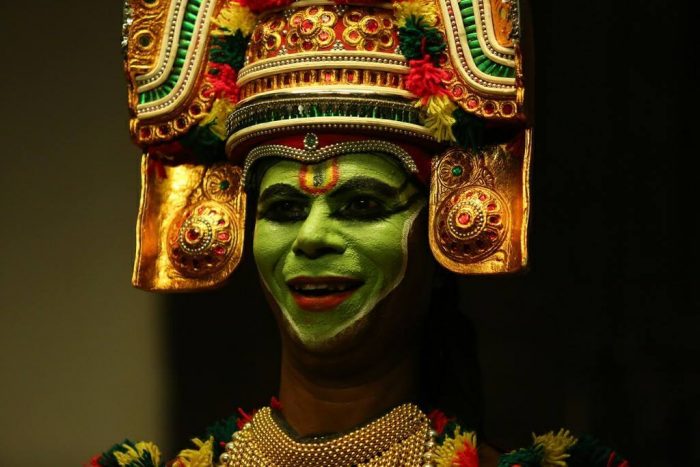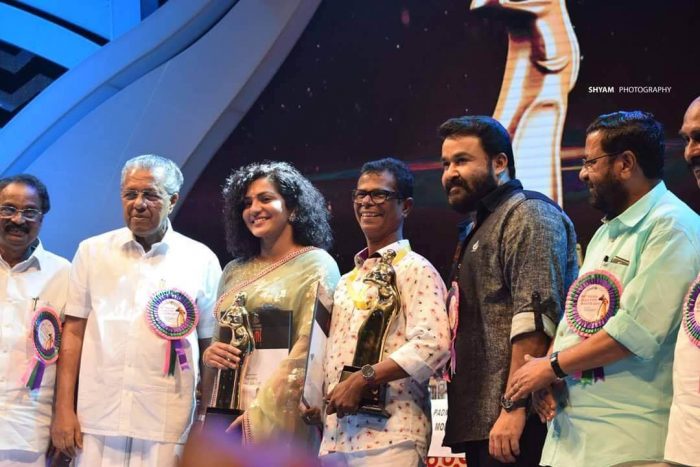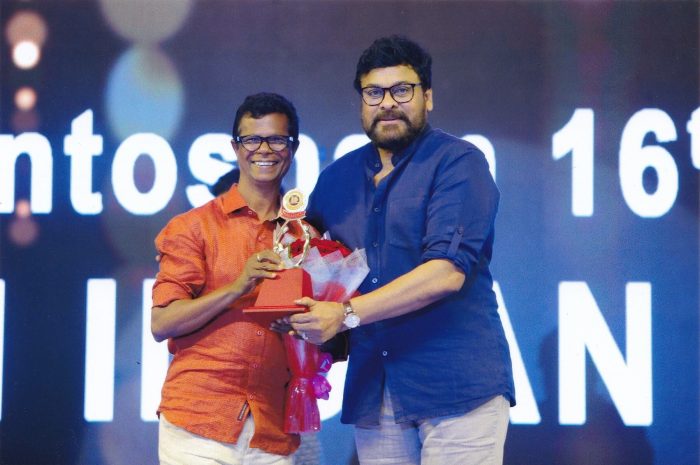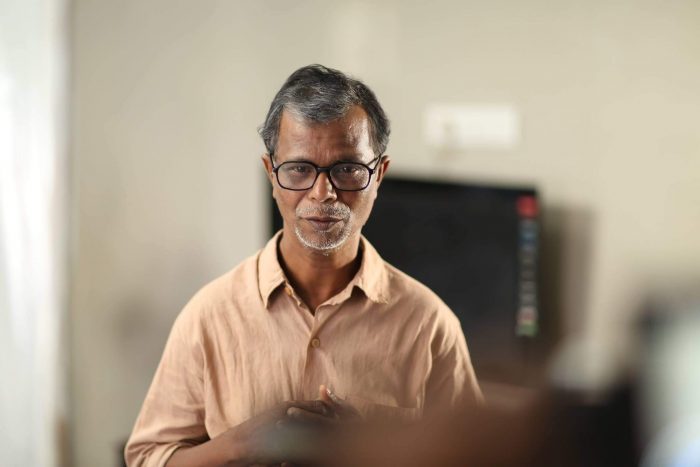 Read other Biographies: Roopesh Peethambaran | Anu Sithara | Darshana Rajendran | Shalu Menon | Hareesh Peradi