Benny Dayal Wiki, Biography, Age, Wife, Songs, Videos, Images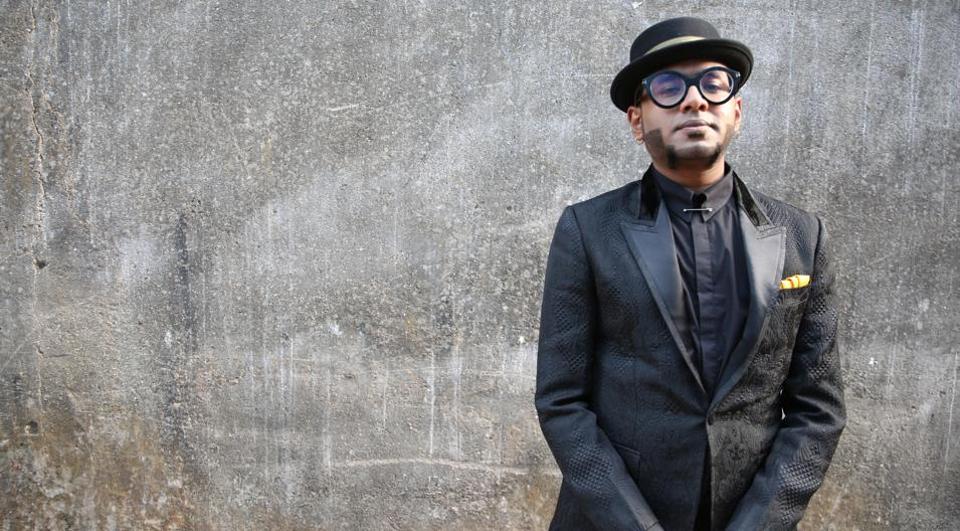 Benny Dayal is a Versatile Indian Singer who sung a plethora of Tamil, Telugu, Malayalam, and Hindi songs. He is well known to be the "sensational voice" for this young generation. He is also a member of band S5 launched by the channel SS Music. He has worked with many illustrious and popular music composers and has given the film fraternity amazing soundtracks. Check out below for Benny Dayal Wiki, Biography, Age, Songs, Videos, Images and More.
Benny Dayal was born on 13 May 1984 in Abu Dhabi, United Arab Emirates. His parents hail from Kollam district in Kerala, India. He did his schooling at Abu Dhabi Indian School (ADIS) and went on to complete his B. Com and Masters in Journalism from Madras Christian College. Further, he worked as a Coordinator with RR Donnelley at the Events. He quit his job in BPO to accomplish his career in a field of music.
He has sung with elite singers like A. R. Rahman, Sanam Puri and music composers like Harris Jayaraj, Karsh Kale and many more. He is currently working with the top musicians in Bollywood his work has garnered acclamations from most of the venerated music directors. Benny Dayal Hindi songs list include some popular audio tracks like "Pappu Can't Dance Saala", "ABCD", "Party All Night" and many more.
Singer Benny Dayal shares his platform and musical stage with many gorgeous singers like Shreya Ghoshal, Sunidhi Chauhan but he has never entwined himself in controversies with his colleagues.
In June 2016, he married his longtime girlfriend Catherine Thangam in Bengaluru.
Benny Dayal Biography
| | |
| --- | --- |
| Name | Benny Dayal |
| Real Name | Benny Dayal |
| Nickname | Benny Dayal |
| Profession | Indian Pop Singer, Live Performer |
| Date of Birth | 13 May 1984 |
| Age | 33 |
| Father Name | M.P. Dayal |
| Mother Name | Shyama Dayal |
| Height | 1.68 m |
| Weight | 80 Kg |
| Zodiac Sign / Sun Sign | Taurus |
| Religion | Hinduism |
| Educational Qualification | Bachelor of Commerce and Diploma in Journalism |
| Hobbies | Singing |
| Hometown | Kollam, Kerela, India |
| Nationality | Indian |
| Married | Yes |
| Wife Name | Catherine Thagam |
| Current City | Kollam, Kerela, India |
facebook.com/bennydayal/
twitter.com/Benny_Dayal
instagram.com/bennydayalofficial/
Benny Dayal Tamil Songs
Year
Film
Song Name
Composer
Co-Singer(s)
2007
Sivaji
"Balleilakka"
A. R. Rahman
S. P. Balasubrahmanyam, A. R. Reihana
Polladhavan
"Neeye Sol"
G. V. Prakash Kumar
Sunitha Sarathy
Sivi
"O Nenje"
Dharan
Dr. Burn, Dharan, Swetha Mohan
Azhagiya Tamil Magan
"Nee Marilyn Monroe"
"Maduraikku"
A. R. Rahman
Ujjayinee
Archith, Dharshana
2008
Kaalai
"Kaala Kaala"
"Vandhutaanda Kaala"
G. V. Prakash Kumar
Mamta Mohandas
Rahul Nambiar, Silambarasan
Dhaam Dhoom
"Pudhu Pudhu"
"Thikku Thikku"
Harris Jayaraj
Suchitra
Sayanora Philip
Jayamkondaan
"Ore Or Naal"
Vidyasagar
Subramaniapuram
"Theneeril Snegitham"
James Vasanthan
Kuruvi
"Kuruvi Kuruvi"
Vidyasagar
Dr. Burn, Pravin Mani, Vetri Boys, Suvi Suresh
Ananda Thandavam
"Kallil Aadum"
G. V. Prakash Kumar
Swetha Mohan
Sakkarakatti
"Taxi Taxi"
"Chinnamma Chilakkamma"
A. R. Rahman
Blaaze, Javed Ali, Viviane Chaix
Chinmayi
Mahesh, Saranya Matrum Palar
"Katrae Katrae"
Vidyasagar
Sathyam
"En Anbe"
Harris Jayaraj
Sadhana Sargam
Vaaranam Aayiram
"Adiye Kolludhae"
"Yethi Yethi"
Harris Jayaraj
Krish, Shruti Haasan
Kunal Ganjawala, Naresh Iyer, Solar Sai
Seval
"Odamarathu Mullapola"
G. V. Prakash Kumar
2009
Ayan
"Oyaayiyae"
Harris Jayaraj
Haricharan, Chinmayi
Pasanga
"Who's That Guy"
James Vasanthan
Solla Solla Inikkum
"Sagiye Sagiye"
"Rajathi Rajaillae"
Bharathwaj
Guru En Aalu
"Veesuvadhu"
Srikanth Deva
Muthirai
"Night Is Still Young"
Yuvan Shankar Raja
Krish
Kulir 100 Degree
"Boom"
BoBo Shashi
Abhishek Ray, BoBo Shashi
Maasilamani
"Nacka Romba Nacka"
D. Imman
Rita
Kanden Kadhalai
"Oru Naal Iravil"
Vidyasagar
Tippu
Aadhavan
"Damakku Damakku"
Harris Jayaraj
Ninaithale Inikkum
"Nanbanai Partha"
Vijay Antony
Siddu +2
"Money Money"
Dharan
Reshmi
Paiyaa
"Poongatre Poongatre"
Yuvan Shankar Raja
2010
Goa
"Idaivezhi Oru"
Yuvan Shankar Raja
Mamta Mohandas
Vinnaithaandi Varuvaayaa
"Omana Penne"
A. R. Rahman
Kalyani Menon
Yathumaagi
"Pesum Minsaram"
"Yathumaagi"
James Vasanthan
Aridhu Aridhu
"Kanavugal Edhuvarai"
S. Thaman
S. Thaman
Angadi Theru
"Kadhaigalai Pesum"
"Yenge Poveno"
G. V. Prakash Kumar
Vijay Antony
Hamsika Iyer
M. K. Balaji, Janaki Iyer
Don
"Sureanna"
"Thadai Udaipaan"
Raghava Lawrence
Raavanan
"Kodu Poatta"
"Kedakkari"
A. R. Rahman
Solo
Bhagyaraj, A. R. Reihana, Tanvi Shah
Singam
"Naane Indhiran"
Devi Sri Prasad
Manikka Vinayagam
Enthiran
"Arima Arima"
A. R. Rahman
Hariharan, Sadhana Sargam, Naresh Iyer
Vaadaa
"Adi Yennadi Raakkamma"
D. Imman
Mynaa
"Neeyum Naanum"
D. Imman
Shreya Ghoshal
Easan
"Meyyana Inbam"
James Vasanthan
Sukhwinder Singh
Chikku Bukku
"Chikku Bukku"
"Zara Zara"
Pravin Mani
Rahul Nambiar, Maya, Sricharan
Lavanya
Kaavalan
"Step Step"
Vidyasagar
Megha
Veppam
"Minnala"
Joshua Sridhar
2011
Kadhal 2 Kalyanam
"Idhu Kadhalai"
Yuvan Shankar Raja
Chinmayi
Vaanam
"Who Am I"
Yuvan Shankar Raja
Ambuli
"Happy Farewell Day"
Mervin Solomon
C. S. Sam
K. Venkat Prabhu Shankar
Satish
Pop Shalini, Reshmitha, Priyanka
Subramaniam
"Solvanna"
Mani Sharma
Ranjith
Venghai
"Dhenam Dhenam"
Devi Sri Prasad
Baba Sehgal
7aam Arivu
"Oh Ringa Ringa"
Harris Jayaraj
Suchitra, Roshan, Jerry John
Urumi
"Kondaadu Kondaadu"
Deepak Dev
Rita
2012
Podaa Podi
"Podaa Podi"
"Maatikittaenae"
Dharan
Andrea Jeremiah
Naresh Iyer, Suchitra
Marina
"Yelelo"
Girishh G
Sandhya, Andrea Jeremiah
Kumki
"Yella Oorum"
D. Imman
D. Imman
Vishwaroopam
"Thuppaki Engal Tholile"
Shankar-Ehsaan-Loy
Kamal Haasan
2013
Thalaivaa
"Tamil Pasanga"
G. V. Prakash Kumar
Sheezay. Psycho Unit
Neram
"Evan Avan"
Rajesh Murugesan
JK Enum Nanbanin Vaazhkai
"Uyire Uyire"
G. V. Prakash Kumar
Ramya NSK
2014
Aaha Kalyanam
"Kootali Kootali"
Dharan
Usha Uthup
Maan Karate
"Darling Dambakku"
Anirudh Ravichander
Sunidhi Chauhan
Anjaan
"Oru Kan Jaadai"
Yuvan Shankar Raja
Shweta Pandit
Sigaram Thodu
"Sigaram Thodu"
D. Imman
Snigdha Chandra, Santhosh Hariharan
2015
Yennai Arindhaal…
"Unakkenna Venum Sollu"
Harris Jayaraj
Mahathi
Vasuvum Saravananum Onna Padichavanga
"Adada Onnum Solladha"
D. Imman
Sakthisree Gopalan
Naanum RowdyDhaan
" Naanum Rowdydhaan"
Anirudh Ravichander
2016
24
"Kaalam En Kadhali"
A. R. Rahman
Shashwat Singh, Abhay Jodhpurkar
Aandavan Kattalai
"Vaazhkai Oru Ottagam"
K
Devi
"Chalmaar"
Sajid-Wajid
2017
Vanamagan
"Morada Morada"
Harris Jayaraj
Krish
Saravanan Irukka Bayamaen
"Lala Kadai Santhi"
D. Imman
Sunidhi Chauhan
Sathya'
"Kadhal Project"
Simon K.King
Keerthana Vaidhyanathan
Sei
Machaney Machaney
NyX Lopez
Benny Dayal Telugu Songs
Year
Film
Song Name
Composer
Co-Singer(s)
2008
Jalsa
"Jennifer Lopez"
Devi Sri Prasad
Priya Himesh
Ready
"Ayyo Ayyo Ayyo Danayya"
Devi Sri Prasad
Priya Himesh, Franko
Ullasamga Utsahamga
"Chakkori Chakkori"
G. V. Prakash Kumar
Vasundhara Das
2009
Current
"Current"
Devi Sri Prasad
Village Lo Vinayakudu
"Superman"
Manikanth Kadri
Josh
"Bad Boy"
Sandeep Chowta
Ranjith
2010
Namo Venkatesa
"Tottadoing"
Devi Sri Prasad
Tippu, Priya Himesh
Bindaas
"Girija Girija"
Bobo Shashi
Chinmayi
Ye Maaya Chesave
"Kundanapu Bomma"
A. R. Rahman
Kalyani Menon
Varudu
"Saare Jahaa Premaa Yahaa"
Mani Sharma
Darling
"Gum Gum Yeyo"
G. V. Prakash Kumar
Vedam
"Now or Never"
M. M. Keeravani
Geetha Madhuri, Deepu
Orange
"Orange"
Harris Jayaraj
2011
Prema Kavali
"Dum Dum"
Anoop Rubens
Teen Maar
"Barbie Bommaki"
Mani Sharma
Suchitra
Dhada
"Bhoome Gundranga"
Devi Sri Prasad
Richard, Ranina Reddy
Oh My Friend
"Vegam Vegam"
"Nuvvu Nenu Jattu"
Rahul Raj
Kavita Mohan, Jayaram Ranjith, Desmond F. (Rap)
Mogudu
"Bachelor Boys"
Babu Shankar
Babu Shankar
2012
Lovely
"Dolare Dola"
Anoop Rubens
Sravana Bhargavi, Noel
Rachcha
"Dillaku Dillaku"
Mani Sharma
Tippu, Geetha Madhuri
Poola Rangadu
"Poola Rangadu"
Anoop Rubens
Nakash Aziz, Sravana Bhargavi, Lipsika
Daruvu
"Sexy Lady"
Vijay Antony
Andrea Jeremiah
Endukante… Premanta!
"Cinderella"
G. V. Prakash Kumar
Rahul Nambiar, Megha
Rebel
"Keka"
"Keka (Remix)"
Raghava Lawrence
Lloyd Paul, Sathyan, Naresh Iyer
Lloyd Paul, Sathyan, Naresh Iyer
Genius
"Ambani Alludaina"
"Chirigina Notu"
Joshua Sridhar
Rita
Apoorva
2015
Yentha Vaadu Gaani
"Neekem Kaavaalo Cheppu"
Harris Jayaraj
Mahathi
2016
24
Kaalam Na Preyasi
A.R. Rahman
2016
Sardaar Gabbar Singh
Sardaar Gabbar Singh
Devi Sri Prasad
Benny Dayal Hindi, Malayalam, Bengali, Kannada, Gujarati Songs
Year
Film
Songs
Language
Composer
2005
By the People
"Asthala Vista"
"Malare"
"Vasco da Gama"
"Rock Me"
Malayalam
Pravin Mani
2006
Kilukkam Kilukilukkam
"Paatonnu Paadan Marannathende"
Malayalam
Deepak Dev
2007
Fool & Final
"Masti" (Remix)
Hindi
Himesh Reshammiya
2008
Jaane Tu… Ya Jaane Na
"Pappu Can't Dance Sala"
Hindi
A. R. Rahman
Golmaal Returns
"Vacancy"
Hindi
Pritam
Mast Maja Maadi
"Shakalaka Boom"
"Jhana Jhana Kanchana"
Kannada
P.B Balaji
Yuvvraaj
"Mastam Mastam"
"Tu Meri Dost Hai"
"Dil Ka Rishta"
Hindi
A. R. Rahman
Ghajini
"Kaise Mujhe"
Hindi
A. R. Rahman
2009
Robin Hood
"Parannu Vanna Paingili"
Malayalam
M. Jayachandran
Delhi-6
"Dilli-6"
"Rehna Tu"
Hindi
A.R. Rahman
Rocket Singh: Salesman of the Year
"Pocket Mein Rocket"
Hindi
Salim-Sulaiman
Pyaar Impossible!
"You and Me"
Hindi
Salim-Sulaiman
Ullasa Utsaha
"Chakkori Chakkori"
Kannada
GV Prakash Kumar
Love Guru
"Tangaali Tandeya"
"Romeokalige Juliet"
Kannada
Joshua Sridhar
2010
Badmaash Company
"Badmaash Company"
Hindi
Pritam
Apoorvaragam
"Noolilla Pattangal"
Malayalam
Vidyasagar
Gaana Bajaana
"Gundetu Gundetu"
Kannada
Joshua Sridhar
Huduga Hudugi
"Illeana"
Kannada
Joshua Sridhar
Kaaryasthan
"Mangalangal"
Malayalam
Berny-Ignatius
Mummy & Me
"Michel Jackson"
Malayalam
Sejo John
Band Baaja Baaraat
"Tarkeebein"
"Dum Dum Mast Hai"
Hindi
Salim-Sulaiman
2011
Seniors
"Aaramam Nirangal"
Malayalam
Alphons Joseph
Pyaar Ka Punchnama
"Life Sahi Hai"
Hindi
Clinton Cerejo
Always Kabhi Kabhi[7]
"Antenna"
Hindi
Pritam Chakraborty
Mere Brother Ki Dulhan
"Choomantar"
Hindi
Sohail Sen
Teja Bhai & Family
"Thillana Thillana"
Malayalam
Deepak Dev
Aazaan
"Habibi Habibi"
Hindi
Salim-Sulaiman
Ladies vs Ricky Bahl
"Aadat Se Majboor"
Hindi
Salim-Sulaiman
2012
Jodi Breakers
"Jab Main Tumhare Saath Hu"
Hindi
Salim-Sulaiman
Ek Main Aur Ekk Tu
"Ek Main Aur Ekk tu"
Hindi
Amit Trivedi
Cocktail
"Daaru Desi"
Hindi
Pritam
Oh My God
"Don't Worry (Hey Ram)"
"Don't Worry (Hey Ram) – Remix"
Hindi
Himesh Reshammiya
Heroine
"Tujhpe Fida"
Hindi
Salim-Sulaiman
Chakravyuh
"Chakravyuh – Theme"
Hindi
Salim-Sulaiman
Student of the Year
"The Disco Song- Disco Deewani"
Hindi
Vishal–Shekhar
Vishwaroop
"Jung Hai"
Hindi
Shankar-Ehsaan-Loy
2013
Race 2
"Lat Lag Gayi"
Hindi
Pritam
Yeh Jawaani Hai Deewani
"Badtameez Dil"
Hindi
Pritam
Phata Poster Nikla Hero
"Hey Mr.Dj"
Hindi
Pritam
KQ
"Chenthalire"
Malayalam
Stephen Devassy
Shuddh Desi Romance
"Shuddh Desi Romance"
Hindi
Sachin – Jigar
Rangbaaz
"O Madhu I Love You" <with> Monali Thakur
"Korisna Rangbaazi" <with> Neeti Mohan
Bengali
Jeet Gannguli
2014
Yaariyan
"ABCD"
Hindi
Pritam
Bewakoofiyaa
"Gulcharrey"
Hindi
Raghu Dixit
Hasee Toh Phasee
"Punjabi Wedding Song"
"Shake It Like Shammi"
Hindi
Vishal-Shekhar
Main Tera Hero
"Besharmi Ki Height"
Hindi
Sajid-Wajid
2 States
"Locha-e-Ulfat"
Hindi
Shankar-Ehsaan-Loy
Holiday
"Tu Hi To Hai"
Hindi
Pritam
Game
"Party All Night"
Bengali
Jeet Ganguly
Humpty Sharma Ki Dulhania
"Lucky Tu Lucky Me"
Hindi
Sachin-Jigar
Raja Natwarlal
"Flip Your Collar Back"
"Kabhi Ruhani Kabhi Rumani"
Hindi
Yuvan Shankar Raja
Creature 3D
"Hum Naa Rahein Hum"
Hindi
Mithoon
Bachchan
"Bachchan Bachchan (Title Track)"
Bengali
Jeet Ganguly
Bang Bang!
"Uff"
"Bang Bang"
Hindi
Vishal-Shekhar
2015
Herogiri
"Maria"
"Janemon"
Bengali
Jeet Ganguly
Highway
"Kangaroo"
Marathi
Amit Trivedi
Agnee 2
"Akk Khan Chumu"
Bengali
(Bangladesh)
Akassh
Parbona Ami Chartey Tokey
"O Lolona"
Bengali
Indraadip Dasgupta
ABCD 2
"If You Hold My Hand"
"Naach Meri Jaan"
Hindi
Sachin-Jigar
Dilwale
"Premika"
Hindi
Pritam
KL 10
"Halakinte avilumkanji"
Malayalam
bijibal
2016
Mastizaade
"Kamina Hai Dil"
Hindi
Meet Bros Anjjan
Bachaana
Bachaana
Urdu
Ali Sher
Befikre
Ude Dil Befikre
Hindi
Vishal-Shekhar
2017
Chor Bani Thangaat Kare
"Mauj-E-Dariya"
Gujarati
Sachin-Jigar
Disco Disco
Jio Pagla
Jio Pagla (Title Track)
Bengali
Jeet Gannguli
Benny Dayal Performances
Benny Dayal Images
Thanks for visiting Newsbugz. For more biographies, click here.