Yuvan Shankar Raja Wiki, Biography, Age, Songs, Family, Images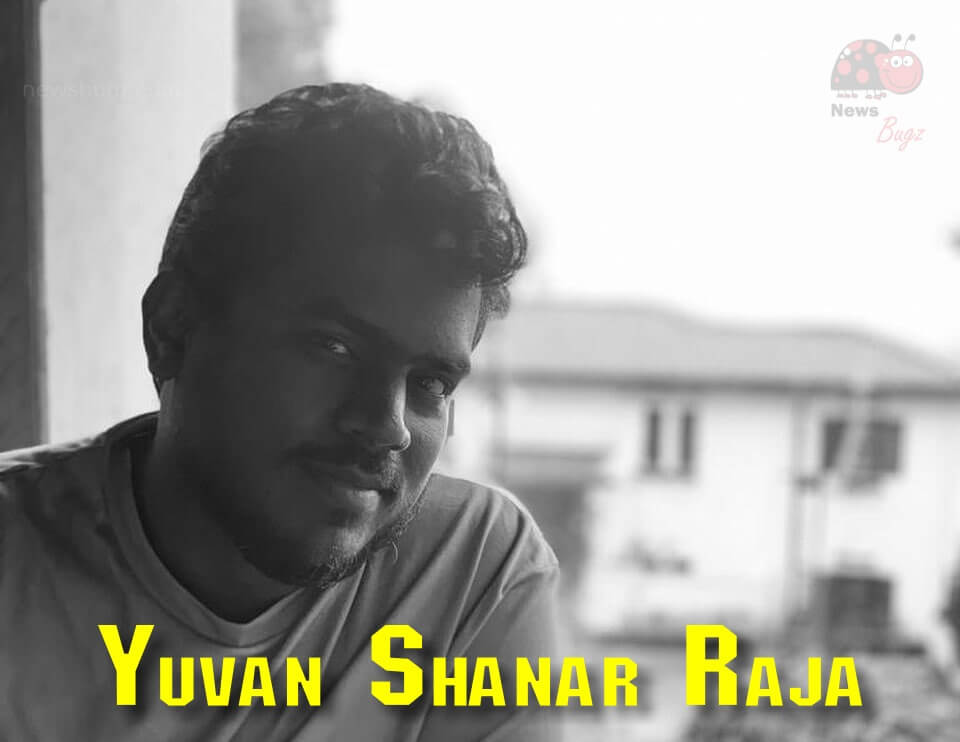 Yuvan Shankar Raja is an Indian movie singer, composer, songwriter, film score, and soundtrack composer, the lyricist who predominantly works in the Tamil film industry. He made his debut movie Aravindan as a composer in the year 1997. As a playback singer, he made his debut songs "Something Something", "Iravu Nilavu", "Motta Maadi", "Vaanam Namakku", and "Anjali Anjali" for the movie Anjali which is composed by his father Ilaiyaraaja. His first single from Pradeep Ranganathan's Love Today movie is now trending no 4 on youtube. His songs from other movies like Captain and Viruman are also the most liked songs on official streaming sites.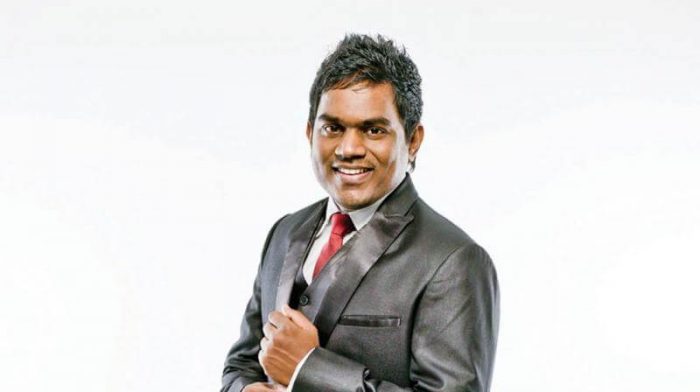 Gangai Amaran who is a film director and film composer and R. D. Bhaskar who are his uncles and Venkat Prabhu, Premgi Amaren and Parthi Bhaskar are his cousins who are working in the Tamil film industry. He started learning music from the Jacob Master and he attended piano classes at "Musee Musical" in Chennai.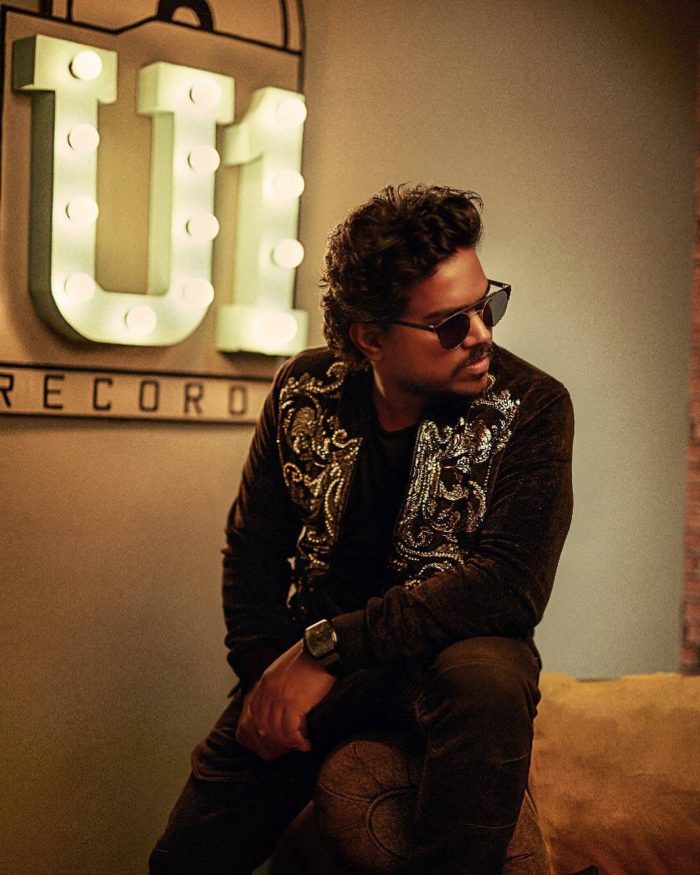 He was admired by his father's work and other composers like S. D. Burman, R. D. Burman, M. S. Viswanathan, and Naushad Ali, and the voices of singers Lata Mangeshkar, Asha Bhosle, P. B. Sreenivas, S. P. Balasubrahmanyam, and P. Susheela. As he is the son of Maestro Ilaiyaraaja he started his music career at the age of 16, as a composer for the movie Aravindhan. After a few struggles in his initial period, he got a breakthrough with the movie Thulluvadho Ilamai soundtrack in the year 2001, from that movie he evolved as one of the most sought-after composers in Tamil Cinema in the mid-2000s. Moreover, the talent of Yuvan was compared with Oscar winner A.R.Rahman, with that, his notable works and loyal fanbase earned him an honorific name that is Youth Icons called Raja. In the year 2001, he released his three albums first being Thulluvadho Ilamai, collaborating with Selvaraghavan and his brother Dhanush appeared in this movie in the lead role.  Then he made his movie April Maadhathil, Kadhal Samrajyam, and Mounam Pesiyadhe which is the debutant movie of director Ameer in the year 2002.
Later he also appeared in Selvaraghavan's first independent directorial, the drama-thriller film Kaadhal Kondein in 2003. He not only worked for the Tamil film industry he also worked for other languages like Telugu, Kannada, Malayalam, and Hindi as well. In their 15 years of time in the music industry, he worked on more than 100 films. He recently composed his 125th movie Irumbu Thirai featured by Vishal and Arjun. He is considered as a versatile composer because he uses western music elements with that he introduced Hip-hop to the Tamil film and music industry and started the "era of remixes" in Tamil Nadu. Moreover, he has won two Filmfare awards the Best Music Director Award in 2004 for the movie  7G Rainbow Colony. In 2009 he won the Filmfare Special Award – South for his music in the Telugu movie Oy! Then he also received six nominations for Filmfare Awards, two Tamil Nadu State Film Awards in 2006 and 2010, and the Cyprus International Film Festival Award in 2006 for Raam, who is the only Indian composer to win it. In the year 2015, he created his music label, U1 Records, and in 2017 he began his own film production studio, YSR Films where his first movie is Pyaar Prema Kaadhal.
Yuvan Shankar Raja married his longtime girlfriend Sujaya Chandran on 21 March 2005, at the Mayor Sri Ramanathan Chettiyar Hall in Chennai. He met her in 2002 in the cultural program in London as a fan both fell in love and they made a secret registered marriage in September 2003 in London. Then they both got divorced with mutual consent in February 2008. Then on 1 September 2011, he married Shilpa at the Tirumala Venkateswara Temple, Tirupati in Andhra Pradesh. She is a B. Pharm graduate from Australia and she got divorced with mutual consent. Yuvan Shankar Raja's wife's name is Zafroon Nizar who is his third wife, once he got married he converted to Muslim and rechristened himself as Abdul Khaliq. They both got married on 1 January 2015 then this couple has a baby girl who was born on 7 April 2016.
Biography
Name
Yuvan Shankar Raja
Real Name
Yuvan Shankar Raja
Nickname
Yuvan
Profession
Singer, Songwriter, Producer, Composer, Music Director
Date of Birth
31 August 1979
Age (as of 2022)
43
Zodiac sign
Virgo
Family
Father: Ilaiyaraaja (Music Maestro)
Mother: Jeeva
Brother: Karthik Raja (Music Composer)
Sister: Bhavatharini
Marital Status
Married
Affairs/Girlfriends
NA
Wife
Zafroon Nizar
Children
Yet to be updated
Religion
Hindu
Educational Qualification
Graduate
School
St. Bede's Anglo Indian Higher Secondary School, Chennai
College
Trinity College, London, UK
Hobbies
Listening to music, Songwriting, Singing, Driving
Birth Place
Theni, Tamil Nadu, India
Hometown
Theni, Tamil Nadu, India
Current City
Chennai, Tamil Nadu, India
Nationality
Indian
Social Media Profiles
As Composer
| Year | Tamil | Other languages | Dubbed Releases |
| --- | --- | --- | --- |
| 1997 | Aravindhan | | |
| 1998 | Velai | | |
| 1998 | Kalyana Galatta | | |
| 1999 | Poovellam Kettuppar | | Deal (2007) (Telugu) |
| 1999 | Unakkaga Ellam Unakkaga | | |
| 2000 | Rishi | | |
| 2000 | Dheena | | Dada (2007) (Telugu)Jigarwala (Hindi) |
| 2001 | Thulluvadho Ilamai | | |
| 2001 | Manadhai Thirudivittai | | Manasuna Manasai (2005) (Telugu) |
| 2001 | Nandha | | Aakrosham (2006)Pratheekaram (2009) (Telugu)Bala-Surya (2011) |
| 2002 | | Seshu (Telugu)(4 out of 8 songs) | |
| 2002 | | Malli Malli Chudali (Telugu) | |
| 2002 | Junior Senior | | Hum Hai Bade Miyan Chote Miyan (2008) (Hindi)Super (2009) (Malayalam) |
| 2002 | Kadhal Samrajyam | | |
| 2002 | April Maadhathil | | Vaallidharu (2004) (Telugu) Mr. Rangeela (Hindi) |
| 2002 | Bala | | |
| 2002 | Mounam Pesiyadhe | Aadanthe Ado Type (2003) (Telugu) | Kanchu (2006) (Telugu)Ghatak Returns (Hindi) |
| 2002 | Punnagai Poove | | |
| 2002 | Pop Carn | | Popcarn (2007) (Malayalam) |
| 2003 | Winner | | Winner (Hindi) |
| 2003 | Kaadhal Kondein | | |
| 2003 | Pudhiya Geethai | | |
| 2003 | Thennavan | | Police commissioner (Telugu) |
| 2003 | Kurumbu | | |
| 2003 | Pudhukottaiyilirundhu Saravanan | | Sowrya (2006) (Telugu) |
| 2003 | | Five by Four(English) | |
| 2004 | Ullam | | |
| 2004 | Aethiree | 25th Film | Bottle Mani (Telugu) |
| 2004 | Perazhagan | | Sundarangadu (Telugu) |
| 2004 | 7G Rainbow Colony | 7G Brindhavan Colony (Telugu)Gilli (2009) (Kannada) | |
| 2004 | Manmadhan | Madana (2006) (Kannada) | Manmadha (Telugu) |
| 2004 | Bose | | Rakshana (2005) (Telugu) |
| 2004 | Adhu | | |
| 2005 | Raam | | |
| 2005 | Arinthum Ariyamalum | | Kalisunte (Telugu) |
| 2005 | Daas | | |
| 2005 | Thotti Jaya (1 song; special thanks) | | Jalakanda (Telugu) |
| 2005 | Oru Kalluriyin Kathai | | College Days (2008) (Telugu) |
| 2005 | Kanda Naal Mudhal | | Naa Allari (Telugu) |
| 2005 | Sandakozhi | | Jeet Hamari (Hindi)Pandhem Kodi (2006) (Telugu) |
| 2005 | Kalvanin Kadhali | | Chilipi (Telugu) |
| 2005 | Agaram | | |
| 2005 | Pudhupettai | | Dhoolpeta (2006) (Telugu) |
| 2006 | | Happy (Telugu) | Happy (Malayalam)Dum (2015) (Hindi) |
| 2006 | Pattiyal | | Gayam (Telugu) |
| 2006 | | Raam (Telugu) | Jeene Do – Let Us Live (Hindi) |
| 2006 | Azhagai Irukkirai Bayamai Irukkirathu | | Maha Andamga Vunnavani Bhayam (Telugu) |
| 2006 | Vallavan | | Vallabha (Telugu) |
| 2006 | Kedi | | Jadoo (Telugu) |
| 2006 | Thimiru | | Pogaru (2007) (Telugu) Minchu (2008) The Return of Zid (2009) (Hindi) |
| 2006 | Paruthiveeran | | Malligadu (2012) (Telugu)Meri Awargi (2018) (Hindi) |
| 2006 | Thaamirabharani | | Bharani (2007) (Telugu) |
| 2007 | Deepavali | | Paga (2011) (Telugu) Billu Bachan – Ek Diljala (2010) (Hindi) |
| 2007 | Chennai 600028 | | Kodithe Kottali Raa (Telugu) |
| 2007 | Parattai Engira Azhagu Sundaram (1 song) | | badri(Telugu) |
| 2007 | | Raju Bhai (Telugu) | |
| 2007 | Satham Podathey | 50th Film | Kelkaatha Shabdam (Malayalam) ; |
| 2007 | Thottal Poo Malarum | | |
| 2007 | Kannamoochi Yenada | | Aarodum Parayaathe (2008) (Malayalam) |
| 2007 | Kattradhu Thamizh | | Dare (2011) (Telugu) |
| 2007 | Vel | | Deva (Telugu)Main Faisla Karunga (Hindi) |
| 2007 | Machakaaran | | Dheera (2009) (Telugu) |
| 2007 | Billa | | Ajith Billa (Telugu) |
| 2007 | Vaazhthugal | | Prema Nilayam (2012) (Telugu) |
| 2008 | Saroja | | Saroja (Telugu) |
| 2008 | Yaaradi Nee Mohini (2008) | Aadavari Matalaku Ardhalu Verule (Telugu)Anthu Inthu Preethi Banthu (2008) (Kannada)(4 out of 7 songs; uncredited) | Phir Aaya Deewana (2013) (Hindi) |
| 2008 | Aegan | | Mallika I Love You (2009) (Telugu)Jaanbaaz Commando (2012) (Hindi) |
| 2008 | Silambattam | | Maa Vaadu (2009) (Telugu) |
| 2009 | Kunguma Poovum Konjum Puravum | | |
| 2009 | Siva Manasula Sakthi | Siva Manasulo Sruthi (Telugu) (2 songs; uncrediited) | Rangam Modalaindhi(Telugu) |
| 2009 | Sarvam | | Sarvam (2010) (Telugu) |
| 2009 | Vaamanan | | Live (2012) (Telugu) |
| 2009 | Muthirai | | |
| 2009 | | Oy! (Telugu) | Kadhal Alai (2013) (Tamil) |
| 2009 | Yogi | | |
| 2009 | Paiyaa (soundtrack) | Ajith (2014) (Kannada) | Awara (2010) (Telugu)Aakhri Baazi (2013) (Hindi) |
| 2009 | Theeradha Vilaiyattu Pillai | | Khiladi (2010) (Telugu) |
| 2009 | Bolo Na Tumi Aamar (Bengali) | | Hate You (2010) |
| 2010 | Goa (soundtrack) | | Goa (2011) (Telugu) |
| 2010 | | Striker (Hindi) (1 song) | |
| 2010 | Baana Kaathadi | 75th Film | Kurralloi Kurrallu (2011) (Telugu) |
| 2010 | Kaadhal Solla Vandhen | | Modalaindi Ila (2011) |
| 2010 | Thillalangadi (5 out of 7 songs) | | |
| 2010 | Naan Mahaan Alla | | Naa Peru Shiva (2011) (Telugu)Jungbaaz (2016) (Hindi) |
| 2010 | Boss Engira Bhaskaran | | Nene Ambani (Telugu) |
| 2010 | Pathinaaru | Jolly Boy (2011) (Kannada) | |
| 2011 | Pesu | | |
| 2011 | Kadhal 2 Kalyanam | | |
| 2011 | Vaanam | | Vaanam (Malayalam)Zindagi Ek Sangharsh (Hindi) |
| 2011 | Avan Ivan | | Vaadu Veedu (Telugu) |
| 2011 | Aaranya Kaandam | | |
| 2011 | Mankatha (soundtrack) | | Gambler (Telugu)The King Maker (Hindi) |
| 2011 | | Panjaa (Telugu) | Jai (2012) (Tamil)Jaandaar (Hindi) |
| 2011 | Kazhugu | | |
| 2011 | Rajapattai | | Veedinthe (Telugu)Main Hoon Dada No. 1 (2013) (Hindi) |
| 2011 | Vettai | | |
| 2012 | | Mr. Nookayya (Telugu) | Mr. Mobile (Hindi) |
| 2012 | Ullam | | |
| 2012 | Billa II | | David Billa (Telugu)Billa 2 (2014) (Hindi) |
| 2012 | | Dhenikaina Ready (Telugu)(2 out of 5 songs) | Endhinum Ready (Malayalam) Naangellam Appave Appadi (2014) (Tamil)Sabse Badi Hera Pheri 2 (2015) (Hindi) |
| 2012 | Ameerin Aadhi Baghavan | | Main Shareef Tu Badmash (2013) (Hindi) |
| 2012 | Aadhalal Kadhal Seiveer | | Preminchali (2013) (Telugu) |
| 2012 | Moondru Per Moondru Kaadhal | | Itlu Prematho (2013) (Telugu) |
| 2012 | Samar | | Vetadu Ventadu (Telugu)Gabbar Sher (2016) (Hindi) |
| 2013 | Kedi Billa Killadi Ranga | | Kedi Billa Killadi Ranga (Telugu) |
| 2013 | Thanga Meenkal | | |
| 2013 | Thillu Mullu | | |
| 2013 | Biriyani | 100th Film | Biriyani (Telugu)Dum Biriyani (2016) (Hindi) |
| 2013 | Arrambam | | Aata Arambham (Telugu)Player: Ek Khiladi (2015) (Hindi) |
| 2014 | Vadacurry (1 song) | | Kulfi (Telugu) |
| 2014 | Vanavarayan Vallavarayan | | |
| 2014 | Thirudan Police | | |
| 2014 | Anjaan | | Sikander (Telugu)Khatarnak Khiladi 2 (2016) (Hindi) |
| 2014 | | Raja Natwarlal (Hindi) | |
| 2014 | | Govindudu Andarivadele (Telugu) | Ram Leela (Tamil), Ekalavya (Malayalam) Yevadu 2 (2016) (Hindi) |
| 2014 | Poojai | | Pooja (Telugu)Himmatwar (Hindi) |
| 2014 | Vai Raja Vai | | |
| 2014 | Idam Porul Yaeval | | |
| 2015 | Masss | | Rakshasudu (Telugu)Masss (Hindi) |
| 2015 | Yatchan | | |
| 2016 | Dharma Durai | | Dharmaraju MBBS(Telugu)Dharma Durai (2019) (Hindi) |
| 2016 | Chennai 600028 II: Second Innings | | |
| 2016 | Yaakkai | | Serial Killer(Telugu) |
| 2016 | Taramani | | Taramani (Telugu 2019) |
| 2017 | Sathriyan | | |
| 2017 | Kadamban | | Kadamban (Hindi)Gajendrudu (2019) (Telugu) |
| 2017 | Anbanavan Asaradhavan Adangadhavan | | Khel Kismat Ka (2018) (Hindi) |
| 2017 | | Gowdru Hotel (Kannada) | |
| 2017 | | Oxygen (Telugu) | |
| 2017 | Semma Botha Aagathey | | Dhanam Moolam(Telugu)Kahani Kismat Ki (2019) (Hindi) |
| 2017 | Balloon | | Balloon (Telugu) |
| 2018 | Irumbu Thirai | 125th Film | Abhimanyudu (Telugu)The Return Of Abhimanyu (2019) (Hindi) |
| 2018 | Raja Ranguski | | |
| 2018 | Peranbu | | Nanna Prema (Telugu) Resurrection (Malayalam) |
| 2018 | Pyaar Prema Kaadhal | | Pyaar Prema Kaadhal (Telugu) |
| 2018 | Om (Meendum Oru Mariyathai)(1 song) | | |
| 2018 | Genius | | |
| 2018 | Sandakozhi 2 | | PandemKodi 2 (Telugu) |
| 2018 | Maari 2 | | Maari 2 (Telugu)Maari (2019) (Hindi) |
| 2019 | Kanne Kalaimaane | | |
| 2019 | Super Deluxe | | |
| 2019 | NGK | | NGK (Telugu) |
| 2019 | Sindhubaadh | | Sindhubaadh (Telugu) |
| 2019 | Kazhugu 2 | | |
| 2019 | Nerkonda Paarvai | | Maha Rakshak (2021) (Hindi) |
| 2019 | Hero | | Shakthi (Telugu) |
| 2021 | Koozhangal | | |
| 2021 | Kalathil Santhippom | | |
| 2021 | Chakra | | Chakra (Telugu, Kannada, Malayalam)Chakra Ka Rakshak (Hindi) |
| 2021 | Nenjam Marappathillai | | |
| 2021 | Sulthan (Only BGM) | | Sulthan (Telugu, Kannada, Malayalam) |
| 2021 | Kasada Thapara (Kavasam Segment) | | |
| 2021 | Dikkiloona | | |
| 2021 | Maanaadu | | |
| 2021 | Plan Panni Pannanum | | |
| 2022 | Veeramae Vaagai Soodum | | Saamanyudu (Telugu), Obba (Kannada), Veerame Vaagai Soodum (Malayalam) |
| 2022 | Valimai (Only Songs) | | Valimai (Hindi, Telugu, Kannada, Malayalam) |
| 2022 | Maamanithan | | |
| 2022 | Kuruthi Aattam | | |
| Upcoming | | | |
| Upcoming | Naane Varuven | | |
| Upcoming | Agent Kannayiram | | |
| Upcoming | Ram - Nivin Pauly film | | |
| Upcoming | Viruman | | |
| Upcoming | Love Today | | |
| Upcoming | Aandavar | | |
| Upcoming | Iraivan Miga Periyavan | | |
| Upcoming | Mr. Zoo Keeper | | |
| Upcoming | Paramporul | | |
| Laththi | | Laththi (Telugu, Malayalam, Kannada and Hindi) | |
Web Series
2022 – Nilamellaam Rattham in ZEE5
Lyricist
| Year | Film | Song |
| --- | --- | --- |
| 2007 | Chennai 600028 | "Natpukkullae" |
| 2008 | Saroja | "Cheeky Cheeky", "My Life" |
| 2011 | Mankatha | "Vilaiyaadu Mankatha", "Vilaiyaadu Mankatha (Extended Dance Mix)" |
| 2013 | Biriyani | "Nahna Na Nah" |
| 2018 | Maari 2 | "Maari Gethu" |
Playback Singer
| Year | Film | Song | Notes |
| --- | --- | --- | --- |
| 1989 | Thendral Sudum | "Dhoori Dhoori" | composed by Ilaiyaraaja |
| 1990 | Anjali | "Something Something", "Iravu Nilavu", "Motta Maadi", "Vaanam Namakku", "Anjali Anjali" | composed by Ilaiyaraaja |
| 1996 | Alexander | "Alexander", "Koothadichu" | composed by Karthik Raja |
| 1999 | Unakkaga Ellam Unakkaga | "Cleopatra" | composed by yuvan shankar raja |
| 2001 | Friends | "Rukku Rukku" | composed by Ilaiyaraaja |
| 2002 | April Maadhathil | "Poi Solla Manasukku" | |
| 2002 | Bala | "Bailamo" | |
| 2002 | Malli Malli Chudali | "Ivi Mallela" | |
| 2002 | Mounam Pesiyadhe | "Chinna Chinnathai", "Ilamai Oorai Sutrum" | |
| 2003 | Kadhal Kondein | "18 Vayathil", "Thathi Thathi", "Kai Padamalae" | |
| 2003 | Kurumbu | "Kingini Mingini" | |
| 2003 | Pudhukottaiyilirundhu Saravanan | "Baby Baby", "Where Do We Go" | |
| 2004 | 7G Rainbow Colony | "Naam Vayathukku" | |
| 2004 | Manmadhan | "Kannale", "Pesamalae Mugam" | |
| 2005 | Raam | "Boom Boom", "Nizhalinai Nijamum" | |
| 2005 | Arinthum Ariyamalum | "En Kannodu" | |
| 2005 | Thotti Jaya | "Intha ooru" | |
| 2005 | Kanda Naal Mudhal | "Pushing It Hard" | |
| 2005 | Kalvanin Kadhali | "Eno Kangal" | |
| 2005 | Pudhupettai | Our Story: "Enga Yeriya", It All Comes Down To this!: "Oru Naalil", Gangster's Marriage Party: "Pul Pesum Poo Pesum", "Oru Naalil": Composer's Dream Mix | |
| 2006 | Pattiyal | "Yedhedo Ennangal Vandhu", "Kannai Vittu Kann Imaigal", "Kannai Vittu Kann Imaigal (Remix)" | |
| 2006 | Azhagai Irukkirai Bayamai Irukkirathu | "Kanavae Kalaigirathe", "Elaiyudhir Kaalam", "Kaadhalai Pirippadhu", "Odivaa Kaadhalae", "Orampo Naina" | |
| 2006 | Vallavan | "Kadhal Vandhale" | |
| 2006 | Paruthiveeran | "Iayyayo" | |
| 2007 | Deepavali | "Pogadhey" | |
| 2007 | Chennai 600028 | "Natpukkullae", "Ulle Vaa" | |
| 2007 | Raju Bhai | "Evvare Nuvvu (Remix)" | |
| 2007 | Satham Podathey | "O Indha Kaadhal" | |
| 2007 | Thottal Poo Malarum | "Arabu Naade", "Vittal Suriyanai" | |
| 2007 | Kattradhu Thamizh | "Innum Oru Iravu", "Unakkagathane Intha" | |
| 2008 | Saroja | "Cheeky Cheeky" | |
| 2008 | Aegan | "Kichu Kichu" | |
| 2009 | Kunguma Poovum Konjum Puravum | "Kadaloram Oru Ooru" | |
| 2009 | Siva Manasula Sakthi | "Oru Kal" | |
| 2009 | Sarvam | "Neethane", "Kaatrukulle" | |
| 2009 | Oye | "Povadhe Prema" | |
| 2009 | Yogi | "Yaarodu Yaaro" | |
| 2009 | Paiyaa | "En Kadhal Solla", "Yedho Ondru", "Nee Yadalo Naaku" (Telugu) | |
| 2009 | Theeradha Vilaiyattu Pillai | "Introduction", "Poo Mudhal Pen Varai", "Theriyamele" | |
| 2010 | Goa | "Yezhezhu Thalaimuraikkum", "Kaadhal Endral" "Goa remix" | |
| 2010 | Striker | "Haq Se" | |
| 2010 | Baana Kaathadi | "Thaakkuthe Kann Thaakkuthe" | |
| 2010 | Siddhu +2 | "Poove Poove" | composed by Dharan Kumar |
| 2010 | Kaadhal Solla Vandhen | "Oh Shala" | |
| 2010 | Thillalangadi | "Sol Pechu" | |
| 2010 | Naan Mahaan Alla | "Iragai Pole" | |
| 2010 | Pathinaaru | "Yaar Solli Kadhal" "Theme music" | |
| 2011 | Pesu | "Vennira Iravuga" | |
| 2011 | Kadhal 2 Kalyanam | "Naa Vettu Pora Aadu" | |
| 2011 | Vaanam | "Evan Di Unna Pethan", "Vaanam" | |
| 2011 | Mankatha | "Vilaiyaadu Mankatha", "Nanbane", "Vilaiyaadu Mankatha (Extended Dance Mix)" (Remixed by Premgi Amaren) | |
| 2011 | Panjaa | "Panjaa", "Panjaa (Remix)" | |
| 2011 | Kazhugu | "Paathagathi Kannupattu" | |
| 2011 | Vettai | "Pappappa" | |
| 2012 | Mr. Nookayya | "Pista Pista", "Pranam Poye Badha" | |
| 2012 | Billa II | "Gangster", "Yedho Mayakkam" | |
| 2012 | Denikaina Ready | "Pilla Neevalla" | |
| 2012 | Aadhalal Kadhal Seiveer | "Mella Siritthal" "Aararo" | |
| 2012 | Moondru Per Moondru Kadal | "Unakkaagave Uyir Vaazhgiren" | |
| 2012 | Neethaane En Ponvasantham | "Saainthu Saainthu nee", "Pengal endral poiya" | composed by Ilaiyaraaja |
| 2013 | Maryan | "Kadal Raasa Naan" | composed by A. R. Rahman |
| 2013 | Thillu Mullu | "Thillu Mullu Remix" | |
| 2013 | Biriyani | "Nahna Na Nah", "Edhirthu Nil", "Nahna Na Nah (New Jack Swing Mix)" (Mixed & Arranged by Yuvan Shankar Raja), "Nahna Na Nah (Extended Dance Mix)" (Mixed & Arranged by Premgi Amaren) | |
| 2014 | Vanavarayan Vallavarayan | "Tharaimelae Irunthae Naan" | |
| 2014 | Anjaan | "Kaadhal Aasai" | |
| 2014 | Poojai | "Uyire Uyire" | |
| 2014 | Vai Raja Vai | "Pachchai Vanna", "Pookkamazh", "Naam Vaazhndhidum" | |
| 2014 | Idam Porul Eval | "Atthuvaana Kaatukku" | |
| 2015 | Massu Engira Masilamani | "Therikkudhu Masss", "Poochandi", "Therikkudhu Masss (Gasa Gasa Mix)" (Remixed by Premgi Amaren) | |
| 2015 | Trisha Illana Nayanthara | "Mutham Kodutha Maayakaari" | composed by G. V. Prakash Kumar |
| 2015 | Yatchan | "Konjalaai", "Kaaka Ponnu", "Innum Enna" | |
| 2016 | Idhu Namma Aalu | "Kanne Un Kadhal" | composed by Kuralarasan |
| 2016 | Yaakkai | "Neee","Naan Ini Kaatril" | |
| 2016 | Chennai 600028 II: Second Innings | "Boys are Back", "Sopana Sundari" | |
| 2016 | Nenjam Marappathillai | "En Pondatti", "Kannungala en Chellangala", "Malai varum Vennila" | |
| 2016 | Taramani | "Pavangalai", "Yaaro Uchikilai", "Unnai unnai" | |
| 2017 | Sathriyan | "Paarai Mele" | |
| 2018 | Tik Tik Tik | "Tik Tik Tik Title Track" | composed by D. Imman |
| 2018 | Pyaar Prema Kaadhal | "Dope track", "Surprise Me", "Miss You Papa" | composed by Yuvan Shankar Raja |
| 2018 | Jarugandi | "Yaaradi Nee" | composed by Bobo Shashi |
| 2018 | Vanjagar Ulagam | "Thee Yazhlini" | composed by Sam C. S. |
| 2019 | MadrasGigSeason2 | "Rasaathi Nenja" | composed by Dharan Kumar |
| 2019 | Nerkonda Paarvai | "Agalaathey" | composed by Yuvan Shankar Raja |
| 2019 | Puppy | "Anjimanikku" | composed by Dharan Kumar |
| 2019 | Pistha | "Azhagula Rasathi" | composed by Dharan Kumar |
| 2019 | Aruvam | "Veesiya Visiri" | composed by Thaman |
| 2020 | Anbulla Ghilli | "Lovvu Lovvu' | composed by Arrol Corelli |
| 2020 | Master | "Andha kanna paathaaka" | composed by Anirudh Ravichander |
| 2021 | Maamanithan | "Ye Rasa" | composed by Yuvan Shankar Raja |
| 2021 | Kalathil Santhippom | "Unnai Paartha Naal" | composed by yuvan shankar raja |
| 2021 | Maanaadu | "Meherezylaa" | composed by Yuvan Shankar Raja |
| 2021 | Valimai | "Naanga Vera Maari" | composed by Yuvan Shankar Raja |
| 2021 | Kasada Thabara | "Enakenna Aachu" | composed by yuvan shankar raja |
| 2021 | Radhe Shyam | "Ee Raathale" (Telugu), "Aagoozhile" (Tamil) | composed by Justin Prabhakaran |
| 2021 | Anbarivu | "Arakkiyae" | composed by Hiphop Tamizha |
Filmography
Onscreen appearances
| Year | Film | Notes |
| --- | --- | --- |
| 2003 | Punnagai Poove | Special appearance in the song "En Kadhal" |
| 2008 | Saroja | Special appearance in the song "Cheeky Cheeky" |
| 2012 | Billa II | Special appearance in the song "Gangster" |
| 2012 | Ameerin Aadhi Baghavan | Special appearance in the song "Aadhi Baghavan Rap" |
| 2013 | Thillu Mullu | Special appearance in the song "Thillu Mullu Title Song" |
| 2017 | Gowdru Hotel (Kannada) | Special appearance in the song "Kshanavu" |
| 2018 | Pyaar Prema Kaadhal | Special appearance in the song "Dope Track" |
| 2018 | Pei Pasi | Special appearance in the song "Pei Pasi" |
| 2021 | Top Tucker (Video Song) | Special appearance in the song "Top Tucker" by Badshah |
| 2022 | Maamanithan | Separate feature in the song "Ye Rasa" |
| 2022 | Candy (Video Song) | Special appearance in the song "Candy" with Dhvani Bhanushali |
Producer
| Year | Film |
| --- | --- |
| 2018 | Pyaar Prema Kaadhal |
| 2019 | Muthamida (single) |
| TBA | Alice |
| 2022 | Maa Manithan |
Non-film works
Television
Perai Solla Vaa
Panchavarnakili
Ananda Bhavan
Ladies Club-Senior Junior.
Hero Splendor Tamil
Senior Junior
Super Singer Junior Season 8
Albums
Theatre
Awards
Cyprus International Film Festival
Best Musical Score Feature Film for Raam (2006)
South Indian International Movie Awards
SIIMA Award for Best Playback Singer – Telugu for Panjaa (2012)
Filmfare Awards South
Best Music Director – Tamil for 7G Rainbow Colony (2004)
Special Jury Award for Oy! (2009)
Nominated, Best Music Director – Tamil for Paruthiveeran
Nominated, Best Music Director – Telugu for Aadavari Matalaku Ardhalu Verule (2007)
Nominated, Filmfare Award for Best Music Director – Tamil for Yaaradi Nee Mohini (2008)
Nominated, Filmfare Award for Best Music Director – Tamil for Paiyaa (2010)
Nominated, Filmfare Award for Best Music Director – Tamil for Naan Mahaan Alla (2010)
Nominated, Best Male Playback Singer – Tamil for "Iragai Pole" – Naan Mahaan Alla (2010)
Nominated, Best Male Playback Singer – Tamil for "Kadal Rasa" – Maryan (2013)
Tamil Nadu State Film Awards
Best Music Director for Pattiyal (2006)
Best Music Director for Paiyaa (2010)
Best Music Director Kalaimamani Award (2018)
Vijay Awards
Favourite Song of the Year for "En Kadhal Solla" (Paiyaa) (2010)
Best Background Score for Aaranya Kaandam (2011)
Best Background Score (2012)
Best Male Playback Singer for "Kadal Rasa" (Maryan) (2013)
Nominated, Best Music Director for Paruthiveeran (2007)
Nominated, Vijay Award for Best Music Director for Saroja (2008)
Nominated, Vijay Award for Best Music Director for Siva Manasula Sakthi (2009)
Nominated, Vijay Award for Best Music Director for Paiyaa (2010)
Nominated, Vijay Award for Best Music Director for Kazhugu (2012)
Nominated, Vijay Award for Best Music Director for Anjaan (2014)
Other awards
Ananda Vikatan Award for Best Composer of the Year (2007)
Ananda Vikatan Award for Best Male Playback Singer of the Year for "Neethane" (Sarvam) (2009)
Swarna Saravanan Excellence in Music Award (2013)
Big FM Tamil Entertainment Awards – Most Entertaining Music Director of the Year Award for Paiyaa (2011)
Big Tamil Melody Award for Most popular composer-director
Big Tamil Melody Award for Best Background Score for Aaranya Kaandam (2011)
Cinema Rasigargal Sangam Best Music Director Award for Billa (2007)
CJA Cine Critics' Best Music Director Award for Kattradhu Thamizh (2007)
GAMA Tollywood Music Awards

Nominated, Best Music Director – Telugu for Govindudu Andarivadele (2015)

GV South Indian Cinematographers Association (SICA) Best Music Director Award (2007)
Isaiyaruvi Tamil Music Awards

Isaiyaruvi Album of the Year – Paruthiveeran (2007)
Isaiyaruvi Best Folk Song of the Year – "Oororam Puliyamaram" (Paruthiveeran) (2007)
Miranda Crazy Song of the Year – "Saroja Saamaan Nikalo" (Chennai 600028) (2007)
Isaiyaruvi Sensational Youth Album – Silambattam (2008)
Crazy Song of the Year – "Where Is The Party" (Silambattam) (2008)
Isaiyaruvi Best Remix Song of the Year – "Vechikkava" (Silambattam) (2008)

Jayam Charitable Trust Film Music Awards

Best Sensational Musician (2007)
Best Singer of the Year Special Award for "Arabu Naade" (Thottal Poo Malarum) (shared with Haricharan) (2007)

Medimix-Dinakaran Best Music Director Award for Manmadhan (2004)
Mirchi Music Awards South

Mirchi Music Award for Best Music Composer of the Year for "Oru Kal Oru Kannadi" (Siva Manasula Sakthi) (2009)
Mirchi Music Award for Best Album of the Year for Paiyaa (2010)
Mirchi Music Award for Mirchi Listeners' Choice – Best Song of the Year for "En Kadhal Solla" (Paiyaa) (2010)
Mirchi Music Award for Mirchi Listeners' Choice – Best Album of the Year for Paiyaa (2010)

Spell Bound Best Music Director Award for Vallavan (2006)
Vijay Music Awards

Best Singer with the Maximum Hits of 2010
Popular Duet of the Year – "Idhu Varai" (Goa) (2011)
Popular Song sung by a Music Director – "En Kadhal Solla" (Paiyaa) (2011)
Mirchi Listeners Choice of the Year – "Thuli Thuli" (Paiyaa)(2011)
Images
Here are the latest photos of Yuvan Shankar Raja,