Yogi Babu Wiki, Biography, Age, Family, Movies, Comedy, Images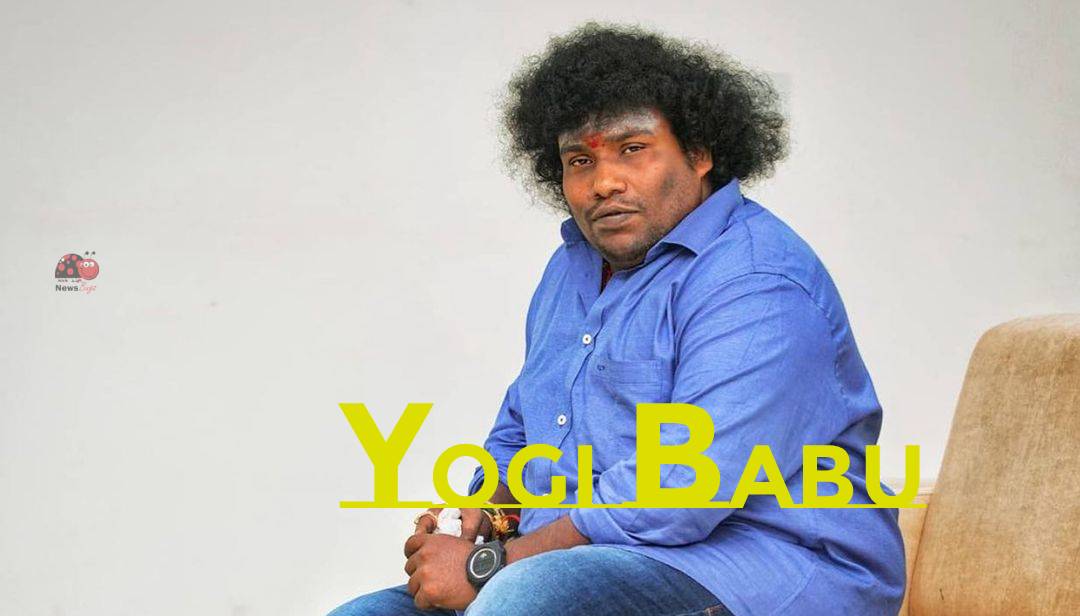 Yogi Babu is an Indian film actor, who mostly works in Tamil film industry. He was born on 21 March 1985 in Valapandal, Arani, Tamil Nadu. He made his acting debut in Ram Bala's comedy television series, Lollu Sabha. In 2009, he made his big-screen debut in the film Yogi. He gained popularity with his brilliant performances in movies like Maan Karate (2014) and Yaamirukka Bayamey (2014). Yogi Babu made a cameo appearance in Hey Sinamika (2022). He also joins once again with actor Vijay in Beast from the direction of Nelson Dilipkumar. He works with actress Lakshmi Menon for the upcoming Malai movie.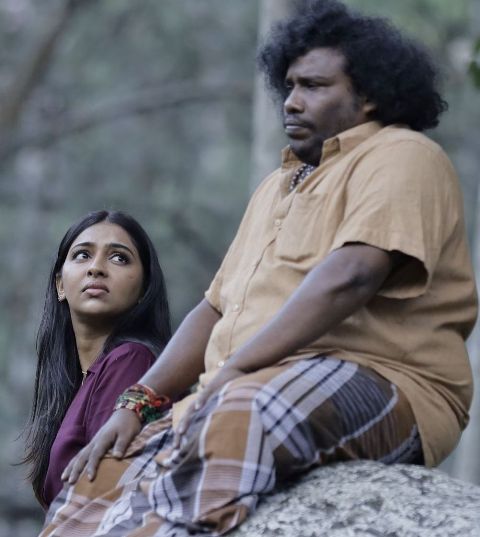 Yogi Babu also featured in the Hindi film, Chennai Express alongside Shahrukh Khan. Now, he is one of the leading comedians in the Kollywood industry. He then acted in movies like Thillalangadi, Velayudham, Thoonga Nagaram, Rajapattai, Soodhu Kavvum, Chennai Express, Veeram, Maan Karate, and Yaamirukka Bayamey. Some of his movies of recent times are Mohini, Junga, Kolamavu Kokila, Pariyerum Perumal, Sarkar, Kaatrin Mozhi, Viswasam and more. After several successful films as a comedian, Yogi Babu has acted in the main lead role as a hero in films like Dharma Prabhu, Gurkha, Mandela.
Biography
| | |
| --- | --- |
| Name | Yogi Babu |
| Real Name | Babu |
| Nickname | Yogi Babu |
| Profession | Indian film Actor |
| Date of Birth | 21 March 1985 |
| Age | 36 (as of 2022) |
| Father Name | Yet to be updated |
| Mother Name | Yet to be updated |
| Height | Yet to be updated |
| Weight | Yet to be updated |
| Zodiac Sign / Sun Sign | Not Known |
| Religion | Hindu |
| Educational Qualification | Yet to be updated |
| Hobbies | Writing Comedy Scripts |
| Hometown | Valapandal, Arani, Tamil Nadu. |
| Nationality | Indian |
| Married | Yes (February 5, 2020) |
| Wife Name | Manju Bhargavi |
| Current City | Chennai, TamilNadu |
Official Social Profiles
Yogi Babu INSTAGRAM
Movies
| Year | Film | Role(s) |
| --- | --- | --- |
| 2009 | Yogi | Aspiring actor |
| 2009 | Sirithal Rasipen | Henchman |
| 2010 | Thillalangadi | Maasi's sidekick |
| 2010 | Paiyaa | Rowdies gang member |
| 2011 | Velayudham | Villager |
| 2011 | Thoonga Nagaram | |
| 2011 | Rajapattai | Azhagu |
| 2012 | Kalakalappu | Malaikotta Shankar |
| 2012 | Attakathi | |
| 2012 | Kai | Siva's friend |
| 2013 | Pattathu Yaanai | Henchman |
| 2013 | Soodhu Kavvum | Rowdy Doctor's henchman |
| 2013 | Thee Kulikkum Pachai Maram | Selvam |
| 2013 | Chennai Express | Sri Lankan smuggler |
| 2014 | Veeram | Henchman |
| 2014 | Endrendrum | |
| 2014 | Maan Karate | Vavaal |
| 2014 | Yennamo Yedho | Goon |
| 2014 | Aranmanai | Sagidi, a Fortune Teller |
| 2014 | Jai Hind 2 | Private school association member |
| 2014 | Yaamirukka Bayamey | Panni Moonji Vaayan |
| 2015 | I | Keerthivasan's fan |
| 2015 | Vella Kaka Manja Kuruvi | |
| 2015 | Kaaki Sattai | Beggar |
| 2015 | Iridiyam | |
| 2015 | Ivanuku Thannila Gandam | Man in hospital |
| 2015 | India Pakistan | Aamai Kunju |
| 2015 | Demonte Colony | Browsing Boy |
| 2015 | Kaaka Muttai | Naina's friend |
| 2015 | Naalu Policeum Nalla Irundha Oorum | Thief |
| 2015 | Sakalakala Vallavan | Chinnasamy's servant |
| 2015 | Yatchan | Durai's henchman |
| 2015 | Kirumi | Kadhir's friend |
| 2015 | Vedalam | Chatterjee |
| 2015 | Kaki: Sound of Warning | Chitram |
| 2016 | Vil Ambu | Honest |
| 2016 | Pokkiri Raja | Mojo |
| 2016 | Mapla Singam | |
| 2016 | Hello Naan Pei Pesuren | Street Singer |
| 2016 | Jithan 2 | Annayya |
| 2016 | Tea Kadai Raja | Saravana's friend |
| 2016 | Pandiyoda Galatta Thaangala | Thief |
| 2016 | Enakku Innoru Per Irukku | Ondipuli |
| 2016 | Muthina Kathirikai | Rowdy |
| 2016 | Metro | Subway Lover |
| 2016 | Jackson Durai | Mani |
| 2016 | Kuttrame Thandanai | Auto passenger |
| 2016 | Aandavan Kattalai | Muthupandi Selvam |
| 2016 | Remo | Remo's lover |
| 2016 | Kadalai | Kaali |
| 2016 | Kannula Kaasa Kattappa | Kettavan |
| 2016 | Virumandikum Sivanandikum | Moneylender's assistant |
| 2016 | Atti | Boxer Babu |
| 2016 | Veera Sivaji | Ramesh |
| 2016 | Mo | Pazhani |
| 2017 | Kattappava Kanom | Nandu |
| 2017 | Attu | Sappa |
| 2017 | Nagarvalam | Tamil teacher |
| 2017 | Saravanan Irukka Bayamaen | Babu |
| 2017 | Sathriyan | Samudhram's nephew |
| 2017 | Aaram Vetrumai | Tribal |
| 2017 | Ka Ka Ka: Aabathin Arikuri | Natchatiram |
| 2017 | Pichuva Kaththi | Babu |
| 2017 | Mersal | Nolan |
| 2017 | En Aaloda Seruppa Kaanom | 'Remo' Ravi |
| 2017 | Sathya | Ram |
| 2017 | 12-12-1950 | Singam |
| 2017 | Balloon | Panda |
| 2018 | Gulaebaghavali | Panni |
| 2018 | Thaanaa Serndha Koottam | Narayanan |
| 2018 | Mannar Vagaiyara | Kannan |
| 2018 | Kalakalappu 2 | Bhagavan |
| 2018 | Solli Vidava | Yogi |
| 2018 | Veera | Jithesh |
| 2018 | Yenda Thalaiyila Yenna Vekkala | Aadhi |
| 2018 | Kaali | Gopi |
| 2018 | Semma | Omagundam |
| 2018 | Oru Kuppai Kathai | Kumar's friend |
| 2018 | Semma Botha Aagathey | Soosai |
| 2018 | Mohini | Cotton |
| 2018 | Junga | Yo Yo |
| 2018 | Kolamavu Kokila | Sekar |
| 2018 | Echcharikkai | Frank De Souza |
| 2018 | Pariyerum Perumal | Anand |
| 2018 | Sarkar | Kaushik |
| 2018 | Kaatrin Mozhi | Mahesh Babu |
| 2018 | Silukkuvarupatti Singam | Tony |
| 2019 | Maanik | Research and Analysis Wing officer |
| 2019 | Viswasam | Velu |
| 2019 | Kuthoosi | Velu's friend |
| 2019 | Vantha Rajavathaan Varuven | Azhagu |
| 2019 | Thadam | Suruli |
| 2019 | Pattipulam | Udhay's friend |
| 2019 | Airaa | Mani |
| 2019 | Kuppathu Raja | Kaisamaa |
| 2019 | Watchman | Maari |
| 2019 | K-13 | Delivery boy |
| 2019 | 100 | M.Jackson |
| 2019 | Ayogya | Thief |
| 2019 | Mr.Local | Auto Sekar |
| 2019 | Lisaa | Priest |
| 2019 | Dharmaprabhu | Yamantaka |
| 2019 | Gorilla | Pickpocket |
| 2019 | Gurkha | Babu |
| 2019 | Jackpot | Rahul |
| 2019 | Comali | Mani |
| 2019 | Zombie | Pistol Raj |
| 2019 | Namma Veettu Pillai | Lawyer |
| 2019 | Petromax | Paal Pandi |
| 2019 | Puppy | Senior |
| 2019 | Bigil | Donald |
| 2019 | Butler Balu | Chef |
| 2019 | Action | Jack |
| 2019 | Jada | Messi |
| 2019 | Iruttu | Vanangamudi |
| 2019 | Dhanusu Raasi Neyargale | Himself |
| 2019 | 50/50 | Kai Kulandhai |
| 2020 | Darbar | Kaushik |
| 2020 | Taana | Dooma |
| 2020 | Dagaalty | Dheena |
| 2020 | Sandimuni | Gorakh |
| 2020 | Naan Sirithal | Dilli Babu |
| 2020 | Asuraguru | 'Digital India' Dinakaran |
| 2020 | Cocktail | Don |
| 2020 | Naanga Romba Busy | Kuberan |
| 2020 | Kanni Raasi | Vairamani |
| 2021 | Trip | Azhagan |
| 2021 | Engada Iruthinga Ivvalavu Naala | Aspiring actor |
| 2021 | Sulthan | Otta Lorry |
| 2021 | Mandela | Nelson Mandela |
| 2021 | Karnan | Vadamalaiyaan |
| 2021 | Vanakkam Da Mappillai | Himself |
| 2021 | Vellai Yaanai | KK |
| 2021 | Navarasa | Velusamy |
| 2021 | Dikkiloona | Albert aka Einstein |
| 2021 | Annabelle Sethupathi | Shanmugam |
| 2021 | Pei Mama | Kohli Kumar |
| 2021 | Doctor | Prathap |
| 2021 | Aranmanai 3 | Abhishek |
| 2021 | Raajavamsam | Mayakannan |
| 2021 | Murungakkai Chips | Saravanan |
| 2022 | Theal | Tiger |
| 2022 | Veerame Vaagai Soodum | Thalapathy |
| 2022 | Kadaisi Vivasayi | Kalyani's caretaker |
| 2022 | Hey Sinamika | Paalmali Baba |
Latest Movies
Images
Have a look at some of the images of Comedy actor Yogi Babu,