Yaaradi Nee Mohini Serial Cast & Crew | Zee Tamil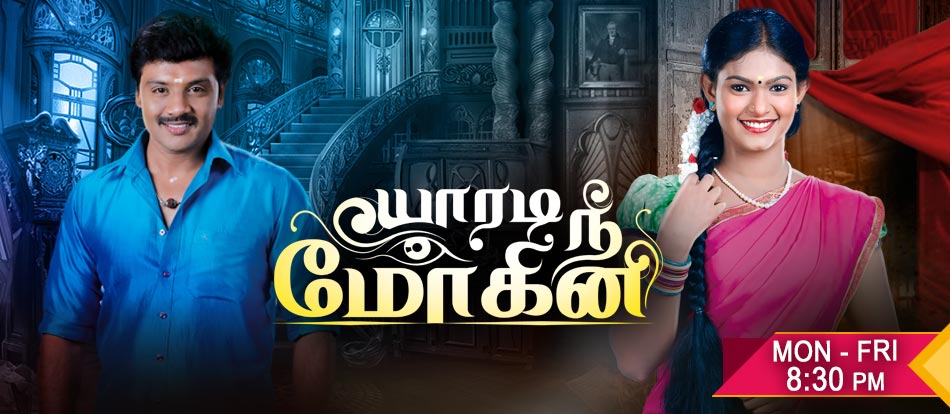 Yaaradi Nee Mohini Serial is a 2017 Indian Tamil Language Thriller soap opera starring Sanjeev, Fathima Babu, Nachathira, and Chaitra Reddy. It was premiered on 24 April 2017 on Zee Tamil and is aired every Monday to Friday at 8:30 PM. Thirumathi Selvam and Maanada Mayilada fame Sanjeev was selected to portray the lead role of Mutharasan and after some episodes, Shreekumar has replaced him. Actress Nachathira was selected to play the lead role opposite Vennila in the serial. Actress Chaitra Reddy was selected to portray the second lead role and the main antagonist of Swetha. Famous actress Fathima Babu was chosen for the serial as the main antagonist of Nilambari and through this, Fathima Babu makes her TV serial comeback after 10 years break. Yamuna Chinnadurai was selected to play as Mutharasan's wife who turns into a ghost. It is claimed that the show is the second biggest budgeted TV series on South India television after series Nandini. Check out below for Yaaradi Nee Mohini Serial cast & crew, plot actors, awards, and more.
The Yaaradi Nee Mohini Serial was remade in Kannada as Yaare Nee Mohini that started broadcasting from 18 September 2017 on Zee Kannada. And also in Telugu as Evare Nuvvu Mohini that was premiered on 11 December 2017 on Zee Telugu.
Yaaradi Nee Mohini Serial Plot
The character Mutharasan (Sanjeev) is the grandson of a rich landlord. After the demise of his mother, his father marries Nilambari (Fathima Babu). In spite of Mutharasan having a lot of faith and respect towards Nilambari, she tries to kill him to acquire his father's property for her children. Meanwhile, Vennila (Nachathira) is his cousin, who loves him a lot and wants to marry him. But, a clause in the will forbids her, as it requires the signature of the Mutharasan's wife. Nilambari brings Swetha (Chaithra) her niece to get married to Muthu and to make her side strong. Meanwhile, Chitra's (Mutharasan's dead wife) ghost is now out to destroy Nilambari's evil plans, which was later found by Nilambari and gang. Swetha then plans and controls the power of Chitra's spirit. Also, she kills Vennilla mother and grandmother. Finally, Swetha and Muthuarasan 's marriage is fixed. Unexpectedly, Swetha's ex-husband comes to stop the marriage. Swetha comes to know this and kills Muthuarasan's father leaving Vennila lonely as everyone who supported her were dead. Herecomes a surprising character Kalai (Vinitha), wife of Maruthu (Nilambari's first son) who finds the power of Chitra and stands along with Vennila. Now the story travels with more expectation as Chitra is free from control and Chitra's mother comes into picture to reveal the truth to Muthuarasan.
Click here to know Colors Tamil Channel | List of Programs, Serials, Reality Shows, Timings and More
Yaaradi Nee Mohini Serial Wiki
| | |
| --- | --- |
| Name | Yaaradi Nee Mohini Serial |
| Director | N. Priyan |
| Channel | Zee Tamil |
| Timing | Monday to Friday at 8:30 PM |
| Genre | Thriller soap opera |
| Release Date | 24 April 2017 |
| Starring | Shreekumar, Fathima Babu, Nachathira and Chaitra Reddy |
| Language | Tamil |
| Running Time | 20 to 24 minutes per episode |
Yaaradi Nee Mohini Serial Facebook Page: https://www.facebook.com/ZeeTamizh/
Yaaradi Nee Mohini Serial Cast
Main cast
Shreekumar as Mutharasan or Muthu mama
Nachathira as Vennila
Fathima Babu as Nilambari (Stepmother of Mutharasan)
Chaitra Reddy as Shwetha
Yamuna Chinnadurai as Chithira (Ghost), Muthrarasan's Ex-Wife
Vinitha as Kalai
Supporting cast
Barath as Maruthu (Nilambari's son)
Minnal Deepa as Poongodhai Azhagappan / Jilebi (Nilambari's daughter)
Arvind Khathare as Dr. Azhagappan / Pattu, Poongodhaai's Husband
Magima Devi as Rani (Nilambari's sister)
Haris Athitya as Nilambari's son
VJ Sharanya as Rani's Daughter
Sudha as Vennila's Mother
Sumangali as Chithira's Mother
"Soodhu Kavvum" Sivakumar as Nilambari's Brother / Shwetha's father
Shyam as Yuvaraj, Shwetha's Ex-Husband
Vincent Roy
Udhay
Sairatheya
Sri Vithiya