Venkatesh Daggubati Wiki, Biography, Age, Movies, Family, Images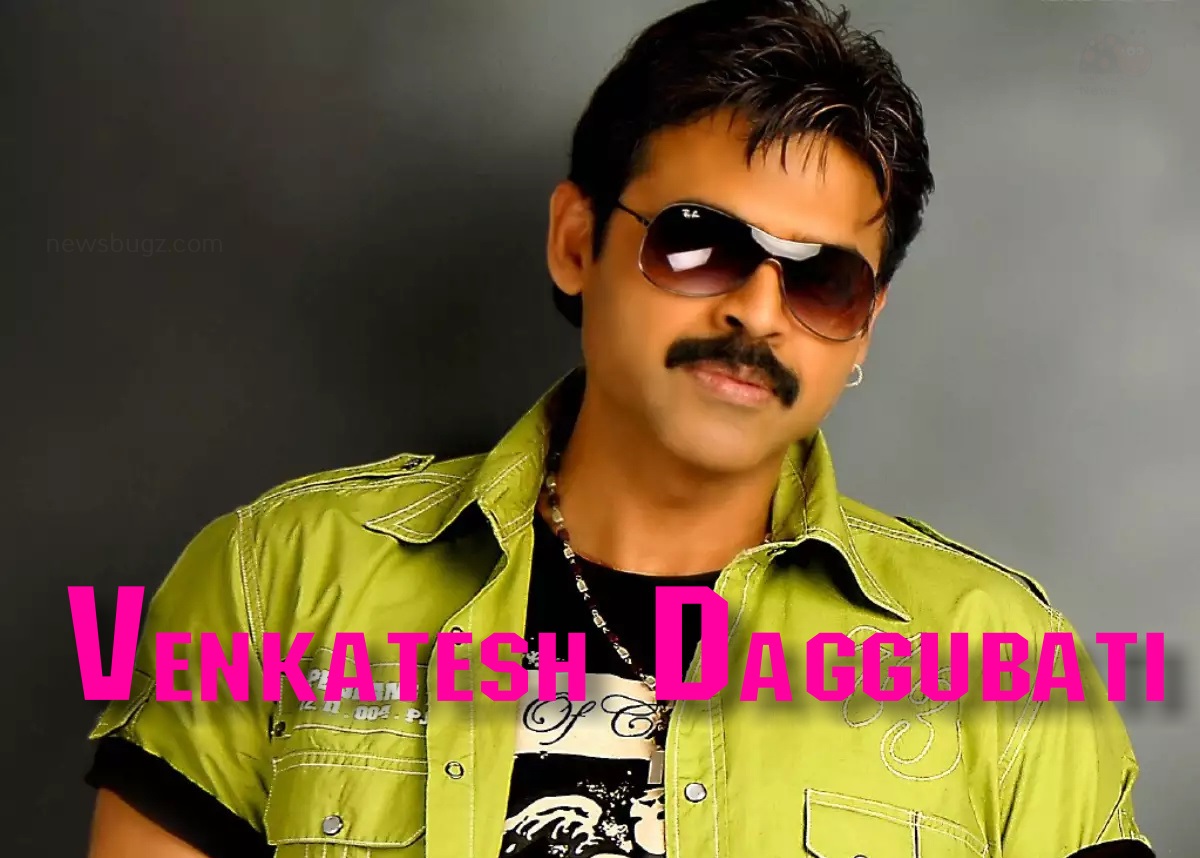 Venkatesh Daggubati is an Indian movie actor, who predominantly appears in the Telugu film industry. He is spanning an acting career of 30 years, with that, and he is well known for his acting. He made his debut Telugu movie Kaliyuga Pandavulu in this movie he appeared in the role of Vijay which is directed by K.Raghavendra Rao in the year 1986. Moreover, he appeared in a variety of roles in Telugu cinema and in a couple of films in Bollywood. He grabbed seven state Nandi Awards and five Filmfare Awards for his best acting. His movies like Aata Naade Veta Naade, F2 – Fun & Frustration, VENKY 74 and VENKY75 are huge sucess. His recent movie F3 was a huge success and it is well received by the audience.
Venkatesh Daggubati was born on December 13, 1960, in Karamchedu, Prakasam, Andhra Pradesh State, India. Venkatesh Daggubati family is now residing in Film Nagar, Hyderabad, Telangana, India. His father's name is Ramanaidu Daggubati who is a film producer as well as a former MP and his mother's name is Rajeswari Daggubati. He has an elder brother named Suresh Babu Daggubati who is running the Suresh Productions and has a younger sister named Lakshmi. He did his schooling in Don Bosco, Egmore, Chennai and did his graduation in Bachelors in Commerce from Loyola College, Chennai and he did his post graduation at Middlebury Institute of International Studies at Monterey, USA. Once he returned to India and he entered into the film production but he becomes an actor in Telugu films. Venkatesh Daggubati's wife's name is Neeraja Daggubati and they got married in the year 1985, and his couple has four children named Aashritha Daggubati (Daughter), Bhavana Daggubati (Daughter), Hayavahini Daggubati (Daughter), Arjun Daggubati (Son).
He started his acting career in the year 1971 as a child artist in the movie Prem Nagar. He made his debut Telugu movie Kaliyuga Pandavulu in the year 1986, and for this movie, he got a Nandi Award for best male debut actor. At the beginning of his acting career, he acted in the movie Swarnakamalam and the movie is directed by K Viswanath and was showcased at the 1989 International Film Festival of India he grabbed the second Nandi Award for his performance. Venkatesh Daggubati then appeared in a movie titled Kshana Kshanam which is directed by Ram Gopal Varma and he appeared along with Late actress Sri Devi, with that, it has reached a box office hit in its second run. Then he appeared in various Telugu movies in the following years and he grabbed more awards for his performance as well. Then in the year 24 April 2010, he signed a with Manappuram General Finance and Leasing Ltd that he is the brand ambassador for Andhra Pradesh.
Biography
Name
Venkatesh
Real Name
Venkatesh Daggubati
Nickname
Venkatesh, Venky
Profession
Actor
Date of Birth
13 December 1960
Age
62 (as of 2022)
Zodiac sign
Leo
Family
Father: Ramanaidu Daggubati
Mother: Rajeswari Dagubati
Brother: Suresh Babu Daggubati
Sister: Lakshmi Ramanaidu Daggubati
Nephew: Rana Daggubati
Nephew: Naga Chaitanya
Marital Status
Married (Demeber 1985)
Affairs/Girlfriends
NA
Wife
Neeraja Daggubati
Children
Daughters: Aashritha Daggubati, Bhavana Daggubati, Hayavahini Daggubati
Son: Arjun Daggubati
Religion
Hindu
Educational Qualification
MBA Graduate
School
Don Bosco Egmore, Chennai
College
Loyola College, Chennai
Monterey Institute of International Studies, Middlebury, Vermont
Hobbies
Reading Books, Exercising, Listening to Music
Birth Place
Karamchedu, Andhra Pradesh, India
Hometown
Karamchedu, Andhra Pradesh, India
Current City
Andhra Pradesh, India
Nationality
Indian
Social Media Profiles
Movies
| Year | Title | Role | Notes |
| --- | --- | --- | --- |
| 1986 | Kaliyuga Pandavulu | Vijay | Nandi Award for Best Male Debut (Special Jury Award) |
| 1986 | Brahma Rudrulu | Satya Prasad | |
| 1987 | Ajeyudu | Murali | |
| 1987 | Bharatamlo Arjunudu | Arjun | |
| 1987 | Trimurtulu | Raja | |
| 1987 | Vijetha Vikram | Vikram | |
| 1987 | Srinivasa Kalyanam | Srinivas | |
| 1988 | Raktha Tilakam | Krishna Prasad | |
| 1988 | Brahma Puthrudu | Shakthi | Filmfare Award for Best Actor – Telugu |
| 1988 | Swarna Kamalam | Chandra Sehkar | Nandi Special Jury Award |
| 1988 | Varasudochhadu | Raghu / Bose | |
| 1989 | Prema | Pruthvi | Nandi Award for Best Actor |
| 1989 | Ontari Poratam | Raja | |
| 1989 | Dhruva Nakshatram | Dhruva Kumar | |
| 1989 | Two Town Rowdy | Sakthi | |
| 1990 | Aggiramudu | Aggi Ramudu & Vijay (Dual role) | |
| 1990 | Bobbili Raja | Raja | |
| 1990 | Shatruvu | Asok | |
| 1991 | Coolie No.1 | Raju / Bharath | |
| 1991 | Surya IPS | Surya | |
| 1991 | Kshana Kshanam | Chandu | |
| 1992 | Chanti | Chanti | |
| 1992 | Chinarayudu | Chinarayudu | |
| 1992 | Sundarakanda | Venkateswarlu | |
| 1993 | Anari | Rama | Hindi debut |
| 1993 | Kondapalli Raja | Raja | |
| 1993 | Abbaigaru | Dora Babu | |
| 1994 | Super Police | Vijay | |
| 1994 | Muddula Priyudu | Ramu & Raju | |
| 1995 | Pokiri Raja | Chanti & Balaraju (Dual role) | |
| 1995 | Taqdeerwala | Suraj | Hindi Film |
| 1996 | Dharma Chakram | Rakesh | Nandi Award for Best Actor Filmfare Award for Best Actor – Telugu |
| 1996 | Sahasa Veerudu Sagara Kanya | Ravi Chandra | |
| 1996 | Intlo Illalu Vantintlo Priyuralu | Sriram | |
| 1996 | Saradha Bullodu | Vijay | |
| 1996 | Pavithra Bandham | Vijay | |
| 1996 | Chinnabbayi | Sundarayya | |
| 1997 | Preminchukundam Raa | Giri | |
| 1997 | Pellichesukundam | Aanand | |
| 1998 | Suryavamsam | Harischandra Prasad & Bhanu Prasad (Dual role) | |
| 1998 | Ganesh | Ganesh | Nandi Award for Best Actor Filmfare Award for Best Actor – Telugu |
| 1998 | Premante Idera | Murali | |
| 1999 | Raja | Raja | |
| 1999 | Seenu | Seenu | |
| 2000 | Kalisundam Raa | Raghu | Nandi Award for Best Actor Filmfare Special Award – South |
| 2000 | Jayam Manade Raa | Mahadeva Naidu & Rudrama Naidu / Abhiram (Dual role) | Filmfare Award for Best Actor – Telugu |
| 2001 | Devi Putrudu | Balaram & Krishna (Dual role) | |
| 2001 | Prematho Raa | Chandra Sekhar "Chandu" | |
| 2001 | Nuvvu Naaku Nachav | Venkateswarlu "Venky" | |
| 2002 | Vasu | Vasu | |
| 2002 | Gemeni | Gemeni | |
| 2003 | Vasantham | Ashok | |
| 2004 | Malliswari | Pellikani Prasad | |
| 2004 | Gharshana | DCP Raamachandra | |
| 2005 | Sankranthi | Raghavendra | |
| 2005 | Subash Chandra Bose | Subash Chandra Bose & Asok (Dual role) | |
| 2006 | Lakshmi | Lakshmi Narayana | |
| 2007 | Adavari Matalaku Ardhalu Verule | Ganesh | Nandi Award for Best Actor |
| 2007 | Tulasi | Parvathaneni Tulasi Ram | |
| 2008 | Chintakayala Ravi | Ravi | |
| 2009 | Eenaadu | Commissioner Eeshwar Prasad | |
| 2010 | Namo Venkatesa | Venkataramana "Venky" | |
| 2010 | Nagavalli | Naagabhairava Raajasekhara & Vijay (Dual role) | |
| 2012 | Bodyguard | Venkatadri / Venky | |
| 2013 | Seethamma Vakitlo Sirimalle Chettu | Peddodu | |
| 2013 | Shadow | Rajaram | |
| 2013 | Masala | Venkata Raja Narasimha Balaram | |
| 2014 | Drushyam | Rambabu | |
| 2015 | Gopala Gopala | Gopalaraao | |
| 2016 | Babu Bangaram | ACP Krishna | |
| 2017 | Guru | Aditya | Filmfare Critics Award for Best Actor – South |
| 2019 | F2: Fun and Frustration | Venky | |
| 2019 | Venky Mama | Venkataratnam "Military Naidu " Venky Mama"" | |
| 2021 | Narappa | Narappa | Amazon Prime film |
| 2021 | Drusyam 2 | Rambabu | Amazon Prime film |
| 2022 | F3 | Venky | |
| 2022 | Kabhi Eid Kabhi Diwali | TBA | Filming |
Cameo Appearances
| Year | Title | Role | Notes |
| --- | --- | --- | --- |
| 1971 | Prem Nagar | Keshav | Child-artist |
| 1989 | Jayammu Nischayammura | Himself | |
| 2005 | Soggadu | Himself | |
| 2012 | Krishnam Vande Jagadgurum | Ballari Babu | |
| 2016 | Premam | DCP Rama Chandra | |
| 2018 | Agnyaathavaasi | Guru | |
Awards
| Year | Film | Award | Category | Result |
| --- | --- | --- | --- | --- |
| 1986 | Kaliyuga Pandavulu | Nandi Awards | Best Male Debut (Special Jury Award) | Won |
| 1986 | Kaliyuga Pandavulu | Filmfare Awards South | Best Actor – Telugu | Nominated |
| 1988 | Brahma Puthrudu | Filmfare Awards South | Best Actor – Telugu | Won |
| 1988 | Swarna Kamalam | Nandi Awards | Special Jury Award | Won |
| 1989 | Prema | Nandi Awards | Best Actor | Won |
| 1989 | Prema | Filmfare Awards South | Best Actor – Telugu | Nominated |
| 1990 | Bobbili Raja | Filmfare Awards South | Best Actor – Telugu | Nominated |
| 1991 | Kshana Kshanam | Filmfare Awards South | Best Actor – Telugu | Nominated |
| 1992 | Chanti | Filmfare Awards South | Best Actor – Telugu | Nominated |
| 1993 | Abbaigaru | Filmfare Awards South | Best Actor – Telugu | Nominated |
| 1994 | Muddula Priyudu | Filmfare Awards South | Best Actor – Telugu | Nominated |
| 1995 | Dharma Chakram | Nandi Awards | Best Actor | Won |
| 1996 | Dharma Chakram | Filmfare Awards South | Best Actor – Telugu | Won |
| 1996 | Sahasa Veerudu Sagara Kanya | Filmfare Awards South | Best Actor – Telugu | Nominated |
| 1997 | Preminchukundam Raa | Filmfare Awards South | Best Actor – Telugu | Nominated |
| 1998 | Ganesh | Nandi Awards | Best Actor | Won |
| 1998 | Ganesh | Filmfare Awards South | Best Actor – Telugu | Won |
| 1999 | Raja | Filmfare Awards South | Best Actor – Telugu | Nominated |
| 2000 | Kalisundam Raa | Nandi Awards | Best Actor | Won |
| 2000 | Kalisundam Raa | Filmfare Awards South | Special Award | Won |
| 2000 | Jayam Manade Raa | Filmfare Awards South | Best Actor – Telugu | Won |
| 2005 | Sankranthi | Filmfare Awards South | Best Actor | Nominated |
| 2005 | Sankranthi | Santosham Film Awards | Best Actor – Telugu | Won |
| 2007 | Adavari Matalaku Ardhale Verule | Nandi Awards | Best Actor | Won |
| 2007 | Adavari Matalaku Ardhale Verule | Santosham Film Awards | Best Actor | Won |
| 2007 | Adavari Matalaku Ardhale Verule | Filmfare Awards South | Best Actor – Telugu | Nominated |
| 2010 | Eenadu | Filmfare Awards South | Best Supporting Actor – Telugu | Nominated |
| 2014 | Masala | Filmfare Awards South | Best Supporting Actor – Telugu | Nominated |
| 2015 | Drushyam | Filmfare Awards South | Best Actor – Telugu | Nominated |
| 2015 | Drushyam | TSR – TV9 National Film Awards | Best Actor (Jury) | Won |
| 2015 | Drushyam | South Indian International Movie Awards | Best Actor | Nominated |
| 2016 | Gopala Gopala | TSR – TV9 National Film Awards | Best Actor | Won |
| 2017 | Guru | Filmfare Awards South | Best Actor – Telugu | Nominated |
| 2017 | Guru | Filmfare Awards South | Best Actor – Critics | Won |
Images
Check out the cool new photos of Venkatesh Daggubati,