Unnikrishnan Wiki, Biography, Age, Wife, Daughter, Songs, Videos, Images and More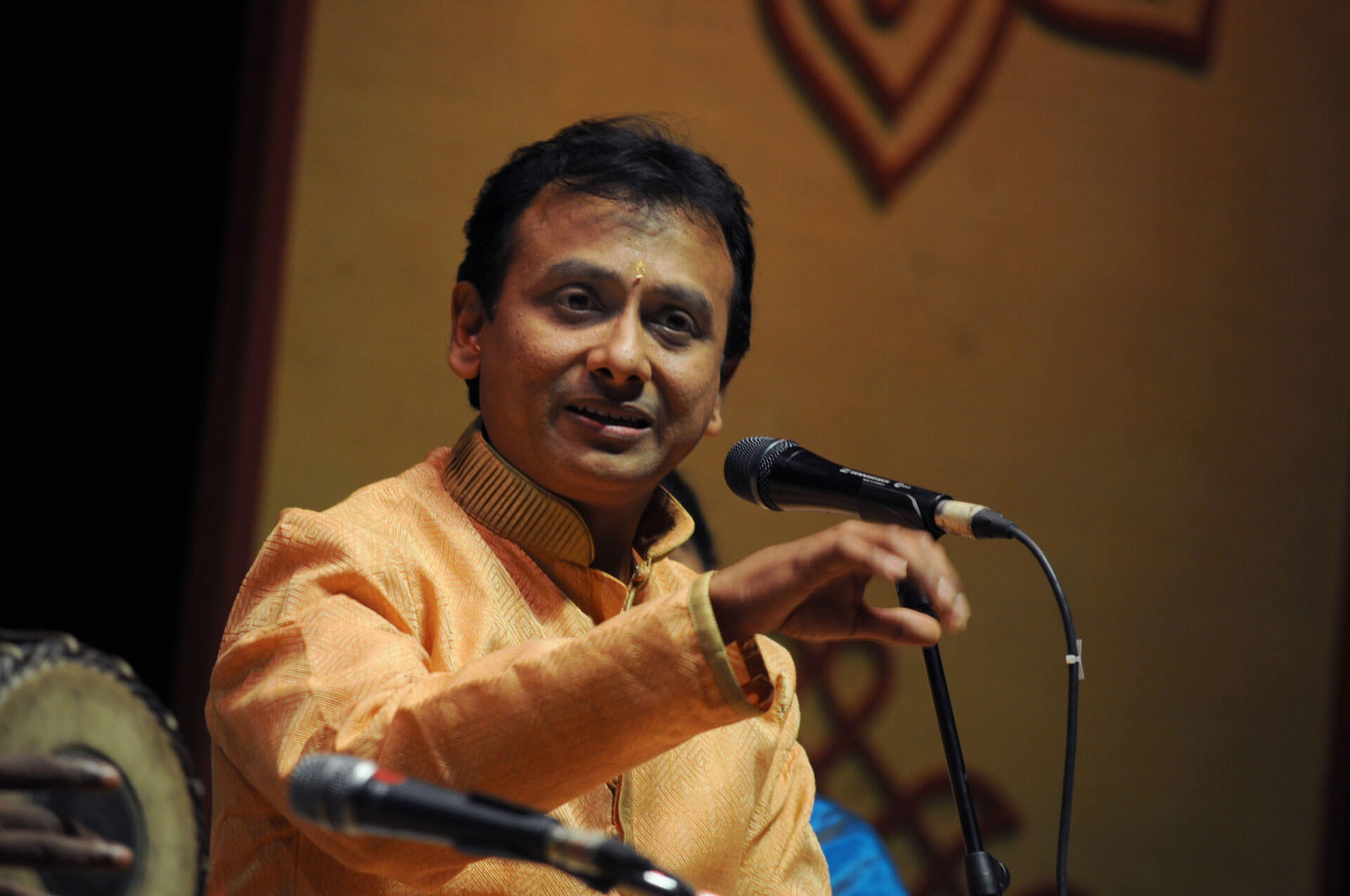 P. Unnikrishnan is a well renowned Carnatic vocalist and a national award-winning playback singer. He had a keen interest in music since childhood and started learning the Carnatic music when he was just 12 years old from trainer Sri V.L. Seshadri. In 1994, he won National Award for the Best Male Playback Singer. He is also the recipient of the title "Isai Peroli" from Karthik Fine Arts, "Yuva Kala Bharathi" from Bharath Kalachar, "Nada Bhushanam" title from Shanmukhananda Fine Arts and "Kalaimamani" title from the government of Tamil Nadu. Check out below for Unnikrishnan Wiki, Biography, Age, Wife, Daughter Uthara Unnikrishnan, Songs, Videos, Images and More.
Read Other Biographies: Super Singer Vote Season 6 | Shweta Mohan | Anuradha Sriram | Benny Dayal | Singer Diwakar | Singer Priyanka | Singer Praniti | Amit Bhargav | Sriranjani Amit | Lakshmy Ramakrishnan | Jacqueline Fernandez | Athulya Ravi | Rachitha Mahalakshmi | Alya Manasa
Unnikrishnan Profile
Unnikrishnan was born on 9 July 1966 in Palakkad, Kerala, India. He is the son of Shri K. Radhakrishnan, who is the Director of Kesari Kuteeram Pvt. Ltd. And Dr Harini Radhakrishnan, who is an Ayurvedic Physician in Palakkad, Kerala. At the initial stage, Unnikrishnan did his schooling in Asan Memorial Senior Secondary School, Chennai and completed his schooling in 1984 at Santhome Higher Secondary School, Chennai. He then graduated with his B.Com degree from Ramakrishna Mission Vivekananda College, Chennai. He earned a General Law and Post Graduate Diploma in Personnel Management and Industrial Relations. Later, he joined Parry's Confectionery Ltd. and worked as an executive from 1987 to 1994 and quit his job to become a professional singer.
He is married to Priya, who is a famous Bharatanatyam and Mohiniyattam dancer and a native of Kozhikode, Kerala. They got married in November 1994 and blessed with two children, a son named Vasudev Krishna and a daughter named Uthara Unnikrishnan. Both the children were very talented, his son Vasudev is passionate about cricket and is a member of the Madras Cricket Club and Life Member of the Tamil Nadu Cricket Association. His daughter Uthara Unnikrishnan is a playback singer who won National award for her debut song "Azhagu" in the Tamil movie "Saivam".
Unnikrishnan Singing Career
Unnikrishnan started learning Carnatic Music at age of 12 from trainer Sri V.L. Seshadri. His inspiration in Carnatic music was Sangita Kalanidhi, Dr S. Ramanathan. He attended a special workshop for six months on "Veena Dhanammal Bhani" under Sangeetha Kalanidhi T.Brinda and Sangeetha Kalanidhi Dr.T.Vishwa Nathan.
His debut songs "Ennavale Adi Ennavale" and "Uyirum Neeye" under AR Rahman's Musical earned him lots of critics and won national award-winning playback singer. He gave most of his memorable songs with AR Rahman. He was the first male playback singer to get a national award for a Tamil song.
He has sung over 600 film songs so far in south Indian languages like Tamil, Malayalam, Telugu and Kannada. He is called as the "A" grade artist who has given concerts all over the World.
He was one of the permanent judges in the reality television show AIRTEL Super Singer on Vijay TV in both the seasons (2006, 2008 & 2010-2011) and Idea Star Singer in 2008 on Asianet. Currently, he is back to Vijay Television's Super Singer Season 6.
Unnikrishnan is also becoming known for his experimental work. In 2008, he presented a novel jazz concert in Thiruvananthapuram with the Eli Yamin Jazz Quartet and pianist Anil Srinivasan.
Unnikrishnan Biography
| | |
| --- | --- |
| Name | Unnikrishnan |
| Real Name | P. Unnikrishnan |
| Nickname | Unnikrishnan |
| Profession | Indian Playback Singer |
| Date of Birth | 9 July 1966 |
| Age | 51 |
| Father Name | K. Radhakrishnan |
| Mother Name | Dr Harini Radhakrishnan |
| Height | Yet to be updated |
| Weight | Yet to be updated |
| Zodiac Sign / Sun Sign | Yet to be updated |
| Religion | Hinduism |
| Educational Qualification | Carnatic Music |
| Hobbies | Singing |
| Hometown | Palakkad, Kerala |
| Nationality | Indian |
| Married | Yes |
| Wife Name | Priya |
| Current City | Chennai, India |
Unnikrishnan Official Website: http://www.unnikrishnan.com/
Unnikrishnan Facebook: Yet to be updated
Unnikrishnan Twitter: Yet to be updated
Unnikrishnan Instagram: Yet to be updated
Unnikrishnan Discography
Year
Song Title
Film Name
Language
Music Director
Co-Singers
1994
Ennavale Adi Ennavale
Kadhalan
Tamil
A. R. Rahman
Solo
Uyirum Neeye
Pavithra
Tamil
A. R. Rahman
Solo
Thenmearku Paruvakkatru
Karuthamma
Tamil
A. R. Rahman
K. S. Chitra
1995
Meenamma Adikalaiyulum
Aasai
Tamil
Deva
Anuradha Sriram
Pulveli Pulveli(Humming)
K. S. Chitra
"Maharajan Odu Rani"
Sathi Leelavathi
Tamil
Ilaiyaraja
K. S. Chitra
1996
O Vennilaa
Kadhal Desam
Tamil
A. R. Rahman
Solo
Thendrale Thendrale
Mano
Sakhiye Neethan
Anthimanthaarai
Tamil
A. R. Rahman
Solo
Ya Ya Ya Yadava
Devaraagam
Malayalam
M. M. Keeravani
K. S. Chitra
Kaalamellam Kadhal Vaazhga
Kadhal Kottai
Tamil
Deva
K. S. Chitra
Naalai Ulagam Illai Endral
Love Birds
Tamil
A. R. Rahman
Sujatha Mohan
1997
Narumughaye
Iruvar
Tamil
A. R. Rahman
Bombay Jayashree
Manam Virumbudhe
Nerukku Ner
Tamil
Deva
Solo
Soniyaa Soniyaa
Ratchagan
Tamil
A. R. Rahman
Harini, Udit Narayan
Veesum Kaatrukku
Ullaasam
Tamil
Karthik Raja
Bhavatharini
Mayilu Mayilu Mayilamma
V.I.P
Tamil
Ranjith Barot
K. S. Chitra, Mano, Ranjini
Innallu ye mabbullo daagunnavo
Ugadi
Telugu
S.V.Krishna Reddy
chusa-oka-maaru
Ugadi
Telugu
S.V.Krishna Reddy
Sunitha
enthandamga-undo
Ugadi
Telugu
S.V.Krishna Reddy
Sunitha
naa-paate-hoyna-hoyna
Ugadi
Telugu
S.V.Krishna Reddy
Prasanna
daddy-katha-vinavaa-chebuthanu
Ugadi
Telugu
S.V.Krishna Reddy
Srilekha PParthasarathy
1998
Selaiyile Veedu Kattava
Aval Varuvala
Tamil
S. A. Rajkumar
K. S. Chitra
Hai Rabba
Jeans
Tamil
A. R. Rahman
Pallavi
Poovukul
Sujatha Mohan
Romance lo Rhythms
Tholi Prema
Telugu
Deva
Suresh Peters
Kanave Kalayaadhe
Kannedhirey Thondrinal
Tamil
Deva
K. S. Chitra
Taare Taare
Thuttha Muthha
Kannada
Hamsalekha
Solo
1999
Thirakkadha Kattukulley
En Swasa Katre
Tamil
A. R. Rahman
K. S. Chitra
Roja Roja
Kadhalar Dhinam
Tamil
A. R. Rahman
Solo
Athikaalayil Sevalai
Nee Varuvai Ena
Tamil
S. A. Rajkumar
Sujatha Mohan
O Senyorita
Poovellam Kettuppar
Tamil
Yuvan Shankar Raja
Solo
Poova Poove (Male Version)
Ippatikippudu
Premaku Velayara
Telugu
S. V. Krishna Reddy
Solo
Marghazhi Thingal Allava
Sangamam
Tamil
A. R. Rahman
S. Janaki
Maalaiyin Vedhanai
Sethu
Tamil
Ilayaraja
Solo
Sikkadha Sittondru
Arun Mozhi
Kulirudhu Kulirudhu
Taj Mahal
Tamil
A. R. Rahman
Swarnalatha
Innisai Paadivarum
Thulladha Manamum Thullum
Tamil
S. A. Rajkumar
Solo
Nilavai Konduvaa
Vaali
Tamil
Deva
Anuradha Sriram
April Madhathhil
Harini
2000
Roja Poonthotam
Kannukkul Nilavu
Tamil
Ilayaraja
Anuradha Sriram
Enthan Kuyil
Poo Virinchachu
Mugavaree
Tamil
Deva
Anuradha Sriram
Oh Vennilaa
Kushi
Tamil
Deva
Anuradha Sriram
Unnaikodu Ennai Tharuven
Unnai Kodu Ennai Tharuven
Tamil
S. A. Rajkumar
K. S. Chitra
Vaada Vaada
Appu
Tamil
Deva
Shankar Mahadevan
Idam Tharuvaaya
Pop Shalini
Vasantha Masadalli
Vaali
Kannada
Rajesh Ramnath
Anuradha Sriram
Enakkena Yerkanavey
Parthen Rasithen
Tamil
Bharathwaj
Harini
Ovvoru Paadalilum
Ennavale
Tamil
S. A. Rajkumar
Solo
Kaatre En Vasal
Rhythm
Tamil
A. R. Rahman
Kavita Krishnamurthy
Gaalena Vatikikoche
Veturi
Telugu
A. R. Rahman
Kavita Krishnamurthy
2001
Ivan Yaaro
Minnale
Tamil
Harris Jayaraj
Harini
Pallanguzhiyin Vattam
Anandam
Tamil
S. A. Rajkumar
Harini
Emaindo Emogani
Ninnu Choodalani
Telugu
S. A. Rajkumar
Harini
Or Ayiram Yaanai
Nandha
Tamil
Yuvan Shankar Raja
Solo
Oru Sundari Vandaalam
Azhagi
Tamil
Ilayaraja
Sadhana Sargam, Malgudi Subha, Arun Mozhi
Un Samayal Araiyil
Dhill
Tamil
Vidhyasagar
Sujatha Mohan
Un Perai Sonnale
Dumm Dumm Dumm
Tamil
Karthik Raja
Sadhana Sargam
Hussusey Hussusey
Majunu
Tamil
Harris Jayaraj
Devan
2002
Theendi Theendi
Bala
Tamil
Yuvan Shankar Raja
Sujatha Mohan
Theenda Theenda
Thulluvadho Ilamai
Tamil
Yuvan Shankar Raja
Bombay Jayashree
Nee Navvula
Aadi
Telugu
Mani Sharma
Mallikarjun, Harini
Vennelalo
Malli Malli Chudali
Telugu
Yuvan Shankar Raja
Bhavatharini
Rayile
Five Star
Tamil
Parasuram
Solo
Kannukkule Kaadhala
Thamizh
Tamil
Bharathwaj
Swarnalatha
Sil Sil Silalaa
Unnai Ninaithu
Tamil
Sirpi
Sujatha Mohan
2003
Nenjodu Kalandhidu
Kaadhal Kondein
Tamil
Yuvan Shankar Raja
Sujatha Mohan
Mainaave Mainaave
Thithikudhe
Tamil
Vidhyasagar
Sadhana Sargam
Snehitude Unte
Nee Manasu Naaku Telusu
Telugu
A. R. Rahman
Chinmayi
Edhuthillaa
Chokka Thangam
Tamil
Deva
Anuradha Sriram
2004
Naam Vayathukku
7G Rainbow Colony
Tamil
Yuvan Shankar Raja
Pop Shalini, Yuvan Shankar Raja, Ganga
Kaalayil Dhinamum
New
Tamil
A. R. Rahman
Sadhana Sargam
Pedhave Palikina
Naani
Telugu
A. R. Rahman
Sadhana Sargam
Vayasa Vayasa
Adhrushtam
Telugu
Mani Sharma
Sujatha Mohan
Madhura Madhuratara
Arjun
Telugu
Mani Sharma
Harini
Hottu Gottu
Ba Baaro Rasika
Kannada
Mahesh
K. S. Chitra
2005
Saage Neeli Megham
Seenugadu Chiranjeevi Fan
Telugu
Siva Kaakani
Solo
Mazhai Mazhai
Ullam Ketkume
Tamil
Harris Jayaraj
Harini
En Swaasame
Otta Nanayam
Malayalam
S. P. Venkitesh
Sujatha Mohan
2006
Sudum Nilavu
Thambi
Tamil
Vidhyasagar
Harini
Manasa Vacha
Godavari
Telugu
K.M. Radha Krishnan
K.S.Chitra
2007
Prati Dinam
Anumanaspadam
Telugu
Ilayaraja
Solo
2008
Saradaga Ee Samayam
Vinayakudu
Telugu
Sam Prasan
Solo
2009
Vaarayo Vaarayo
Aadhavan
Tamil
Harris Jayaraj
Chinmayi, Mega
Enduku Chentaki
Konchem Ishtam Konchem Kashtam
Telugu
Shankar-Ehsaan-Loy
Solo
2010
Manasaare
Taare
Kannada
C. R. Bobby
Kavita Krishnamurthy
Kangaley Kamalalayam
Bale Pandiya
Tamil
Devan Ekambaram
Mrinalini
2012
Ayuvichi
O Manasa
Telugu
Sahaja Rao
Solo
2013
Nilavattam Nethiyile
Desingu Raja
Tamil
D. Imman
Harini
2014
Nenje Nenje
Yaan
Tamil
Harris Jayaraj
Chinmayi
Yedemaina Sakhi
Kochadaiyan
Telugu
A.R.Rahman
Solo
2015
Oorellaam Unnai Kandu
Nanbenda
Tamil
Harris Jayaraj
Bombay Jayashree
2016
Mazhayil
Sawari
Tamil
Vishal Chandrasekhar
Sindhuri
Unnikrishnan Videos
Uthara Unnikrishnan Song
Singer Unnikrishnan Images
Read Other Biographies: Shweta Mohan | Anuradha Sriram | Benny Dayal | Singer Diwakar | Singer Priyanka | Singer Praniti | Amit Bhargav | Sriranjani Amit | Lakshmy Ramakrishnan | Jacqueline Fernandez | Athulya Ravi | Rachitha Mahalakshmi | Alya Manasa