Suraj Venjaramoodu Wiki, Biography, Age, Movies, Family, Images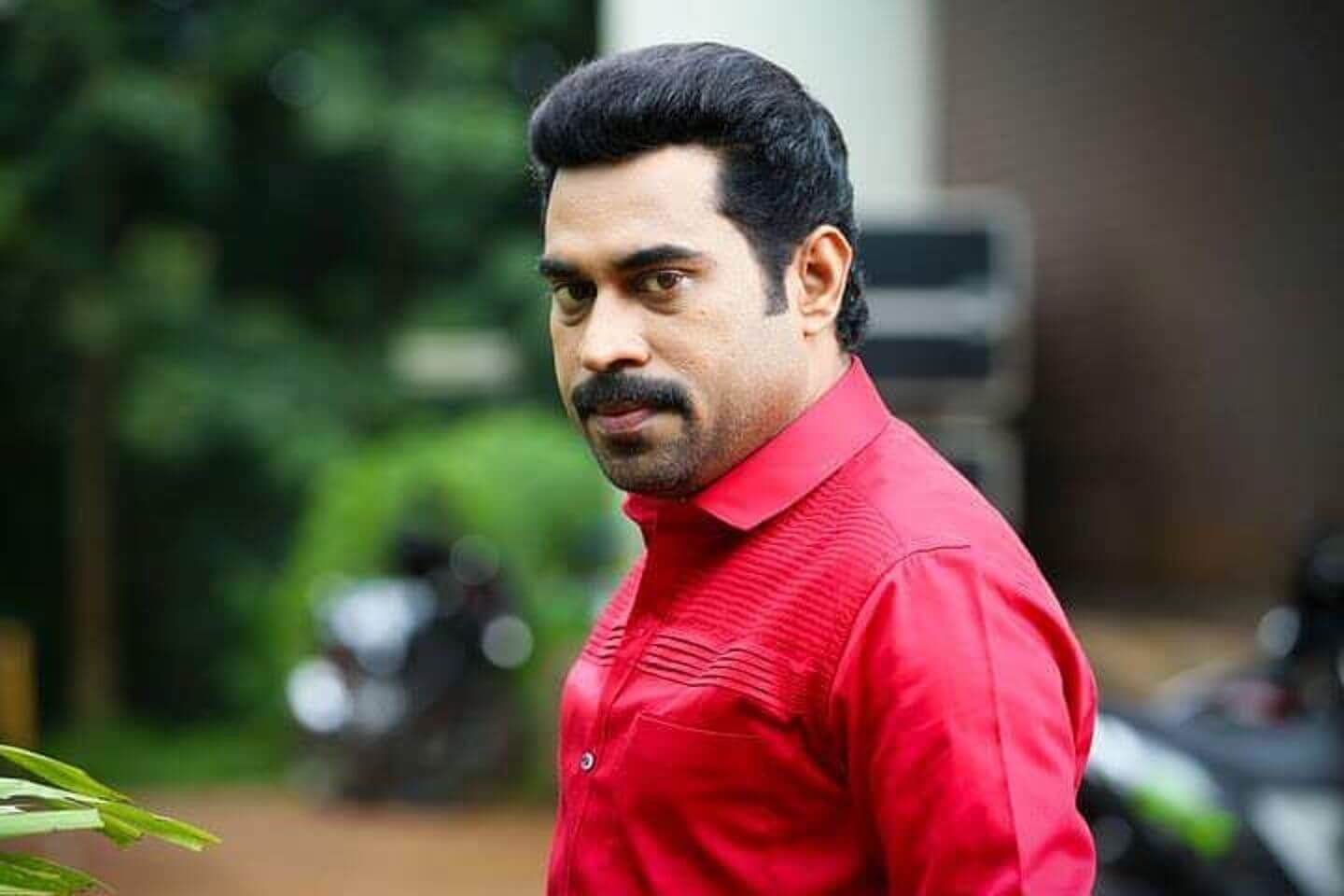 Suraj Venjaramoodu is a well experienced Mollywood comedian actor and dubbing artist who has acted in more than 200 films. He got his breakthrough in the Malayalam Television comedy show called 'Jagapoka' on Kairali TV and with its success, he made his debut movie 'Jagapoga', a spoof of Malayalam movies.
He has received the Kerala State Film Award for Best Comedian three times. Suraj mainly appears as a comedian and in character roles as well. In 2014, Suraj received the National Film Award for Best Actor for his performance in the Malayalam film Perariyathavar.

Suraj Venjaramoodu Biography
Name
Suraj Venjaramoodu
Real Name
Suraj Venjaramoodu
Nickname
Kuttappan
Profession
Indian Film Actor
Date of Birth
30 June 1977
Age
41 (as of 2019)
Zodiac sign
Yet to be updated
Family
Father: Venjaramood Vasudevan Nair (A retired soldier with Indian Army)
Mother: Vilasini (Housewife)

Marital Status
Married
Affairs/Girlfriends
Yet to be updated
Wife
Supriya (2005)
Children
Yet to be updated
Religion
Hindu
Educational Qualification
School: Kvmlps, Kumpalamthanam School, Kottanad
College: Govt ITI Attingal, Kerala
Degree: ITI Mechanical
Hobbies
Singing and Mimiciry
Birth Place
Trivandrum, Kerala, India
Hometown
Trivandrum, Kerala, India
Current City
Trivandrum, Kerala, India
Nationality
Indian
Suraj Venjaramoodu Facebook: https://www.facebook.com/surajofficialpage/
Suraj Venjaramoodu Twitter: Yet to be updated
Suraj Venjaramoodu Instagram: https://www.instagram.com/surajvenjaramoodu/
Interesting facts about Suraj Venjaramoodu
In his career, he has been recognized with eight different awards like National Film Awards, Asiavision Awards, Asianet Comedy Awards etc.,
As a dubbing artist, he has dubbed voices for leading actors like Rajan P Dev and Mammooty.
Suraj Venjaramoodu appeared as a chief guest for the show Comedy Stars Season 2
Suraj Venjaramoodu Images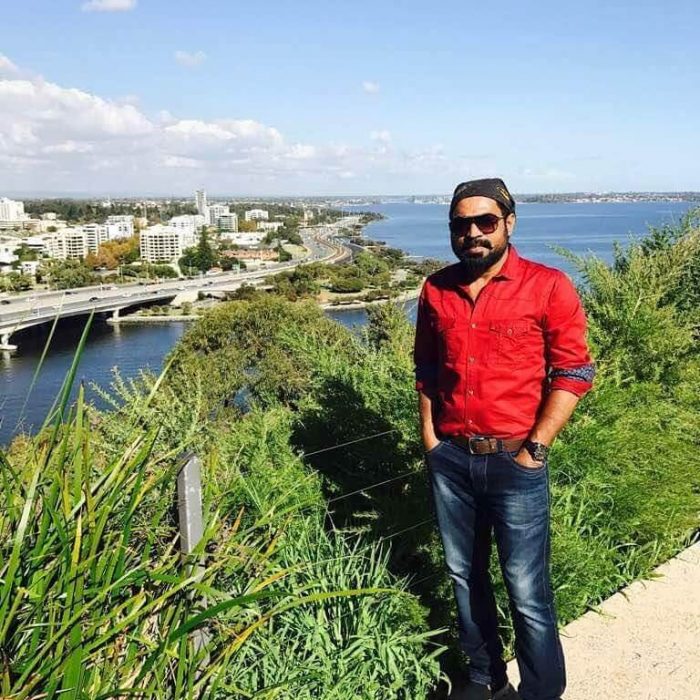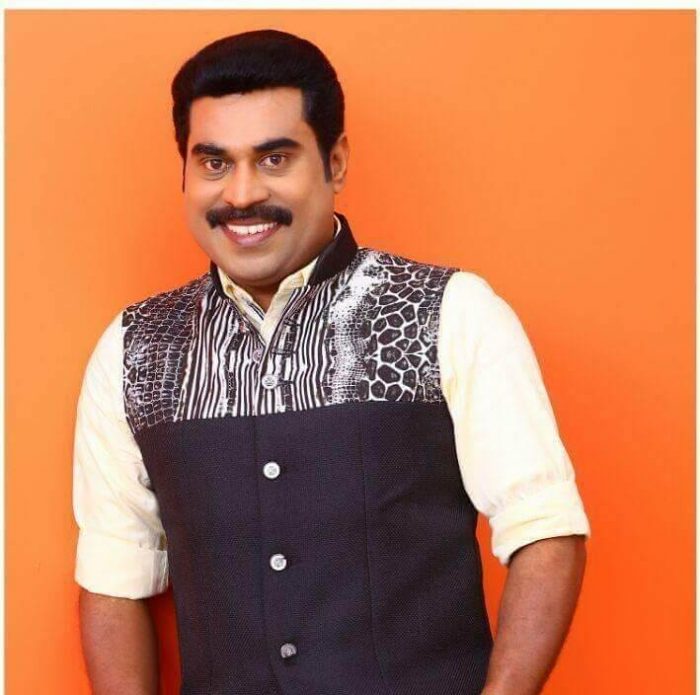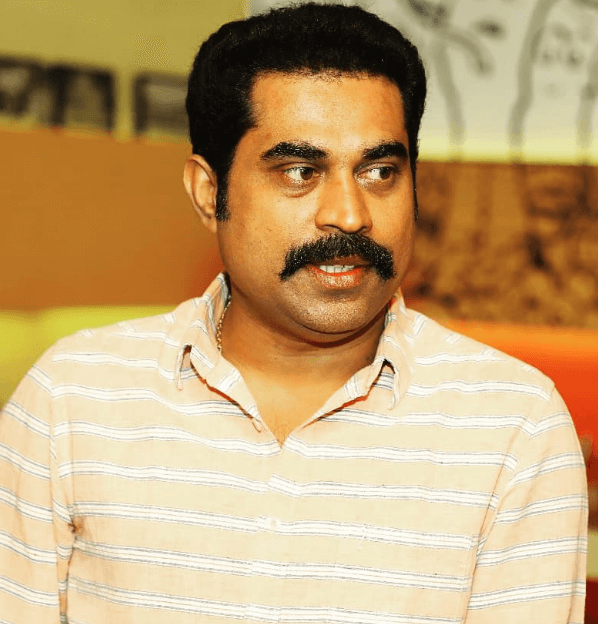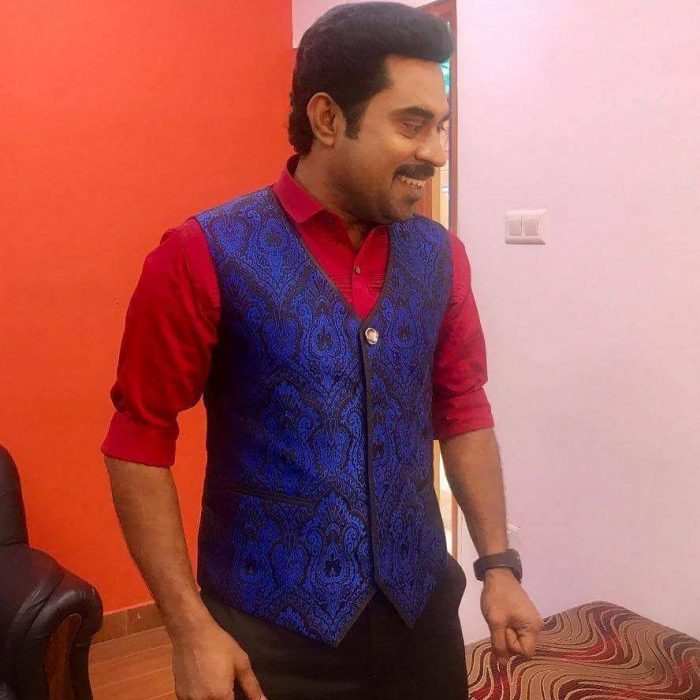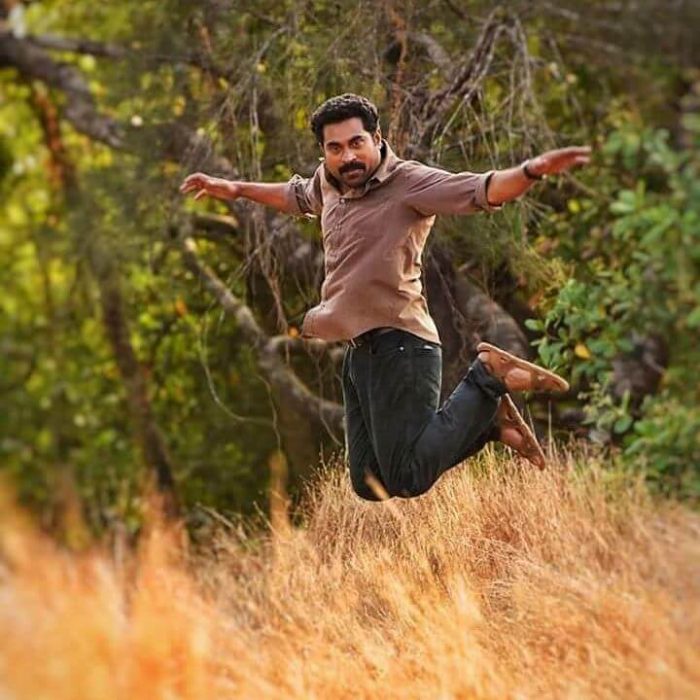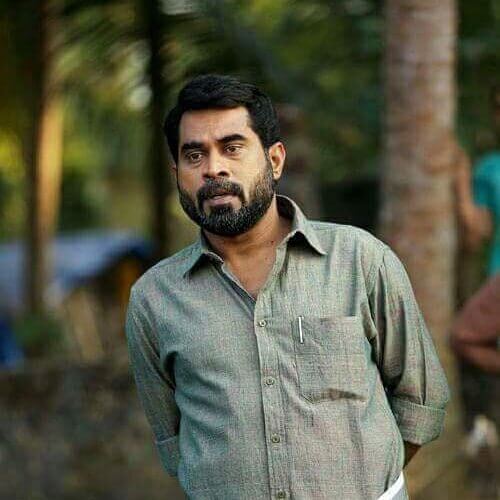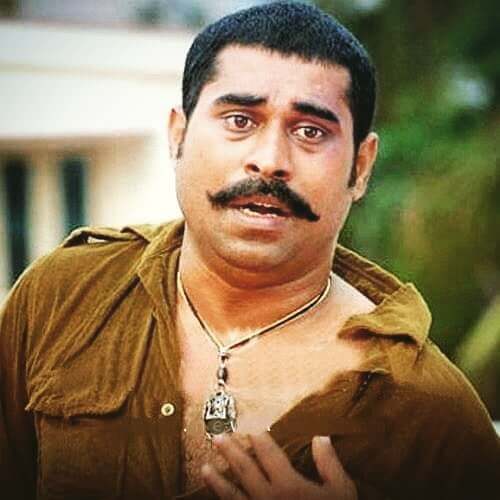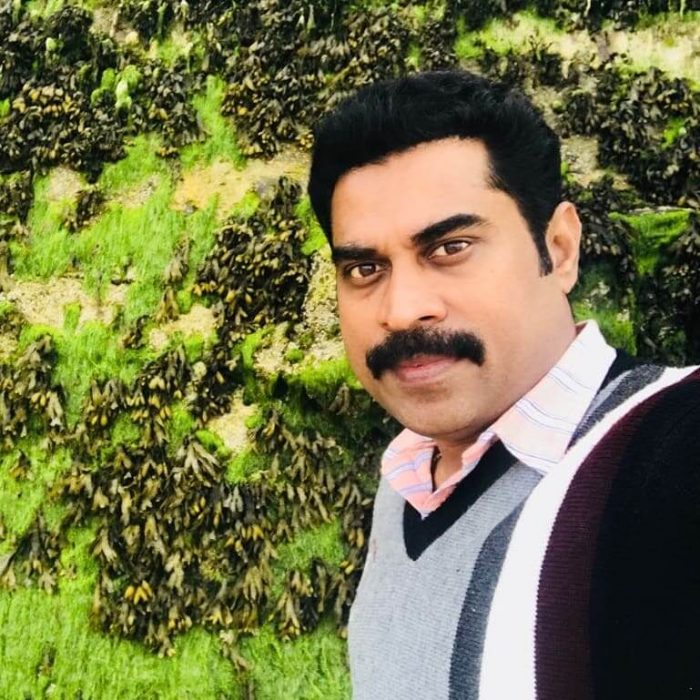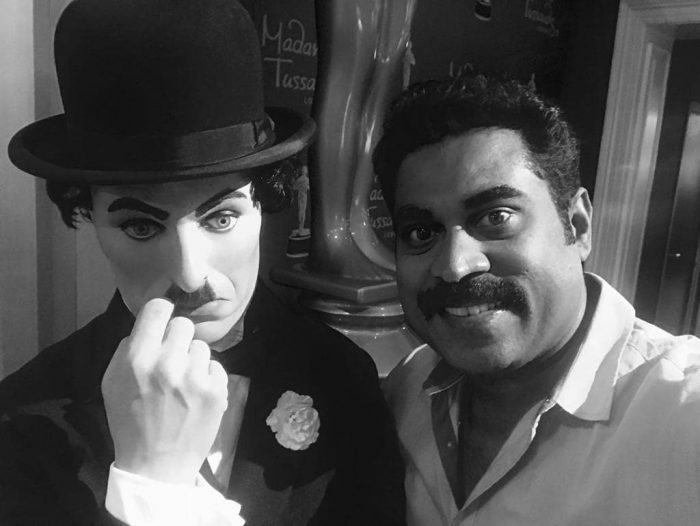 Suraj Venjaramoodu Movies
Year
Title
Role
2018
Neerali
2018
Aana alaralodalaral
2018
Theevandi
2018
Njan Marykutty
2018
Peranbu
2018
Kuttanpillayude Sivarathri
Kuttan Pillai
2018
SAVARI
Savari
2018
Aabhaasam
2018
Parole
2018
Hey Jude
2017
Varnyathil Aashanka
Dayanandhan
2017
Vilakkumaram
Fawas Ali
2017
Dance Dance
2017
Devayanam
2017
Aby
Xavier
2017
Thondimuthalum Driksakshiyum[10]
Prasad
2017
Role Models
News Reporter
2017
Munthirivallikal Thalirkkumbol
Thilothaman
2016
Pulimurugan
Poongayi Sasi
2016
Oru Muthassi Gadha
Siby
2016
Dooram
2016
Karinkunnam 6'S
Nelson
2016
Campus Diary
2016
Anyarku Praveshanamilla
Valanjavazhi shinjo
2016
Angane Thanne Nethave… Anjettennam Pinnale
2016
Shajahanum Pareekuttiyum
Detective Mathews
2016
Aneezya
2016
Kochavva Paulo Ayyappa Coelho
Susheelan Kochettan
2016
Oru Murai Vanthu Parthaya
Ghost hunter Suni
2016
Kammatipaadam
Sumesh
2016
Action Hero Biju
Pavithran
2015
Two Countries
Jimmy
2015
Female Unnikrishnan
Unnikrishnan
2015
Ben
Justin
2015
Valiya Chirakulla Pakshikal (Birds With Large Wings)
Minister
2015
Jamna Pyari
S.P Sabu
2015
Madhura Naranga
Kasargod Ibrahim (Icha)
2015
Samrajyam II: Son of Alexander
Theeppori Thankappan
2015
Life of Josutty
Varkey
2015
She Taxi
2015
Aashamsakalode Anna
2015
Chandrettan Evideya
Ilayath (Astrologer)
2015
Perariyathavar
Father (200th Film)
2015
Ammakkoru Tharattu
2015
Elanjikkavu P.O
2014
Sreenivasan Paranja Kadha
2014
Cousins
Poly
2014
Vellivelichathil
2014
Bhaiyya Bhaiyya
Soman
2014
Garbhasreeman
Sudheendran
2014
Ulsaha Committee
Natholi
2014
How Old Are You
Benny
2014
Law Point
Kurian Jose
2014
Polytechnic
2014
Ring Master
Shravan
2014
Pedithondan
2014
Malayalakkara Residency
Advocate Sreekesh Kumar BA,LLB
2014
Ettekal Second
2013
Good, Bad, Ugly
Benz Vasu
2013
Ms. Lekha Tharoor Kanunnathu
Edison Igneius
2013
Nadodimannan
Sarasappan
2013
Ezhu Sundara Rathrikal
Prem Raj
2013
Daivathinte Swantham Cleetus
Kunjachan
2013
Vishudhan
Thomachan
2013
Pigman
Dr Daniel
2013
Pullipulikalum Aattinkuttiyum
Mamachan
2013
Left Right Left
Superintendent of Police (S.P.) Mohammed Bilal
2013
God for Sale: Bhakthi Prasthanam
Kamalahasanan,Bhaskaran
2013
Abhiyum Njanum
S. P. Mahesh
2013
Rebecca Uthup Kizhakkemala
Balan
2013
Isaac Newton S/O Philipose
Kottur Stephen
2013
My Fan Ramu
2013
Ithu Manthramo Thanthramo Kuthanthramo
S.I. Premlal
2013
Red Wine
Joe Sebastian
2013
Kutteem Kolum
Chandran
2013
Sound Thoma
Uruppadi
2013
Proprietors: Kammath & Kammath
Sebastien Kuzhiveli
2012
Manthrikan
Usthad Maambaram Maayankutty Sheikh/Payaruvila Pappan
2012
Padmasree Bharat Dr. Saroj Kumar
Muttathara Babu
2012
Vellaripravinte Changathi
Himself (Cameo appearance)
2012
Kunjaliyan
Preman
2012
Ee Thirakkinidayil
2012
Doctor Innocent aanu
2012
Mullassery Madhavan Kutty Nemom P. O.
2012
Mallu Singh
Susheelan
2012
Thalsamayam Oru Penkutty
Shibulal
2012
Perinoru Makan
Sugunan
2012
Spirit
Muralikrishnan,Minister for Tourism and Cultural Affairs
2012
Bhoopadathil Illatha Oridam
Opposition Leader
2012
Lakshmi vilasam renuka makan Raghuraman
2012
Ezham Suryan
2012
Gruhanathan
Thampan
2012
Kaashh
as a trickster
2012
Husbands in Goa
Vasco
2012
Mr. Marumakan
Chantha Hamsa
2012
Josettande Hero
2012
Thiruvambadi Thamban
2012
Prabhuvinte Makkal
2012
Oru Kudumba Chithram
Govardhanan
2012
101 Weddings
Sundareshan
2012
Ardhanaari
Police
2012
Scene Onnu Nammude Veedu
2011
Note Out
Vasu
2011
The Metro
Sujathan
2011
Arjunan Saakshi
2011
Makeup Man
production controller
2011
Khaddama
Usman
2011
Ninnishtam Ennishtam 2
2011
Mohabbath
2011
Shankaranum Mohananum
2011
Kottarathil Kutti Bhootham
2011
Priyappetta Nattukare
2011
Nadakame Ulakam
2011
Kunjettan
2011
Ulakam Chuttum Valiban
Thief
2011
Film Star
2011
Shivapuram
2011
Christian Brothers
Chef
2011
China Town
Chandran Valanjavazhi
2011
Three Kings
2011
Seniors
Thavala Thampi
2011
Lucky Jokers
2011
Kanakompathu
2011
Adaminte Makan Abu
Hyder
2011
Teja Bhai & Family
Rajaguru Vashyavachassu
2011
Kadhayile Nayika
Sugunan
2011
Doubles
Adv. Lawrence
2011
Pachuvum Kovalanum
2011
Sandwich
Andipetty Naykkar
2011
Happy Durbar
2011
Innanu Aa Kalyanam
2011
Venicile Vyaapari
Chandran Pillai
2011
Oru Marubhoomikkadha
Koya
2010
Happy Husbands
Rajappan
2010
Drona 2010
Raghu Uthaman
2010
Cheriya Kallanum Valiya Policum
S.I Simon Sebastian
2010
Thanthonni
Acchu-Sidekick of Prithviraj
2010
Bhramaasthram
2010
Payyans
2010
Sarkar Colony
2010
Bombay Mittai
2010
Koottukaar
100th Film
2010
Pramaani
Maoist Murugan
2010
Senior Mandrake
S.I Kidukkan
2010
Pokkiri Raja
Idi-Vettu Sugunan
2010
Nallavan
Chittaranjan muthalaali
2010
Plus Two
Professor
2010
Oru Naal Varum
Driver Girijan
2010
Thaskara Lahala
2010
Malarvaadi Arts Club
2010
Neelambari
2010
Sakudumbam Shyamala
Kollamkaavu pappan
2010
Ammanilavu
2010
Advocate Lakshmanan – Ladies Only
Gumasthan
2010
Nirakazhcha
2010
3 Char Sau Bees
2010
Puthumughagal
Sandeep Menon
2010
Shikkar
Barber Kuttappan
2010
Elsamma Enna Aankutty
Broker Thomachan
2010
Swantham Bharya Zindabad
2010
Chekavar
2010
Oridathoru Postman
2010
Four Friends
2010
Kaaryasthan
Sidekick of Dileep (vadivelu)
2010
Best of Luck
shangai pushpan
2010
College Days
2010
Oru Small Family
Bejoysh
2010
Again Kasarkode Kaderbhai
Police officer
2009
Bharya Swantham Suhurthu
2009
Love in Singapore
Peethambharan Kalarikkavila
2009
Hailesa
Ulpalaksha pankajaksha markendayen
2009
Currency
Indrabalan
2009
Shudharil Shudhan
2009
Dr. Patient
Indrabalan
2009
Samastha Keralam PO
Abdu
2009
Venal Maram
Manoharan
2009
Ivar Vivahitharayal
Adv. Mannanthala Susheel Kumar
2009
Ee Pattanathil Bhootham
Shishupalan
2009
Rahasyappolice
Prayikara Appy
2009
Operation Duryodhana
2009
Daddy Cool
Mayankutty
2009
Oru Black And White Kudumbam
Manjulan
2009
Kaana Kanmani
Bhaskaran
2009
Loudspeaker
Counselor (Eswarapilla Kumarapillai alias e.p.ku.pi)
2009
Duplicate
Shivankutty/Jeevanraj
2009
Parayan Marannathu
2009
Kerala Cafe
Kunjappayi
2009
Utharaswayamvaram
Pathalam Shaji
2009
Kappal Muthalaali
Josekutty
2009
Gulumal: The Escape
A T S Shambhu
2009
My Big Father
Brother of Kaniha
2009
Chattambinaadu
Dasamoolam
2008
College Kumaran
Bhargavan
2008
Shakespeare M.A. Malayalam
Chalikkad Joshy(Junior ONV)
2008
Pachamarathanalil
2008
Malabar Wedding
Pookkatta Satheeshan
2008
Annan Thambi
2008
One Way Ticket
2008
Madambi
Thallu Kolli (Keedam)
2008
Parunthu
Mahendran
2008
Veruthe Oru Bharya
Ali
2008
Kurukshetra
2008
Mayabazar
Paachu
2008
Twenty:20
Ramu
2008
LollyPop
Jabbar
2008
Mulla
Bijumon
2008
Sultan
2008
Kabadi Kabadi
Rameshan
2007
Mayavi
Giri
2007
Chotta Mumbai
Suni
2007
Rakshakan
2007
Hallo
Inspector
2007
Arabikkatha
James Thiruvanathapuram
2007
Romeo
2007
Nadiya Kollappetta Rathri
Thathamangalam Muthuraj
2007
Veeralipattu
Pavithran
2007
Ali Bhai
Podi paaty Kujashu
2007
Rock & Roll
Music composer Maharaja (P. P. Shiju)
2007
Subadram
2007
Sketch
Bhaskaran
2007
Flash
2007
Katha Parayumbol
Pappan Kudumaloor
2007
Kanaka Simhasanam
Gopalan
2007
Kangaroo
Babychan
2006
Classmates
Ousepp
2006
Rasathanthram
Suresh
2006
Thuruppu Gulan
2006
Pachakkuthira
2006
Rashtram
Pashupathi
2006
Shyamam
Sankaran
2005
Bus Conductor
Bus Conductor
2005
Kalyana Kurimanam
Sugunan
2005
Achuvinte Amma
Bus Conductor
2004
Sethurama Iyer CBI
Broker
2004
Rasikan
2004
Kottaram Vaidyan
Veeramani
2003
Anyar
Minor role
2002
Basket
2002
Jagapoga
Dada Sahib / Pachu (double role)
2001
Sukhamo Sukam
2001
Ladies & Gentleman
Suraj Venjaramoodu Television Shows
| Year | Title | Role | Channel |
| --- | --- | --- | --- |
| 2002 | Sandanagopalam | Actor | Asianet |
| 2003-2005 | Sanmanassullavarkku Samadhanam | Actor | Asianet |
| 2004 | Ladies Hostel | Actor | Asianet |
| 2011-2012 | Comedy Stars Season 1 | Judge | Asianet |
| 2013 | Jagapoga | Anchor | Kairali TV |
| 2013 | Bhima Jewels Comedy Festival | Judge | Mazhavil Manorama |
| 2013 | Bharthanganmarude Sradhakku | Judge | Asianet |
| 2014-2017 | Manampole Mangalyam | Host | JaiHind TV |
| 2015-2016 | Comedy Super Nite | Anchor | Flowers (TV channel) |
| 2015 | Junior Chanakyan | Actor | Flowers TV |
| 2016 | Sell me the answer | Temporary Host (in for Mukesh) | Asianet |
| 2016 – 2017 | Deal Or No Deal | Host | Surya TV |
| 2017–2018 | Comedy Super night 3 | Anchor | Flowers TV |
| 2017 | Midukki | Judge | Mazhavil Manorama |
| 2018 – present | Thakarppan Comedy Mimicry mahamela | Judge / Anchor | Mazhavil Manorama |
Awards
National Film Awards
2013: Best Actor – Perariyathavar (Directed By Dr. Biju)
South Indian International Movie Awards
2013: SIIMA for Best Comedian- Malayalam
Kerala State Film Awards
2013: Best Comedy Artist – Daivathinte Swantham Cleetus , Pullipulikalum Aattinkuttiyum
2010: Best Comedy Artist – Oru Naal Varum
2009: Best Comedy Artist – Ivar Vivahitharayal
Asianet Film Awards
2017: Best Character Actor – Thondimuthalum Drisakshyum
2014: Best Actor in a Comic Role – Cousins
2011: Best Actor in a Comic Role – Various films
2010: Best Actor in a Comic Role – Various films
2007: Best Actor in a Comic Role – Hallo
Asianet Comedy Awards
2016: Multifaceted talent
2017: Top TV performance
Asiavision Awards
2013 – Asiavision Awards – Best Comedian[
Janmabhoomi film awards
Pravasi Express Awards Singapore
2018: Pravasi Express Acting Excellence Award
Suraj Venjaramoodu As dubbing artist
Ivan Maryadaraman – Voice for cycle
rajamanikyam – For Mammootty
Shivam – For Rajan P Dev