Srikanth (Telugu Actor) Wiki, Biography, Age, Movies, Family, Images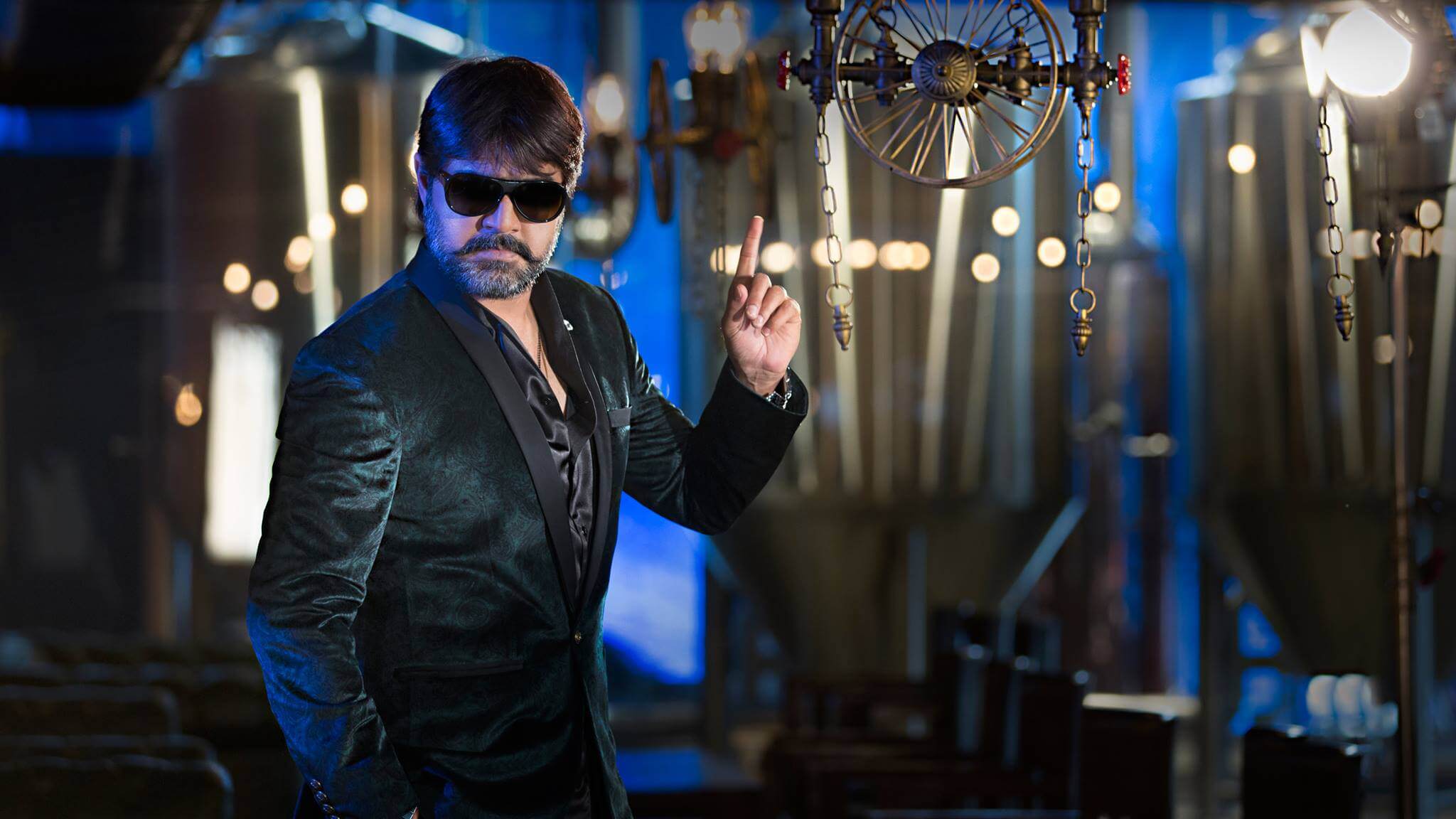 Meka Srikanth is an Indian movie actor, who is well-known for his work in Telugu film industry. He made his acting debut with the Tollywood movie "People's Encounter," directed by Mohan Gandhi in the year 1991. Moreover, he was the recipient of two state Nandi Awards and one Filmfare Award South.
Read other Biographies: Mukesh Rishi | Rishi (Actor) | Achyuth Kumar | Suman Ranganathan | Suhasini | Radhika Chetan

Srikanth Early Life and Career
Srikanth was born on 23 March 1968 in Gangavati, Koppal District, Karnataka, India. Meka Srikanth family is now residing in Hyderabad, Telangana, India. His father name is Parameswara Rao and his mother name is Jhansi Lakshmi. He has two siblings, a sister named Uma Maheshwari and a brother named Anil. He finished his graduation in BCom at CSI College of Commerce, Karnataka University, Dharwad, Karnataka. Then he has also completed a diploma course in film institute of Hyderabad. Meka Srikanth wife name is Ooha and they got married on January 20 1997. The couple has two sons and a daughter named Roshan and Rohan and a daughter named Medha.
Srikanth started his acting career in the year 1991, with the Mohan Gandhi's Telugu movie "People's Encounter," along with Vinod Kumar and Bhanupriya. In his initial period, he worked in the minor role as villain and supporting artist for many movies. In the year 1993, Srikanth acted as a lead actor with the Shiva Nageswara Rao's movie "One by Two," along with J. D. Chakravarthy and Nirosha. In his career, he worked with some of the prominent directors like S.V. Krishna Reddy, Krishna Vamsi, Jayanth C. Paranjee, G. Neelakanta Reddy and more. Srikanth has also starred in the hit movies like Varasudu, Vinodam, Egire Paavurama, Aahvaanam, Maa Nannaki Pelli, Khadgam, Shankar Dada M.B.B.S and more. In his acting career, he has acted more than 100 movies. For his performance in the movies, Srikanth has won the Nandi Special Jury Award – Mahatma, Filmfare Best Supporting Actor Award – Shankar Dada M.B.B.S and SIIMA Award Best Supporting Actor Award – Sarrainodu.
Srikanth Biography
| | |
| --- | --- |
| Name | Srikanth |
| Real Name | Meka Srikanth |
| Nickname | Srikanth |
| Profession | Actor |
| Date of Birth | 23 March 1968 |
| Age | 50 (As of January 2019) |
| Zodiac sign | Aries |
| Father Name | Parameswara Rao |
| Mother Name | Jhansi Lakshmi |
| Siblings | Uma Maheshwari, Anil |
| Religion | Hindu |
| Educational Qualification | BCom  |
| School | Yet to be Updated |
| College | CSI College of Commerce, Karnataka University, Dharwad, Karnataka |
| Hobbies | Watching Movies and Cricket |
| Hometown | Gangavati, Koppal District, Karnataka, India |
| Nationality | Indian |
| Married | Yes |
| Wife Name | Ooha |
| Affairs | None |
| Children | Roshan, Rohan and Medha |
| Current City | Hyderabad, Telangana, India |
Srikanth Facebook: https://www.facebook.com/ActorSrikanthMeka/
Srikanth Twitter: https://twitter.com/actorsrikanth
Srikanth Instagram: https://www.instagram.com/meka_kanthi/
Meka Srikanth Movies List
| Year | Title | Role |
| --- | --- | --- |
| 1991 | People's Encounter | Naxalite |
| 1991 | Madhura Nagarilo | Sattiraju |
| 1992 | Seetharatnam Gaari Abbayi | Veerababu |
| 1992 | Pellam Chebite Vinali | Chinna |
| 1992 | President Gari Pellam | Narendra |
| 1993 | Hendthi Helidare Kelabeku | Kannada film |
| 1993 | Jeevitame Oka Cinema | |
| 1993 | Aashayam | A Student |
| 1993 | Ratha Saradhi | Ramineedu |
| 1993 | Varasudu | Vamsi |
| 1993 | Kondapalli Raja | Srikanth |
| 1993 | Rowdy Annayya | Gopi |
| 1993 | Donga Alludu | Giri |
| 1993 | Abbaigaru | Murari |
| 1993 | Rajeswari Kalyanam | |
| 1993 | Rowdy Gaari Teacher | Dorababu |
| 1993 | Chinna Alludu | Srikanth |
| 1993 | One By Two | Balaji |
| 1994 | Donga Rascal | Srikanth |
| 1994 | Nyaya Rakshana | |
| 1994 | Jantar Mantar | Srikanth |
| 1994 | Aame | Anjineelu |
| 1995 | Love Game | Raghu |
| 1995 | Ghatotkachudu | Arjuna |
| 1995 | Patabasti | Ajay |
| 1995 | Taj Mahal | Amar |
| 1995 | Ooriki Monagaadu | Rambabu |
| 1995 | Simha Garjana | Teja |
| 1996 | Pelli Sandadi | Vijay Krishna |
| 1996 | Kuthuru | Srikanth |
| 1996 | Vetagadu | Inspector Kiran |
| 1996 | Once More | Sitaram |
| 1996 | Prema Prayanam | Sanjay |
| 1996 | Vinodam | Raja |
| 1997 | Thaali | Dorababu |
| 1997 | Egire Paavurama | Balu |
| 1997 | Aahvaanam | Ravi |
| 1997 | Taraka Ramudu | Ramudu |
| 1997 | Hello I Love You | Revanth |
| 1997 | Maa Nannaki Pelli | Balaraju |
| 1998 | Ooyala | Raja |
| 1998 | Nidhi | Ramu |
| 1998 | Pandaga | Anand |
| 1998 | Gilli Kajjalu | Suresh |
| 1998 | Kanyadanam | Niwas |
| 1998 | Suprabhatam | Gopala Krishna |
| 1998 | Chandralekha | Himself |
| 1998 | Gamyam | Kamal |
| 1998 | Subalekhalu | Sri |
| 1998 | Aayanagaru | Madhu |
| 1999 | Manikyam | Manikyam |
| 1999 | English Pellam East Godavari Mogudu | Sambasiva Rao |
| 1999 | Manasulo Maata | Vasanth |
| 1999 | Anaganaga O Ammayi | Vishnu |
| 1999 | Pilla Nachchindi | Dattu |
| 1999 | Panchadara Chilaka | Murali |
| 1999 | Preyasi Rave | Vamsi |
| 2000 | Kshemamga Velli Labamgarandi | Ravi |
| 2000 | Chala Bagundi | Vamsi |
| 2000 | Choosoddaam Randi | Bhimavaram Buchi Babu |
| 2000 | Ninne Premistha | Kalyan |
| 2000 | Ammo! Okato Tareekhu | Pattabhi |
| 2000 | Devullu | Lord Srirama |
| 2000 | Tirumala Tirupati Venkatesha | Venkatesha |
| 2000 | Sakutumba Saparivaara Sametam | Vamsi |
| 2001 | Maa Aavida Meedottu Mee Aavida Chala Manchidi | Jagadesh |
| 2001 | Deevinchandi | Siva |
| 2001 | Kalisi Naduddam | Krishna |
| 2001 | Manasista Raa | Shankar |
| 2001 | Prema Sandadi | Krishna |
| 2001 | Darling Darling | Chinni |
| 2002 | O Chinnadana | Rajesh / Narasimha |
| 2002 | Adutu Padutu | Gopi |
| 2002 | Tappuchesi Pappukoodu | Kappaganthula Ramesh |
| 2002 | Khadgam | A.C.P. Radha Krishna |
| 2003 | Pellam Oorellthe | Vivek |
| 2003 | Ottesi Cheptunna | Surya |
| 2003 | Donga Ramudu and Party | Ramakrishna |
| 2003 | O Radha Iddaru Krishnula Pelli | Viswa |
| 2003 | Nenu Pelliki Ready | Gopi |
| 2003 | Neeke Manasichchanu | Vivek |
| 2004 | Intlo Srimathi Veedhilo Kumari | Sukumar |
| 2004 | Leta Manasulu | Raju |
| 2004 | Swarabhishekam | Srirangam Ranga Chary |
| 2004 | Shankar Dada M.B.B.S. | ATM / Any Time Murder |
| 2005 | Sankranthi | Vishnu |
| 2005 | Radha Gopalam | Gopalam |
| 2005 | Kanchanamala Cable TV | Sudarshanam |
| 2006 | Sarada Saradaga | Raghava |
| 2006 | Evandoyi Sreevaru | Surya |
| 2006 | Mayajalam | Vamsi |
| 2006 | Sri Krishna 2006 | Takhada Ramakrishna |
| 2007 | Aadilakshmi | Aadi Shankar |
| 2007 | Ugadi | Arjun |
| 2007 | Operation Duryadhona | Mahesh / Bhagavanthudu |
| 2007 | Shankardada Zindabad | ATM / Any Time Murder |
| 2007 | Yamagola Malli Modalayindi | Yuva Yama Dharma Raju |
| 2008 | Michael Madana Kamaraju | Madan |
| 2008 | Nagaram | Right |
| 2008 | Kousalya Supraja Rama | Sriram |
| 2009 | Mahatma | Dasu |
| 2009 | A Aa E Ee | Chandram |
| 2010 | Ranga The Donga | Ranga / Bhavani Prasad |
| 2011 | Dushasana | Mahesh / Common Man |
| 2011 | Virodhi | Own Production |
| 2011 | Sri Rama Rajyam | Lakshmana |
| 2012 | All the Best | Ravi |
| 2012 | Shirdi Sai | Nagarjuna |
| 2012 | Lucky | Lakshmi Narayana |
| 2012 | Devaraya | Sri Krishnadevaraya & Dorababu |
| 2013 | Satruvu[9] | Shankar |
| 2013 | Sevakudu | Surya |
| 2013 | Shadow | A.C.P. Pratap |
| 2014 | Kshatriya | Surya |
| 2014 | Malligadu Marriage Bureau | Malli |
| 2014 | Veta | Jagan |
| 2014 | Mondodu | |
| 2014 | Govindudu Andarivadele | Bangari |
| 2014 | Natu Kodi | |
| 2014 | Veediki Dookudekkuva | |
| 2015 | Dhee Ante Dhee | Radha Krishna |
| 2014 | Jalsa Rayudu | |
| 2016 | Terror | Vijay |
| 2016 | Sarrainodu | Sripati |
| 2016 | Mental Police | |
| 2017 | Yuddham Sharanam | Nayak |
| 2017 | Villain | Felix |
| 2018 | The Villain | Kaizar |
| 2017 | Raa Raa | |
| 2018 | Operation 2019 | |
| 2018 | Pellante | |
| 2018 | Kothala Rayudu | |
Srikanth Awards
Nandi Special Jury Award – Mahatma
Filmfare Best Supporting Actor Award – Shankar Dada M.B.B.S.
SIIMA Award Best Supporting Actor Award – Sarrainodu
Srikanth Images
Read other Biographies: Anu Prabhakar | Raghu Mukherjee | Prajwal Devaraj | Leslie Tripathy | Ann Sheetal | Aditi Arya