Sharath Lohitashwa Wiki, Biography, Age, Movies, Images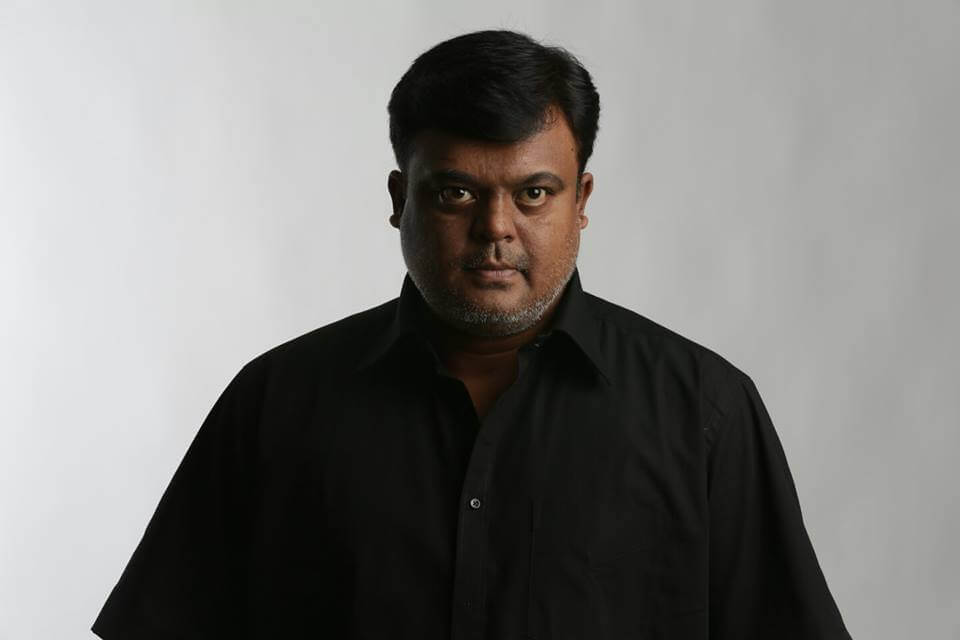 Sharath Lohitashwa is an Indian movie as well as a stage actor, who predominantly works in Kannada and Tamil film industry. He made his debut Kannada movie Police Story in the year 1996. He made his debut movie for the movie Ethir Neechal in the year 2013. Now he is working in two movies Ulkuthu is a Tamil movie and March 22 is a Kannada movie. Check out below for Sharath Lohitashwa Wiki, Biography, Age, Movies, Images.
Read also: Sai Pallavi | Tejas Gowda | Huma Qureshi | Pavani Reddy | Sarjun KM | Roshan Abdul Rahoof 
Sharath Lohitashwa Early Life and Career
Sharath Lohitashwa was born on May 5, 1972, in Thondagere, Tumkur, Karnataka, India. Sharath Lohitashwa father Lohitashwa is a Kannada actor and her mother Vatsala. His schooling and graduation details will be updated soon. In the beginning, he was a theatre artist, with that, he also appeared in some of the television serials that include Chidambara Rahasya which is telecasted in DD Chandana and the serial Kichchu was shown in ETV Kannada. By seeing his acting he was credit with more Kannada films and by his acting, he gained good name among the people. Then in these movies Aa Dinagalu, Sanju Weds Geetha and Bheema Theeradalli his role makes him well-known across Karnataka. Most of the people don't know that he is a good singer as well. He had sung more songs for several drams that he acted, with that he thought that theatre is the root of all creativity and performance.
Sharath Lohitashwa Biography
| | |
| --- | --- |
| Name | Sharath Lohitashwa |
| Real Name | Sharath Lohitashwa |
| Nickname | Sharath |
| Profession | Indian film actor |
| Date of Birth | 5 May 1972 |
| Age | 46 |
| Father Name | Lohitashwa |
| Mother Name | Vatsala |
| Height | 6'0" |
| Weight | 85 Kg |
| Religion | Hindu |
| Educational Qualification | Yet to be updated |
| School | Yet to be updated |
| College | Yet to be updated |
| Hobbies | Acting, Traveling |
| Hometown | Thondagere, Tumkur, Karnataka, India |
| Nationality | Indian |
| Married | Yes |
| Wife Name | Suchitra |
| Current City | Karnataka, India |
Sharath Lohitashwa Facebook: https://www.facebook.com/sharath.lohithaswa
Sharath Lohitashwa Twitter: Yet to be updated
Sharath Lohitashwa Instagram: Yet to be updated
Sharath Lohitashwa Movies list
| Year | Film | Language | Role | Notes |
| --- | --- | --- | --- | --- |
| 1996 | Police Story | Kannada | Dharma | |
| 1999 | Durga Shakthi | Kannada | Shivmuttu | |
| 2003 | Paris Pranaya | Kannada | | |
| 2003 | Huchana Maduveli Undone Jaana | Kannada | | |
| 2003 | Singaravva | Kannada | | |
| 2003 | Khaki | Kannada | | |
| 2004 | Monda | Kannada | | |
| 2004 | Sarvabhowma | Kannada | | |
| 2004 | Jyeshta | Kannada | | |
| 2005 | Giri | Kannada | | |
| 2006 | Suntaragaali | Kannada | | |
| 2006 | Kallarali Hoovagi | Kannada | | |
| 2007 | Aa Dinagalu | Kannada | Kotwal Ramachandra | |
| 2007 | Janapada | Kannada | | |
| 2007 | Ondu Preethiya Kathe | Kannada | | |
| 2008 | Mandakini | Kannada | | |
| 2008 | Bidda | Kannada | | |
| 2008 | Arjun | Kannada | | |
| 2008 | Yuga Yugagale Sagali | Kannada | | |
| 2009 | Kencha | Kannada | | |
| 2009 | Nanda | Kannada | | |
| 2009 | Ninnalle | Kannada | | |
| 2009 | Raam | Kannada | | |
| 2009 | Hatrick Hodi Maga | Kannada | Kapali | |
| 2010 | Gandedhe | Kannada | | |
| 2010 | Punda | Kannada | Bhoja | |
| 2010 | Porki | Kannada | | |
| 2010 | Thamassu | Kannada | | |
| 2010 | Gundragovi | Kannada | | |
| 2010 | Jugari | Kannada | | |
| 2010 | Meshtru | Kannada | | |
| 2010 | Nanjanagoodu Nanjunda | Kannada | | |
| 2010 | Vichithra Premi | Kannada | | |
| 2011 | Manasina Maathu | Kannada | | |
| 2011 | Suicide | Kannada | | |
| 2011 | Sanju Weds Geetha | Kannada | | |
| 2011 | Rajadhani | Kannada | Manohar | |
| 2011 | Saarathi | Kannada | | |
| 2011 | Vishnu | Kannada | | |
| 2012 | Bheema Theeradalli | Kannada | Mallappa | |
| 2012 | Cyber Yugadol Nava Yuva Madhura Prema Kavyam | Kannada | | |
| 2012 | Edegarike | Kannada | | |
| 2012 | Gavipura | Kannada | | |
| 2012 | Parie | Kannada | | |
| 2012 | Sagar | Kannada | | |
| 2012 | Shakti | Kannada | | |
| 2012 | Shikari | Kannada / Malayalam | | |
| 2013 | Varadhanayaka | Kannada | | |
| 2013 | Gajendra | Kannada | | |
| 2013 | Jinke Mari | Kannada | | |
| 2013 | Kumbha Rashi | Kannada | | |
| 2013 | Khatharnak | Kannada | | |
| 2013 | Parari | Kannada | | |
| 2013 | Bangari | Kannada | | |
| 2013 | Madarangi | Kannada | | |
| 2013 | Ziddhi | Kannada | | |
| 2013 | Sweety Nanna Jodi | Kannada | | |
| 2013 | Sthree Shakthi | Kannada | | |
| 2013 | Bulbul | Kannada | | |
| 2013 | Kaddipudi | Kannada | Shankarappa | Nominated, Filmfare Award for Best Supporting Actor – Kannada |
| 2013 | Dilwala | Kannada | | |
| 2013 | Tony | Kannada | | |
| 2013 | Ethir Neechal | Tamil | Valli's father | |
| 2013 | Election | Kannada | Vishwanath | |
| 2013 | Pandiya Naadu | Tamil | Simmakal Ravi | Nominated, Vijay Award for Best Villain |
| 2014 | Ambareesha | Kannada | | |
| 2014 | Power | Kannada | | |
| 2014 | Rangan Style | Kannada | | |
| 2014 | Matte Satyagraha | Kannada | Raje Gowda | Karnataka State Film Award for Best Supporting Actor |
| 2014 | Sadagara | Kannada | | |
| 2014 | Just Love | Kannada | Dheerendra Gowda | |
| 2014 | Savari 2 | Kannada | | |
| 2014 | Nakara | Kannada | | |
| 2014 | Usirigintha Neene Hattira | Kannada | | |
| 2014 | Jaggi | Kannada | | |
| 2014 | Central Jail | Kannada | | |
| 2014 | Pandya | Kannada | | |
| 2014 | Thirupathi Express | Kannada | | |
| 2015 | Shivam | Kannada | | |
| 2015 | DK | Kannada | MP Shive Gowda | |
| 2015 | Mutthina Maleyali | Kannada | | |
| 2015 | Nagaari | Kannada | | |
| 2015 | Male Nilluvavarege | Kannada | | |
| 2015 | Rebel | Kannada | | |
| 2015 | Muraari | Kannada | | |
| 2015 | Ganga | Kannada | | |
| 2015 | Kiragoorina Gayyaligalu | Kannada | | |
| 2015 | Ranna | Kannada | | |
| 2015 | Masss | Tamil | Anthony | |
| 2015 | India Pakistan | Tamil | Sampath | |
| 2016 | Maduveya Mamatheya Kareyole | Kannada | | |
| 2016 | Preethiyalli Sahaja | Kannada | | |
| 2016 | Kala Bhairava | Kannada | | |
| 2016 | Thirunaal | Tamil | Naaga | |
| 2016 | Mudinja Ivana Pudi / Kotigobba 2 | Tamil / Kannada | | |
| 2016 | Kaashmora | Tamil | | |
| 2017 | Bairavaa | Tamil | Union minister | |
| 2017 | Chowka | Kannada | | |
| 2017 | Bangara s/o Bangarada Manushya | Kannada | | |
| 2017 | Bongu | Tamil | Pandian | |
| 2017 | Sathriyan | Tamil | samuthiram | |
| 2017 | Dada is Back | Kannada | Delli | |
| 2017 | Jai Lava Kusa | Telugu | One Negative role | Debut Telugu Film |
| 2017 | Karuppan | Tamil | Varasanattu Perusu | |
| 2017 | Sakka Podu Podu Raja | Tamil | Kasimedu Das | |
| 2017 | Velaikkaran | Tamil | Doss | |
| 2017 | Ulkuthu | Tamil | Kaaka Mani | |
| 2018 | March 22 | Kannada | Basavana Gowda Patil | Filming |
Sharath Lohitashwa Awards
Karnataka State Film Awards
2013: Best Supporting Actor: Matthe Satyagraha
Udaya Sunfeast Awards
2008 – Won – Best Villain Award for Aa Dinagalu
Airtel Kasturi Awards
2008 – Won – Best Villain Award for Aa Dinagalu
Mysore Minerals' Awards
2008 – Won – Best Supporting Actor for Aa Dinagalu
Filmfare Awards
2008 – Won – Filmfare Award for Best Supporting Actor in Kannada cinema for Aa Dinagalu
2013 – Nominated – Filmfare Award for Best Supporting Actor – Kannada for Kaddipudi
South Indian International Movie Awards
2012: Nominated, Best Actor in a Negative Role – Kannada: Bheema Theeradalli
2014: Nominated, Best Actor in a Negative Role – Kannada: Ambareesha
Bangalore Times Film Awards 2012
2012 – Nominated – Best Actor in a Negative Role for Bheema Theeradalli
Sharath Lohitashwa Images
Read also: Sai Pallavi | Tejas Gowda | Huma Qureshi | Pavani Reddy | Sarjun KM | Roshan Abdul Rahoof | Ritu Varma | Priya Prakash Varrier | Priyanka Deshpande | Raiza Wilson | Oviya Helen | Maria Juliana | Priya Bhavani Shankar | Bindu Madhavi | Nandita Swetha