Senthil Wiki, Biography, Age, Wife, Comedy, Movies, Images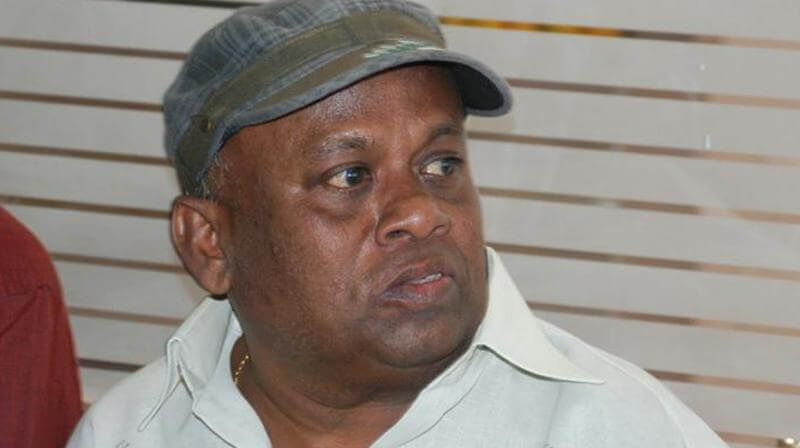 Senthil is an Indian film Actor and a well-known comedian of the Tamil film Industry. He made his movie debut in Ithikkara Pakki (1980). He has acted in many popular movies with leading actors. He usually appears in comedian roles with fellow actor Goundamani. Initially, he appeared in small characters and finally he got a good role in the film Malayoor Mambattiyan. Check out below for Senthil Wiki, Biography, Age, Wife, Comedy, Movies, Images and More.
Read other biographies: Samantha Akkineni | Sshivada | Nivetha Thomas | Nithyashree Venkataraman | Vidyullekha Raman 
Senthil Profile And Career
Senthil was born on 23 March 1951, in Ilanjambore, in Ramanathapuram District. On 14 May 1984, He married Kalaiselvi and he has two sons, Dr Manikanda Prabhu and Hemchandra Prabhu. Senthil ran away from his village at the age of 13 due to his father's scoldings. He initially worked in an oil mart and then joined in some wine shop as a waiter, and Then he joined in drama and then started developing his skills. He slowly entered the Tamil film industry in small characters, and finally sustained with leading comedy roles.
Senthil Biography
| | |
| --- | --- |
| Name | Senthil |
| Real Name | Senthil |
| Nickname | Senthil |
| Profession | Indian film actor |
| Date of Birth | 23 March 1951 |
| Age | 67 |
| Zodiac sign | Aries |
| Father Name | Ramamoorthi |
| Mother Name | Thirukammal |
| Height | 5'0" |
| Weight | 68 Kg |
| Religion | Hindu |
| Educational Qualification | Yet to be updated |
| School | Yet to be updated |
| College | Yet to be updated |
| Hobbies | Acting, Comedy, Traveling |
| Hometown | Ilanjambore, Tamil Nadu, India |
| Nationality | Indian |
| Married | Yes |
| Wife Name | Kalaiselvi |
| Current City | Chennai, Tamilnadu, India |
Senthil movies list
Thaanaa Serndha Koottam (2018)
Kalavu Thozhirchalai (2017)
Unnai Thottu Kolla Vaa (2017)
Ennama Katha Vudranunga (2016)
Vaidehi Kathirunthal (1984)
Arunachalam (1997)
Muthu (1995)
Indian (1996)
Padayappa (1999)
Anbe Anbe (2003)
Jeans (1998)
Boys (2003)
Jayam (2003)
Punnagai Poove (2003)
Satyam (2008)
Kattabomman (1993)
Vaanathai Pola (2000)
Whistle (2003)
Vadagupatti Maapillai (2001)
Hello (1999)
Kudumba Sangili (1999)
Ullathai Killathe (1999)
Sundari Neeyum Sundaran Naanum (1999)
Pudhu Kudithanam (1999)
Engal Aasan (2009)
Siddhu +2 (2010)
Coimbatore Mappillai (1996)
Irumbukkottai Murattu Singam (2010)
Sevagan (1992)
Chinnavar (1992)
Chinna Thayee (1992)
Chinna Pasanga Naanga (1992)
Endrum Anbudan (1992)
Onna Irukka Kathukanum (1992)
Government Mappillai (1992)
Ellaichami (1992)
Koyil Kaalai (1993)
Paattu Vaathiyar (1995)
En Pondatti Nallava (1995)
Varraar Sandiyar (1995)
Neela Kuyil (1995)
Coolie (1995)
Kolangal(1995)
Sandhaikku Vantha Kili (1995)
Chandralekha (1995)
Chinna Vathiyar (1995)
Thamizhachi (1995)
Asuran (1995)
Chinna Madam (1994)
Seeman (1994)
Senthamizh Selvan (1994)
Duet (1994)
Thaai Manasu (1994)
Thai Maaman (1994)
Nammavar (1994)
Nila (1994)
Sathyavan (1994)
Mettupatti Mirasu (1994)
Rasigan (1994)
Rajakumaran (1994)
Raja Pandi (1994)
Varavu Ettana Selavu Pathana (1994)
Veera Padhakkam (1994)
Veera (1994)
Sivantha Malar (1994)
Jallikattu Kaalai (1994)
Jai Hind (1994)
Vanaja Girija (1994)
Dhuruva Natchathiram (1994)
Gentleman (1993)
Rojavai Killathe (1993)
Rakkayi Koyil (1993)
Amma Ponnu (1993)
Manikuyil (1993)
Nallathe Nadakkum (1993)
Porantha Veeda Puguntha Veeda (1993)
Unnai Vaazhthi Paadugiren (1992)
Annan Ennada Thambi Ennada ~(1992)
Unna Nenachen Pattu Padichen (1992)
Oor Mariyaathai (1992)
Abhirami (1992)
Aatha Un Koyilile (1991)
Eeswari (1991)
Oorellam Un Paatu (1991)
Enga Ooru Sippoy (1991)
Phool Bane Angarey (1991)
En Rasavin Manasile (1991)
Oyilattam (1991)
Apoorva Naagam (1991)
Archana IAS (1991)
Anbu Sangili (1991)
Annan Kattiya Vazhi (1991)
Vaasalile Oru Vennila (1991)
Vetrikarangal (1991)
Vaidehi Kalyanam (1991)
Mookuthi Poomelay (1991)
Mill Thozhilali (1991)
Marikozhundhu (1991)
Pondatti Pondattithan (1991)
Pondatti Sonna Kettukanum (1991)
Naadu Adhai Naadu (1991)
Naan Pudicha Mappillai (1991)
Adhikari (1991)
Naan Valartha Poove (1991)
Nenjamundu Nermaiundu (1991)
Sendhoora Devi (1991)
Thayamma (1991)
Thoodhupo Sellakiliye (1991)
Thai Poosam (1991)
Sathan Sollai Thattathe (1990)
Neengalum Herodhan (1990)
Paattali Magan (1990)
Paalam (1990)
Pudhu Pattu (1990)
Malluvetty Minor (1990)
Maruthu Pandi (1990)
Mudhalaliyamma (1990)
Vetrimalai (1990)
Jagadala Prathapan (1990)
Silambu (1990)
Thangaikku Oru Thalattu (1990)
Enakku Oru Neethi (1990)
Enga Ooru Aattukkaran (1990)
Ooru Vittu Ooru Vandhu (1990)
Inaindha Kaigal (1990)
Aavathellam Pennale (1990)
Aatha Naan Pass Ayittaen (1990)
Amman Koil Thiruvizha (1990)
Anbukkattalai (1989)
Athaimadi Methaiadi (1989)
Enga Ooru Mappillai (1989)
Engal Annan Varattum (1989)
Karagattakaran (1989)
Kaval Poonaigal (1989)
Orey Thai Orey Kulam (1989)
Samsarame Saranam (1989)
Oorai Therinjukithen (1988)
Palaivanathil Pattampoochi (1988)
Parthal Pasu (1988)
Paimarakappal (1988)
Pattikattu Thambi (1988)
Neruppunila (1988)
Namma Oor Nayagan (1988)
Thanka Kalasam (1988)
Sudhanthira Nattin Adimaigal (1988)
Valaikappu (1988)
Uzhaithu Vazha Vendum (1988)
Thaimel Aanai (1988)
Ullathil Nalla Ullam (1988)
Thambi Thanga Kambi (1988)
Senthoorapoove (1988)
Sakkarai Pandhal (1988)
Poovum Puyalum (1988)
Pattisollai Thattadhe (1988)
Naan Sonnadhe Sattam (1988)
Manaivi Oru Mandiri (1988)
Koil Mani Osai (1988)
Kalaiyum Neeya Malaiyum Neeye (1988)
Jadikketha Moodi (1988)
Irandil Ondru (1988)
Idhu Engalneedhi (1988)
Kainattu (1988)
Kunguma Kodu (1988)
En Vazhi Thani Vazhi (1988)
Raja Mariyadhai (1987)
Solluvadhellam Unmai (1987)
Siraipparavai (1987)
Theertha Karayinile (1987)
Uzhavan Magan (1987)
Velicham (1987)
Velundu Vinaiyillai (1987)
Kizhakku Africavil Sheela (1987)
Ninaikka Therindha Maname (1987)
Oorkuruvi (1987)
Ore Ratham (1987)
Poovizhi Vasalile (1987)
Rekha (1987)
Thangachi (1987)
Thulasi (1987)
Ullam Kavarndha Kalvan (1987)
Vazhga Valarga (1987)
Ivargal Indhiyargal (1987)
Iniya Uravu Poothadhu (1987)
Idhu Oru Thodarkathai (1987)
Ayisu Nooru (1987)
Arul Tharum Ayyappan (1987)
Aangalai Nambadhe (1987)
Dharma Pathini (1986)
Kunguma Kodu (1988)
Kalyana Paravaigal (1988)
Kan Simittum Neram (1988)
Oruvar Vazhum Alayam (1988)
Envazhi Thanivazhi (1988)
Raasave Unnai Nambi (1988)
Ennai Vittu Pogathe (1988)
Enga Ooru Kavakkaran (1988)
Shenbagame Shenbagame (1988)
Velaikaran (1987)
Ananda Aradhanai (1987)
Anjadha Singam (1987)
Chinnakuyil Padudhu (1987)
Enga Ooru Pattukkaran (1987)
Kalyana Kacheri (1987)
Krishnan Vandhan (1987)
Maicheal Raj (1987)
Manithan (1987)
Megam Karuthirukku (1987)
Mupperum Deviyar (1987)
Nalla Pambu (1987)
Ninaive Oru Sangeetham (1987)
Parisam Pottachu (1987)
Poo Mazhai Pozhiyudhu (1987)
Poopoova Poothirukku (1987)
Rasigan Oru Rasigai (1986)
Pirandhen Valarndhen (1986)
Pudhiya Poovidhu (1986)
Pookkalai Parikkathe (1986)
Paru Paru Pattanam Paru (1986)
Nilave Malare (1986)
Namma Ooru Nalla Ooru (1986)
Kalamellam Un Madiyil (1986)
Kanne Kaniyamuthe (1986)
Koil Yaanai (1986)
Kunguma Pottu (1986)
Endravadhu Orunal (1986)
Mandhira Punnagai (1986)
Marakkamatten (1986)
Unakkagave Vazhkiren (1986)
Anandha Kanneer (1986)
Thazhuvatha Kaigal (1986)
Ayiram Pookkal Malarattum (1986)
Amman Koil Kizhakale (1986)
December Pookkal (1986)
Badhil Solval Badrakali (1986)
Vesham (1985)
Thiramai (1985)
Thendral Thodatha Malar (1985)
Sivappu Nila (1985)
Raja Yuvaraja (1985)
Nalla Thambi (1985)
Chithirame Chithirame (1985)
Annee (1985)
Agaya Thamaraigal (1985)
Selvi (1985)
Vetrikani (1985)
Yaar (1985)
Maruthani (1985)
Irandu Manam (1985)
Geethanjali (1985)
Hello Yaarpesuradhu (1985)
Anbin Mugavari (1985)
Avan (1985)
Urimai (1985)
Prema Pasam (1985)
Sathyam Neeye (1984)
Aakhri Sangam (1984)
Aval Oru Madhiri (1984)
Nalla Naal (1984)
Naan Padum Paadal (1984)
24 Mani Neram (1984)
Ambigai Neril Vandhal (1984)
Madhurai Sooran (1984)
Manmatha Rajakkal (1984)
Ingeyum Oru Gangai (1984)
Kuva Kuva Vaathugal (1984)
Mansoru (1984)
Neram Nalla Neram (1984)
Thalayanai Mandhiram (1984)
Malaiyoor Mambattiyan (1983)
Bhagavathipuram Railway Gate (1983)
Saattai Illadha Pamparam (1983)
Marupatta Konangal (1983)
Satchi (1983)
Thooral Ninnu Pochchu (1982)
Nijangal (1982)
Manjal Nila (1982)
Archanai Pookal (1982)
Indru Poi Naalai Vaa (1981)
Aadugal Nanaigindrana (1981)
Oru Koyil Iru Dheepangal (1979)
Senthil Images
Read other biographies: Samantha Akkineni | Sshivada | Nivetha Thomas | Nithyashree Venkataraman | Vidyullekha Raman | Manushi Chhillar | Amit Bhargav | Sriranjani Amit | Lakshmy Ramakrishnan | Athulya Ravi | Rachitha Mahalakshmi