Ramya Krishnan Wiki, Biography, Age, Family, Movies, Images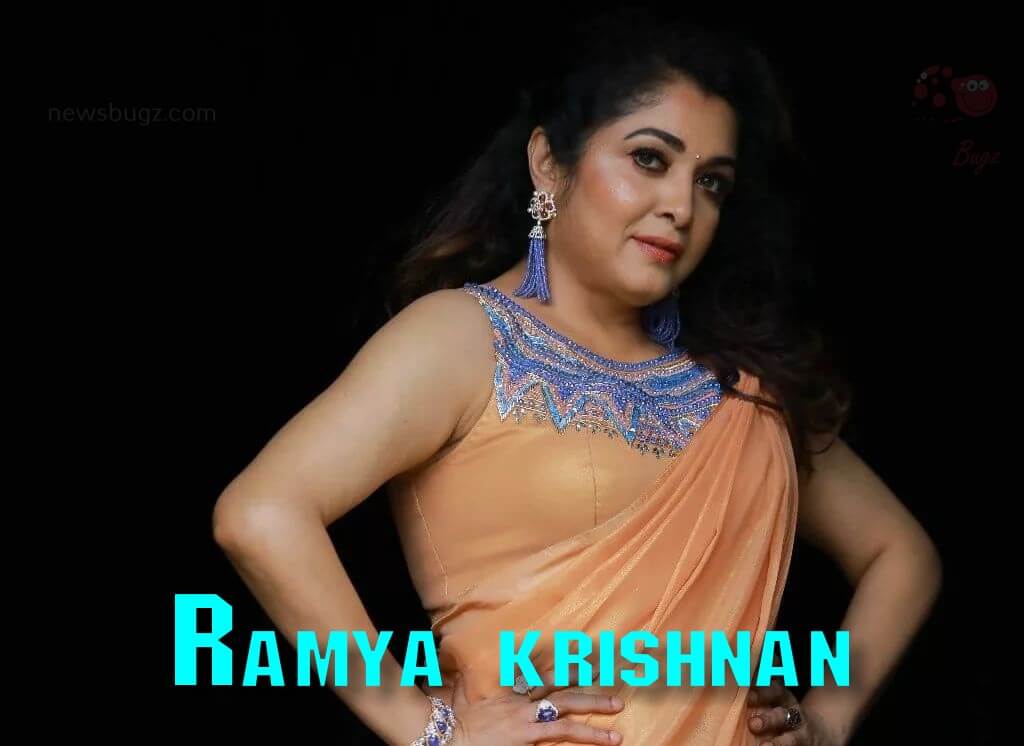 Ramya Krishnan is also known as Ramya Krishna, is an Indian film actress. She has acted in more than 200 films in five languages, including Telugu, Malayalam, Tamil, Kannada, and Hindi. Ramya Krishnan has gained popularity through her acclaimed role Neelambari in Padayappa, by which she also won Filmfare Award for Best Actress. She also won Awards for the Best Supporting Actress – Telugu for 2009 dramedy Konchem Ishtam Konchem Kashtam. She did a major role in the Liger movie starring Vijay Deverakonda and Ananya Panday in the lead role. Ramya Krishnan is a crucial part of the superstar Rajinikanth's movie Jailer.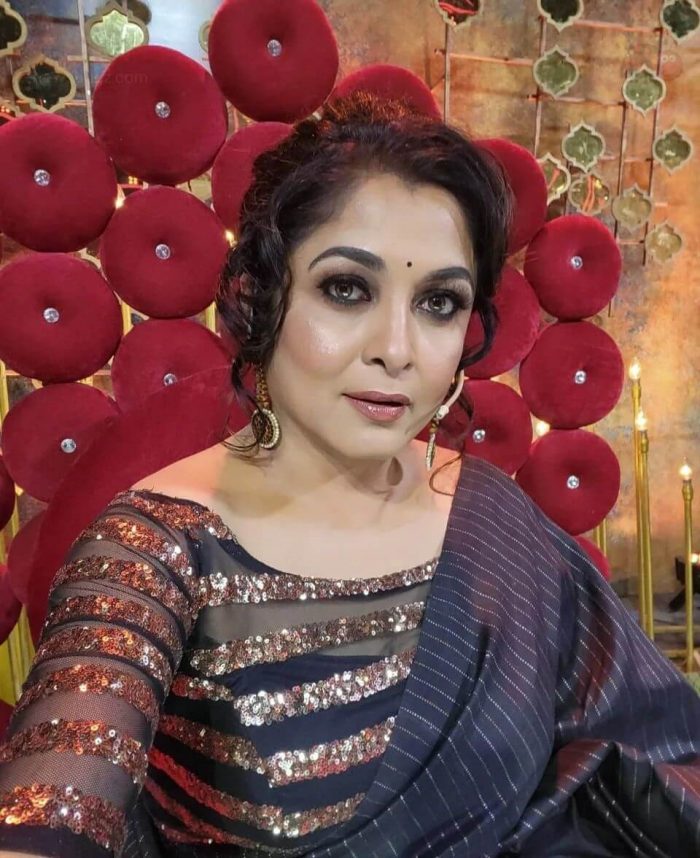 She is the niece of veteran Comedian (Tamil), Cho Ramaswamy. She received the initial training in Bharathanatyam, Kuchipudi and Western dance forms and has given many stage performances. She began her acting career in 1984 at the age of 13 in the Tamil film Vellai Manasu. Ramya Krishnan's first Telugu film was Bhale Mithrulu (1986). She gained fame through Kasinadhuni Viswanath's Sutradharulu in 1989.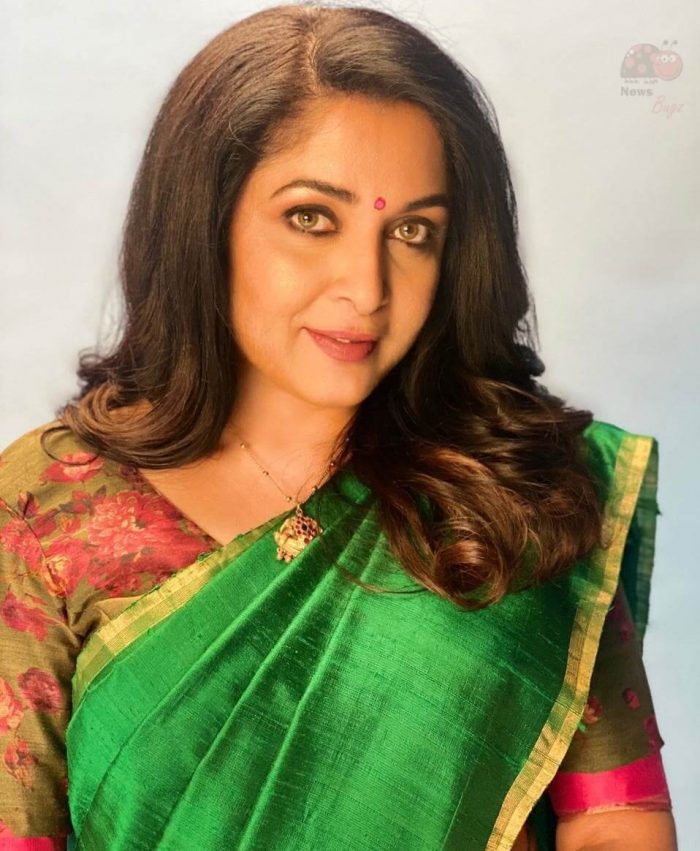 Ramya Krishnan rose as a leading actress in the Telugu film industry alongside Soundarya, Roja, Meena, and Nagma in the 1990s. As her breakthrough came from K. Raghavendra Rao directorial movies where she emerged as the commercial romantic diva of the season, due to the successful movies such as Alludugaru (1990), Allari Mogudu(1992), Major Chandrakanth (1993) along with Mohan Babu, and Allari Priyudu (1993) along with Rajasekhar. She played the role of the devoted wife of Sri Annamacharya, which was played by Nagarjuna in the blockbuster film Annamayya (1997). She then acted in various films, her most recent films are Baahubali: The Beginning, where she played the Shivagami, the Queen mother and Soggade Chinni Nayana, where she played the role of Satyabhama and she also played a very important role in Allari Naresh's movie Mama Manchu Alludu Kanchu. She got critical acclaim for her performance as Rajamatha Sivagami in Baahubali: The Conclusion.
Biography
Name
Ramya Krishnan
Real Name
Ramya Krishnan
Nickname
Ramya
Profession
Actress
Date of Birth
15 September 1970
Age (as of 2022)
52
Zodiac sign
Virgo
Family
Father: Krishnan
Mother: Maaya
Sister: Vinaya Krishnan
Marital Status
Married (12 June 2003)
Affairs/Boyfriends
NA
Husband
Pasupuleti Krishna Vamsi (Director)
Children
Son: Ritwik
Religion
Hindu
Educational Qualification
Graduate
School
Yet to be updated
College
Yet to be updated
Hobbies
Traveling, Listening to music, Dancing, Singing
Birth Place
Chennai, Tamil Nadu, India
Hometown
Chennai, Tamil Nadu, India
Current City
Chennai, Tamil Nadu, India
Nationality
Indian
Social Media Profiles
Movies
Tamil Movies
| Year | Title | Role | Notes |
| --- | --- | --- | --- |
| 2022 | Jailer | TBA | Filming |
| 2019 | Super Deluxe | Leela | |
| 2019 | Dev | Padmavathy | |
| 2019 | Vandha Rajava Thaan Varuven | Nandhini Prakash | |
| 2018 | Party | Abhirami | Unreleased |
| 2018 | Thaanaa Serndha Koottam | Azhagu Meena (Jhansi Rani) | Nominated, Filmfare Award for Best Supporting Actress - Tamil |
| 2017 | Baahubali: The Conclusion | Queen Mother Sivagami Devi | |
| 2017 | Mupparimanam | Herself | Guest appearance in the song 'Let's Go Party' |
| 2015 | Baahubali: The Beginning | Queen Regent Sivagami Devi | |
| 2015 | Aambala | Periya Ponnu | |
| 2009 | Kutti Pisasu | Goddess Kinathadi Kaali | |
| 2009 | Arumugam | Malini Devi | |
| 2007 | Kuttrapathirikai | Divya | |
| 2004 | Kuthu | Meena (Dancer) | Guest appearance |
| 2004 | Kanavu Meippada Vendum | Varalakshmi | Playback singer for 'Thazhampoove vaa va' song |
| 2003 | Kurumbu | Komalavalli | |
| 2003 | Anbe Anbe | Dancer | Guest appearance |
| 2003 | Annai Kaligambal | Annai Kaligambal/Parvathy | |
| 2003 | Paarai | Vasantha | |
| 2003 | Kaakha Kaakha | Club Dancer | Guest appearance |
| 2003 | Julie Ganapathi | Viji Balakumaran | |
| 2002 | Jaya | Jaya | |
| 2002 | Baba | Neelambari | Guest appearance |
| 2002 | Yai! Nee Romba Azhaga Irukke! | Doctor | Guest appearance |
| 2002 | Panchathantiram | Maragathavalli alias Maggie | |
| 2001 | Parthale Paravasam | Commère | Guest appearance |
| 2001 | Narasimha | Onam Festival Dancer | Guest appearance |
| 2001 | Asathal | Gowri | |
| 2001 | Sri Raja Rajeshwari | Raja Rajeshwari | |
| 2001 | Vaanchinathan | Nandhini | |
| 2001 | Nageswari | Nageswari | |
| 2000 | Rhythm | Dancer | Guest appearance |
| 2000 | Budget Padmanabhan | Ramya | |
| 2000 | Rajakali Amman | Goddess Rajakali Amman | |
| 2000 | Pottu Amman | Amman | Special appearance |
| 2000 | Thirunelveli | Azhagamma (Dancer) | Guest appearance |
| 1999 | Paattali | Kannamma | |
| 1999 | Padayappa | Neelambari | Filmfare Award for Best Actress – TamilTamil Nadu State Film Award for Best Actress |
| 1995 | Raja Enga Raja | Lakshmi | |
| 1995 | Marri | | Partially reshot |
| 1993 | Maathangal Ezhu | Savitri | |
| 1993 | Pon Vilangu | Raani | |
| 1993 | Dhool Parakuthu | Raasathi | |
| 1992 | Thambi Pondatti | Mala | |
| 1992 | Vaaname Ellai | Subathra | |
| 1992 | Naane Varuven | Shape shifting Cobra | Guest appearance in song 'Pogathe Ennai Thaandi' |
| 1991 | Captain Prabhakaran | Poongodi | |
| 1991 | Vaa Arugil Vaa | Chandra | |
| 1991 | Sigaram | Aparna | |
| 1990 | Puthu Paatu | Stephie | Guest appearance |
| 1990 | Puthiya Charithiram | Geetha | |
| 1990 | Sathya Vaakku | | |
| 1990 | Nalla Kaalam Porandaachu | Inspector Uma | |
| 1989 | Meenakshi Thiruvilayadal | Urvashi | Guest appearance |
| 1988 | Thambi Thanga Kambi | Chithra | |
| 1988 | Katha Nayagan | Mrs. Nanthagopal | Guest appearance |
| 1988 | Kunguma Kodu | Shanthi | |
| 1987 | Jallikattu | Ramya Krishnan (TV Anchor) | Guest appearance |
| 1987 | Aankalai Nambathey | Ananthi | |
| 1987 | Per Sollum Pillai | Rekha | |
| 1987 | Vilangu | Kavitha | |
| 1986 | Muthal Vasantham | Nithya | |
| 1986 | Pudhiya Poovithu | Alli | |
| 1986 | Sarvam Sakthimayam | Goddess Kaliamman | |
| 1985 | Paartha Gnabagam Illayo | Kasturi / Lalitha | Dual role |
| 1985 | Padikkadavan | Manju | |
| 1983 | Vellai Manasu | Raji | |
Telugu Movies
| Year | Title | Role | Notes |
| --- | --- | --- | --- |
| 2022 | Liger | TBA | Bilingual film; also shot in Hindi |
| 2022 | Bangarraju | Satyabhama | |
| 2021 | Romantic | Ramya Gowarikar | |
| 2021 | Republic | Vishaka Vani | |
| 2018 | Shailaja Reddy Alludu | Shailaja Reddy | Nominated, SIIMA Award for Best Supporting Actress (Telugu) |
| 2017 | Hello | Sarojini | |
| 2017 | Balakrishnudu | Bhanumati Devi | |
| 2017 | Baahubali: The Conclusion | Sivagami Devi | Filmfare Award for Best Supporting Actress – Telugu |
| 2016 | Soggade Chinni Nayana | Satyabhama | |
| 2015 | Mama Manchu Alludu Kanchu | Priyamvada | |
| 2015 | Baahubali: The Beginning | Sivagami Devi | Filmfare Award for Best Supporting Actress – TeluguNandi Award for Best Supporting ActressSIIMA Award for Best Supporting Actress (Telugu) |
| 2014 | Sri Vasavi Kanyaka Parameswari Charitra | Adhiparasakthi, Parvathi Devi | |
| 2012 | Yamudiki Mogudu | Ayyoni | |
| 2010 | Ranga The Donga | Bhavani Prasad's Wife | |
| 2009 | Anjani Putrudu | Seethammavaru | Special appearance |
| 2009 | Konchem Ishtam Konchem Kashtam | Raja Lakshmi | Filmfare Award for Best Supporting Actress – Telugu |
| 2008 | Raju Maharaju | Ramya | Nandi Award for Best Supporting Actress |
| 2008 | Mr. Girisham | Madhuravani | |
| 2008 | Hero | Triveni Naik | |
| 2008 | Indrajit | Principal Stella Madam | |
| 2007 | Tulasi | Dr Surekha | |
| 2006 | Sri Krishna 2006 | Bhanumati | |
| 2005 | Naa Alludu | Bhanumati | |
| 2004 | Kedi No. 1 | Radha & Seeta | |
| 2004 | Sri Anjaneyam | Siva Prasad's Wife, Anji's mother | Special appearance |
| 2004 | Kushi Kushiga | Bhavani | |
| 2004 | Adavi Ramudu | Herself (cameo) | Special appearance in the song 'Jantanu Vidadeese' |
| 2004 | Varam | | |
| 2004 | Naani | | Extended cameo appearance |
| 2004 | Anji | Herself (cameo) | Special appearance in the song 'Chikubuku Pori' |
| 2004 | Raktha Kanneeru | Kantha | |
| 2003 | Simhadri | Herself (cameo) | Special appearance in the song 'Chinnadamme Cheekulu' |
| 2003 | Tiger Harischandra Prasad | Rajeswari | |
| 2003 | Maa Alludu Very Good | Prabhavati | |
| 2002 | Nilambari | Malli | |
| 2001 | Budget Padmanabham | Ramya | |
| 2000 | Durga | Amman | Special appearance |
| 2000 | Devullu | Kanakadurga, Bhramarambika | Special appearance |
| 2000 | Kouravudu | Sashi | |
| 2000 | Manasu Paddanu Kaani | Madhavi | |
| 2000 | Kshemamga Velli Labamgarandi | Baby Bhagavathula Bala Tripura Sundari | |
| 2000 | Sammakka Sarakka | Sammakka | |
| 2000 | Vamsoddarakudu | Satyabhama | |
| 2000 | Oke Maata | | |
| 1999 | Premaku Velayara | Herself (cameo) | Special appearance in the song 'Chinna Gownu Vesukunna' |
| 1999 | Iddaru Mitrulu | Shanti | |
| 1999 | English Pellam East Godavari Mogudu | Sirisha | |
| 1999 | Maanavudu Daanavudu | Sithara | |
| 1999 | Aavide Shyamala | Shyamala | |
| 1998 | Love Story 1999 | Raaji | |
| 1998 | Chandralekha | Chandra | |
| 1998 | Deergha Sumangali Bhava | Vaani | |
| 1998 | Kante Kuthurne Kanu | Jyothi | Nominated, Filmfare Award for Best Actress – Telugu |
| 1998 | Ooyala | Swapna | |
| 1997 | Annamayya | Timmakka | |
| 1997 | Aahvaanam | Rajeswari | |
| 1997 | Chilakkottudu | Bombay Papa | Cameo appearance |
| 1997 | Chinnabbayi | Uma Devi | |
| 1997 | Devudu | Shanti | |
| 1997 | Evandi Pelli Cheskondi | Kasthuri | |
| 1997 | Evandi Mana Ammayi | | |
| 1996 | Soggadi Pellam | Janaki | |
| 1996 | Amma Ammani Chudalani Undhi | Janaki | |
| 1996 | Pellala Rajyam | Rajani | |
| 1996 | Dharma Chakram | Sandhya | |
| 1996 | Adhirindhi Alludu | Lakshmi | |
| 1996 | Vamsanikokkadu | Radha Bai | |
| 1995 | Ammoru | Ammoru | Dubbed in Tamil as Amman and dubbed in Hindi as Maa Ki Shakti |
| 1995 | Gharana Bullodu | Papaji | |
| 1995 | Super Mogudu | Ramya Krishna | |
| 1995 | Alluda Mazaaka | Pappi | |
| 1995 | Aayanaki Iddaru | Ramya | |
| 1995 | Maya Bazaar | Herself (cameo) | |
| 1995 | Muddai Muddugumma | Roja | |
| 1995 | Raja Simham | Latha | |
| 1994 | Criminal | Ramya | |
| 1994 | Hello Brother | Manga | |
| 1994 | Allari Premikudu | Swapna | |
| 1994 | Muddula Priyudu | Sandhya | |
| 1994 | Jailor Gari Abbai | Vyjayanthi | |
| 1994 | Mugguru Monagallu | Naga Mani | |
| 1993 | Bangaru Bullodu | Rani | |
| 1993 | Allari Priyudu | Lalitha | Nominated, Filmfare Award for Best Actress – Telugu |
| 1993 | Major Chandrakanth | Hema | |
| 1993 | Kirayi Gunda | | |
| 1993 | Allari Alludu | Herself (cameo) | Special appearance in the song 'Ninnu roaddu meedha' |
| 1993 | Brundavanam | Latha Devi | |
| 1992 | Balarama Krishnulu | Lalitha | |
| 1992 | Allari Mogudu | Mohana | |
| 1991 | Parama Sivudu | Sita | |
| 1990 | Iddaru Iddare | Aruna | |
| 1990 | Mamasri | Neelima | |
| 1990 | Dagudumuthala Dampathyam | Radha | |
| 1990 | Agni Pravesam | Sahithi | |
| 1990 | Alludugaru | Revathi | |
| 1989 | Gopala Rao Gari Abbayi | Seeta | |
| 1989 | Swathi Chinukulu | Santhi | |
| 1989 | Paila Pacheesu | Saranya | |
| 1989 | Pinni | Rekha | |
| 1989 | Sutradharulu | Seethaalu | |
| 1988 | Bava Marudula Saval | Ramya | |
| 1988 | Asthulu Anthasthulu | Radha | |
| 1988 | Coolie | | |
| 1988 | Bhama Kalapam | Kavitha | |
| 1988 | Sankellu | | |
| 1987 | Chakravarthy | Lakshmi | |
| 1987 | Sankeerthana | Keerthana | |
| 1987 | Krishna Leela | Leela | |
| 1987 | Madana Gopaludu | Gowri | |
| 1987 | Sri Devi Kamakshi Kataksham | Parvathi Devi, Kanchi Kamakshi | Dubbed in Tamil as Kaakkum Kamakshi |
| 1986 | Bhale Mithrulu | | |
| 1984 | Kanchu Kagada | | |
Kannada Movies
| Year | Title | Role | Notes |
| --- | --- | --- | --- |
| 2022 | Shivagami | TBA | |
| 2017 | Anjani Putra | Anjana Devi | |
| 2016 | Jaguar | Krishna's mother | Bilingual film |
| 2014 | Maanikya | Lavanya | |
| 2013 | Sweety Nanna Jodi | Vasundhara Devi | Nominated, SIIMA Award for Best Actor in a Negative Role |
| 2004 | Baa Baaro Rasika | Ramya | |
| 2006 | Sri Kalikamba | Parvati and Goddess Kalikamba | |
| 2004 | Naanu Naane | | Special appearance in the song "Neenade Neenade" |
| 2003 | Raktha Kanneeru | Kanta | |
| 2003 | Raja Narasimha | Soundarya | |
| 2002 | Ekangi | | |
| 2002 | Chamundi | | Special appearance in the song "Usaravalli" |
| 2001 | Neelambari | Malli, Akhila Sivaram, Neelambari and Goddess Durga | |
| 2001 | Andhra Hendthi | | |
| 2000 | Sneha | Kavya | |
| 2000 | Yare Nee Abhimani | Prajna | |
| 1998 | Mangalyam Tantunanena | | |
| 1993 | Gadibidi Ganda | Mohana | |
| 1988 | Krishna Rukmini | | |
| 1988 | 'Shakthi | | |
Malayalam Movies
| Year | Title | Role |
| --- | --- | --- |
| 1986 | Neram Pularumbol | Nancy |
| 1988 | Anuragi | Annie |
| 1988 | Bheekaran | |
| 1988 | Orkkappurathu | Sherin |
| 1988 | Janmandharam | Rekha |
| 1988 | Aryan | Nirmala |
| 1989 | Devadas | Chandramukhi |
| 1991 | Kadhanayika | Sharada |
| 1992 | Aham | Mariana |
| 1992 | Australia | Sandra |
| 1992 | Manyanmaar | Radhika |
| 1996 | Mahathma | Nancy |
| 2001 | Kakkakuyil | Dancer |
| 2002 | Onnaman | Kamala |
| 2007 | Ore Kadal | Bela |
| 2015 | Appavum Veenjum | Merlin |
| 2016 | Aadupuliyattam | Matangi |
| 2019 | Aakasha Ganga 2 | Dr Soumini Devi |
Hindi Movies
| Year | Title | Role |
| --- | --- | --- |
| 2021 | Liger | |
| 1998 | Bade Miyan Chhote Miyan | Neha |
| 1998 | Wajood | Shalini / Sofia / Amina |
| 1997 | Shapath | Kavita D. Kallu |
| 1997 | Loha | Karishma |
| 1997 | Banarasi Babu | Madhubala Choubey |
| 1996 | Chaahat | Reshma Narang |
| 1995 | Criminal | Ramya |
| 1993 | Parampara | Tara |
| 1993 | Khal Nayak | Ballu's Girlfriend Sofia |
| 1988 | Dayavan | Dancer |
Television
Serials
| Year | Title | Role | Language | Channel |
| --- | --- | --- | --- | --- |
| 2008–2009 | Kalasam | Ranjani and Neelambari | Tamil | Sun TV |
| 2009–2013 | Thangam | Ganga | Tamil | Sun TV |
| 2012–2013 | Ala Modalaindi | | Telugu | Gemini TV |
| 2013 | Rajakumari | Rajakumari / Neelambari | Tamil | Sun TV |
| 2013–2017 | Vamsam | Shakthi and Archana | Tamil | Sun TV |
| 2020 | Naga Bhairavi | | Telugu | Zee Telugu |
Shows
| Year | Title | Role | Language | Channel |
| --- | --- | --- | --- | --- |
| 2006 | Jodi Number One | Judge | Tamil | Vijay TV |
| 2007–2008 | Thanga Vettai | Host | Tamil | Sun TV |
| 2007–2008 | Bangaram Mee Kosam | Host | Telugu | Gemini TV |
| 2010 | Dhee S4 | Guest Judge | Telugu | Star Maa |
| 2012 | Kaiyil Oru Kodi | Patricipant | Tamil | Sun TV |
| 2019 | Bigg Boss S3 | Guest Host | Telugu | Star Maa |
| 2020 | Kodeeswari | Participant | Tamil | Colors Tamil |
| 2020 | Cooku with Comali | Guest Judge | Tamil | Star Vijay |
| 2020 | Dance vs Dance | Judge | Tamil | Colors Tamil |
| 2020 | Sa Re Ga Ma Pa The Next Singing ICON | Guest | Telugu | Zee Telugu |
| 2021 | BB Jodigal | Judge | Tamil | Star Vijay |
| 2021 | Bigg Boss 5 Tamil | Host | Tamil | Star Vijay |
| 2022 | BB Jodigal 2 | Judge | Tamil | Star Vijay |
Web Series
2019 – Queen as J. Jayalalithaa
Awards
| Year | Award | Category | Film | Result |
| --- | --- | --- | --- | --- |
| 1998 | Nandi Awards | Best Actress | Kante Koothurne Kanu | Won |
| 1999 | Tamil Nadu State Film Awards | Special Prize | Padayappa | Won |
| 1999 | Filmfare Awards South | Best Actress - Tamil | Padayappa | Won |
| 2007 | Dubai Amma Awards | Best Supporting Actress | Ore Kadal | Won |
| 2007 | Amrita Film Awards | Best Supporting Actress | Ore Kadal | Won |
| 2009 | 57th Filmfare Awards South | Best Supporting Actress - Telugu | Konchem Ishtam Konchem Kashtam | Won |
| 2009 | Nandi Awards[27] | Best Supporting Actress | Raju Maharaju | Won |
| 2015 | 3rd South Indian International Movie Awards | Best Actor in a Negative Role | Sweety Nanna Jodi | Nominated |
| 2015 | Nandi Awards | Best Supporting Actress | Baahubali: The Beginning | Won |
| 2015 | Ananda Vikatan Cinema Awards | Best Supporting Actress | Baahubali: The Beginning | Won |
| 2015 | 5th South Indian International Movie Awards | Best Supporting Actress – Telugu | Baahubali: The Beginning | Won |
| 2015 | 1st IIFA Utsavam | Best Supporting Actress - Telugu | Baahubali: The Beginning | Won |
| 2015 | 1st IIFA Utsavam | Best Supporting Actress - Tamil | Baahubali: The Beginning | Won |
| 2015 | 63rd Filmfare Awards South | Best Supporting Actress – Telugu | Baahubali: The Beginning | Won |
| 2017 | 6th South Indian International Movie Awards | Best Supporting Actress - Telugu | Soggade Chinni Nayana | Nominated |
| 2017 | 6th South Indian International Movie Awards | Best Supporting Actress - Malayalam | Aadupuliyattam | Nominated |
| 2017 | 65th Filmfare Awards South | Best Supporting Actress - Telugu | Baahubali: The Conclusion | Won |
| 2017 | Behindwoods Gold Medal | Best Supporting Actress | Baahubali: The Conclusion | Won |
| 2018 | 7th South Indian International Movie Awards | Best Actress - Telugu | Baahubali: The Conclusion | Nominated |
| 2019 | Zee Cine Awards Tamil | Best Supporting Actor - Female | Super Deluxe | Won |
| 2019 | Ananda Vikatan Cinema Awards | Best Supporting Actor - Female | Super Deluxe | Won |
| 2019 | 8th South Indian International Movie Awards | Best Supporting Actor - Female | Thaanaa Serndha Koottam | Nominated |
Images
Take a look at the latest photos of actress Ramya Krishnan,