Radha Ravi Wiki, Biography, Age, Movies List, Family, Images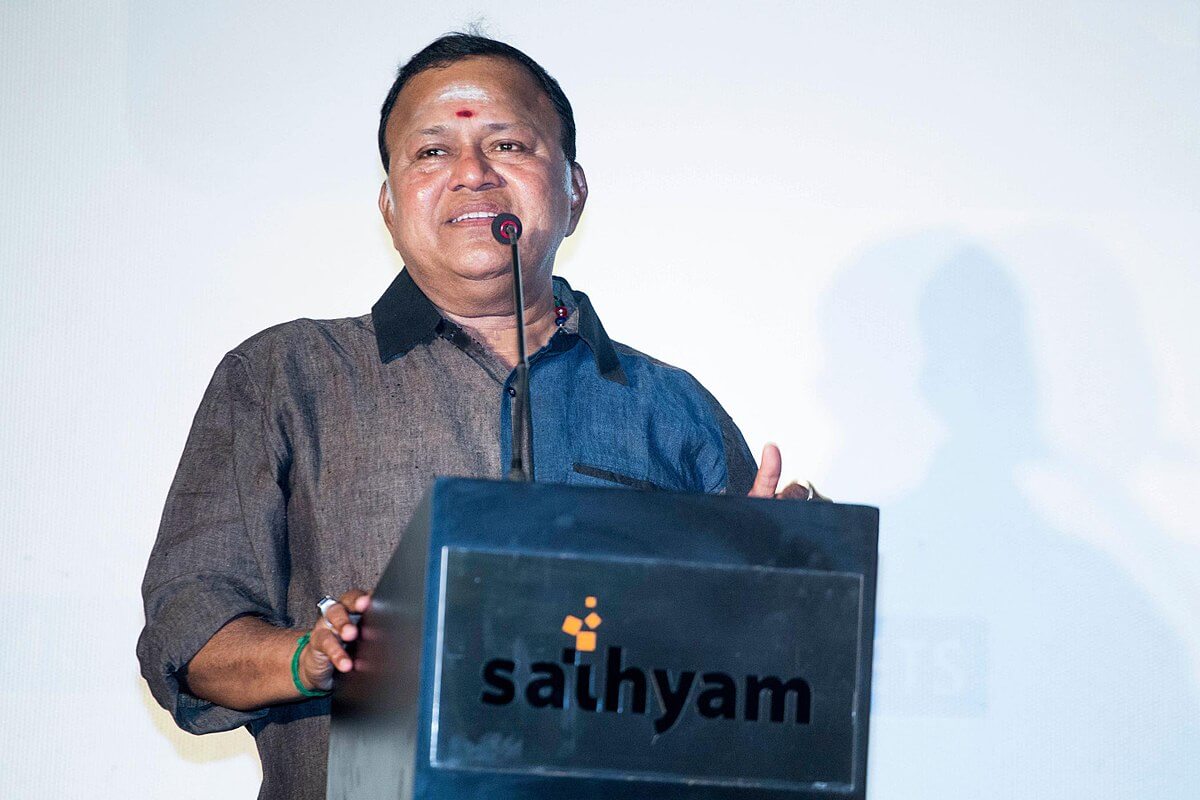 Radha Ravi is an Indian movie and television actor, who works in the Indian film industry. He made his acting debut with the Tamil movie "Manmadha Leelai," in the year 1976. He is well known for his role as an antagonist in Tamil films. Then he made his Television debut with the Tamil serial "Thiruvilayadal." Check out below for Radha Ravi Wiki, Biography, Age, Movies List, Family, Images and more.
Read other biographies: Vasanthabalan | Karu Pazhaniappan | Director Siva | Ameer | Bakkiyaraj Kannan| Pandiraj
Radha Ravi Early Life and Career
Radha Ravi was born on 29 July 1953 in Trichy, Tamil Nadu, India. Radha Ravi family is now residing in Chennai, Tamil Nadu, India. His father name is M. R. Radha, a veteran late Tamil movie actor and his mother name is Dhanalakshmiammal. He has a brother named M. R. R. Vasu and three sisters named Rathikala, Raadhika, Nirosha. His schooling details will be updated soon and he did his graduation in The New College, Chennai. Radha Ravi started his acting career as a theatre artiste and he still associates himself with the plays. While he was studying ninth standard, he played the role of Julius Caesar in a Tamil drama. While pursuing his graduation his friends Jailani and Rafee helped him to pursue his career in theatre. Radha Ravi made his performances in the V. K. Ramasamy troupe, M. R. R. Vasu troupe, T. K. Chandran troupe and the UAA troupe. Later in the year 1980, he started his own group Nadikavel Theatres.
He made his Kannada debut with the movie "Ragasiya Rathiri" which is produced by actor Bharathi's father for BNK Pictures in 1975. In the year 1976, he made his Tamil debut with the movie "Manmathalelai." He got a breakthrough with the Director Ramanarayanan's movie "Uyirullavarai Usha," along with T. Rajender. In the following years, he molded himself and became the most versatile character artist in the Tamil industry. His has given notable performances in the movies like Vaidegi Kaathirunthal, Uyarntha Ullam, Chinna Thambi, Poo Veli, Uzhaipalli, Guru Sishyan and many which were praised by the audience. Radha Ravi has acted more than 280 films in all the South Indian languages. As a producer, he produced the movies like Thai Maasam Poo Vasam, Idhu Namma Bhoomi, Chinnamuthu, Ilaignar Ani and Ruthrathandavam.
Apart from being an eminent actor, he is a renowned leader and great personality. Moreover, he was the head of the Lions Club of Chennai and was the former secretary of the South Indian Artistes' Association. Radha Ravi served there as a president until 2002, and he was probed for mismanagement and was replaced by Vijayakanth. Then in the year 2006, he was appointed as a General Secretary, when his brother-in-law R. Sarathkumar became the President. In 2015, Sarathkumar and Radha Ravi were defeated in a historic election by Vishal and Nassar. As a part of #MeToo movement of Tamil film industry 2018, he gave his voice against the allegations of sexual harassment, sexual misconduct and inappropriate behavior in the film industry.
Radha Ravi Biography
| | |
| --- | --- |
| Name | Radha Ravi |
| Real Name | Madras Rajagopalan Radhakrishnan Ravi |
| Nickname | Radha Ravi |
| Profession | Indian film and television actor |
| Date of Birth | 29 July 1953 |
| Age | 65 (As of 2018) |
| Zodiac sign | Cancer |
| Father Name | M. R. Radha |
| Mother Name | Dhanalakshmiammal |
| Siblings | M. R. R. Vasu, Rathikala, Raadhika, Nirosha |
| Religion | Hindu |
| Educational Qualification | Graduate |
| School | Yet to be updated |
| College | The New College, Chennai |
| Hobbies | Reading Books and Listening Music |
| Hometown | Trichy, Tamil Nadu, India |
| Nationality | Indian |
| Married | Yes |
| Wife Name | Yet to be updated |
| Affairs/Girlfriends | None |
| Children | None |
| Current City | Chennai, Tamil Nadu, India |
Radha Ravi Facebook: Yet to be updated
Radha Ravi Twitter: Yet to be updated
Radha Ravi Instagram: Yet to be updated
Radha Ravi Movies List
Year
Title
Role
1976
Manmadha Leelai
1978
Veettukaari
Rudra Thaandavam
Thirukkalyanam
1980
Bombay Mail 109
Tharaiyil Vaazhum Meengal
1981
Thanneer Thanneer
1982
Kaadhal Oviyam
1983
Uyirullavarai Usha
Sivappu Sooriyan
Soorakottai Singakutti
Raagangal Maaruvathillai
Thambadigal
Poikaal Kuthirai
1984
Madurai Sooran
Vaai Pandhal
Theerppu En Kaiyil
Kalyaana Kanavugal
Achamillai Achamillai
Thangakkoppai
Thenkoodu
Poovilangu
Simma Soppanam
Iru Medhaigal
Rajathanthiram
Sattathai Thiruttungal
Thiruttu Rajakkal
Vaidehi Kathirunthal
1985
Chain Jayapal
Urimai
Andhasthu
Annai Bhoomi 3D
Uyarndha Ullam
Kutravaaligal
Deiva Piravi
1986
Dharma Pathini
Selvaakku
Thiramai
Natpu
Amman Kovil Kizhakale
Sarvam Sakthimayam
Alavanda
Kovil Yaanai
Vasantha Raagam
Ragasiyam
Odangal
Melmaruvathur Arpudhangal
1987
Ivargal Indhiyargal
Solvathellam Unmai
Ayyappaswamy
Thalayaatti Bommaigal
Thulasi
Vaazhga valarga
Paadu Nilaave
Cooliekkaran
Veeran Veluthambi
Ninaive Oru Sangeetham
Naagam
Ore Ratham
Idhu Engal Needhi
Ellaikodu
Uzhavan Magan
1988
Ennai Vittu Pogaathe
Solla Thudikuthu Manasu
Vasudevan
Guru Sishyan
Muthuraja
Ullathil Nalla Ullam
En Uyir Kannamma
Kazhugu Malaikkallan
Kalyana Paravaigal
Thambi Thanga Kambi
Uzhaithu Vaazha Vendum
Rasave Unnai Nambi
1989
Pongi Varum Kaveri
Siva
Rajadhi Raja
Rettaikuzhal Thuppaakki
Solaikuyil
Paalaivanathil Pattaampoochi
Kovilmani Osai
Thendral Sudum
Annanukku Jai
Vetri Vizha
Rajanadai
1990
Panakkaran
Pudhu Padagan
Doctor
Seetha
Kurumbukkaaran
Adhisaya Manithan
Silambu
Unnai Solli Kutramillai
Veerapandian
Pulan Visaranai
R. R.
Enkitta Modaathe
1991
Chinna Thambi
Idhu Namma Bhoomi
Chithirai Pookkal
Vaa Arugil Vaa
Vetrikarangal
Oyilaattam
Vigneshwar
Vanakkam Vathiyare
Malaichami
Uthamaraasa
Rasathi Varum Naal
Gowri
1992
Amaran
Aandava Perumal
Rickshaw Mama
Annamalai
Sugamana Sumaigal
Thangaraj
Naalaiya Theerpu
Arun Mehta
1993
Uzhaippaali
Chembaruthi
Vedan
Megharajan
Chinna Thayee
Chellakannu
Kattalai
Chinna Mappillai
Pandithurai
Malaisamy
Rojavai Killathe
Namma Annachi
1994
Priyanka
Ilavarasi
Sadhu
Chinnamuthu
Vaanga Partner Vaanga
En Aasai Machan
Police officer
Oru Vasantha Geetham
1995
Muthu
Lucky Man
Makkal Aatchi
Chief minister Vaduganathan
Kizhakkumalai
Marumagan
Asuran
Coolie
Neela Kuyil
1996
Indira
Katta Panchayathu
Vishwanath
Rajkumar
Poovarasan
Senadapathi
Kizhakku Mugam
Village president and Poongodi's father
Vetri Vinayagar
Kaja Mukasooran
1997
Vaimaye Vellum
Rajendran
Vasuki
Pakkiri
Kadhalukku Mariyadhai
James
1998
Veera Thalattu
Thalaimurai
1999
Suriya Paarvai
Sundaramoorthy
Ponnu Veetukkaran
Gangadaran
Endrendrum Kadhal
Krishna
Poo Vaasam
Padayappa
Neelambari's father
Poomagal Oorvalam
Chidambaram
Kannupada Poguthaiya
Pooveli
Chidambaram Pillai
2000
Simmasanam
Sakthivel's cousin
Vanna Thamizh Pattu
Muthumanikkam
Azhagarsamy
2001
Friends
Abhirami's father
Narasimha
Manimaran
2002
Karmegham
Karmegham's father
Baba
Minister of Tourism
Kadhal Azhivathillai
Charmi's father
2003
Kadhaludan
Durai's father
Dum
Lesa Lesa
Kaalaatpadai
2004
Janaa
Veerapandi
Oru Murai Sollividu
Gajendra
Shawkat Ali
2006
Saravana
Saravana's father
Kusthi
Chieftain
Chennai Kadhal
Sakthivel
2007
Kalakkura Chandru
Thirumagan
Maya Kannadi
Kannamoochi Yenada
Maheswaran Iyer
2008
Alibhabha
MLA friend of Thilakan
Nayagan
2009
Indira Vizha
Judge Sattanathan
1977
Ainthaam Padai
Minister
Madurai Sambavam
Aalamaram
Suriyan Satta Kalloori
2010
Kutty
Thairiyam
Sura
Church father
Kola Kolaya Mundhirika
Dada Thulakanam
Singam
Soundara Pandi
Pen Singam
Singaperumal
Thillalangadi
Health Minister/Home Minister
Naane Ennul Illai
365 Kadhal Kadithangal
2011
Sattapadi Kutram
Rathnavelu
Kumara
Vaanam
Police Inspector
2012
Sattam Oru Iruttarai
2013
Thirumathi Tamizh
Singam 2
Soundara Pandi
Soodhu Kavvum
Chief Minister of Tamil Nadu
2014
Tenaliraman
Vassal-King Parasbaram
Ramanujan
Prof. Singaravelu Mudaliar
Jamai
Lingaa
Kavi Bharathi
Pisasu
Bhavani's father
2015
Sandamarutham
Rangarajan
Sakalakala Vallavan
Kathiresan
2016
Karai Oram
Aranmanai 2
Maya's father
Irudhi Suttru
TN Boxing chairman Muralikrishnan
Jil Jung Juk
Rolex Rawther
Aarathu Sinam
Joint commissioner of madurai police
Mapla Singam
Township president Sevagapandian
Narathan
Anbazhagan
Manithan
Judge
Marudhu
Payilwan
Iraivi
Jagan's father
Thodari
Rengarajan
Achamindri
Education minister Karikalan
2017
Si3
Soundara Pandi
Ennodu Vilayadu
Nagulan
Yaakkai
Krishnamurthy
Enkitta Mothathe
Mandhramoorthy
Shivalinga
Krishnamoorthy
Sangili Bungili Kadhava Thorae
Sangili Aandhavan
Veera Vamsam
Annadurai
Mahalingam
2018
Kalakalappu 2
Police inspector
Veera
Sketch Sekhar
Junga
Sopraj
Maniyar Kudumbam
Marainthirunthu Paarkum Marmam Enna
Annanukku Jai
Ratsasan
Rajamanickkam
Aan Devathai
Vada Chennai
Muthu
Sarkar
Minister
Gorilla
Kannada
Rahasya Rathri (1979)
Parva (2002)
Malayalam
Evidence (1988)
Kulapathi (1993)
Customs Diary (1993)
Dadha (1994)
Naan Vitta Vellathil Pirantha Pullai (2004)
Telugu
Television
Thiruvilayadal
Chellame
Ranga Vilas (Jaya TV)
Dubbing artist
| Year | Film | Actor | Dubbed name |
| --- | --- | --- | --- |
| 1999 | Samarasimha Reddy | Jayaprakash Reddy | Shanmuga Pandian |
| 2008 | Slumdog Millionaire | Irrfan Khan | Naanum Kodeeswaran |
| 2011 | Aadukalam | V. I. S. Jayapalan | |
Radha Ravi Images
Read other biographies: Shanmuga Pandian | Anjan Dutt |  Manoj Beedha | Mani Ratnam | Karthick Naren | K.V Anand