Prakash Raj Wiki, Biography, Age, Wife, Movies, Images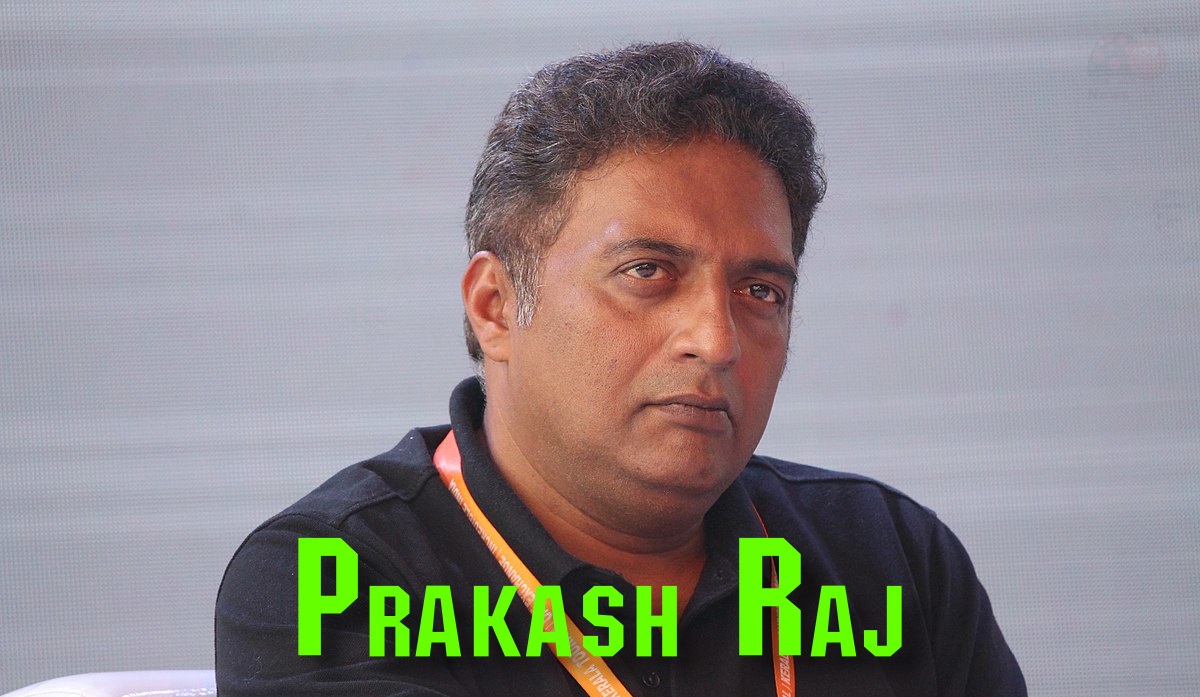 Prakash Raj is an Indian film actor, producer, director, thespian, and television presenter, who is highly known for his performances in the South Indian film and also the Hindi Films. He acted in back-to-back stage shows for Rs.300 a month in the initial stages of his career, when he joined Kalakshetra, Banglore and he has 2,000 street theatre performances to his credit. After working in the Kannada television industry and the Kannada cinema for a few years, he made his debut in the Tamil Cinema through Duet (1994), by K. Balachander, and then he became a commercially successful film star in Tamil. He was recently featured in the Anantham web series, which streams on ZEE5.
Prakash Raj started his acting career with Doordarshan serials such as Bisilu Kudure (Kannada), and later he appeared in the supporting roles in Kannada films such as Ramachari, Ranadheera, Nishkarsha, and Lockup Death. He is always noted for his dialogue delivery in his performances. He acted under the screen name "Prakash Rai" in Kannada films, and K. Balachander has given the name " Prakash Raj" for his debut film Duet in Tamil.
Biography
Name
Prakash Raj
Real Name
Prakash Raj
Nickname
Prakash
Profession
Actor, Director, Producer
Date of Birth
26 March 1965
Age
57 (as of 2022)
Zodiac sign
Aries
Family
Father: Manjunath Rai
Mother: Swarnalatha Raj
Marital Status
Married
Affairs/Girlfriends
NA
Wife
Pony Verma
Children
NA
Religion
Hindu
Educational Qualification
Graduate
School
St. Joseph's Boys' High School, Bengaluru, Karnataka, India
College
St. Joseph's College of Commerce, Bengaluru, Karnataka, India
Hobbies
Reading Books, Long Driving, and Listening to Music
Birth Place
Bengaluru, Karnataka, India
Hometown
Bengaluru, Karnataka, India
Current City
Chennai, Tamilnadu, India
Nationality
Indian
Social Media Profiles
Movies
1990 – 1999
| Year | Title | Role | Language | Notes |
| --- | --- | --- | --- | --- |
| 1990 | Muthina Haara | Jaisingh | Kannada | |
| 1990 | Ramachaari | | Kannada | |
| 1990 | Anukoolakkobba Ganda | | Kannada | |
| 1991 | Keralida Kesari | Mari Veerappan | Kannada | |
| 1992 | Chamatkara | Inspector Rao | Kannada | Cameo appearance |
| 1992 | Mallige Hoove | | Kannada | |
| 1993 | Harakeya Kuri | Badri | Kannada | |
| 1993 | Tropical Heat | Police officer | English | |
| 1994 | Duet | Actor Sirpy | Tamil | |
| 1994 | Nishkarsha | Suresh | Kannada | |
| 1994 | Lockup Death | Giri | Kannada | |
| 1994 | Nila | Ramesh | Tamil | |
| 1994 | Thekkekara Superfast | Johnykutty | Malayalam | |
| 1995 | Thalaivanin Arulullam | Dev Saravanan | Tamil | |
| 1995 | Bombay | Kumar | Tamil | |
| 1995 | Sankalpam | Gaddapalugu Chenchu Ramaiah | Telugu | |
| 1995 | Pullakuttikaran | Prakash Rao | Tamil | |
| 1995 | Aasai | Major Madhavan | Tamil | |
| 1995 | Seethanam | Rajasekhar | Tamil | |
| 1996 | Kalki | Prakash | Tamil | Tamil Nadu State Film Award for Best Villain |
| 1996 | The Prince | Surya Das | Malayalam | |
| 1996 | Priyam | Dharma | Tamil | |
| 1996 | Subash | Arumugasamy | Tamil | |
| 1996 | Sahanam | K.N.Rao | Telugu | |
| 1996 | Gunshot | Ali Zaffar Khan | Telugu | |
| 1996 | Vinodam | | Telugu | |
| 1996 | Janani | | Kannada | |
| 1996 | Indraprastham | Mohan George | Malayalam | |
| 1996 | Pavithra Bandham | Suriya | Telugu | |
| 1996 | Vishwanath | Michael | Tamil | |
| 1996 | Poomani | Thangamani | Tamil | |
| 1996 | Alexander | Ashok | Tamil | |
| 1997 | Suswagatham | Vasudeva Rao | Telugu | |
| 1997 | Hitler | Prakash Raj | Telugu | |
| 1997 | Iruvar | Tamilzhchelvan | Tamil | National Film Award for Best Supporting Actor |
| 1997 | Minsara Kanavu | Jaipal | Tamil | |
| 1997 | Mommaga | | Kannada | |
| 1997 | Aravindhan | Krishnan Kumar | Tamil | |
| 1997 | Oru Yathramozhi | Satya | Malayalam | |
| 1997 | Raasi | Melapatty Ramasamy's son | Tamil | |
| 1997 | Dhinamum Ennai Gavani | Rolex | Tamil | |
| 1997 | V.I.P. | | Tamil | Cameo appearance |
| 1997 | Nandhini | Prakash | Tamil | |
| 1997 | Nagamandala | Appanna | Kannada | |
| 1997 | Nerrukku Ner | Kandaswamy | Tamil | |
| 1997 | Pellichesukundam | | Telugu | |
| 1997 | Paththini | Eeswar | Tamil | |
| 1997 | Vidukathai | Neelakandan | Tamil | |
| 1998 | Anthapuram | Narasimha | Telugu | National Film Award for Best Actor (Special Jury) |
| 1998 | Santhosham | Nadesan | Tamil | |
| 1998 | Kavalai Padathe Sagodhara | | Tamil | |
| 1998 | Swarnamukhi | Akash | Tamil | |
| 1998 | Choodalani Vundi | Mahendra | Telugu | |
| 1998 | Yaare Neenu Cheluve | Jeetu | Kannada | |
| 1998 | Sandhippoma | Vishwa's father | Tamil | |
| 1998 | Senthooram | Muthu Manikkam | Tamil | |
| 1998 | Sollamale | Dr. Surya Prakash | Tamil | |
| 1998 | Gurupaarvai | Gurumurthy | Tamil | |
| 1998 | Shanti Shanti Shanti | Ganga Prasad | Kannada | |
| 1998 | Preethsod Thappa | | Kannada | |
| 1999 | Sneham Kosam | Peddabbayi | Telugu | |
| 1999 | En Swaasa Kaatrae | Guru | Tamil | |
| 1999 | Padayappa | IG Subramaniam | Tamil | Cameo appearance |
| 1999 | Veedu Samanyudu Kaadu | | Telugu | |
| 1999 | Rajakumarudu | Dhanunjay | Telugu | |
| 1999 | Anthapuram | Narashima | Tamil | |
| 1999 | P | Venkata Narayana | Telugu | |
| 1999 | Rajasthan | | Tamil | |
| 1999 | Preminchedi Endukamma | Jagan | Telugu | |
| 1999 | Samudram | Nooka Raju | Telugu | |
| 1999 | Z | Prakash | Kannada | |
2000 – 2009
| Year | Title | Role | Language | Notes |
| --- | --- | --- | --- | --- |
| 2001 | Kshemamga Velli Labhamga Randi | Master | Telugu | |
| 2001 | Sanchalanam | | Telugu | |
| 2001 | Appu | Maharani | Tamil | |
| 2001 | Badri | Nanda | Telugu | |
| 2001 | Manoharam | Srinivasa Murthy | Telugu | |
| 2001 | Real Story | Veeraiya | Telugu | |
| 2001 | Sardukupodaam Randi | Problem Paramkusam | Telugu | |
| 2001 | Adavi Chukka | | Telugu | |
| 2001 | Chamundi | | Kannada | |
| 2001 | Moodu Mukkalaata | Paramahamsa | Telugu | |
| 2001 | Chinna Chinna Kannile | Sabesan | Tamil | |
| 2001 | Azad | Salim | Telugu | |
| 2001 | Vaanavil | Prakash | Tamil | Tamil Nadu State Film Award for Best Villain |
| 2001 | Bachi | Tatineni Koteswara Rao | Telugu | |
| 2001 | Chiru Navvutho | Pratap | Telugu | |
| 2001 | Tirumala Tirupati Venkatesa | | Telugu | Cameo appearance |
| 2001 | Mrugaraju | Valmiki Dora | Telugu | |
| 2001 | Vanchinathan | Chidambaram | Tamil | |
| 2001 | Murari | Zamindar | Telugu | Cameo appearance |
| 2001 | Usire | Rudre Gowda | Kannada | |
| 2001 | Rishi | | Tamil | |
| 2001 | Little John | Kaala Bhairavan / Kala Bhairava | Tamil / Hindi / English | |
| 2001 | Dosth | ACP Neelakanda Bhramachari | Tamil | |
| 2001 | Ammai Kosam | Anjali's father | Telugu | |
| 2001 | Premakke Sai | | Kannada | |
| 2001 | Bhalevadivi Basu | Benerjee | Telugu | |
| 2001 | Nuvvu Naaku Nachav | Murthy | Telugu | |
| 2001 | Alli Thandha Vaanam | | Tamil | |
| 2002 | Premaku Swagatam | Mahendra | Telugu | |
| 2002 | Kannathil Muthamittal | Dr. Herold Vikramesinghe | Tamil | ITFA Best Supporting Actor Award |
| 2002 | Ekangi | | Kannada | |
| 2002 | Dhaya | Dhaya | Tamil | National Film Award for Best Actor (Special Jury) |
| 2002 | Adrustam | Police Officer | Telugu | |
| 2002 | Indra | Chenna Kesava Reddy | Telugu | |
| 2002 | Idiot | Vipra Narayana | Telugu | |
| 2002 | Shakti – The Power | Sharpshooter | Hindi | |
| 2002 | Atithi | Ali Abdul Khan | Kannada | |
| 2002 | Nuvve Nuvve | Vishwanath | Telugu | Filmfare Award for Best Telugu Supporting Actor |
| 2002 | Bobby | Yadagiri | Telugu | |
| 2002 | Kadhal Azhivathillai | | Tamil | |
| 2002 | Khadgam | Amjad Khan | Telugu | Nandi Award for Best Supporting Actor |
| 2002 | I Love You Da | Siddharth | Tamil | |
| 2002 | Rifles | Narasimha Varma | Telugu | |
| 2003 | Chokka Thangam | Sundaram | Tamil | Nominated, Filmfare Best Tamil Supporting Actor Award |
| 2003 | Okkadu | Obul Reddy | Telugu | Santosham Best Villain Award |
| 2003 | Juniors | Principal | Telugu | |
| 2003 | Fools | | Telugu | |
| 2003 | Gangotri | Neelakantha Naidu | Telugu | Nandi Award for Best Villain |
| 2003 | Dil | Gowri Shankar | Telugu | |
| 2003 | Kadhal Sadugudu | Chidambaram | Tamil | |
| 2003 | Amma Nanna O Tamila Ammayi | Raghuveer | Telugu | Nandi Award for Best Character Actor |
| 2003 | Nijam | A.C.P Raja Narendra | Telugu | |
| 2003 | Simhachalam | Dora Swamy Raju | Telugu | |
| 2003 | Charminar | Surendra Babu | Telugu | |
| 2003 | Tagore | Suryam | Telugu | Filmfare Award for Best Telugu Supporting Actor |
| 2003 | Naam | Irfan Pathan Khan | Tamil | |
| 2003 | Preethi Prema Pranaya | Dr. Ashok | Kannada | |
| 2003 | Sivamani | Dattu | Telugu | |
| 2004 | Varsham | Ranga Rao | Telugu | |
| 2004 | Lakshmi Narasimha | Dharma Bhiksham | Telugu | |
| 2004 | Athade Oka Sainyam | Prakash Rao | Telugu | |
| 2004 | Khakee | ACP Shrikant Naidu | Hindi | |
| 2004 | Thekkekkara Superfast | Jonnykutty | Malayalam | |
| 2004 | Seenu Vasanthi Lakshmi | Appala Naidu | Telugu | |
| 2004 | Ghilli | Muthu Pandi | Tamil | Filmfare Award for Best Tamil Villain |
| 2004 | Samba | Pasupathi | Telugu | |
| 2004 | Koduku | Narayanan | Telugu | |
| 2004 | Yagnam | Inspector Pratap Reddy | Telugu | |
| 2004 | Sri Anjaneyam | Anji's father | Telugu | |
| 2004 | Bimba | Bhim Kumar | Kannada | |
| 2004 | Shart: The Challenge | Nandu | Hindi | |
| 2004 | Naa Autograph | Prakash Kumar | Telugu | |
| 2004 | Intlo Srimathi Veedhilo Kumari | Sundara Murthy | Telugu | |
| 2004 | Vasool Raja MBBS | Vishwanathan | Tamil | |
| 2004 | Azhagiya Theeye | Aravind | Tamil | |
| 2004 | Arjun | Bala | Telugu | |
| 2004 | Giri | Suryaprakash | Tamil | |
| 2004 | M. Kumaran Son Of Mahalakshmi | Easwar | Tamil | |
| 2004 | Konchem Touchlo Vunte Cheputanu | | Telugu | |
| 2004 | Vidyarthi | | Telugu | |
| 2004 | Mass | Durga Prasad | Telugu | |
| 2005 | Ayya | Karuppusamy | Tamil | |
| 2005 | Nuvvostanante Nenoddantana | Prakash | Telugu | |
| 2005 | Dhana 51 | | Telugu | |
| 2005 | Sankranthi | Govardhan Choudary | Telugu | |
| 2005 | Chakram | Chakram's father | Telugu | |
| 2005 | Bunny | Somaraju | Telugu | |
| 2005 | Subhash Chandra Bose | Venkatratnam | Telugu | |
| 2005 | Athanokkade | Ram's father | Telugu | |
| 2005 | Bhadra | Surendra | Telugu | |
| 2005 | Amudhae | Victor | Tamil | |
| 2005 | Arinthum Ariyamalum | Aadhi Narayanan | Tamil | |
| 2005 | Andarivaadu | Veerendra (Eeru Babu) | Telugu | |
| 2005 | Anniyan | DCP Prabhakar | Tamil | Tamil Nadu State Film Award for Best Villain |
| 2005 | Athadu | CBI Officer Anjaneya Prasad | Telugu | |
| 2005 | Ponniyin Selvan | Guru | Tamil | |
| 2005 | Pandipada | Pandidurai | Malayalam | |
| 2005 | Political Rowdy | Pandu | Telugu | |
| 2005 | Aadum Koothu | Zamindar | Tamil | direct-to-television |
| 2005 | Bhageeratha | Venkata Ratnam | Telugu | |
| 2005 | Sivakasi | Udayappa | Tamil | Filmfare Award for Best Tamil Villain |
| 2006 | Paramasivan | Nandhakumar | Tamil | |
| 2006 | Aathi | Aadhi's father | Tamil | |
| 2006 | Saravana | Soundarapandi | Tamil | |
| 2006 | Idhaya Thirudan | Mayilravanan | Tamil | |
| 2006 | Suyetchai MLA | Ilampirai | Tamil | |
| 2006 | Ajay | Vijay | Kannada | |
| 2006 | Illalu Priyurala | Veer Singh | Telugu | |
| 2006 | Pokiri | Ali Bhai | Telugu | |
| 2006 | Veerabhadra | | Telugu | |
| 2006 | Thalainagaram | | Tamil | |
| 2006 | Parijatham | Santhosh | Tamil | |
| 2006 | Vikramarkudu | DGP | Telugu | Cameo appearance |
| 2006 | Ashok | Ashok's father | Telugu | |
| 2006 | Bommarillu | Aravind | Telugu | Nandi Award for Best Supporting Actor |
| 2006 | Aran | Colonel | Tamil | |
| 2006 | Vettaiyaadu Vilaiyaadu | Arokiyaraj | Tamil | |
| 2006 | Perarasu | Elakkyam | Tamil | |
| 2006 | Stalin | Muddu Krishnayya | Telugu | |
| 2006 | Vathiyar | Easwara Pandian | Tamil | |
| 2006 | Sainikudu | Mondi Naani | Telugu | |
| 2006 | Khatarnak | Commissioner | Telugu | |
| 2006 | Thiruvilaiyaadal Aarambam | Guru | Tamil | |
| 2006 | Rakhi | | Telugu | Cameo appearance |
| 2006 | Poi | Vidhi | Tamil | |
| 2007 | Pokkiri | Ali Bhai | Tamil | Nominated, Vijay Award for Best Villain |
| 2007 | Lee | Puthiran | Tamil | |
| 2007 | Mozhi | Vijayakumar | Tamil | Vijay Award for Best Supporting Actor |
| 2007 | Viyabari | | Tamil | Cameo appearance |
| 2007 | Aadivaram Adavallaku Selavu | | Telugu | Cameo appearance |
| 2007 | Jagadam | Police Commissioner | Telugu | Cameo appearance |
| 2007 | Munna | Kakha | Telugu | |
| 2007 | Veerappu | Vedhukannu | Tamil | |
| 2007 | Aarya | Kasi | Tamil | |
| 2007 | Chirutha | Karthikeya | Telugu | |
| 2007 | Kanna | Raghunath | Tamil | |
| 2008 | Bheemaa | Chinna | Tamil | |
| 2008 | Velli Thirai | Kannaiya | Tamil | |
| 2008 | Jalsa | Indu & Bhagyamati's father | Telugu | |
| 2008 | Santosh Subramaniam | Subramaniam | Tamil | |
| 2008 | Arai En 305-il Kadavul | Kadavul | Tamil | |
| 2008 | Kantri | Pothu Raju alias PR | Telugu | |
| 2008 | Parugu | Neelakanta | Telugu | |
| 2008 | Saroja | Vishwanath | Tamil | |
| 2008 | Rainbow | Doctor | Telugu | |
| 2008 | Alibhabha | Subramaniam | Tamil | |
| 2008 | Pandhayam | Masanam | Tamil | |
| 2008 | Kotha Bangaru Lokam | Balu's father | Telugu | Nominated, Filmfare Award for Best Telugu Supporting Actor |
| 2008 | Kanchivaram | Vengadam | Tamil | National Film Award for Best ActorFilmfare Best Tamil Actor Award (2009)Vijay Award for Best Actor |
| 2008 | Abhiyum Naanum | Raghuram | Tamil | Tamil Nadu State Film Award for Best Character Artiste (Male)Nominated, Filmfare Best Tamil Supporting Actor Award |
| 2008 | Panchamirtham | Raavana | Tamil | |
| 2009 | Villu | J. D. | Tamil | Tamil Nadu State Film Award for Best Villain |
| 2009 | Konchem Ishtam Konchem Kashtam | Prakash | Telugu | |
| 2009 | Thoranai | Thamizharasu | Tamil | |
| 2009 | Pistha | Suryaprakash | Telugu | |
| 2009 | Malai Malai | Essaki | Tamil | |
| 2009 | Anjaneyulu | Jai Prakash | Telugu | Cameo appearance |
| 2009 | Josh | Principal | Telugu | |
| 2009 | Wanted | Gani Bhai | Hindi | |
| 2009 | Solla Solla Inikkum | Bhadri Narayanan | Tamil | |
| 2009 | Mathiya Chennai | | Tamil | Cameo appearance |
| 2009 | Katha | Viren | Telugu | |
2010 – 2019
| Year | Title | Role | Language | Notes |
| --- | --- | --- | --- | --- |
| 2010 | Naanu Nanna Kanasu | Raj Uthappa | Kannada | Also director |
| 2010 | Singam | Mayil Vaaganam | Tamil | |
| 2010 | Theeradha Vilaiyattu Pillai | Jyoti's brother | Tamil | |
| 2010 | Hoo | Michael | Kannada | |
| 2010 | Kadhalagi | Ananthakrishnan (AK) | Tamil | |
| 2010 | Golimaar | DGP | Telugu | |
| 2010 | Brindaavanam | Bhanu Prasad | Telugu | |
| 2010 | Khaleja | GK | Telugu | |
| 2010 | Anwar | Stalin Manimaran | Malayalam | |
| 2010 | Elektra | Abraham and Isaac | Malayalam | Dual role |
| 2010 | Collector Gari Bharya | Gautham | Telugu | |
| 2010 | Magizhchi | | Tamil | Cameo appearance |
| 2010 | Orange | Abhishek Verma | Telugu | |
| 2010 | Chutti Chathan | | Tamil | |
| 2011 | Mirapakaay | Kittu | Telugu | |
| 2011 | Payanam | Vishwanathan | Tamil | |
| 2011 | Gaganam | Vishwanath | Telugu | |
| 2011 | Vastadu Naa Raju | Narasimha | Telugu | |
| 2011 | Wanted | Basava Reddy | Telugu | |
| 2011 | Dongala Mutha | Munna Bhai | Telugu | |
| 2011 | Ponnar Shankar | Manthiappan | Tamil | |
| 2011 | Ko | Yogeswaran | Tamil | |
| 2011 | Mr. Perfect | Dubey | Telugu | |
| 2011 | Vaanam | Rahimuddin Qureshi | Tamil | |
| 2011 | Dhool | Nanda | Kannada | |
| 2011 | Engeyum Kaadhal | Himself | Tamil | Cameo appearance |
| 2011 | Puttakkana Highway | Shani Krishna | Kannada | |
| 2011 | Rajadhani | Ajay | Kannada | |
| 2011 | Badrinaadh | Bheeshmanarayana | Telugu | |
| 2011 | Pillaiyar Theru Kadaisi Veedu | Doctor | Tamil | Cameo appearance |
| 2011 | Bbuddah... Hoga Terra Baap | Kabir Bhai | Hindi | |
| 2011 | Venghai | Rajalingam | Tamil | |
| 2011 | Singham | Jaikanth Shikre | Hindi | |
| 2011 | Rowthiram | Shiva's grandfather | Tamil | Cameo appearance |
| 2011 | Mr. Rascal | | Telugu | |
| 2011 | Dookudu | Shankar Narayana | Telugu | SIIMA Award for Best Actor in a Supporting Role |
| 2011 | Oosaravelli | Ajju Bhai | Telugu | |
| 2011 | Solo | Raghupathi Naidu | Telugu | |
| 2012 | Prarthane | Sahukar Thimmappa | Kannada | |
| 2012 | Businessman | Jaidev | Telugu | |
| 2012 | Bodyguard | Varadarajula Naidu | Telugu | |
| 2012 | Dhoni | Subramaniam | Tamil | Also director |
| 2012 | Dhoni | Subramaniam | Telugu | Also director |
| 2012 | Saguni | R. K. Boopathi | Tamil | |
| 2012 | Devudu Chesina Manushulu | Prakash Raj | Telugu | |
| 2012 | Julayi | N/A | Telugu | Voiceover |
| 2012 | Cameraman Gangatho Rambabu | Rana Prathap Naidu | Telugu | |
| 2012 | Dhamarukam | Lord Shiva / Sambayya | Telugu | |
| 2012 | Dabangg 2 | Thakur Bachcha Singh | Hindi | |
| 2013 | Seethamma Vakitlo Sirimalle Chettu | Relangi Mavayya | Telugu | |
| 2013 | Mumbai Mirror | Shetty | Hindi | |
| 2013 | Ongole Githa | Adikeshavulu | Telugu | |
| 2013 | Chennaiyil Oru Naal | Gautham Krishna | Tamil | |
| 2013 | Gouravam | Pasupathi | Tamil | |
| 2013 | Gouravam | Pasupathi | Telugu | |
| 2013 | Thillu Mullu | Siva Gurunathan | Tamil | |
| 2013 | Balupu | Nanaji / Mohan Rao | Telugu | |
| 2013 | Thulli Vilayadu | Singamuthu | Tamil | |
| 2013 | Policegiri | Nagori Subramaniam | Hindi | |
| 2013 | Bhaag Milkha Bhaag | Veerapandian | Hindi | |
| 2013 | Zanjeer | Teja | Hindi | |
| 2013 | Thoofan | Teja | Telugu | |
| 2013 | Rajjo | Handa Bhau | Hindi | |
| 2013 | Singh Saab the Great | Bhoodev Singh | Hindi | |
| 2014 | Heart Attack | Cameo | Telugu | |
| 2014 | Crazy Star | | Kannada | |
| 2014 | Race Gurram | Bheem Prakash | Telugu | |
| 2014 | Heropanti | Surat Singh Chaudhary | Hindi | |
| 2014 | Un Samayal Arayil | Kalidas | Tamil | Also director |
| 2014 | Ulavacharu Biriyani | Kalidas | Telugu | Also director |
| 2014 | Oggarane | Kalidasa | Kannada | Also director |
| 2014 | Alludu Seenu | Bhai & Narasimha | Telugu | |
| 2014 | Pilla Nuvvu Leni Jeevitham | Prabhakar | Telugu | |
| 2014 | Entertainment | Karan | Hindi | |
| 2014 | Kathai Thiraikathai Vasanam Iyakkam | | Tamil | Cameo appearance |
| 2014 | Govindudu Andarivadele | Balaraju | Telugu | |
| 2014 | Power | A. K. Mishra | Telugu | |
| 2014 | Mukunda | Jaya Prakash | Telugu | |
| 2015 | Temper | Waltair Vasu | Telugu | |
| 2015 | S/O Satyamurthy | Satyamurthy | Telugu | |
| 2015 | Pulan Visaranai 2 | | Tamil | |
| 2015 | JK Enum Nanbanin Vaazhkai | Rudhratchagan | Tamil | |
| 2015 | O Kadhal Kanmani | Ganapathy | Tamil | |
| 2015 | Lion | CM Bharadwaja | Telugu | |
| 2015 | Ranna | Sharat Chandra | Kannada | |
| 2015 | Vinavayya Ramayya | | Telugu | |
| 2015 | Rudhramadevi | Shiva Devaiah | Telugu | |
| 2015 | Mr. Airavata | Prathap Khale | Kannada | |
| 2015 | Thoonga Vanam | Vittal Rao | Tamil | |
| 2015 | Cheekati Rajyam | Vittal Rao | Telugu | |
| 2015 | Inji Iduppazhagi | Satyanand | Tamil | |
| 2015 | Size Zero | Satyanand | Telugu | |
| 2015 | Boologam | Deepak | Tamil | |
| 2016 | Bangalore Naatkal | Francis | Tamil | |
| 2016 | Priyanka | | Kannada | |
| 2016 | Speedunnodu | Veerabhadrappa | Telugu | |
| 2016 | Devara Nadalli | | Kannada | |
| 2016 | CandyFlip | Jojo | English / Hindi | |
| 2016 | Shourya | Krishna | Telugu | |
| 2016 | Oopiri | Prasad Rao | Telugu | |
| 2016 | Thozha | Prasad | Tamil | |
| 2016 | Attack | Guru Raj | Telugu | |
| 2016 | Manithan | Adisheshan | Tamil | |
| 2016 | Ko 2 | Yogeeswaran | Tamil | |
| 2016 | Rajadhi Raja | Rudhraksha | Telugu | |
| 2016 | Srirastu Subhamastu | Krishna Mohan | Telugu | |
| 2016 | Kotigobba 2 | Sathya's father | Kannada | |
| 2016 | Mudinja Ivana Pudi | Sathyam's father | Tamil | |
| 2016 | Idolle Ramayana | Bhujangaiah | Kannada | |
| 2016 | Mana Oori Ramayanam | Bhujangaiah | Telugu | |
| 2016 | Kadavul Irukaan Kumaru | Manimaran | Tamil | |
| 2016 | Naanu Mattu Varalakshmi | Trainer | Kannada | |
| 2017 | Shatamanam Bhavati | Raghavaraju | Telugu | |
| 2017 | Dwarka | Chief Minister | Telugu | |
| 2017 | Yaakkai | Sagayam | Tamil | |
| 2017 | Raajakumara | Jagannath | Kannada | |
| 2017 | Achayans | Commissioner Karthik Kathiresan | Malayalam | |
| 2017 | Aaradugula Bullet | Nithyanand | Telugu | |
| 2017 | Vanamagan | Rajashekar | Tamil | |
| 2017 | Nakshatram | Parasuramaiah IPS | Telugu | |
| 2017 | Ungarala Rambabu | Ranga Nayar | Telugu | |
| 2017 | Golmaal Again | Vasu Reddy | Hindi | |
| 2017 | Raja The Great | SP Prakash | Telugu | |
| 2017 | Gowdru Hotel | Rishi's grandfather | Kannada | |
| 2017 | Richie | Father A.K. Sagayam | Tamil | |
| 2017 | Velaikkaran | Kasi | Tamil | |
| 2017 | Kalavadiya Pozhudugal | Soundarrajan | Tamil | |
| 2018 | Jai Simha | Master | Telugu | |
| 2018 | Prema Baraha | Army man's father | Kannada | |
| 2018 | Sollividava | Army man's father | Tamil | |
| 2018 | Rangasthalam | MLA Dakshina Murthy | Telugu | |
| 2018 | Seizer | Bhupathi | Kannada | Nominted – Filmibeat Award for Best Villain – Kannada |
| 2018 | Mohanlal | Himself | Malayalam | |
| 2018 | Bharat Ane Nenu | Varadarajulu | Telugu | |
| 2018 | Mahanati | Aluri Chakrapani | Telugu | |
| 2018 | Sometimes | Krishnamoorthy | Tamil | direct-to-video |
| 2018 | Traffic Ramasamy | Police Officer | Tamil | |
| 2018 | Goodachari | Satya | Telugu | |
| 2018 | Srinivasa Kalyanam | R.K. | Telugu | |
| 2018 | 60 Vayadu Maaniram | Govindarajan | Tamil | |
| 2018 | Chekka Chivantha Vaanam | Senapathi | Tamil | |
| 2018 | Hello Guru Prema Kosame | Viswanath | Telugu | |
| 2018 | Sei | ACP Suryanarayana | Tamil | |
| 2018 | Odiyan | Ravunni | Malayalam | |
| 2019 | N. T. R. | Nagi Reddy | Telugu | |
| 2019 | F2: Fun and Frustration | Dora Swamy Naidu | Telugu | |
| 2019 | 9 | Dr. Iniyath Khan | Malayalam | |
| 2019 | Dev | Ramalingam | Tamil | |
| 2019 | Athiran | Doctor | Malayalam | |
| 2019 | Maharshi | K. Satyanarayana | Telugu | |
| 2019 | 1st Rank Raju | CEO Parthasarathy | Telugu | |
| 2019 | Asuran | Venugopal Seshadri | Tamil | |
| 2019 | Azhiyatha Kolangal 2 | Gowri Shankar | Tamil | |
| 2019 | Venky Mama | Brigadier Vijay Prakash | Telugu | |
| 2019 | Ruler | Veerandranath Tagore | Telugu | |
2020 – Present
| Year | Title | Role | Language | Notes |
| --- | --- | --- | --- | --- |
| 2020 | Sarileru Neekevvaru | MLA Yeddula Nagendra | Telugu | |
| 2020 | Mayabazar 2016 | ACP Ashok | Kannada | |
| 2021 | Alludu Adhurs | Jaypal Reddy | Telugu | |
| 2021 | Yuvarathnaa | Guru Dev Deshmukh | Kannada | |
| 2021 | Vakeel Saab | Nanda Gopal | Telugu | |
| 2021 | Jai Bhim | IG Perumalsamy | Tamil | Direct release on Amazon Prime Video |
| 2021 | Annaatthe | Nattadurai | Tamil | |
| 2021 | Enemy | Paarirajan | Tamil | |
| 2022 | Clap | Kathir's / Vishnu's father | TamilTelugu | Direct release on Sony LIV |
| 2022 | Pada | Chief Secretary N. Rajasekharan | Malayalam | |
| 2022 | Attack | V K Subramaniam | Hindi | [9] |
| 2022 | K.G.F: Chapter 2 | Vijayendra Ingalagi | Kannada | |
| 2022 | Major | K. Unnikrishnan | TeluguHindi | completed |
| 2022 | Thiruchitrambalam | | Tamil | completed |
| 2022 | Shaakuntalam | TBA | Telugu | Post-production |
| 2022 | Viruman | TBA | Tamil | Post-production |
| 2022 | Sarkaru Vaari Paata | TBA | Telugu | completed |
| 2022 | Varaal | TBA | Malayalam | Post-production |
| 2022 | Ponniyin Selvan | Sundara Chola | Tamil | Post-production |
| 2022 | Kabzaa | TBA | Kannada | Filming |
As Producer And Director
| Year | Title | Language | Producer | Director | Notes |
| --- | --- | --- | --- | --- | --- |
| 2002 | Dhaya | Tamil | Yes | No | |
| 2003 | Naam | Tamil | Yes | No | |
| 2004 | Azhagiya Theeye | Tamil | Yes | No | |
| 2005 | Kanda Naal Mudhal | Tamil | Yes | No | |
| 2006 | Poi | Tamil | Yes | No | |
| 2007 | Mozhi | Tamil | Yes | No | |
| 2008 | Velli Thirai | Tamil | Yes | No | |
| 2008 | Abhiyum Naanum | Tamil | Yes | No | |
| 2010 | Inidhu Inidhu | Tamil | Yes | No | |
| 2010 | Naanu Nanna Kanasu | Kannada | Yes | Yes | Directorial Debut |
| 2011 | Payanam | Tamil | Yes | No | |
| 2011 | Puttakkana Highway | Kannada | Yes | No | National Award for Best Regional Film of the year[10] Bengaluru International Film Festival Award[11] |
| 2012 | Mayilu | Tamil | Yes | No | |
| 2012 | Dhoni | Tamil / Telugu | Yes | Yes | |
| 2013 | Gouravam | Tamil / Telugu | Yes | No | |
| 2014 | Un Samayal Arayil / Oggarane / Ulavacharu Biriyani[12][13] | Tamil / Kannada / Telugu | Yes | Yes | |
| 2016 | Manavoori Ramayanam / Idolle Ramayana | Telugu / Kannada | Yes | Yes | |
| 2020 | Arishadvarga | Kannada | Yes | No | |
Television
| Year | Title | Role | Language | Channel | Notes |
| --- | --- | --- | --- | --- | --- |
| 1995 | Guddada Bhootha | | Kannada | DD Chandana | |
| 1995 | Kaialavu Manasu | Gururangan | Tamil | Sun TV | |
| 1995 | Chinna Chinna Aasaigal | | Tamil | Sun TV | Acted in the story "Judgement"[14] |
| 2003 | Sahana | | Tamil | Jaya TV | |
| 2013 | Neengalum Vellalam Oru Kodi | Host | Tamil | Star Vijay | |
Web Series
| Year | Title | Role | Language | Platform |
| --- | --- | --- | --- | --- |
| 2020 | Paava Kadhaigal | Janakiraman | Tamil | Anthology film on Netflix |
| 2020 | Shootout at Alair | DSP Suryanarayana | Telugu | ZEE5 |
| 2021 | Navarasa | Sivaraman | Tamil | Anthology film on Netflix |
Awards
Apsara Film and Television Producers Guild Awards
2012 – Sngham as Best Actor in a Negative Role – Won
Filmfare Awards South
| Year | Film | Language | Category | Outcome |
| --- | --- | --- | --- | --- |
| 1997 | Iruvar | Tamil | Best Actor | Nominated |
| 1998 | Antahpuram | Telugu | Best Actor | Nominated |
| 2002 | Nuvve Nuvve | Telugu | Best Supporting Actor | Won |
| 2002 | Khadgam | Telugu | Best Supporting Actor | Nominated |
| 2003 | Tagore | Telugu | Best Supporting Actor | Won |
| 2003 | Amma Nanna O Tamila Ammayi | Telugu | Best Supporting Actor | Nominated |
| 2003 | Chokka Thangam | Tamil | Best Supporting Actor | Nominated |
| 2004 | Ghilli | Tamil | Best Villain | Won |
| 2005 | Sivakasi | Tamil | Best Villain | Won |
| 2006 | Bommarillu | Telugu | Best Supporting Actor | Nominated |
| 2007 | Mozhi | Tamil | Best Film | Nominated |
| 2008 | Kotha Bangaru Lokam | Telugu | Best Supporting Actor | Nominated |
| 2008 | Abhiyum Naanum | Tamil | Best Supporting Actor | Nominated |
| 2009 | Kanchivaram | Tamil | Best Actor | Won |
| 2009 | Aakasamantha | Telugu | Best Supporting Actor | Nominated |
| 2010 | Naanu Nanna Kanasu | Kannada | Best Director | Nominated |
| 2010 | Singam | Tamil | Best Supporting Actor | Nominated |
| 2011 | Dookudu | Telugu | Best Supporting Actor | Nominated |
| 2013 | Seethamma Vakitlo Sirimalle Chettu | Telugu | Best Supporting Actor | Nominated |
| 2014 | Govindudu Andarivadele | Telugu | Best Supporting Actor | Nominated |
| 2015 | Oggarane | Kannada | Best Director | Nominated |
| 2015 | O Kadhal Kanmani | Tamil | Best Supporting Actor | Nominated |
| 2017 | Sathamanam Bhavati | Telugu | Best Supporting Actor | Nominated |
International Indian Film Academy Awards
2012 – Singham for Best Performance in Negative Role – Won
International Tamil Film Awards
2003 – Kannathil Muthamittal for Best Supporting Actor – Won
Nandi Awards
| Year | Film | Category | Outcome |
| --- | --- | --- | --- |
| 1996 | Gunshot | Best Villain | Won |
| 1998 | Anthahpuram | Best Character Actor | Won |
| 2000 | Azad | Best Character Actor | Won |
| 2002 | Khadgam | Best Supporting Actor | Won |
| 2003 | Amma Nanna O Tamila Ammayi | Best Character Actor | Won |
| 2003 | Gangotri | Best Villain | Won |
| 2006 | Bommarillu | Best Supporting Actor | Won |
| 2011 | Dookudu | Best Supporting Actor | Won |
National Film Awards
| Year | Film | Language | Category | Outcome |
| --- | --- | --- | --- | --- |
| 1997 | Iruvar | Tamil | Best Supporting Actor | Won |
| 1998 | Anthapuram | Telugu | Special Mention | Won |
| 2002 | Dhaya | Tamil | Special Jury Award | Won |
| 2007 | Kanchivaram | Tamil | Best Actor | Won |
| 2010 | Puttakkana Highway | Kannada | Best Feature Film in Kannada(As producer) | Won |
Santosham Film Awards
2003 – Okkadu for Best Villain Award – Won
Tamil Nadu State Film Awards
| Year | Film | Category | Outcome |
| --- | --- | --- | --- |
| 1996 | Kalki | Best Villain | Won |
| 2000 | Vaanavil | Best Villain | Won |
| 2005 | Various movies | Best Villain | Won |
| 2009 | Mozhi | Best Film – Second Prize | Won |
| 2010 | Abhiyum Naanum | Best Film – Second Prize | Won |
| 2010 | Abhiyum Naanum | Best Character Artiste | Won |
| 2017 | Villu | Best Villain | Won |
| 2017 | Dhoni | Best Film – Third Prize | Won |
Vijay Awards
| Year | Film | Category | Outcome |
| --- | --- | --- | --- |
| 2006 | Sivakasi | Best Villain | Won |
| 2007 | Mozhi | Best Supporting Actor | Won |
| 2007 | Pokkiri | Best Villain | Nominated |
| 2008 | Abhiyum Naanum | Best Supporting Actor | Nominated |
| 2009 | Kanchivaram | Best Actor | Won |
| 2010 | Singam | Best Villain | Nominated |
Zee Cine Awards
2012 – Singham for Best Actor in a Negative Role – Won
CineMAA Awards
| Year | Film | Category | Outcome |
| --- | --- | --- | --- |
| 2003 | Khadgam | Best Supporting Actor | Won |
| 2004 | Amma Nanna O Tamila Ammayi | Best Supporting Actor | Won |
| 2012 | Dookudu | Best Supporting Actor | Won |
South Indian International Movie Awards
| Year | Film | Category | Outcome |
| --- | --- | --- | --- |
| 2012 | Dookudu | Best Supporting Actor – Telugu | Won |
| 2013 | Dhoni | Best Actor in a Supporting Role | Nominated |
| 2013 | Dhamarukam | Best Actor in a Supporting Role | Nominated |
| 2013 | Businessman | Best Actor in a Negative Role | Nominated |
| 2014 | Seethamma Vakitlo Sirimalle Chettu | Best Actor in a Supporting Role | Nominated |
| 2015 | Govindudu Andarivadele | Best Actor in a Supporting Role | Nominated |
| 2015 | O Kadhal Kanmani | Best Actor in a Supporting Role | Won |
| 2016 | Manithan | Best Actor in a Supporting Role | Won |
| 2018 | Odiyan | Best Actor in a Negative Role | Nominated |
| 2018 | 60 Vayadu Maaniram | Best Actor in a Supporting Role | Won |
| 2021 | Sarileru Neekevvaru | Best Actor in a Negative Role – Telugu | Nominated |
| 2021 | Mayabazar 2016 | Best Actor in a Negative Role – Kannada | Nominated |
Images
Take a look at the latest photos of Prakash Raj,