Ponmagal Vanthal Serial Wiki | Cast, Crew & Promos | Vijay TV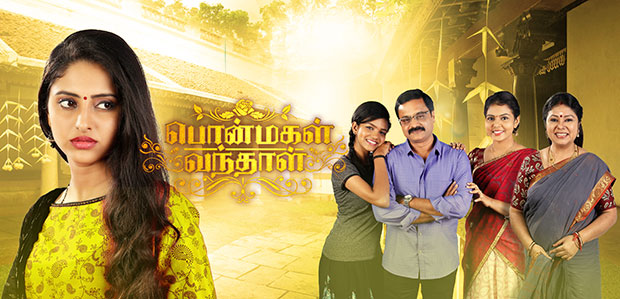 Ponmagal Vanthal is a Tamil Family Melodrama which is being telecasted in Star Vijay TV. The serial features Ayesha and Vicky Krish in the lead role. The serial is being telecasted in Vijay TV at 2.00 pm in the noon. The first episode was aired on 26th February along with Avalum Naanum serial. Both the shows are collectively called as "Vijay's Matinee Thodargal". Vicky Krish is making his debut as a lead and Ayesha is making her debut in the Television industry. The serial is directed by Rasool. Check out below for Ponmagal Vanthal Serial Wiki, Cast, crew, promos and other details:
Read other Television Show Details: Avalum Naanum Serial | Super Singer 6
Ponmagal Vanthal Serial Wiki
| | |
| --- | --- |
| Name | Ponmagal Vanthal |
| Director | Rasool |
| Channel | Vijay TV |
| Timing | Monday to Friday @2.00 pm |
| Genre | Family Melodrama |
| Release Date | 26th February 2018 |
| Starring | Vicky Krish, Ayesha |
| Language | Tamil |
| Running Time | 20 to 24 minutes per episode |
Ponmagal Vanthal Serial Cast & Crew
The below are the cast & Crew of the serial Ponmagal Vanthal:
Ayesha as Rohini (Female Lead)
Vicky Krish as Gowtham (Male Lead)
Saana as Gowtham's Mother
Yuvasree as Thamarai
Other casts will be updated soon
Ponmagal Vanthal Serial Initial Promos
Ponmagal Vanthal features a girl who is ready to sacrifice anything to make their family happy. There were two initial promos. One featuring the family of Rohini. Her dad brings sweet for her daughters and tells his wife that he can't buy sweets anymore as his job is gone. Rohini hears this and makes herself a motto to sacrifice anything in the world to keep her family happy. The second promo features Gowtham's mom. She visits an astrologer to check Gowtham's astronomy.
The astrologer says that as per Gowtham's astrology, his first wife will die and the second wife will be with him for the rest of his life. She is very shocked on hearing this and decides to marry a poor girl to Gowtham initially and later marry him a rich girl. Tune in to Vijay TV @2.00pm every day to know the rest of the story.
Read other Television Show Details: Avalum Naanum Serial | Super Singer 6