Pa. Vijay Wiki, Biography, Age, Songs List, Movies, Kavithaigal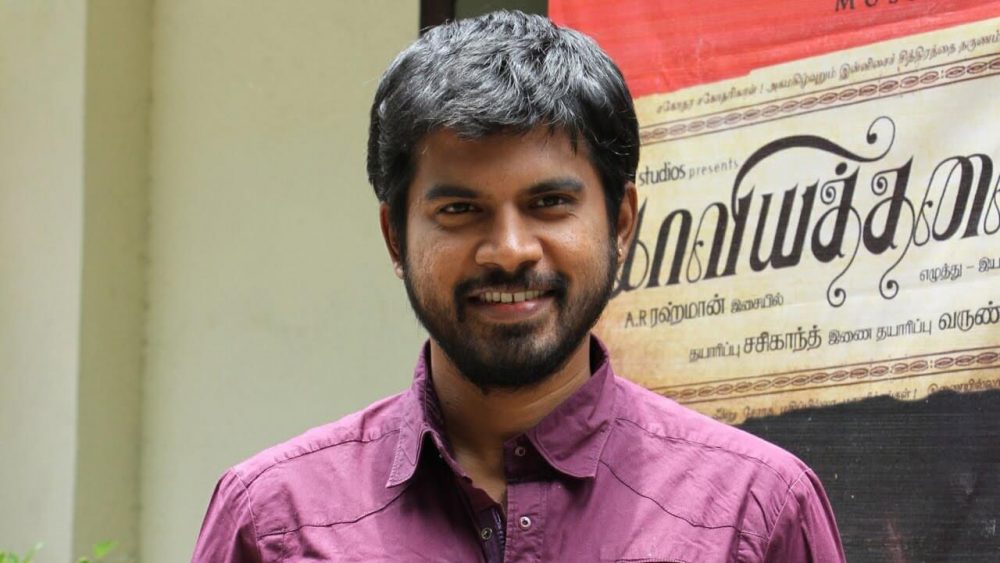 Pa. Vijay is an Indian Poet and Lyricist, who works in Tamil film industry. He writes songs for most of the Tamil songs. He made his debut for the movie Gnanapazham in this movie he writes the song "Manimaada Kuyile" in the year 1996. He is not only the Poet and Lyricist he is also the well-known actor, writer, director & producer. Moreover, he won the National Film Award for the Best Lyrics in India for the song Ovvoru Pookalume in Cheran's Autograph. Check out below for Pa. Vijay Wiki, Biography, Age, Songs List, Movies, Kavithaigal.
Read other biographies: Harish Uthaman | Bobby Simha | Kalaiyarasan | Udhayanidhi Stalin
Pa. Vijay Early Life and Career
Pa. Vijay was born on 20 October 1978, in Kumbakonam, Tamil Nadu, India. Pa. Vijay family his father is Balakrishnan and his mother is Saraswathi. He did his schooling in Ramalingam Chettiyar Higher Secondary School, Coimbatore and he did his graduation in Annamalai University. Pa. Vijay was born in Kumbakonam and he was brought up in Coimbatore. With the help of his brother, he met Director K. Bhagyaraj, and he is the family friend of Pa. Vijay, where he worked with him in the films and for his Magazine Bhagya. He started his career as a lyricist in the year 1996 for the movie Gnanapazham, with that, he wrote more popular songs as well. He made his acting debut in the movie Thaai Kaaviyam but it was released late so his acting debut is Gnabagangal in the year 2009. Moreover, he acted in the movie Ilaingan in the year 2011, which is scripted by M. Karunanidhi but this film is one of the failure movies at the box office. He made his debut as producer and director with the movie Strawberry.
Pa. Vijay Biography
| | |
| --- | --- |
| Name | Vijay |
| Real Name | Vijay |
| Nickname | Pa. Vijay |
| Profession | Poet, lyricist, writer, actor, director |
| Date of Birth | 20 October 1978 |
| Age | 40 |
| Father Name | Balakrishnan |
| Mother Name | Saraswathi |
| Height | 5'7" |
| Weight | 65 Kg |
| Religion | Hindu |
| Educational Qualification | B. Lit |
| School | Ramalingam Chettiyar Higher Secondary School, Coimbatore |
| College | Annamalai University |
| Hobbies | Writing Songs, Listening Music |
| Hometown | Kumbakonam, Tamil Nadu, India |
| Nationality | Indian |
| Married | Yes |
| Wife Name | Lena |
| Current City | Chennai, Tamilnadu, India |
Pa. Vijay Facebook: https://www.facebook.com/PaVijayOfficial/
Pa. Vijay Twitter: https://twitter.com/poetpaavijay1
Pa. Vijay Instagram: Yet to be updated
Pa. Vijay Website: http://www.pavijay.net/
Pa. Vijay Movies list
As Lyricist
Year
Film
Song(s)
1996
Gnanapazham
"Manimaada Kuyile"
1999
Nee Varuvai Ena
"Paarthu Paarthu"
2000
Vanathai Pola
"Kaadhal Vennila", "Nathiye Nayil Nathiye", "Engal Veetil Ella Naalum"
Vetri Kodi Kattu
"Karupputhan Enakku Pidicha"
Snegithiye
"Dhevathai Vamsam Neeye"
Priyamanavale
"June July Maadhathil"
Thenali
"Swaasame"
2001
Ullam Kollai Poguthae
"Kavithaigal Sollava"
Rishi
Paarvai Ondre Podhume
"Yeh Asainthadum"
Dhill
"Dhill Dhill"
Vedham
All songs except "Malai Kaatru"
Samudhiram
"Pine Apple"
2002
Charle Chaplin
"Muthalam Santhippil"
Thulluvadho Ilamai
All songs except "Kannmunne"
Unnai Ninaithu
"Pombalainga Kaadhala"
Sundara Travels
"Malligai Poovukku"
Run
"Ichutha Ichutha"
Bagavathi
"July Malargale"
April Madhathil
"Manase Manase"
Kadhal Virus
"Ye Ye Ennachu Unakku"
2003
Pudhukottaiyilirundhu Saravanan
"Baby Baby", "Where Do We Go" and "Naatu Sarakku"
Pudhiya Geethai
"Manase", "Mercury Poove"
Parthiban Kanavu
"Buck Buck Buck"
Priyamana Thozhi
Boys
"Girl Friend", "Dating"
Thiruda Thirudi
"Mutham Mutham"
Winner
All songs
Thirumalai
"Azhagooril Poothvale"
Kurumbu
2004
Autograph
"Ovvoru Pookalume"
Kangalal Kaidhu Sei
"Azhagiya Cinderella", "Anarkali" and "Ennuyir Thozhi"
Perazhagan
"Kaatru Enbatha"
Bose
"Enna Enna Aachu" and "Vaitha Kann"
Manmadhan
"Oh Mahire" and "En Aasai Mythiliye"
2005
Arinthum Ariyamalum
All Songs
Chandramukhi
"Athinthom"
Sandakozhi
"Mundasu Sooriyane"
14 February
Nanba Nanba
2006
Pattiyal
All songs
2007
Pokkiri
"Dole Dole", "Nee Mutham Ondru" and "En Chella Peru"
Unnale Unnale
4 songs (out of 6)
Sivaji: The Boss
"Style"
Aarya
Azhagiya Thamizh Magan
"Maduraikku Pogathadi"
Billa
All songs
Arai Enn 305-il Kadavul
Adada Daa
Machakaaran
All songs except "Nee Nee Nee"
2008
Bheema
"Oru Mugamo"
Kuruvi
"Palaanadhu" and "Mozha Mozhannu"
Sakkarakatti
"Chinnamma" and "Naan Eppodhu"
Kuselan
"Sollu Sollu"
Aegan
.
2009
Villu
"Nee Kobapattal"
Guru En Aalu
Ayan
"Oyaayiye" and "Honey Honey"
Sarvam
All songs
Thoranai
"Vaa Chellam" and "Manjasela Mandakini"
Aadhavan
Hasile Fisiliye
Muthirai
"Night Is Still Young" and "Night Is Still Young (Remix)"
Padikathavan
"Hey Vetri Velaa" and "Raanki Rangamma"
2010
Theeradha Vilaiyattu Pillai
All songs except "Theeradha Vilaiyattu Pillai"
Enthiran
"Kilimanjaro"
Chikku Bukku
"Chikku Bukku", "Zara Zara", "Smile" and "Adi Saarale"
2011
Mappillai
"Onnu Rendu"
Kaavalan
"Vinnai Kaapan"
Siruthai
"Thalattu"
Ilaignan
All songs
KO
"Aga Naga and Venpaniyae"
7aam Arivu
"Oh Ringa Ringa" and "Innum Enna Thozha"
2012
Nanban
"Irukaana Illaiyaana Eliyana"
Kalakalappu
All songs
Mirattal
"Muga Moodi Pota Nilavie" and "Radio Radio"
Maatraan
"Theeye Theeye"
English Vinglish
All songs
Thuppakki
"Poi Varavaa" and "Alaikaa Laikka"
2013
Kodi
"Manmadhana", "Dhiluse" and "Kavithai Nethane"
Puthagam
"Italica" and "Say That You Love Me"
Alex Pandian
"Rayya Rayya"
Vatthikuchi
"Amma Wake Me"
Theeya Velai Seiyyanum Kumaru
All Songs
Raja Rani
"Angnayaade", "Oday Od", "Imaye Imaye"
Aarambam
All songs
2014
Oru Kaathal Oru Mootha
"Crystal Venila"
Athithi
"Jaipuril.. Jaipuril", "Oru Vidai Theiriyamal"
Thagadu Thagadu
"Oru cd Muppadhu Rooba", "Naan Naanaaga Illai"
Kaviya Thalaivan
"Aye Mr.Minorl", "Sandi Kuthirai", "Sollividu Sollividu", "Yaarumilla"
Irumbu Kuthirai
"Hello Brother"
Yaan
"Latcham Calorie"
Kaththi
"Aathi ena"
Mei Maranthean
"Isthanbul"
Kaathal Sola Aasai
"Madai Thiranthu", "Thamizhachi"
2015
Strawberry
All songs
2016
Vaaraayo Vennilaave
"Kannadi Parkkama", "Unnidam Ondrai", "Yuir Ennum", "Intha aylesa"
Madha Gaja Raja
"My Dear Loveru", "Nee Dhana Nee Dhana" and "Thumbakki Thumbai"
Theri
"Eena Meena Teeka"
S3
Oh Sone
M.S. Dhoni: The Untold Story (Tamil)
All songs
Pa. Vijay As actor, writer, director & producer
| Year | Film | Actor | Notes |
| --- | --- | --- | --- |
| 2009 | Gnabagangal | Actor, Writer, Producer | |
| 2011 | Ilaignan | Actor | |
| 2015 | Strawberry | Actor, Writer, Producer, Director | |
| 2015 | Rudhramadevi | Writer | Dialogues for Tamil version |
| 2016 | Nayyapudai | Actor | |
| 2016 | Appa | Actor | special appearance as himself |
| 2018 | Arudra | Actor, Writer, Producer, Director | |
| TBA | Thagadu Thagadu | Actor | delayed |
Pa. Vijay Images
Read other biographies: Harish Uthaman | Bobby Simha | Kalaiyarasan | Udhayanidhi Stalin | Gautham Karthik | Dhanush