MM Keeravani Wiki, Biography, Age, Songs, Movies, Family, Images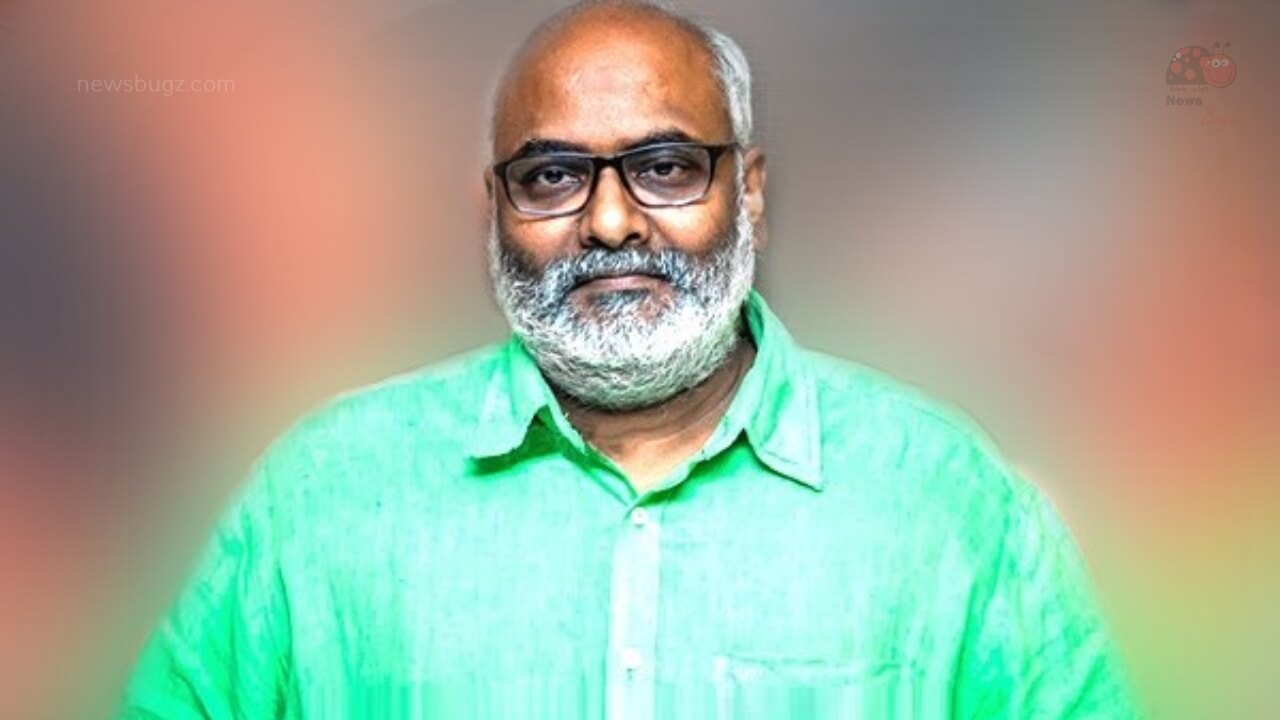 MM Keeravani is an Indian playback singer and music composer, who works mostly in the Telugu film industry. He also works for other language movies such as Tamil, Kannada, Malayalam, and Hindi. Moreover, he worked with the singers like S. P. Balasubrahmanyam and K. S. Chithra. He made his debut song for the movie Manasu Mamatha which is a Telugu movie in the year 1990. He made the headline after his Naatu Naatu Song from RRR movie won Oscars and Golden Globe Awards.
Biography
Name
MM Keeravani
Real Name
Koduri Marakathamani Keeravani
Nickname
Maragathamani, MM Kreem, Vedanarayanan
Profession
Singer, Composer, Lyricist
Date of Birth
4 July 1961
Age (as of 2023)
62
Zodiac sign
Cancer
Family
Father: Koduri Siva Shakthi Datta (Painter, Lyricist, Screenwriter)
Mother: Bhanumathi (deceased)
Brother: Kalyani Malik (Music Director, Singer)
Cousin Brother: SS Rajamouli (Director)
Sister: Srilekha (Singer)
Uncle: V Vijayendra Prasad (SS Rajamouli's Father) (Screenwriter and Film Director)
Marital Status
Married (23 August)
Affairs/Girlfriend
NA
Wife
MM Srivalli (Line Producer in Films)
Children
Son: Kaala Bhairava (Singer), Sri Simha (Actor)
Religion
Hindu
Educational Qualification
Graduate
School
Yet to be updated
College
Yet to be updated
Hobbies
Listening to music, Singing, Reading, Driving
Birth Place
Kovvur, Andhra Pradesh, India
Hometown
Chennai, Tamil Nadu, India
Current City
Hyderabad, Telangana, India
Nationality
Indian
Social Media Profiles
Interesting Facts
His Instagram account has more than 24K followers (as of March 2023).
He changes his name according to regional language movies such as MM Keeravani for Telugu films. Pseudonyms Maragathamani for Tamil, and MM Kreem for his Hindi films.
M. M. Keeravani started his music career as an assistant music director with the noted composer K. Chakravarthy in the year 1987.
He worked on the movies like Collectorgari Abbayi and Bharathamlo Arjunudu in the late 1980s.
He made his first breakthrough as an independent musician came with his movie Kalki in the year 1990, but the movie was not released. Then in the same year, he worked in the movie Manasu Mamatha which is directed by Mouli it bought him into the limelight and it was considered his first release movie.
The movie Kshana Kshanam made him establish himself as a music director and the movie was directed by Ram Gopal Varma. After this movie, he flooded across the South Indian film industry as well as in the Hindi film Criminal.
Then for his talent in the year 1997, he won the National Film Award for Best Music Direction for the Telugu movie Annamayya. Moreover, he won 8 Filmfare Awards, 11 State Nandi Awards, and a Tamil Nadu State Film Award.
Songs
1990s
| Year | Telugu | Tamil | Hindi | Kannada | Malayalam |
| --- | --- | --- | --- | --- | --- |
| 1990 | Manasu Mamatha • | | | | |
| 1990 | Dagudumuthala Dampathyam • | | | | |
| 1991 | Seetharamayya gari Manavaralu • | | | | |
| 1991 | Jeevana Chadarangam • | | | | |
| 1991 | Attintlo Adde Mogudu • | | | | |
| 1991 | Amma • | | | | |
| 1991 | | Azhagan • | | | |
| 1991 | People's Encounter • | | | | |
| 1991 | | Nee Pathi Naan Pathi • | | | |
| 1991 | Mondi Mogudu Penki Pellam • | | | | |
| 1991 | Ashwini • | | | | |
| 1991 | | Paattondru Ketten • | | | |
| 1991 | Kshana Kshanam • | | | | |
| 1991 | | | | | Neelagiri (Malayalam) |
| 1992 | Laati • | | | | |
| 1992 | Sahasam • | | | | |
| 1992 | | Sivantha Malar • | | | |
| 1992 | Hello Darling • | | | | |
| 1992 | Gharana Mogudu • | | | | |
| 1992 | Sundarakanda • | | | | |
| 1992 | | Sevagan • | | | |
| 1992 | President Gari Pellam • | | | | |
| 1992 | Agreement • | | | | |
| 1992 | Allari Mogudu • | | | | |
| 1992 | | Vaaname Ellai • | | | |
| 1992 | Aapadbandhavudu • | | | | |
| 1992 | | Jathi Malli • | | | |
| 1992 | | | | | Soorya Manasam • (Malayalam) |
| 1993 | Mr. Pellam • | | | | |
| 1993 | Matru Devo Bhava • | | | | |
| 1993 | Rendilla Poojari • | | | | |
| 1993 | Chinna Alludu • | | | | |
| 1993 | Rowdy Mogudu • | | | | |
| 1993 | Puttinilla Mattinilla • | | | | |
| 1993 | Aadarsam • | | | | |
| 1993 | | Prathap • | | | |
| 1993 | Rajeswari Kalyanam • | | | | |
| 1993 | | | | Alimayya • (Kannada) | |
| 1993 | Allari Priyudu • | | | | |
| 1993 | Kondapalli Raja • | | | | |
| 1993 | Abbayigaru • | | | | |
| 1993 | Rakshana • | | | | |
| 1993 | Allari Alludu • | | | | |
| 1993 | Varasudu • | | | | |
| 1993 | Major Chandrakanth • | | | | |
| 1994 | Criminal • | | Criminal (1995) | | |
| 1994 | | | | Bhairava • (Kannada) | |
| 1994 | Allari Premikudu • | | | | |
| 1994 | Theerpu • | | | | |
| 1994 | Anna • | | | | |
| 1994 | Khaidi No. 1 | | | | |
| 1994 | Angarakshakudu • | | | | |
| 1994 | Aavesam • | | | | |
| 1994 | | | | Swathi • (Kannada) | |
| 1994 | Boy Friend • | | | | |
| 1994 | Kishkinda Kanda • | | | | |
| 1994 | Yes Nenante Nene • | | | | |
| 1994 | S. P. Parasuram • | | | | |
| 1994 | Pelli Koduku • | | | | |
| 1994 | Gandeevam • | | | | |
| 1994 | Muddula Priyudu • | | | | |
| 1994 | Bobbili Simham • | | | | |
| 1994 | Subha Muhurtham • | | | | |
| 1995 | Subha Sankalpam • | | | | |
| 1995 | Gharana Bullodu • | | | | |
| 1995 | Gharana Alludu • | | | | |
| 1995 | Balaraju Bangaru Pellam • | | | | |
| 1995 | Aalu Magalu • | | | | |
| 1995 | Lady Boss • | | | | |
| 1995 | Mounam • | | | | |
| 1995 | Real Hero • | | | | |
| 1995 | Dear Brother • | | | | |
| 1996 | Pelli Sandadi • | | | | |
| 1996 | Sahasa Veerudu Sagara Kanya • | | | | |
| 1996 | | | Is Raat Ki Subah Nahin • | | |
| 1996 | Rayudugaru Nayudugaru • | | | | |
| 1996 | | | | Appaji • (Kannada) | |
| 1996 | Rambantu • | | | | |
| 1996 | Bombay Priyudu • | | | | |
| 1996 | Jabilamma Pelli • | | | | |
| 1996 | Pavithra Bandham • | | | | |
| 1996 | Priyaragalu • | | | | |
| 1996 | | | Pehli Nazar Mein (non-film album) • | | |
| 1996 | Devaraagam | | | | Devaraagam • (Malayalam) |
| 1996 | | | | Karnataka Suputra• (Kannada) | |
| 1996 | Ardhaangi • | | | | |
| 1996 | Maina • | | | | |
| 1997 | Annamayya • | | | | |
| 1997 | Surya Putrulu • | | | | |
| 1997 | Osi Naa Maradala • | | | | |
| 1997 | Arundhati • | | | | |
| 1998 | W/O V. Vara Prasad • | | | | |
| 1998 | Raja Hamsa • | | | | |
| 1998 | | Kondattam • | | | |
| 1998 | Pandaga | | | | |
| 1998 | | | Zakhm • | | |
| 1998 | Paradesi • | | | | |
| 1998 | Pelli Kanuka • | | | | |
| 1998 | Sri Sita Ramula Kalyanam Chootamu Raarandi • | | | | |
| 1998 | | | Guzare Zamane (non-film album) • | | |
| 1999 | Seetharama Raju • | | | | |
| 1999 | Alludugaaru Vachcharu • | | | | |
| 1999 | Raghavaiah Gari Abbai • | | | | |
2000s
| Year | Telugu | Tamil | Hindi | Kannada |
| --- | --- | --- | --- | --- |
| 2000 | Choosoddaam Randi • | | | |
| 2000 | | | Papa The Great • | |
| 2000 | | | | Deepavali • (Kannada) |
| 2001 | Bava Nachadu • | | | |
| 2001 | Student No.1 • | Student Number 1 • (2003) | | |
| 2001 | | | | Sundara Kaanda • (Kannada) |
| 2001 | Akasa Veedhilo • | | | |
| 2002 | Okato Number Kurraadu • | | | |
| 2002 | Lahiri Lahiri Lahirilo • | | | |
| 2002 | | | Sur: The Melody of Life • | |
| 2002 | Evare Atagaadu • | | | |
| 2002 | | | | Jamindaru • (Kannada) |
| 2002 | Tappu Chesi Pappu Koodu • | | | |
| 2002 | Yuva Rathna • | | | |
| 2003 | Simhadri • | | | |
| 2003 | Okariki Okaru • | | | |
| 2003 | Ee Abbai Chala Manchodu • | | | |
| 2003 | Maa Alludu Very Good • | | | |
| 2003 | | | Jism • | |
| 2003 | Gangotri • | | | |
| 2003 | | | Saaya • (1 song only. Unused song from Zakhm included in Saaya). | |
| 2003 | Pilisthe Palukutha • | | | |
| 2003 | Seetayya • | | | |
| 2004 | Naa Autograph • | | | |
| 2004 | Nenunnanu • | | | |
| 2004 | Swamy • | | | |
| 2004 | Sye • | | | |
| 2004 | Letha Manasulu • | | | |
| 2004 | Varam • | | | |
| 2004 | Pallakilo Pellikoothuru • | | | |
| 2005 | Jagapati • | | | |
| 2005 | | | Rog • | |
| 2005 | Chhatrapati • | | | |
| 2005 | Anukokunda Oka Roju • | | | |
| 2005 | | | Paheli • | |
| 2005 | Allari Bullodu | | | |
| 2005 | | | Kasak • | |
| 2006 | Sri Ramadasu • | | | |
| 2006 | Vikramarkudu • | | | |
| 2006 | Amma Cheppindi • | | | |
| 2006 | Khatarnak • | | | |
| 2007 | Yamadonga • | | | |
| 2007 | | | Dhokha • | |
| 2007 | Bhookailas • | | | |
| 2007 | Chandrahas • | | | |
| 2007 | Okkadunnadu • | | | |
| 2007 | Sangamam • | | | |
| 2008 | Pandurangadu • | | | |
| 2008 | Krishnarjuna • | | | |
| 2008 | Gunde Jhallumandi • | | | |
| 2009 | Magadheera • | | | |
| 2009 | | | | Veera Madakari (Kannada) |
| 2009 | | | Lahore • | |
| 2009 | Vengamamba • | | | |
2010s
| Year | Telugu | Tamil | Hindi | Kannada |
| --- | --- | --- | --- | --- |
| 2010 | Rama Rama Krishna Krishna • | | | |
| 2010 | Young India • | | | |
| 2010 | Vedam • | | | |
| 2010 | Jhummandi Naadam • | | | |
| 2010 | Maryada Ramanna | | | Maryade Ramanna (Kannada) |
| 2010 | Anaganaga O Dheerudu | | | |
| 2011 | Badrinath | | | |
| 2011 | Rajanna | | | |
| 2012 | Dammu | | | |
| 2012 | Eega | | | |
| 2012 | Shirdi Sai | | | |
| 2013 | | | Special Chabbis • | |
| 2013 | Emo Gurram Egaravachu • | | | |
| 2013 | Intinta Annamayya • | | | |
| 2014 | Anamika • | | | |
| 2014 | Dikkulu Choodaku Ramayya • | | | |
| 2015 | Baahubali: The Beginning | | | |
| 2015 | Size Zero • | Inji Iduppazhagi | | |
| 2015 | | | Baby • | |
| 2016 | Lacchimdeviki O Lekkundi • | | | |
| 2017 | Om Namo Venkatesaya • | | | |
| 2017 | Baahubali: The Conclusion • | Baahubali: The Conclusion | | |
| 2018 | God, Sex and Truth • | | | |
| 2018 | Juvva • | | | |
| 2018 | Savyasachi • | | | |
| 2018 | | | Missing • | |
| 2019 | N.T.R: Kathanayakudu • | | | |
| 2019 | N.T.R: Mahanayakudu • | | | |
2020s
| Year | Telugu | Hindi | Tamil |
| --- | --- | --- | --- |
| 2020 | | 12 'O' Clock | |
| 2021 | Konda Polam | | |
| 2021 | Pelli SandaD | | |
| 2022 | RRR | | |
| 2022 | Jayamma Panchayathi | | |
| 2022 | | Operation Romeo | |
| 2022 | Bimbisara | | |
| 2023 | Hari Hara Veera Mallu | | |
| 2023 | | | Chandramukhi 2 |
Singer
| List of Telugu songs recorded by Keeravani | List of Telugu songs recorded by Keeravani | List of Telugu songs recorded by Keeravani | List of Telugu songs recorded by Keeravani | List of Telugu songs recorded by Keeravani |
| --- | --- | --- | --- | --- |
| Year | Song | Film | Composer | Co-Singer |
| 1993 | "Ralipoye Puvva" | Matru Devo Bhava | M. M. Keeravani | |
| 1993 | "Venuvai Vachanu" | Matru Devo Bhava | M. M. Keeravani | K. S. Chithra |
| 1999 | "Changure Changure" | Seetharama Raju | M. M. Keeravani | S. P. Balasubrahmanyam, Radhika Sharada |
| 1999 | "Ekaseka Tatta" | Seetharama Raju | M. M. Keeravani | S. P. Balasubrahmanyam, Sujatha Mohan |
| 1999 | "Ecstacy Privacy" | Seetharama Raju | M. M. Keeravani | K. S. Chithra |
| 1999 | "Kundanapu Bommaki" | Seetharama Raju | M. M. Keeravani | S. P. Balasubrahmanyam, S. P. Sailaja |
| 1999 | "Uyalala Uyalala" | Seetharama Raju | M. M. Keeravani | |
| 2001 | "Evaro Evaro" | Naatho Vastava | Karthik Raja | |
| 2002 | "Manase"(Version l) | Lahiri Lahiri Lahirilo | M. M. Keeravani | Ganga |
| 2002 | "Veetavenkata" | Lahiri Lahiri Lahirilo | M. M. Keeravani | |
| 2002 | "Govinda Govinda" | Tappu Chesi Pappu Koodu | M. M. Keeravani | Sujatha Mohan |
| 2003 | "Chitapata Chinukulu" | Aithe | Kalyani Malik | |
| 2003 | "Evarimaata Vinadu" | Seetayya | M. M. Keeravani | |
| 2003 | "Ravayya Ravayya" | Seetayya | M. M. Keeravani | S. P. Balasubrahmanyam |
| 2003 | "Okka Magadu" | Seetayya | M. M. Keeravani | Anuradha Sriram |
| 2003 | "Siggesthundi" | Seetayya | M. M. Keeravani | Shreya Ghoshal |
| 2006 | "Sri Raghavam" | Sri Ramadasu | M. M. Keeravani | |
| 2006 | "Sri Rama Rama Ramethi" | Sri Ramadasu | M. M. Keeravani | |
| 2006 | "Hylesa" | Sri Ramadasu | M. M. Keeravani | Devi Sri Prasad, Malavika |
| 2006 | "Paluke Bangaramayena" | Sri Ramadasu | M. M. Keeravani | K. S. Chithra |
| 2009 | "Dheera Dheera Dheera" | Magadheera | M. M. Keeravani | Nikitha Nigam |
| 2015 | "Nippule Swasaga" | Baahubali: The Beginning | M. M. Keeravani | |
| 2015 | "Sivuni Ana" | Baahubali: The Beginning | M. M. Keeravani | Mounima |
| 2017 | "Sahore Bahubali" | Baahubali 2: The Conclusion | M. M. Keeravani | Daler Mehndi, Mounima |
| 2018 | "Bulliguvva" | 2.0 | A. R. Rahman | |
| 2021 | "Tala Etthu" | Konda Polam | M. M. Keeravani | Harika Narayan, Sri Soumya Varanasi |
| 2021 | "Daarulu Daarulu" | Konda Polam | M. M. Keeravani | Harika Narayan |
| 2022 | "Janani" | RRR | M. M. Keeravani | |
| 2022 | "Etthara Jenda" | RRR | M. M. Keeravani | Vishal Mishra, Prudhvi Chandra, Sahithi, Harika Narayan |
| List of Hindi songs recorded by Keeravani | List of Hindi songs recorded by Keeravani | List of Hindi songs recorded by Keeravani | List of Hindi songs recorded by Keeravani | List of Hindi songs recorded by Keeravani |
| Year | Song | Film | Composer | Co-Singer |
| 1996 | "Pehli Nazar Mein" | Pehli Nazar Mein (non-film album) | M. M. Keeravani | Anuradha Paudwal |
| 1996 | "Aao Na Tarsao Na" | Pehli Nazar Mein (non-film album) | M. M. Keeravani | Anuradha Paudwal |
| 1996 | "Yeh Pyar Hai Dushman Dil Ka" | Pehli Nazar Mein (non-film album) | M. M. Keeravani | Anuradha Paudwal |
| 1996 | "Bol Mere Darpan Mein Kaisi" | Pehli Nazar Mein (non-film album) | M. M. Keeravani | Anuradha Paudwal |
| 1996 | "Chanchal Naina Tumhare" | Pehli Nazar Mein (non-film album) | M. M. Keeravani | Anuradha Paudwal |
| 1996 | "Dil Dhadakta Hai To" | Pehli Nazar Mein (non-film album) | M. M. Keeravani | Anuradha Paudwal |
| 1996 | "Yaad Aa Gai Jaise" | Pehli Nazar Mein (non-film album) | M. M. Keeravani | Anuradha Paudwal |
| 1996 | "Tu Meri Gori Main Tera" | Pehli Nazar Mein (non-film album) | M. M. Keeravani | Anuradha Paudwal |
| 1996 | "Chup Tum Raho" | Is Raat Ki Subah Nahin | M. M. Keeravani | K. S. Chithra |
| 1996 | "Jeevan Kya Hai" | Is Raat Ki Subah Nahin | M. M. Keeravani | solo |
| 1997 | "Guzare Zamane" | Guzare Zamane (non-film album) | M. M. Keeravani | solo |
| 1997 | "Nazar Milate Ghabrate" | Guzare Zamane (non-film album) | M. M. Keeravani | Kavita Paudwal |
| 1997 | "Jaao Jagao Na Sajna" | Guzare Zamane (non-film album) | M. M. Keeravani | Anuradha Paudwal |
| 2005 | "Khubsurat hai Woh Itna" | Rog | M.M. Keeravani | Udit Narayan |
| 2015 | "Panchi Bole" | Baahubali: The Beginning | M. M. Keeravani | Palak Muchhal |
| 2022 | "Janani" | RRR | M. M. Keeravani | |
| List of Malayalam songs recorded by Keeravani | List of Malayalam songs recorded by Keeravani | List of Malayalam songs recorded by Keeravani | List of Malayalam songs recorded by Keeravani | List of Malayalam songs recorded by Keeravani |
| Year | Song | Film | Composer | Co-Singer |
| 2015 | "Arivan Arivan" | Baahubali: The Beginning | M. M. Keeravani | Vaikom Vijayalakshmi |
| 2017 | "Oru Jeevan Bahuthyagam" | Baahubali 2: The Conclusion | M. M. Keeravani | |
| 2022 | "Janani" | RRR | M. M. Keeravani | |
| List of Tamil songs recorded by Keeravani | List of Tamil songs recorded by Keeravani | List of Tamil songs recorded by Keeravani | List of Tamil songs recorded by Keeravani | List of Tamil songs recorded by Keeravani |
| Year | Song | Film | Composer | Co-Singer |
| 1992 | "Kambankaade" | Vaaname Ellai | M. M. Keeravani | Chithra |
| 1996 | "Vaadaa Vayasu Paiyaa" | Purushan Pondatti | Sirpy | |
| 2003 | "Kanavugal" | Naam | Kalyani Malik | |
| 2015 | "Siva Sivaya Potri" | Baahubali: The Beginning | M. M. Keeravani | Vaikom Vijayalakshmi |
| 2017 | "Bale Bale Bale" | Baahubali 2: The Conclusion | M. M. Keeravani | Daler Mehndi, Mounima |
| 2022 | "Uyire" | RRR | M. M. Keeravani | |
| List of Kannada songs recorded by Keeravani | List of Kannada songs recorded by Keeravani | List of Kannada songs recorded by Keeravani | List of Kannada songs recorded by Keeravani | List of Kannada songs recorded by Keeravani |
| Year | Song | Film | Composer | Co-Singer |
| 2001 | "Belaguva Suriyani" | Sundara Kanda | M. M. Keeravani | |
| 2018 | "Manase Manase" | Prema Baraha | Jassie Gift | |
| 2022 | "Janani" | RRR | M. M. Keeravani | |
Lyricist
| Movie | Director | Song(s) |
| --- | --- | --- |
| Priyaragalu | "A. Kodandarami Reddy" | "Rayabaram Pampindevare" |
| Gangotri | K. Raghavendra Rao | "Kannitini pannitiga chesi" |
| Vikramarkudu | S. S. Rajamouli | "Jum Jum Maya", "Dooranga", "Jo Laali" |
| Magadheera | S. S. Rajamouli | "Naakosam nuvvu", "Rolling titles music" |
| Vedam | Krish | "Rupai", "Malli Puttani", "Vedam", "Ee Chikati Cherani", "Alalai Kammani Kalali", "Nuvumundhani Nemundhani" |
| Shirdi Sai | K. Raghavendra Rao | "Manava seva madhava sevani", "Sadhaa nimbi" |
| Baahubali 2: The Conclusion | S. S. Rajamouli | "Oka praanam", "Kannaa nidurinchara", "Dandaalayyaa" |
| NTR: Kathanayakudu | Krish | "Venditera dora", "Ramanna katha", "Rajarshi" |
| Gharana Mogudu | K. Raghavendra Rao | "Kappuko Duppati" |
| Allari Mogudu | K. Raghavendra Rao | "Neelimabbu Nuragalo" |
| Major Chandrakanth | K. Raghavendra Rao | "Muddultho Onamalu" |
| Rakshana | Uppalapati Narayana Rao | "Kannepapa Anduko" |
| Allari Premikudu | K. Raghavendra Rao | "Naari Jana Priyatama" |
| Attintlo Adde Mogudu | Relangi Narasimha Rao | "Andagada Andhukora" |
| Konda Polam | Krish Jagarlamudi | "Obulamma" |
| RRR | S. S. Rajamouli | "Janani" |
Awards
Civilian Honours
2023 – Padma Shri, Government of India
Oscars
2023 – Academy Award for Best Original Song for Naatu Naatu – Won
Critic's Choice Movie Awards
2023 – Critics' Choice Movie Award for Best Song for "Naatu Naatu" – Won
Golden Globe Awards
2023 – Golden Globe Award for Best Original Song for Naatu Naatu – Won
National Film Award
1997 – National Film Award for Best Music Direction for Annamayya
Filmfare Awards:
| Year | Category | Work | Result |
| --- | --- | --- | --- |
| 1991 | Best Music Director – Telugu | Kshana Kshanam | Won |
| 1993 | Best Music Director – Telugu | Allari Priyudu | Won |
| 1994 | Best Music Director – Telugu | Criminal | Won |
| 1995 | Best Music Director – Telugu | Subha Sankalpam | Won |
| 1996 | Best Music Director – Telugu | Pelli Sandadi | Won |
| 2005 | Best Music Director – Telugu | Chatrapathi | Nominated |
| 2009 | Best Music Director – Telugu | Magadheera | Won |
| 2010 | Best Music Director – Telugu | Vedam | Nominated |
| 2011 | Best Music Director – Telugu | Rajanna | Nominated |
| 2012 | Best Music Director – Telugu | Eega | Nominated |
| 2015 | Best Music Director – Telugu | Baahubali: The Beginning | Nominated |
| 2017 | Best Music Director – Telugu | Baahubali 2: The Conclusion | Won |
| 2017 | Best Lyricist – Telugu | Baahubali 2: The Conclusion | Won |
Nandi Awards
2015 – Nandi Award for Best Male Playback Singer for Bahubali
2015 – Nandi Award for Best Music Director for Bahubali
2015- Nagireddy-Chakrapani National Award for various movies
2012 – Nandi Award for Best Music Director for Eega
2010 – Nandi Award for Best Male Playback Singer for Maryada Ramanna
2009 – Nandi Award for Best Music Director for Vengamamba
2005 – Nandi Award for Best Music Director for Chhatrapati
2002 – Nandi Award for Best Music Director for Okato Number Kurradu
2001 – Nandi Award for Best Male Playback Singer for Student No.1
1995 – Nandi Award for Best Music Director for Pelli Sandadi
1993 – Nandi Award for Best Music Director for Allari Priyudu
1992 – Nandi Award for Best Music Director for Rajeshwari Kalyanam
Tamil Nadu State Film Awards:
1991 – Tamil Nadu State Film Award for Best Music Director for Azhagan
Santosham Film Awards
2003 – Santosham Best Music Director Award for Gangotri
South Indian International Movie Awards
2018 – SIIMA Award for Best Music Director (Telugu) for Baahubali 2: The Conclusion – Won
2021 – SIIMA Award for Best Lyricist (Telugu) for NTR: Kathanayakudu – Nominated
Images
Take a look at the latest photos of MM Keeravani,