Meena (Actress) Wiki, Biography, Age, Family, Movies List, Husband, Images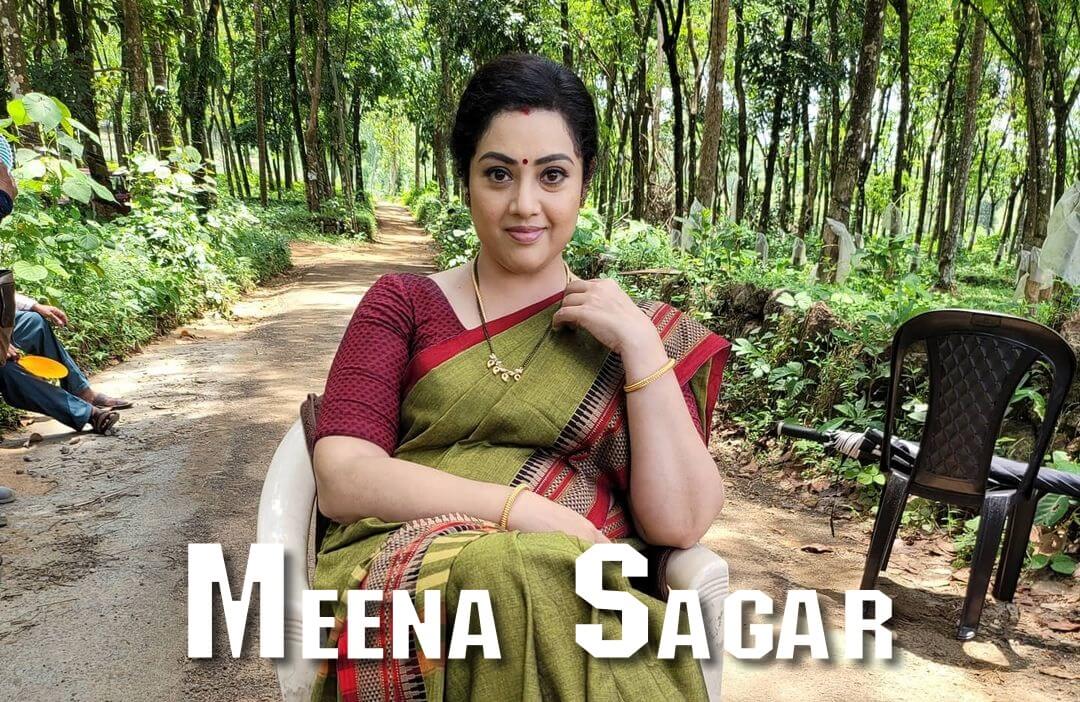 Meena is an Indian actress who has appeared in Tamil, Telugu, Malayalam, Kannada, and Hindi films. She made her film debut as a child artist in Nenjangal. Meena became popular in films such as Siripuram Monagadu, Thiruppam, Manasariyathe, Khooni, and others. She rose to prominence for her role in Muthu, in which she co-starred with superstar Rajinikanth. On July 12, 2009, she married Vidyasagar, a Bangalore-based businessman. The couple was blessed with a daughter named Nainika, who made her film debut in Theri as Vijay's daughter.
Meena's spouse Vidyasagar died on June 29, 2022, as a result of a serious lung infection. Media personalities and celebrities paid their deepest condolences to Meena and her family.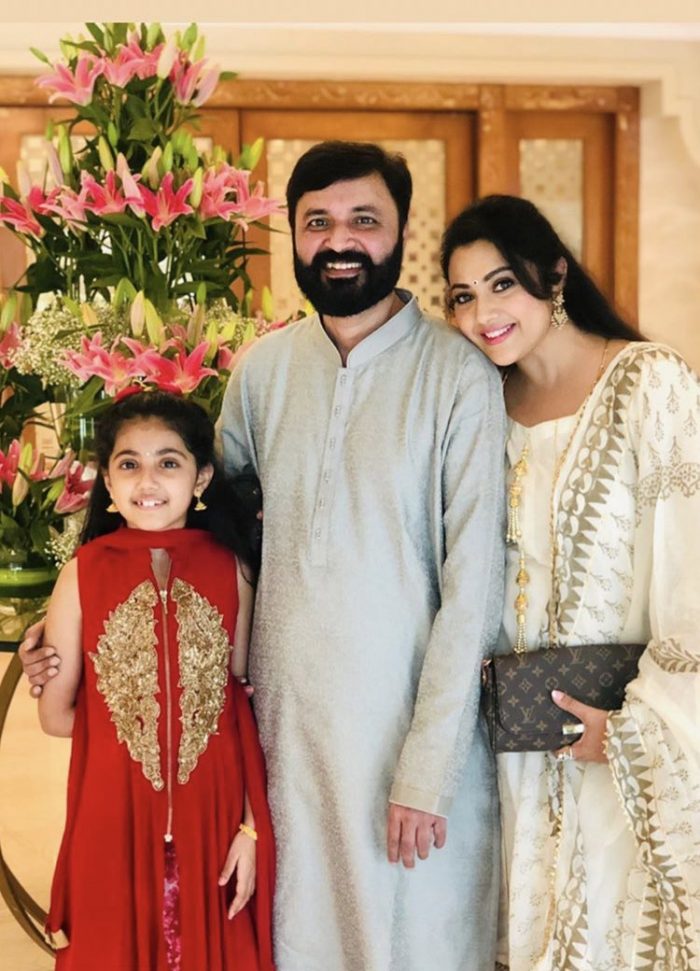 Biography
Name
Meena
Real Name
Meena Durairaj
Nickname
Baby Meena
Profession
Actress, Playback Singer
Date of Birth
16 September 1976
Age
46 (as of 2022)
Zodiac sign
Virgo
Family
Father: Late Durairaj
Mother: Raj Mallika
Marital Status
Widow
Affairs/Boyfriends
NA
Husband
Vidyasagar (Died – 29 June 2022)
Children
Daughter: Nainika
Religion
Hindu
Educational Qualification
M.A. in History
School
Vidyodaya School, Chennai
College
University of Madras, Chennai
Hobbies
Listening to Music, Singing, Dancing
Birth Place
Chennai, Tamil Nadu, India
Hometown
Chennai, Tamil Nadu, India
Current City
Chennai, Tamil Nadu, India
Nationality
Indian
Social Media Profiles
Interesting Facts
She made her film debut as a child artist in Rajinikanth's movie Enkeyo Ketta Kural and rose to prominence by paring opposite Rajinikanth in the Muthu movie. People praised her for her work.
Meena has 842K followers on her Instagram account (as of June 2022).
Movies
| Year | Movie title | Role | Language | Notes |
| --- | --- | --- | --- | --- |
| 1982 | Nenjangal | Kidnapped child | Tamil | Child artist |
| 1982 | Enkeyo Ketta Kural | Baby Meena | Tamil | Child artist |
| 1982 | Parvaiyin Marupakkam | Geetha | Tamil | Child artist |
| 1982 | Theerpugal Thiruththapadalam | Priya | Tamil | Child artist |
| 1983 | Thandikkapatta Niyayangal | Playful child | Tamil | Child artist |
| 1983 | Sumangali | Doll-selling girl | Tamil | Child artist |
| 1983 | Siripuram Monagadu | Baby Meena | Telugu | Child artist |
| 1984 | Thiruppam | Baby Meena | Tamil | Child artist |
| 1984 | Illalu Priyuralu | Baby Meena | Telugu | Child artist |
| 1984 | Yaadgar | Baby Meena | Hindi | Child artist |
| 1984 | Bava Maradallu | Baby Meena | Telugu | Child artist |
| 1984 | Kode Trachu | | Telugu | Child artist |
| 1984 | Anbulla Rajinikanth | Rosy | Tamil | Child artist |
| 1984 | Oru Kochukatha Aarum Parayatha Katha | Rajani | Malayalam | Child artist |
| 1984 | Manasariyathe | Minimol | Malayalam | Child artist |
| 1985 | Panneer Nadhigal | | Tamil | Child artist |
| 1985 | Uyire Unakkaga | young Vijayanirmala Devi | Tamil | Child artist |
| 1985 | Rendu Rella Aaru | Baby Meena | Telugu | Child artist |
| 1985 | Khooni | Baby Meena | Telugu | Child artist |
| 1986 | Sirivennela | Baby Meena | Telugu | Child artist |
| 1986 | Lakshmi Vanthachu | Playful child | Tamil | Child artist |
| 1990 | Kartavyam | Karuna | Telugu | |
| 1990 | Navayugam | Sumathi | Telugu | Debut as heroine |
| 1990 | Prajala Manishi | | Telugu | |
| 1990 | Oru Pudhiya Kadhai | Maha | Tamil | |
| 1991 | Seetharamayya Gari Manavaralu | Seetha | Telugu | |
| 1991 | En Rasavin Manasile | Cholaiamma | Tamil | |
| 1991 | Indra Bhavanam | | Telugu | |
| 1991 | Idhaya Oonjal | Chithra | Tamil | |
| 1991 | Idhaya Vaasal | Vaani | Tamil | |
| 1991 | Jagannatakam | Jhansi | Telugu | |
| 1991 | Sandhwanam | Rajalakshmi | Malayalam | |
| 1991 | Chengalva Pudanda | | Telugu | |
| 1992 | Chanti | Nandini | Telugu | |
| 1992 | Parda Hai Parda | Maya | Hindi | |
| 1992 | Allari Pilla | Nandini | Telugu | |
| 1992 | Allari Mogudu | Neelambari | Telugu | |
| 1992 | Sundarakanda | Nanchari | Telugu | |
| 1992 | President Gari Pellam | Swapna | Telugu | |
| 1992 | Pellam Chepte Vinali | Geetha | Telugu | |
| 1992 | Bangaru Maama | Kasthuri | Telugu | |
| 1992 | Moratodu Naa Mogudu | | Telugu | |
| 1992 | Aswamedham | Dr. Bharati | Telugu | |
| 1993 | Muta Mesthri | Buchamma | Telugu | |
| 1993 | Yejaman | Vaitheeswari Vaanavaraayan | Tamil | |
| 1993 | Abbaigaru | Sudha | Telugu | |
| 1993 | Allari Alludu | Sandhya | Telugu | |
| 1993 | Rajeswari Kalyanam | Rajeshwari | Telugu | |
| 1993 | Konguchatu Krishnadu | | Telugu | |
| 1994 | Sethupathi IPS | Chandramathi | Tamil | |
| 1994 | Veera | Devayanai | Tamil | |
| 1994 | Thai Maaman | Meena | Tamil | |
| 1994 | Rajakumaran | Selvi | Tamil | |
| 1994 | Nattamai | Meena | Tamil | |
| 1994 | Punya Bhoomi Naa Desam | Swathi | Telugu | |
| 1994 | Anga Rakshakudu | Meenu | Telugu | |
| 1994 | Bhale Pellam | Bharathi | Telugu | |
| 1994 | Bobbili Simham | Venkatalakshmi | Telugu | |
| 1995 | Maaman Magal | Priya | Tamil | |
| 1995 | Oru Oorla Oru Rajakumari | Lakshmi Prabha | Tamil | |
| 1995 | Marumagan | Manjula | Tamil | |
| 1995 | Coolie | Vimala | Tamil | |
| 1995 | Seral Irumboraiyin Tamil Kadhal | | Tamil | |
| 1995 | Nadodi Mannan | Meenakshi,Priya | Tamil | |
| 1995 | Muthu | Ranganayaki | Tamil | |
| 1995 | Aalu Magalu | | Telugu | |
| 1995 | Chilakapachcha Kaapuram | Radha | Telugu | |
| 1995 | Putnanja | Rose | Kannada | |
| 1996 | Sengottai | Meena | Tamil | |
| 1996 | Avvai Shanmugi | Janaki | Tamil | |
| 1997 | Vallal | Annam | Tamil | |
| 1997 | Mommaga | | Kannada | |
| 1997 | Cheluva | Meena | Kannada | |
| 1997 | Porkkaalam | Maragatham | Tamil | |
| 1997 | Pasamulla Pandiyare | Vellayamma | Tamil | |
| 1997 | Bharathi Kannamma | Kannamma | Tamil | |
| 1997 | Varnapakittu | Sandra,Alina | Malayalam | |
| 1997 | Muddula Mogudu | Sirisha | Telugu | |
| 1997 | Panjaram | | Telugu | |
| 1998 | Ulavuthurai | Meena | Tamil | |
| 1998 | Naam Iruvar Nammaku Iruvar | Indu | Tamil | |
| 1998 | Kusruthi Kuruppu | Meera | Malayalam | |
| 1998 | Gillikajjalu | Satya bhama | Telugu | |
| 1998 | Suryavamsam | Swapna | Telugu | |
| 1998 | Harichandra | Nandhini | Tamil | |
| 1999 | Sneham Kosam | Prabhavati | Telugu | |
| 1999 | Periyanna | Shenbagam | Tamil | |
| 1999 | Iraniyan | Ponni | Tamil | |
| 1999 | Anandha Poongatre | Meenakshi | Tamil | |
| 1999 | Olympiyan Anthony Adam | Angel | Malayalam | |
| 1999 | Friends | Padmini | Malayalam | |
| 1999 | Krishna Babu | Rama | Telugu | |
| 1999 | Bobbili Vamsham | | Telugu | |
| 1999 | Velugu Needalu | | Telugu | |
| 1999 | Unnaruge Naan Irundhal | Mahalakshimi (Maha) | Tamil | |
| 1999 | Manam Virumbuthe Unnai | Priya | Tamil | |
| 2000 | Vanathai Pola | Gowri Muthu | Tamil | |
| 2000 | Pape Naa Pranam | Priya | Telugu | |
| 2000 | Palayathu Amman | Palayathu Amman | Tamil | |
| 2000 | Vetri Kodi Kattu | Valli Muthuraman | Tamil | |
| 2000 | Doubles | Meena | Tamil | |
| 2000 | Rhythm | Chitra | Tamil | |
| 2000 | Maayi | Bhuvaneswari | Tamil | |
| 2000 | Dreams | Nirmala Mathan | Malayalam | |
| 2000 | Maa Annayya | Wife | Telugu | |
| 2000 | Thenali | Meena (herself) | Tamil | Special appearance |
| 2000 | Anbudan | Shanthi | Tamil | Guest appearance |
| 2001 | Rishi | Indu | Tamil | |
| 2001 | Citizen | Sevali | Tamil | |
| 2001 | Sri Manjunatha | Goddess Parvathi | KannadaTelugu | |
| 2001 | Rakshasa Rajav | Meera | Malayalam | |
| 2001 | Ammayi Kosam | Anjali | Telugu | |
| 2001 | Shahjahan | Meena | Tamil | Special appearance |
| 2001 | Grama Devathe | Angala Parameswari | Kannada | |
| 2002 | Angala Parameswari | Angala Parameswari Amman | Tamil | |
| 2002 | Dhaya | Thulasi | Tamil | |
| 2002 | Simhadriya Simha | | Kannada | |
| 2002 | Devan | Uma | Tamil | |
| 2002 | Ivan | Meena Kumari | Tamil | |
| 2002 | Namma Veetu Kalyanam | Meena | Tamil | |
| 2002 | Padai Veetu Amman | Padai Veetu Amman,Muthu Maariamman | Tamil | |
| 2002 | Villain | Thangam | Tamil | |
| 2003 | Paarai | Mallika | Tamil | |
| 2003 | Swathi Muthu | Lalitha | Kannada | |
| 2003 | Mr. Brahmachari | Ganga | Malayalam | |
| 2003 | Simhachalam | Simhachalam's wife | Telugu | |
| 2003 | Game for Love | | Kannada | |
| 2004 | Shock | Malini | Tamil | |
| 2004 | Puttintiki Ra Chelli | Wife | Telugu | |
| 2004 | Anbu Sagotharan | | Tamil | |
| 2004 | Bharatasimha Reddy | Devudayya's wife | Telugu | |
| 2004 | Swamy | | Telugu | |
| 2004 | Gowdru | Parvati | Kannada | Guest appearance |
| 2004 | Aalukkoru Aasai | Eshwari | Tamil | |
| 2004 | Natturajavu | Maya | Malayalam | |
| 2005 | Mahasadhvi Mallamma | Mallamma | Kannada | |
| 2005 | Kannamma | Kannamma | Tamil | |
| 2005 | Udayananu Tharam | Madhumathi Udayabhanu | Malayalam | |
| 2005 | Chandrolsavam | Indulekha | Malayalam | |
| 2006 | My Autograph | Divya | Kannada | |
| 2006 | Karutha Pakshikal | Suvarnna | Malayalam | |
| 2007 | Kadha Parayumbol | Sridevi Balan | Malayalam | |
| 2007 | Black Cat | Meenakshi | Malayalam | |
| 2008 | Kuselan | Sridevi Balakrishnan | Tamil | |
| 2008 | Kathanayakudu | Sreedevi | Telugu | |
| 2008 | Magic Lamp | Anupama | Malayalam | |
| 2009 | Mariyadhai | Radha | Tamil | |
| 2009 | Katha, Samvidhanam: Kunchacko | Ann Mary | Malayalam | |
| 2009 | Vengamamba | Tarigonda Vengamamba | Telugu | |
| 2010 | Dasanna | Malli | Telugu | |
| 2010 | Hendtheer Darbar | Radha | Kannada | |
| 2011 | Thambikottai | Shanmugapriya | Tamil | |
| 2012 | Sri Vasavi Vaibhavam | | Telugu | |
| 2013 | Sri Jagadguru Aadi Sankara | Gangadevi | Telugu | |
| 2013 | Drishyam | Rani George | Malayalam | |
| 2014 | Balyakalasakhi | Majeed's mother | Malayalam | |
| 2014 | Drushyam | Jyothi | Telugu | |
| 2015 | Mama Manchu Alludu Kanchu | Suryakantham | Telugu | |
| 2017 | Katha Veendum Parayumbol | Sridevi Balan | Malayalam | |
| 2017 | Munthirivallikal Thalirkkumbol | Annyamma | Malayalam | |
| 2018 | Saakshyam | Viswa's mother | Telugu | |
| 2020 | Shylock | Lakshmi Ayyanar | Malayalam | |
| 2021 | Drishyam 2 | Rani George | Malayalam | [45] |
| 2021 | Annaatthe | Mangayarkarasi | Tamil | |
| 2021 | Drushyam 2 | Jyothi | Telugu | |
| 2022 | Bro Daddy | Annamma | Malayalam | OTT release Disney+ Hotstar |
| 2022 | Son of India | | Telugu | |
| 2022 | Rowdy Baby | TBA | Tamil | Filming [46] |
Television
| Year | Title | Role | Language | Channel | Notes |
| --- | --- | --- | --- | --- | --- |
| 1990 | Anbulla Amma (co-starring with actress Manorama) | Shyamala | Tamil | Doordarshan | TV serial |
| 2005 | Housefull | Show Host | Tamil | Jaya TV | TV show |
| 2006-2008 | Lakshmi | Lakshmi | Tamil | Sun TV | TV serial |
| 2007 | Mastana Mastana season 1 | Judge | Tamil | Sun TV | Dance show |
| 2009 | Kalyanam | Meera/Sujatha | Tamil | Sun TV | TV serial |
| 2009 | Tarikonda Venkamamba | Tarikonda Venkamamba | Telugu | SVBC TV | TV serial |
| 2009 | Boys VS Girls season 2 | Judge | Tamil | Vijay TV | Dance show |
| 2011 | Jodi Number One Season 5 | Special Judge | Tamil | Vijay TV | Dance show |
| 2012 | Nee Kongu Bangaram Ganu | Host | Telugu | MAA TV | TV show |
| 2012 | Veera | Judge | Telugu | ETV | Dance show |
| 2012 | Super Kudumbam | Judge | Tamil | Sun TV | TV show |
| 2012 | Anubandhalu | Sharada | Telugu | Gemini TV | TV serial |
| 2013 | Bharthakkanmarude Sradhakku | Judge | Malayalam | Asianet | TV show |
| 2014 | Super Kutumbam | Judge | Telugu | Gemini TV | Dance show |
| 2015 | Manada Mayilada season 10 | Judge | Tamil | Kalaignar TV | Dance show |
| 2016 | Dance Dance | Special Judge | Kannada | Star Suvarna | Dance show |
| 2017 | Junior Senior | Judge | Tamil | Zee Tamil | Reality show |
| 2017 | Ningalkkum Aakaam Kodeeshwaran | Contestant | Malayalam | Asianet | Game show |
| 2019 | Lolluppa | Judge | Tamil | Sun TV | TV Programme |
| 2019 | Extra Jabardasth | Judge | Telugu | ETV | TV Programme |
| 2019 | Karoline Kamakshi | Kamakshi | Tamil | Zee5 | Web series |
| 2021 | Top Singer | Judge | Malayalam | Flowers TV | Music Reality Show |
| 2022 | Panam Tharum Padam | Contestant | Malayalam | Mazhavil Manorama | |
Awards And Nominations
| Year | Award | Category | Awarded for | Result |
| --- | --- | --- | --- | --- |
| 1991 | Cinema Express Awards | Best Actress | Seetharamayya Gari Manavaralu | Won |
| 1992 | Nandi Awards | Best Actress | Rajeswari Kalyanam | Won |
| 1993 | Tamil Nadu State Film Awards | Best Actress | Ejamaan | Won |
| 1996 | Dinakaran Film Awards | Best Actress | Avvai Shanmugi | Won |
| 1997 | Tamil Nadu State Film Awards | Best Actress | Porkkaalam | Won |
| 1997 | Filmfare Awards South | Best Actress | Bharathi Kannamma | Won |
| 1997 | Filmfans Association Awards | Best Actress | Bharathi Kannamma | Won |
| 1998 | Kalaimamani Awards | Kalaimamani | Contribution to Tamil Cinema | Won |
| 2000 | Cinema Express Awards | Best Actress | Rhythm | Won |
| 2002 | Tamil Nadu State Film Awards | Best Actress | Ivan | Won |
| 2003 | Filmfare Awards South | Best Kannada Actress | Swathi Muthu | Won |
| 2009 | Ugadi Puraskar AwardsTSR – TV9 Film Awards | Special Jury Award | Tarikonda Venkamamba | Won |
| 2013 | Asianet Film AwardsVayalar Awards | Best Character ActressVayalar Film Award for Best Actress | Drishyam | Won |
| 2014 | TSR – TV9 Film Awards | TSR – TV9 Special Jury | Drushyam | Won |
Images
Take a look at the recent new photos of Meena,