Manobala Wiki, Biography, Age, Movies List, Images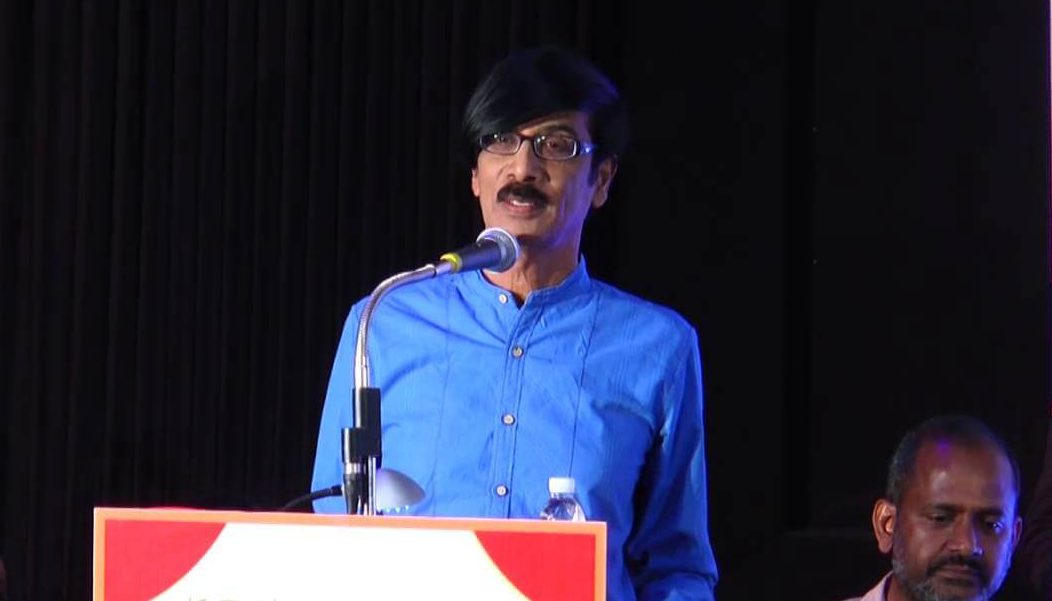 Manobala is an Indian comedy actor as well as director, who predominantly works in Tamil film industry for supporting role. He has featured in more than 900 films, with that, he has directed 40 films and 19 television serials and 9 telefilms at the time of her career as a director. He made his debut acting movie is Puthiya Vaarpugal in the year 1979 and he made his debut direction movie is  Agaya Gangai. Check out below for Manobala Wiki, Biography, Age, Movies List, Images.
Read Other Biographies: Yogi Babu | Sathish | Kaali Venkat | Shah Ra | Karunakaran | Ma Ka Pa Anand
Manobala Early Life and Career
Manobala was born on 8 December 1953 in Marungur, Tamil Nadu, India. Manobala family and schooling details will be updated soon. He did his graduation in College of arts and crafts Patna University, India. Manobala wife name is Usha Mahadevan and his son Harish Manobala. He was in the field from the year 1979 but he was present in the year 1994 from the movie Thai maman. In the beginning, he appeared in the insignificant role but later he has emerged as a comedian. He is the regular guest on the Sun TV show Asathapovathu yaru. Moreover, he also appeared as a director as well as producer for some of the movies in Tamil.
Manobala Biography
| | |
| --- | --- |
| Name | Manobala |
| Real Name | Manobala |
| Nickname | Manobala |
| Profession | Indian Tamil director, producer and comedian |
| Date of Birth | 8 December 1953 |
| Age | 64 |
| Zodiac sign | Sagittarius |
| Father Name | Yet to be Updated |
| Mother Name | Yet to be Updated |
| Height | 1.75 m |
| Weight | 60 Kg |
| Religion | Hindu |
| Educational Qualification | Diploma in Painting |
| School | Yet to be Updated |
| College | College of arts and crafts patna university, India |
| Hobbies | Reading Books and Dancing |
| Hometown | Marungur, Tamil Nadu, India |
| Nationality | Indian |
| Married | Yes |
| Wife Name | Usha Mahadevan |
| Current City | Chennai, Tamil Nadu, India |
Manobala Facebook: https://www.facebook.com/ActorManobalam/
Manobala Twitter: https://twitter.com/manobalam
Manobala Instagram: Yet to be updated
Manobala Movies
Year
Film
Role
1979
Puthiya Vaarpugal
Niram Maaratha Pookkal
1980
Kallukkul Eeram
1981
Tik Tik Tik
1982
Gopurangal Saivathillai
1994
Thai Maaman
Guest Appearance
1994
Thozhar Pandian
1995
Gangai Karai Paattu
1997
Nesam
Nandhini
Pagaivan
Ratchagan
1998
Natpukkaga
Thalaimurai
1999
Chinna Raja
Minsara Kanna
Taj Mahal
Sethu
Tamil Teacher
2000
Annai
Moses
James Pandu
Samudhiram
2003
Nala Damayanthi
Passport Officer
Ice
Diwan
Three Roses
Pithamagan
Surya's uncle
Soori
Container passenger
Kadhal Kirukkan
Doctor
2004
Perazhagan
Nair
Arul
Campus
Nallathambi
M. Kumaran S/O Mahalakshmi
Vivek's father
Attahasam
Semi Joseph
2005
Aayudham
Ji
Kodambakkam
Thaka Thimi Tha
Chandramukhi
Priest
Priyasakhi
6'2
Anniyan
TTR
Ghajini
Ad Director
Sorry Enaku Kalyanamayidichu
2006
Thambi
Thirupathi
Police
Thalainagaram
Parijatham
Naalai
Kusthi
Imsai Arasan 23rd Pulikesi
Kollan
Dharmapuri
Varalaaru
Police
Vathiyar
Ayyanar's father
2007
Muruga
Malaikottai
Pasupathi c/o Rasakkapalayam
Constable Naidu
Azhagiya Thamizh Magan
TTR
Kannamoochi Yenada
Senthilkannu
Polladhavan
Nee Naan Nila
2008
Maanavan Ninaithaal
Pirivom Santhippom
Vambu Sandai
Yaaradi Nee Mohini
Project Manager
Santhosh Subramaniam
Bank Manager
Arai En 305-il Kadavul
Kuselan
Sub-Inspector
Dhanam
Sila Nerangalil
Suttapazham
Seval
Panchamirtham
Vaitheeswaran
Dhanasekaran's Henchman
Abhiyum Naanum
Walking Vardarajan
Silambaattam
Dindigul Sarathy
2009
Guru En Aalu
Traffic Inspector
Thoranai
Ganesan
Anjathe
Maasilamani
TN 07 AL 4777
Indira Vizha
Ninaithale Inikkum
Class Teacher
Oru Kadhalan Oru Kadhali
Aarumugam
Sirithal Rasippen
Aadhavan
Tara's Uncle
Vettaikkaaran
Reporter
Kanden Kadhalai
Mayilvahanam
2010
Thamizh Padam
Siddharth
Rettaisuzhi
Goripalayam
Indrasena
Mandabam
Kattradhu Kalavu
Singam
Thillalangadi
Saamiyar
Baana Kathadi
Puzhal
Drohi
Raghu
Neeyum Naanum
Siddhu +2
Chikku Bukku
Agam Puram
2011
Siruthai
Bhoom Bhoom
Thambikottai
Puli
Payanam
Narayana Shastry
Bhavani IPS
Appavi
Maappillai
Astrologer
Eththan
Aanmai Thavarael
Udhayan
Doo
Kanchana
Priest
Mudhal Idam
Kasethan Kadavulada
Balram Naidu
Vellore Maavattam
Sadhurangam
Konjam Veyil Konjam Mazhai
Mambattiyaan
Annachchi's Accountant
Ramanathapuram
Madhuvum Mythiliyum
Mahaan Kanakku
2012
Vilayada Vaa
Kothandam
Adhi Narayana
Nanban
Bose
Kalakalappu
Marudhamuthu
Kondaan Koduthaan
Oru Nadigaiyin Vaakkumoolam
Sooriyanagaram
Saguni
Induratagaval
Thuppakki
Kajal Agarwal's father
Akilan
2013
Kurumbukara Pasanga
Alex Pandian
Captain Divakaran
Puthagam
Kalyanasundaram aka Kallis
Sillunu Oru Sandhippu
Naangaam Pirai
Onbadhula Guru
Bun Rotti Babu
Chennaiyil Oru Naal
Sathyamoorthy
Vetkathai Kettal Enna Tharuvaai
Ethir Neechal
Gunasekara Raja
Masani
Thillu Mullu
Sounderrajan
Theeya Velai Seiyyanum Kumaru
Pencil Mama/ Cone Ice
Thulli Vilayadu
Neram
Doctor
Pattathu Yaanai
Sonna Puriyathu
Rajesh Kanna
Thalaivaa
Viswa's Follower
Ainthu Ainthu Ainthu
Yoga Instructor
Raja Rani
Ramamoorthy
Vanakkam Chennai
Constable
Ragalaipuram
Inspector
Maayai
Naveena Saraswathi Sabatham
Naradhar
Kolaakalam
2014
Ninaivil Nindraval
Oru Kanniyum Moonu Kalavaanikalum
Chetan
Tenaliraman
Education Minister
Damaal Dumeel
Thalaivan
Enna Satham Indha Neram
Ramanujan
Krishna Rao
Anjaan
Director
Aindhaam Thalaimurai Sidha Vaidhiya Sigamani
Soori
Jamai
Aranmanai
Eshwari's husband
Irumbu Kuthirai
Pizza Shop Manager
Kalkandu
Velmurugan Borewell
Lingaa
Train Driver
Vellaikaara Durai
2015
Vettaiyadu
Aambala
Police Commissioner
Tamizhuku En Ondrai Azhuthavum
Swaminathan
Kaaki Sattai
Jyothi Lingam
Ivanuku Thannila Gandam
Dr. Markandeyan
Sonna Pochu
Nannbenda
Senthamarai
Thunai Mudhalvar
Kanchana 2
Arnold
Vai Raja Vai
Mano
India Pakistan
Idichapuli
Masss
Arnold
Soan Papdi
Palakkattu Madhavan
Aavi Kumar
Idhu Enna Maayam
Kalai Vendhan
Savaale Samaali
Manobala
Maanga
Rengasamy Nagarajan
10 Endrathukulla
Road Transport Officer Manikandan
2016
Karai Oram
Peigal Jaakkirathai
Rajini Murugan
Kunjithapatham
Aranmanai 2
Komalam's brother
Kanithan
Anu's father
Pokkiri Raja
Raghav
Sowkarpettai
Mapla Singam
Thozha
Old Age Home Warden
Theri
School principal
Unnodu Ka
Traffic police
Pandiyoda Galatta Thaangala
Vellikizhamai 13am Thethi
Nayaki
Kadalai
Businessman
Kadavul Irukaan Kumaru
Pesuvadhellam Unmai show director
Kavalai Vendam
Pattai Babu
Virumandikkum Sivanandikkum
Parandhu Sella Vaa
Andaman
2017
Jomonte Suvisheshangal
Perumal
Motta Shiva Ketta Shiva
465
Vaigai Express
Saravanan Irukka Bayamaen
Swamy
Thirappu Vizha
Adhagappattathu Magajanangalay
Sathura Adi 3500
Gauri Shankar
Katha Nayagan
Swamy
Hara Hara Mahadevaki
Bhakta
Theeran Adhigaaram Ondru
Priya's father
Laali
2018
Street Lights
Kalakalappu 2
Mirchi siva's Fake Father
Solli Vidava
Nagesh Thiraiyarangam
Kaathadi
Merlin
Manobala as Director
| Year | Film / TV Series | Cast | Language |
| --- | --- | --- | --- |
| 1982 | Agaya Gangai | Karthik, Suhasini | |
| 1985 | Naan Ungal Rasigan | Mohan, Raadhika | |
| 1985 | Pillai Nila | Mohan, Nalini | |
| 1986 | Paaru Paaru Pattanam Paaru | Mohan, Ranjini | |
| 1986 | December 31 | Vishnuvardhan, Urvashi | Kannada |
| 1987 | Sirai Paravai | Vijayakanth, Raadhika | |
| 1987 | Dhoorathu Pachai | Karthik, Suhasini | |
| 1987 | Oorkavalan | Rajinikanth, Raadhika | |
| 1989 | En Purushanthaan Enakku Mattumthaan | Vijayakanth, Suhasini | |
| 1989 | Moodu Mandhiram | Prabhu, Rekha | |
| 1989 | Thendral Sudum | Nizhalgal Ravi, Raadhika | |
| 1990 | Mera Pati Sirf Mera Hai | Jeetendra, Rekha | Hindi |
| 1990 | Mallu Vetti Minor | Sathyaraj, Seetha | |
| 1991 | Vetri Padigal | Ramki, Nirosha | |
| 1991 | Moondrezhuthil En Moochirukkum | Vijayakanth, Rupini | |
| 1992 | Shenbaga Thottam | Selva, Rohini | |
| 1993 | Mutrugai | C. Arunpandian, Bhanupriya, Ranjitha | |
| 1993 | Karuppu Vellai | Rahman, Sukanya | |
| 1993 | Paarambariyam | Sivaji Ganesan, B. Saroja Devi | |
| 1997 | Nandhini | Prakash Raj, Suhasini | |
| 2000 | Annai | Bhanupriya, Nassar | |
| 2001 | Siragugal | Vikram, Raadhika | Telefilm |
| 2002 | Naina | Jayaram, Manya | |
| 2009 | 777 | | Television Series which aired on Polimer TV |
Manobala As producer
| Year | Film | Cast | Notes |
| --- | --- | --- | --- |
| 2014 | Sathuranga Vettai | Natraj, Ishara Nair | SIIMA Award for Best Debut Producer |
| 2017 | Paambhu Sattai | Bobby Simha, Keerthy Suresh | |
| 2018 | Sathuranga Vettai 2 | Arvind Swamy, Trisha | Filming |
Manobala Images
Read Other Biographies: Yogi Babu | Sathish | Kaali Venkat | Shah Ra | Karunakaran | Ma Ka Pa Anand | Vettaiyan Kavin | Robo Shankar | Srushti Dange | Anandhi | Manisha Yadav | Sana Althaf | Anjena Kriti | VJ Anjana | Praniti