Kalpana Raghavendar Wiki, Biography, Age, Songs List, Images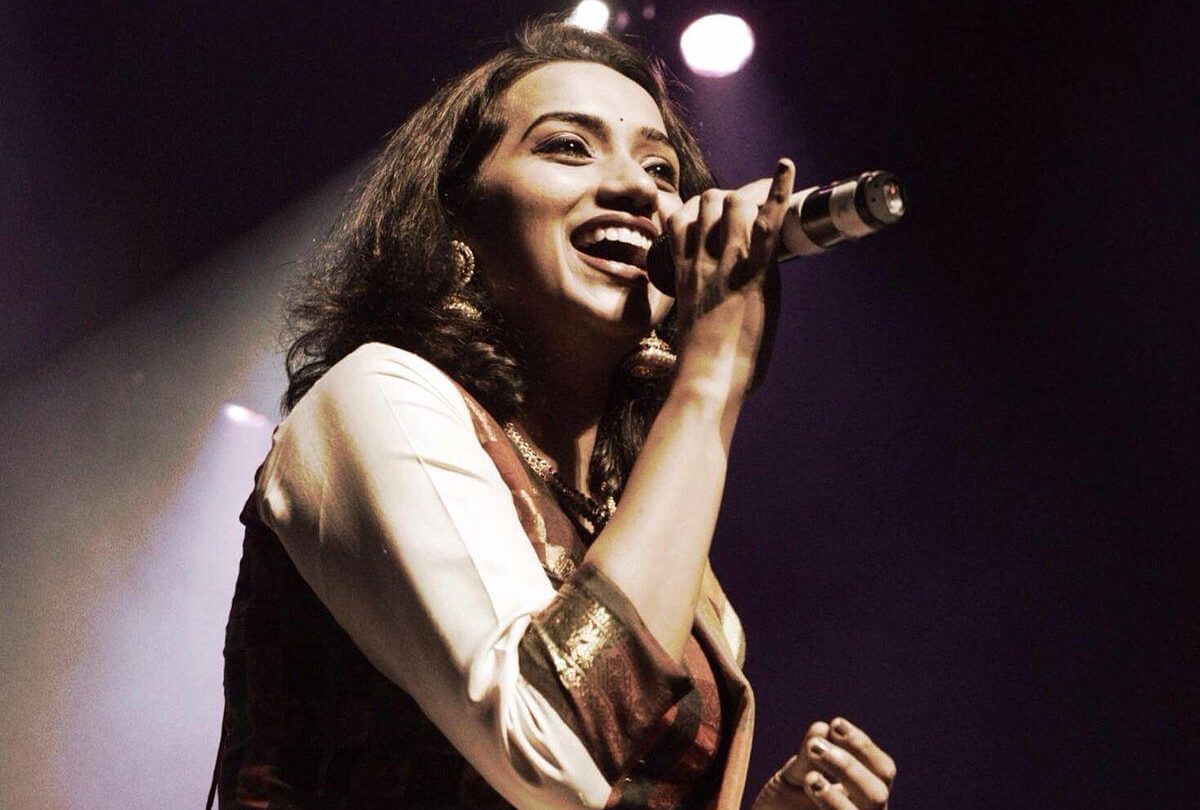 Kalpana Raghavendar is an Indian playback singer who known for her works in Telugu and Tamil film industry. She had sung more than 1000 songs in the cine industry. She is the daughter of popular Singer T. S. Raghavendra. Kalpana is the winner of 2010 Star Singer Season 5 television show conducted by Asianet channel. She is also one of the contestants of Bigg Boss Telugu Season 1, telecast in Star Maa. Check out below for Singer Kalpana Raghavendar Wiki, Biography, Age, Songs List, Images and more details.
Read other Biographies: Tippu | Chinnaponnu | Mahathi | Aparna Vinod | Reena Bhardwaj | Rimi Tomy
Singer Kalpana Raghavendar Details
Kalpana Raghavendar was born on 8 May 1977 in Chennai, Tamil Nadu. She comes from a musical family, her father T. S. Raghavendra is a prominent singer, actor and music composer in Tamil cinema industry and mother Sulochana is a singer in Kollywood industry. She has a younger sister named Shekinah Shawn who is popular as an Opera singer, she also known as Prasanna Raghavendar. Kalpana took her Carnatic music lessons under Guru Madurai T. Srinivasan. Apart from her proficiency in singing, she is graduate in Masters of Computer Applications and doing her M. Phil degree.
In 1999, she made her debut with the song Mangalagouriki from Telugu movie Manoharam for Mani Sharma. Since then she has worked in many Telugu movies. She has worked with almost every leading music composers of South India including AR Rahman, KV Mahadevan, Ilayaraja, S.P. Balasubramanium and more. She has also participated in Idea Star Singer Season 5 Singing competition conducted by Asianet. She is crowned as title winner of the season. She has sung for more than 1000 songs and performed in more than 2000+ stage shows across the globe. She is one of the 14 contestants of Bigg Boss Telugu Season 1 game show which is host by Jr NTR.
Singer Kalpana Biography
| | |
| --- | --- |
| Name | Kalpana Raghavendar |
| Real Name | Kalpana Raghavendar |
| Nickname | Kalpana |
| Profession | Playback singer |
| Date of Birth | May 8, 1977 |
| Age | 41 (As of 2018) |
| Zodiac sign | Yet to be Updated |
| Father Name | T. S. Raghavendra |
| Mother Name | Sulochana |
| Religion | Hindu |
| Educational Qualification | MCA |
| School | Yet to be Updated |
| College | Yet to be Updated |
| Hobbies | Singing, Reading Books, Dancing |
| Hometown | Chennai, Tamil Nadu, India |
| Nationality | Indian |
| Married | NA |
| Husband Name | NA |
| Current City | Chennai, Tamil Nadu, India |
Singer Kalpana Facebook: https://www.facebook.com/kalpana.raghavendar.5/
Singer Kalpana Twitter: Yet to be updated
Singer Kalpana Instagram: Yet to be updated
Singer Kalpana Songs list
Year
Song Title
Film Name
Language
1991
"Poda poda punnaku"
En Rasavin Manasile
Tamil
1992
"Eyru Mayil Eyri "
Thambi Pondatti
Tamil
1997
" Meenachi kayil"
Vidukathai
Tamil
1999
" Thirupachi Arivaala "
Taj Mahal
Tamil
2000
" Manasuna pongina "
Sparsha
Telugu
"Alaipongera "
Sakhi
Telugu
"Saregama "
Vamshi
Telugu
"mangala gouri"
Manoharam
Telugu
2001
" Mudela Mandela "
Narasimma
Tamil
"Lala Nanthala"
Narasimma
Tamil
"Premante suluvu kadhura"
Khushi
Telugu
"Monalissa"
Anandam
Telugu
"Gunthalakadi"
Cheppalani undhi
Telugu
"Arasanda Raman"
Murari
Tamil
2002
" Musugu veyyodhu"
Khadgam
Telugu
" Lokam"
Bobby
Telugu
"Ammadu Appachi"
Indra
Telugu
"Hey mama"
Takkari Donga
Telugu
"Aleba Aleba"
Takkari Donga
Telugu
" Cheliya cheliya singaram"
Kalusukovalani
Telugu
"Orinayano"
Thotti Gang
Telugu
"Rendu "
Coolie
Telugu
"Ku ku ku"
Kouravudu
Telugu
2003
" Rangareddy zilla"
Ayudham
Telugu
" Iylasa Kattumaram"
Arasu
Tamil
"Penne Neeyum"
Priyamana Thozhi
Tamil
"Kadalora Kavithai"
Student Number 1
Tamil
"Kadhal Thozhi Kadhal Thozhi"
Student Number 1
Tamil
" En Idhayam (Febi)"
Dhanush
Tamil
"Naan Putham Puthu"
Inidhu Inidhu Kadhal Inidhu
Tamil
"Jee Boumbha"
Alaudin
Tamil
"Vaanam Enaku"
Ice
Tamil
"Appappa"
Ice
Tamil
"Dondapandu lanti"
Pellam oorelthe
Telugu
"Sarigamapadanesa"
Raghavendra
Telugu
"Thillana"
Ee Abbai Chala Manchodu
Telugu
"Nammina Namadhi"
Raghavendra
Telugu
"Prapanchame"
Abhimanyu
Telugu
"O malle Puvvura"
Pellam oorelthe
Telugu
"Seetharamula kalyanam"
Evare Atagaadu
Telugu
"Vana Vana"
Evare Atagaadu
Telugu
"Nee left kannu"
Abbayi premalo paddadu
Telugu
"Abba em body"
Abbayi premalo paddadu
Telugu
"Gundammo"
Palnati Brahmanayudu
Telugu
"Brindavanamlo"
Palnati Brahmanayudu
Telugu
"Preminchu kunna vaalu"
Kalyana Ramudu
Telugu
2004
" Abho ni amma"
Anji
Telugu
" Chiku Buku pori"
Anji
Telugu
"Indurudu"
Mass
Telugu
"Radhu kadha"
Sakhiya Naatho raa
Telugu
"chakkaranti"
Sakhiya Naatho raa
Telugu
" Joole joole "
Varsham
Telugu
"Ye Jilla "
Shankar Dada MBBS
Telugu
"Gongoora "
Venky
Telugu
"Azhaku Neeya "
Jai
Tamil
"Alek Alek "
Jai
Tamil
"Oru Chinna Vennila "
Gambeeram
Tamil
"Aggipulla geeyagane "
Okato Number Kurradu
Telugu
"Ithuvarai Yarum "
Kadhaludan
Tamil
"Kadal Kadal "
Aalukkoru Aasai
Tamil
"Bhel Poori Nan "
Aalukkoru Aasai
Tamil
"Asale Chalikalam "
Mr & Mrs Sailaja Krishnamurthy
Telugu
"Veena Vani "
Pon megalai
Tamil
"Thathai Thathai "
Manmadhan
Telugu
"Chemma chekka "
Chanti-The hero
Telugu
"Sri Anjaneyam Slokam "
Sri Anjaneyam
Telugu
"Oh pilla"
Joruga Husharuga
Telugu
2005
" Kandi chenu kada"
Naa Alludu
Telugu
" Pilla chusthe"
Naa Alludu
Telugu
"Istanbul Rajakumari "
Mazhai
Tamil
"Kadavul Thanda "
Maayavi
Tamil
"Nenjam Ennum"
Aaru
Tamil
"Koncham Koncham "
Thirudiya Idhayathai
Tamil
" Devaloga Rani "
Maayavi
Tamil
"Adhire Adhire "
Nuvosthanante Nenodantana
Telugu
"Agadalu Pagadalu "
Radha Gopalam
Telugu
"Eh oore chinnadana "
Bhadra
Telugu
"Ammama nee misam "
Andarivaadu
Telugu
"Doli Doli "
Sankranthi
Telugu
"Nee varumbodhu "
Mazhai
Tamil
"Nagamani "
That Is Pandu
Telugu
"Ela Radamma "
Koneti Rayuni Koti Ratnalu
Telugu
"Vishnu Vishnuvani "
Koneti Rayuni Koti Ratnalu
Telugu
"Tirumala sikhranan "
Koneti Rayuni Koti Ratnalu
Telugu
"Kathadi pole "
Maayavi
Tamil
"Mallela maimarupey "
Andari kosam
Telugu
"Chelivadanam "
786 kaidi prema katha
Telugu
"Vadi vedi "
Satti
Telugu
"Chiru chiru chudaraa "
Hangama
Telugu
"Adagandha andaalu"
Iyodhya
Telugu
2006
" Getup marchesa"
Andala Ramudu
Telugu
" Silusilukkum Silmisham"
Chennai Kadhal
Tamil
"Kala Kala Kalai"
E
Tamil
"Thothapuram"
Varalaru
Tamil
"Madura Jilla"
Thiruvilaiyaadal Aarambam
Tamil
" Neeve na sarvam"
Swapnam
Telugu
"Thottapuram"
Varalaru
Tamil
"Naa dhyanam"
Swapnam
Telugu
"Pranamati"
Prem
Telugu
"utee trippu"
Hanumanthu
Telugu
"Kalayo vyshnava mayo"
Evandoy srivaru
Telugu
" Krishnaveni Krishnaveni"
Ghana
Telugu
2007
" Mancham vesy"
Seema Sastri
Telugu
" Na coffee"
Lakshyam
Telugu
"Manmatha"
Viyyalavari Kayyalu
Telugu
"O Apparoa"
Yamagola Malli Modalayindi
Telugu
"Adukodaniki"
Yamagola Malli Modalayindi
Telugu
" Jalakthik raja "
Yamagola
Telugu
"Okkasari "
Gundamma Gaari Manavadu
Telugu
"Manasantha edo "
Venkatadri
Telugu
"Sexy haseena "
Venkatadri
Telugu
"Hey handsome "
Viyyalavari Kayyalu
Telugu
2008
" Ninne pelladukoni"
Ready
Telugu
" Cheppalanundi"
Ontari
Telugu
"Sudha Badhakam"
Somberi
Telugu
"Thanuvu kore"
Kalyanam
Telugu
"Intinta"
Kuberulu
Telugu
Thodai nuvvu undalamma"
Devarakonda veeraiah
Telugu
"Nanna nanna "
Indrajit
Telugu
"Maaya maayaga"
Bommana Brothers Chandana Sisters
Telugu
2009
" Premante adho idhi"
Adhineta
Telugu
" Boomi Kothikum"
Arundhathee
Tamil
"Sandhanakkuyiley Unakkaaga"
Thozhi
Tamil
"Ammamo pilode"
Adugu
Telugu
"Yaraadi nee mohini"
Eesaa
Tamil
2010
" O Nene O Nuvvani"
Kalavaramaye Madilo
Telugu
" Ada Engengum Aasai"
Kola Kolaya Mundhirika
Tamil
"Jingu Chikka "
Mynaa
Tamil
"pada pada"
Bheemili Kabaddi Jattu
Telugu
"Manasu manasutho"
Adhi nuvve
Telugu
2011
" Acham"
Kullanari Koottam
Tamil
" Ooru Usilampatti"
Keezha Theru Kicha
Tamil
"Aaroora Aariraaro"
Sirai pozludhugal
Tamil
2012
" Adire andhalu"
Nandeeswarudu
Telugu
" Kozhutha Koyya"
Kollaikaran
Tamil
"Kozhutha Koyya (SolarSai)"
Kollaikaran
Tamil
2013
" Navamoorthulainatti"
Intinta annamayya
Telugu
"Nila Nila"
Nirnayam
Tamil
"Santhiran Sooruyan"
Muthu Nagaram
Tamil
"Vijay Pola"
Sandhithathum Sindhithathum
Tamil
"Kaali Kaali"
Meiyyazhagi
Tamil
"Chandare chanda"
Shiva kesav
Telugu
"Jam Jam Jam"
Maad Dad
Malayalam
"Muddada Nagaye"
Galaate
Kannada
2014
" Dikkulu chudaku"
Dikkulu Choodaku Ramayya
Telugu
"Darling Dambaku"
Maan Karate
Tamil
"Undile"
Undile manchi kalam mundu mundhuna
Telugu
"Prasanna"
Dhee ante dhee
Telugu
2015
" Gundello"
Andhra Pori
Telugu
"Pogiren"
36 Vayadhinile
Tamil
2016
"Yappa Chappa"
Kanithan
Tamil
"Jirugu Jirugu"
Rajini Murugan
Tamil
"Kaara Karuuna"
Mapla Singam
Tamil
"Adho Theme"
Manithan
Tamil
"Oyaa Oyaa"
Kaashmora
Tamil
"Prem sangamam"
Greetings
Telugu
"Thennatu singam"
Pasumpon
Tamil
"Alai Kadalil"
Pappa
Tamil
"En Manathai"
Pottu Amman
Tamil
"Anbae inithu"
Hollywood
Tamil
Singer Kalpana Tv shows
| Year | Show | Role | Channel | Result |
| --- | --- | --- | --- | --- |
| 2010 | Star Singer | Contestant | Asianet | Star Singer 2010 title holder (Winner) |
| 2017 | Bigg Boss Telugu (season 1) | Contestant | Star Maa | 11th Place- Evicted on Day 28 |
Singer Kalpana Images
Read other Biographies: Sunidhi Chauhan | Praniti | Shweta Mohan | Benny Dayal | Anuradha Sriram