Jayam Ravi is a multitalented actor known for his works in Tamil film industry. He is the son of a veteran film editor, Mohan. Ravi started his acting career as a child artist and appeared in two Telugu movies titled Bava Bavamaridi and Palnati Pourusham. In the year 2003, he made his debut lead role with the romantic Tamil movie Jayam directed by his brother Mohan Raja. The movie has received a huge response among the audiences and the title of the movie has become a prefix to his stage name. In 2004, he has won the Tamil Nadu State Film Award for Best Actor for the movie M. Kumaran Son Of Mahalakshmi directed by his brother Mohan Raja. In his brother's direction, he has starred in the movies like Jayam, M. Kumaran S/O Mahalakshmi, Unakkum Enakkum, Santhosh Subramaniam, Thillalangadi and Thani Oruvan.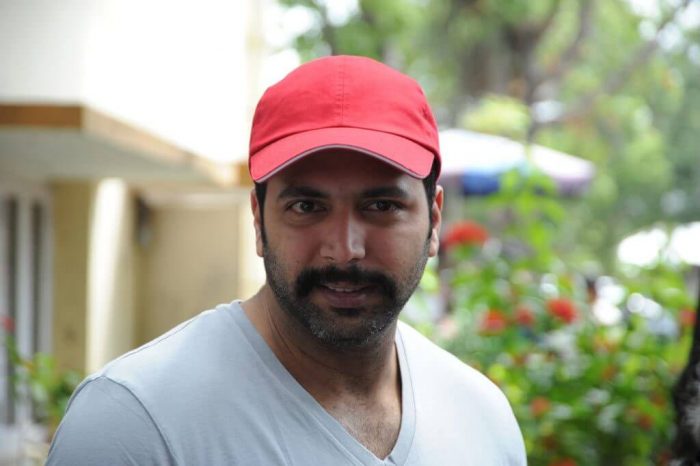 The comprehensive results of Jayam Ravi movies,
4 Blockbuster Movies
7 Hit movies
6 Average Movies
5 Flop Movies
Stay Tune for regular updates of Jayam Ravi new & upcoming movies.
Year
Film
Role
Verdict/Status
1993
Bava Bavamaridi
Child Raju
–
1994
Palnati Pourusham
Young Bheemineni Brahmanna
–
2003
Jayam
Ravi
Blockbuster
2004
M. Kumaran S/O Mahalakshmi
M. Kumaran
Blockbuster
2005
Daas
Antony Daas
Average
 
Mazhai
Arjun
Flop
2006
Idhaya Thirudan
Mahesh Aalwar
Flop
 
Unnakum Ennakum
Santhosh Krishnan
Hit
2007
Deepavali
Billu Mudaliar
Average
2008
Velli Thirai
Himself
–
 
Santosh Subramaniam
Santosh Subramaniam
Hit
 
Dhaam Dhoom
Gautham Subramaniam
Flop
2009
Peranmai
Dhuruvan
Blockbuster
2010
Thillalangadi
Krishna
Average
2011
Ko
Himself
–
 
Engeyum Kadhal
Kamal
Hit
2013
Aadhi Bhagavan
Aadhi Shanmugam,
Baghavan Bhai
Flop
2014
Ninaithathu Yaaro
Himself
–
 
Nimirndhu Nil
Aravindan Sivasamy,
Narasimha Reddy
Average
2015
Janda Pai Kapiraju
Himself
–
 
Romeo Juliet
Karthick
Average
 
Sakalakala Vallavan
Shakti
 
 
Thani Oruvan
Mithran
Blockbuster
 
Bhooloham
Bhooloham
Hit
2016
Miruthan
Karthick
Hit
2017
Bogan
ACP Vikram
Average
 
Vanamagan
Jara/Vaasi
Flop
2018
Tik Tik Tik
Vasu
Hit
 
Adanga Maru
Subash
Hit
2019
Thumbaa
Himself
–
 
Comali
 
Blockbuster
Jayam Ravi Blockbuster/Best Movies
Jayam
M. Kumaran s/o Mahalakshmi
Peranmai
Thani Oruvan
Comali
Jayam Ravi Hit Movies
Unnakum Ennakum
Santosh Subramaniam
Engeyum Kadhal
Bhooloham
Miruthan
Tik Tik Tik
Adanga Maru
Jayam Ravi Average Movies
Daas
Deepavali
Thillalangadi
Nimirndhu Nil
Romeo Juliet
Bogan
Jayam Ravi Flop Movies
Mazhai
Idhaya Thirudan
Dhaam Dhoom
Aadhi Bhagavan
Vanamagan
Jayam Ravi New/Latest Movies
Jayam Ravi Upcoming Movies List
Untitled film directed by Lakshmanan
Ponniyin Selvan (Mani Ratnam)
Jayam Ravi Movies List – Cameo
Velli Thirai
Ko
Ninaithathu Yaaro
Janda Pai Kapiraju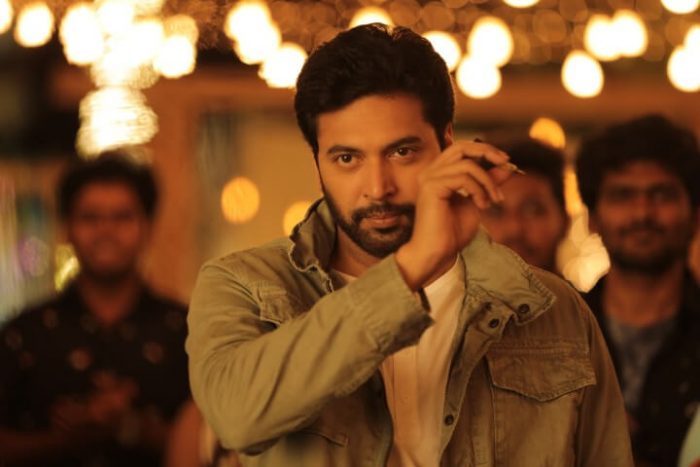 Jayam Ravi Telugu Movies
Bava Bavamaridi (Child Artist)
Palnati Pourusham (Child Artist)
Janda Pai Kapiraju
Awards & Nominations of Jayam Ravi
For his versatile acting, he has grabbed and nominated for the various award. The list of awards are given below.
Tamil Nadu State Film Award
2004 Tamil Nadu State Film Award Best Actor for M. Kumaran Son Of Mahalakshmi – Won.
Vijay Award
2008 Vijay Award Best Actor for Santosh Subramaniam – Nominated
2009 Vijay Award Best Actor for Peraanmai – Nominated
Filmfare Award South
2008 Filmfare Award Best Actor – Tamil for Santosh Subramaniam – Nominated
2009 Filmfare Award Best Actor – Tamil for Peraanmai – Nominated
2015 Filmfare Critics Award Best Actor – South for Thani Oruvan – Won
2015 Filmfare Award Best Actor – Tamil for Thani Oruvan – Nominate
Edison Award
2009 Edison Award Best Actor for Peraanmai – Won
Edison Award Best Actor for Thani Oruvan – Won
SIIMA Awards
2015 Most Romantic Star of South Indian Cinema for Romeo Juliet – Won
2015 SIIMA Awards for Best Actor (Critics) for Thani Oruvan – Won
IIFA Utsavam
2015 Performance In A Leading Role – Male for Thani Oruvan – Won
Vikatan Awards
2015 Vikatan Awards Best Actor for Bhooloham – Won
Click here for Upcoming Tamil Movies List