Gautham Menon Wiki, Biography, Age, Wife, Movie, Images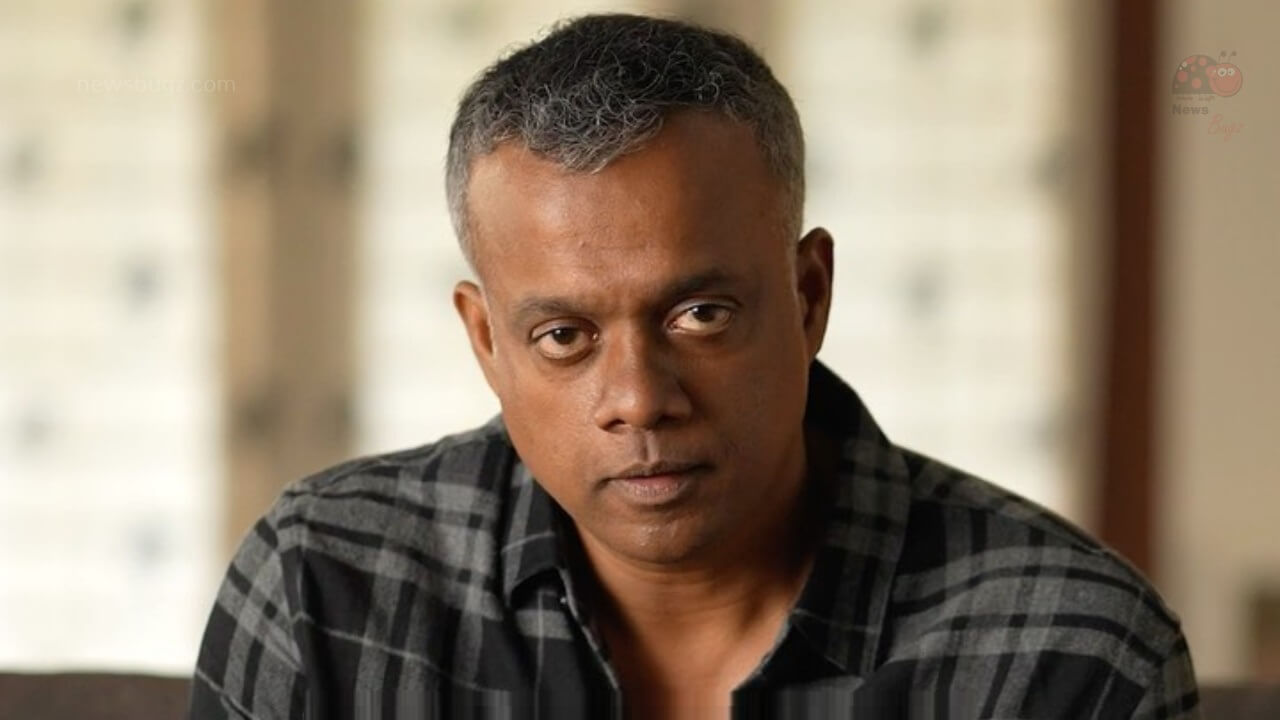 Gautham Vasudev Menon is an Indian director, producer, actor, and screenwriter who mostly works in the Tamil film industry. Moreover, he also directed movies in Hindi and Telugu. Gautham Menon did his directional debut in the 2001 Tamil movie Minnale. Later in 2008, his movie Varanam Aayiram became a blockbuster hit, which is a semi-autobiographical movie. Gautham Meon's fourth Malayalam movie Anuragam also marks the return of Devayani to Malayalam films.
Biography
Name
Gautham Menon
Real Name
Gautham Vasudev Menon
Nickname
Gautham, GVM, Gautham Meon
Profession
Director, Screenwriter, Producer, Actor
Date of Birth
25 February 1973
Age (as of 2023)
50
Zodiac sign
Pisces
Family
Father: Prabha Krishnan Menon
Mother: Uma
Sister: Uthara Menon
Marital Status
Married
Affairs/Girlfriends
NA
Wife
Preethi Menon
Children
Arya, Dhruv, Adhitya
Religion
Hindu
Educational Qualification
B.E Mechanical Engineering
School
Vailankanni Raj matriculation Higher Secondary School, Trichy
Madras Christian College Higher Secondary School, Chennai
College
Mookambigai College of Engineering, Pudukkottai, Trichy
Hobbies
Listening to music, Writing, Reading, Watching Movies, Driving
Birth Place
Ottapalam, Kerala, India
Hometown
Ottapalam, Kerala, India
Current City
Chennai, Tamil Nadu, India
Nationality
Indian
Social Media Profiles
Interesting Facts
His ambition is to become a filmmaker since his college days, and with the support of his mother, he started his film carrier.
He introduced Harris Jayaraj as a music composer for his movie.
He joined as an apprentice to Director Rajiv Menon and worked as Assistant Director for the movie Minsara Kanavu in the year 1997.
Gautham Menon was born in Kerala and grew up in Anna Nagar, Chennai.
Then he directed a realistic thriller movie Kaakha Kaakha and he directs the investigative thriller movie Vettaiyadu Vilaitadu both reached a mega-hit.
He has more than 3.8 million followers on Twitter and 856K followers on Instagram (as of May 2023).
Movies
As Director
| Year | Title | Language | Producer | Director | Acting role |
| --- | --- | --- | --- | --- | --- |
| 2001 | Minnale | Tamil | No | Yes | Flower man |
| 2001 | Rehnaa Hai Terre Dil Mein | Hindi | No | Yes | Maddy's boss |
| 2003 | Kaakha Kaakha | Tamil | No | Yes | Police officer Vasudevan Nair |
| 2004 | Gharshana | Telugu | No | Yes | No |
| 2006 | Vettaiyaadu Vilaiyaadu | Tamil | No | Yes | Dancer in song "Manjal Veyil" |
| 2007 | Pachaikili Muthucharam | Tamil | No | Yes | Bus passenger |
| 2008 | Vaaranam Aayiram | Tamil | No | Yes | Informer |
| 2010 | Vinnaithaandi Varuvaayaa | Tamil | No | Yes | Himself |
| 2010 | Ye Maaya Chesave | Telugu | No | Yes | Actor |
| 2011 | Nadunisi Naaygal | Tamil | Yes | Yes | No |
| 2012 | Ekk Deewana Tha | Hindi | Yes | Yes | Actor |
| 2012 | Neethaane En Ponvasantham | Tamil | Yes | Yes | No |
| 2012 | Yeto Vellipoyindhi Manasu | Telugu | Yes | Yes | No |
| 2015 | Yennai Arindhaal | Tamil | No | Yes | Police officer |
| 2016 | Achcham Yenbadhu Madamaiyada | Tamil | Yes | Yes | Police officer |
| 2016 | Sahasam Swasaga Sagipo | Telugu | Yes | Yes | Police officer |
| 2019 | Enai Noki Paayum Thota | Tamil | Yes | Yes | No |
| 2020 | Putham Pudhu Kaalai | Tamil | No | Yes | No |
| 2021 | Kutty Story | Tamil | No | Yes | Aadhi |
| 2022 | Vendhu Thanindhathu Kaadu Part 1: The Kindling | Tamil | No | Yes | TBA |
| 2023 | Joshua Imai Pol Kaakha | Tamil | No | Yes | TBA |
| 2023 | Dhruva Natchathiram | Tamil | Yes | Yes | TBA |
| 2024 | Vendhu Thanindhathu Kaadu Part 2 | Tamil | Yes | Yes | |
Other Roles
| Year | Title | Language(s) | Producer | Acting role | Other | Ref |
| --- | --- | --- | --- | --- | --- | --- |
| 1997 | Minsara Kanavu | Tamil | No | Man in crowd | | |
| 2010 | Ratha Sarithiram | Tamil | No | No | Narrator | |
| 2011 | Veppam | Tamil | Yes | No | Dubbing artist for Muthukumar | |
| 2013 | Kanna Laddu Thinna Aasaiya | Tamil | No | Himself | | |
| 2013 | Thanga Meenkal | Tamil | Yes | No | | |
| 2014 | Endrendrum | Tamil | No | No | Narrator | |
| 2015 | Kaaval | Tamil | No | No | Narrator | |
| 2015 | Yatchan | Tamil | No | Himself | | |
| 2015 | Courier Boy Kalyan | Telugu | Yes | No | | |
| 2015 | Oru Naal Iravil | Tamil | No | Himself | | |
| 2015 | Uppu Karuvaadu | Tamil | No | No | Playback singer for "Pudhu Oru Kadhavu" | |
| 2016 | Zero | Tamil | No | No | Narrator | |
| 2016 | Tamilselvanum Thaniyar Anjalum | Tamil | Yes | No | | |
| 2016 | Meendum Oru Kadhal Kadhai | Tamil | No | No | Narrator | |
| 2017 | Power Paandi | Tamil | No | Himself | | |
| 2018 | Thaanaa Serndha Koottam | Tamil | No | No | Dubbing artist for Suresh Menon | |
| 2018 | Naam | Malayalam | No | Himself | | |
| 2018 | Goli Soda 2 | Tamil | No | Raghavan | | |
| 2018 | Ee Nagaraniki Emaindhi | Telugu | No | Himself | | |
| 2019 | Puppy | Tamil | No | No | Playback singer for "Uyire Vaa" | |
| 2020 | Oh My Kadavule | Tamil | No | Himself | | |
| 2020 | Trance | Malayalam | No | Solomon | | |
| 2020 | Kannum Kannum Kollaiyadithaal | Tamil | No | DCP Prathap Chakravarthi | | |
| 2020 | Lock Up | Tamil | No | No | Narrator | |
| 2020 | Theeviram | Tamil | No | Police Officer | | |
| 2021 | 99 Songs | Tamil | No | No | Dialogue Writer For Tamil Version | |
| 2021 | Kodiyil Oruvan | Tamil | No | No | Playback singer for song "Slum Anthem" | |
| 2021 | Rudra Thandavam | Tamil | No | Vathapirajan | | |
| 2021 | 3:33 | Tamil | No | Yes | | |
| 2022 | FIR | Tamil | No | Ajay Dewan | | |
| 2022 | Selfie | Tamil | No | Ravi Varma | | |
| 2022 | Don | Tamil | No | Himself | | |
| 2022 | Sita Ramam | Telugu | No | Major Selvan | | |
| 2023 | Michael | Telugu | No | Gurunath and his twin brother | | |
| 2023 | 13 | Tamil | No | Arulmozhi Varman | | |
| 2023 | Lovefully Yours Veda | Malayalam | No | Sri Kumar Kartha | | |
| 2023 | Viduthalai Part 1 | Tamil | No | Sunil Menon | | |
| 2023 | Anuragam | Malayalam | No | | | |
| 2023 | Leo | Tamil | No | | | |
Television
2019 – Queen
2020 – Paava Kadhaigal
2021 – Navarasa
Web Series
| Year | Title | Producer | Writer | Director | Acting Role | Other |
| --- | --- | --- | --- | --- | --- | --- |
| 2019 | Queen | No | No | Yes | Sridhar | Co-directed with Prasath Murugesan |
| 2020 | Paava Kadhaigal | No | Yes | Yes | Sathya | Anthology series; segment: Vaanmagal |
| 2021 | Navarasa | No | No | Yes | No | Anthology series; segment: Guitar Kambi Mele Nindru |
List of Films Contributed
| Year | Title | Language(s) | Producer | Acting role | Other |
| --- | --- | --- | --- | --- | --- |
| 1997 | Minsara Kanavu | Tamil | No | Man in Crowd | |
| 2010 | Ratha Sarithiram | Tamil | No | No | Narrator |
| 2011 | Veppam | Tamil | Yes | No | Dubbing artist for Muthukumar |
| 2013 | Kanna Laddu Thinna Aasaiya | Tamil | No | Himself | |
| 2013 | Thanga Meenkal | Tamil | Yes | No | |
| 2014 | Endrendrum | Tamil | No | No | Narrator |
| 2015 | Kaaval | Tamil | No | No | Narrator |
| 2015 | Yatchan | Tamil | No | Himself | |
| 2015 | Courier Boy Kalyan | Telugu | Yes | No | |
| 2015 | Oru Naal Iravil | Tamil | No | Himself | |
| 2015 | Uppu Karuvaadu | Tamil | No | No | Playback singer for "Pudhu Oru Kadhavu" |
| 2016 | Zero | Tamil | No | No | Narrator |
| 2016 | Tamilselvanum Thaniyar Anjalum | Tamil | Yes | No | |
| 2016 | Meendum Oru Kadhal Kadhai | Tamil | No | No | Narrator |
| 2017 | Power Paandi | Tamil | No | Himself | |
| 2018 | Thaanaa Serndha Koottam | Tamil | No | No | Dubbing artist for Suresh Menon |
| 2018 | Naam | Malayalam | No | Himself | |
| 2018 | Goli Soda 2 | Tamil | No | Raghavan | |
| 2018 | Ee Nagaraniki Emaindhi | Telugu | No | Himself | |
| 2019 | Puppy | Tamil | No | No | Playback singer for "Uyire Vaa" |
| 2020 | Oh My Kadavule | Tamil | No | Himself | |
| 2020 | Trance | Malayalam | No | Solomon | |
| 2020 | Kannum Kannum Kollaiyadithaal | Tamil | No | DCP Prathap Chakravarthi | |
| 2020 | Lock Up | Tamil | No | No | Narrator |
| 2020 | Theeviram | Tamil | No | Police Officer | |
| 2021 | 99 Songs | Tamil | No | No | Dialogue Writer For Tamil Version |
| 2021 | Kodiyil Oruvan | Tamil | No | No | Playback singer for song "Slum Anthem" |
| 2021 | Rudra Thandavam | Tamil | No | Vathapirajan | |
| 2021 | 3:33 | Tamil | No | Yes | |
| 2022 | FIR | Tamil | No | Ajay Dewan | |
| 2022 | Selfie | Tamil | No | Ravi Varma | |
| 2022 | Don | Tamil | No | Himself | |
| 2022 | Sita Ramam | Telugu | No | Major Selvan | |
Music Videos
2010 – Semmozhiyaana Thamizh Mozhiyaam
2018 – Bodhai Kodhai
2021 – Allipoola Vennela
Short Films
2020 – Karthik Dial Seytha Yenn
Awards
Government of Tamil Nadu – Kalaimamani (2021)
Vijay Award for Favourite Director for Vaaranam Aayiram (2008)
National Film Award for Best Feature Film in Tamil for Vaaranam Aayiram and Thanga Meengal (2013)
Filmfare Award for Best Film – Tamil for Thanga Meengal (2013)
Vijay Award for Best Film for Thanga Meengal (2013)
Nandi Award for Best Screenplay Writer for Ye Maaya Chesave (2010)
Nandi Special Jury Awards for Ye Maaya Chesave (2010)
Nominations
Filmfare Award for Best Director – Tamil for Kaakha Kaakha (2003)
Filmfare Award for Best Director – Tamil for Vaaranam Aayiram (2008)
Vijay Award for Best Director for Vinnaithaandi Varuvaayaa (2010)
Vijay Award for Favourite Director for Vinnaithaandi Varuvaaya (2010)
Filmfare Award for Best Director – Tamil for vinnaithaandi Varuvaayaa (2010)
Filmfare Award for Best Director – Telugu for Ye Maaya Chesave (2010)
SIIMA Award for Best Actor in a Supporting Role – Tamil for Kannum Kannum Kollaiyadithaal (2021)
SIIMA Award for Best Actor in a Negative Role – Malayalam for Trance (2021)
Honors
Rotary Club of Chennai – Honored for Creative Excellence (2010)
Images
Take a look at the latest photos of director Gautham Vasudev Menon,