G. V. Prakash Kumar Wiki, Biography, Age, Height, Movies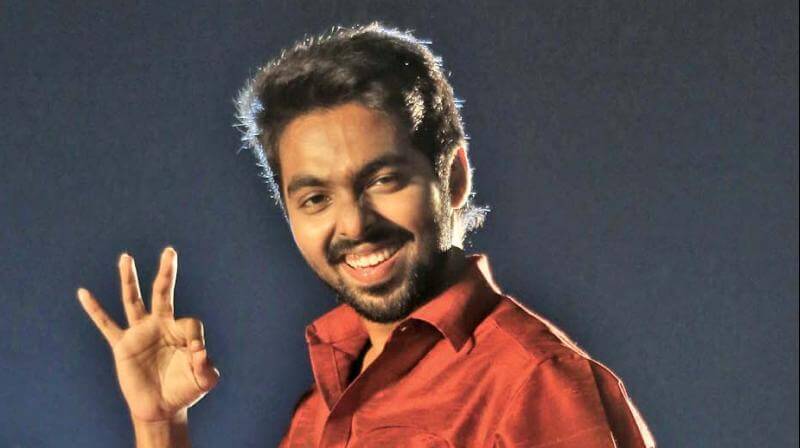 G.V.Prakash Kumar is an Indian Music Composer, Singer, and Actor who is mainly working in Tamil (Kollywood) film industry. He made his debut as a music director through the movie "Veyil" in the year 2006. Apart from being a Music Director, he has also acted in more than 10 movies as a lead actor. G.V. Prakash Kumar became very famous by early 2010's. Check out below for G. V. Prakash Kumar Wiki, Biography, Age, Height, Images, Songs, Movies and other details
Read other biographies: Aarthi Doss | Samantha Akkineni | Sshivada | Nivetha Thomas| Amit Bhargav | Sriranjani Amit | Lakshmy Ramakrishnan | Athulya Ravi | Sathish| Vishal | Ganesh Venkatraman | Andrea Jeremiah | Attakathi Dinesh
G. V. Prakash Kumar Details
G. V. Prakash Kumar was born on June 13, 1987, in Chennai, Tamil Nadu, India. He was born to G.Venkatesan and A.R. Reihana (Who is a Playback singer). He did his schoolings at Chettinad Vidyashram where he met Saindhavi (his wife). G. V. Prakash Kumar Wife Saindhavi is also a playback singer. G. V. Prakash Kumar Married Saindhavi on 27 June 2013 at Mayor Rayapan Chettiar Hall which is located in Chennai, India.
G.V. Prakash Kumar initially appeared as a Vocalist on the soundtrack of the movie "Gentleman" director by Shankar. He then worked along with A.R.Rahman and also sang songs for Harris Jayaraj as well. His first movie as a music composer is "Veyil" for which he got many appreciations. Later he became so popular through his music compositions. Pookal Pookum Tharunam from Madrasapattinam is also one of the songs which he got many appreciations.
G. V. Prakash Kumar made his acting debut through the movie Pencil but the movie "Darling" was the first to release as there was a delay in Pencil movie release. Currently, he has signed more than 10 films and many films are under post-production stage.
Read other biographies: Aarthi Doss | Samantha Akkineni | Sshivada | Nivetha Thomas| Amit Bhargav | Sriranjani Amit | Lakshmy Ramakrishnan | Athulya Ravi | Sathish| Vishal | Ganesh Venkatraman | Andrea Jeremiah | Attakathi Dinesh
G. V. Prakash Kumar Wiki
| | |
| --- | --- |
| Name | G. V. Prakash Kumar |
| Real Name | G. V. Prakash Kumar |
| Nickname | G. V |
| Profession | Indian film score and soundtrack composer, actor and singer. |
| Date of Birth | June 13, 1987 |
| Age | 30 |
| Father Name | Venkatesh |
| Mother Name | A R Reihana |
| Height | 1.62 m |
| Weight | 69 Kg |
| Religion | Hindu |
| Educational Qualification | Yet to be updated |
| School | Chettinad Vidyashram |
| College | Yet to be updated |
| Hobbies | Singing and Listening Music |
| Hometown | Chennai, India |
| Nationality | Indian |
| Married | Yes |
| Wife Name | Saindhavi |
| Current City | Chennai, India |
G. V. Prakash Kumar Facebook: https://www.facebook.com/G.V.Prakash/
G. V. Prakash Kumar Twitter: https://twitter.com/gvprakash
G. V. Prakash Kumar Instagram: https://www.instagram.com/gvprakash/
G. V. Prakash Kumar as Music director
Year
Tamil
Telugu
Other Languages
2006
Veyil
Vesavi
2007
Oram Po
Nenu Autovani (2011)
Kireedam
Poornamarket (2011)
Polladhavan  (3 songs)
Punda (2010) (Kannada)
Evano Oruvan (Promo song)
Evaro Okaru (2009)
Velli Thirai
Kaalai
2008
Ullasamga Utsahamga
Ullasa Utsaha (2009) (Kannada)
Ayyo Pavam (2009) (Malayalam)
Kuselan
Kathanayakudu
Ananda Thandavam
Ananda Thandavam (2009)
Naan Aval Adhu (2 songs)
Nenu Tanu Aame
Seval
Ballem (2011)
2009
Angaadi Theru (4 songs)
Shopping Mall (2010)
Aayirathil Oruvan
Yuganiki Okkadu (2010)
Irumbukkottai Murattu Singam
Super Cowboy (2010)
2010
Madrasapattinam
1947 A Love Story (2011)
Darling
Va
Aadukalam
Pandem Kollu (2015)
2011
Narthagi
Deiva Thirumagal
Nanna
Mayakkam Enna
Mr. Karthik (2016)
Muppozhudhum Un Karpanaigal
Nirantharam Nee Oohalo
2012
Endukante… Premanta!
Saguni
Sakuni
Gangs of Wasseypur – Part 1  (Hindi)
Joker (Hindi)
Gangs of Wasseypur – Part 2 (Hindi)
Thaandavam
Siva Thaandavam
Paradesi
Paradesi
Naan Rajavaga Pogiren
2013
Ongole Githa  (4 songs)
Annakodi
Udhayam NH4
NH 4
Thalaivaa
Anna – Born To Lead
Raja Rani
Raja Rani
JK Enum Nanbanin Vaazhkai
Rajadhi Raja
Nimirndhu Nil
Janda Pai Kapiraju
2014
Naan Sigappu Manithan
Indrudu
Saivam
Irumbu Kuthirai
Darling
Ugly (Hindi)
2015
Pencil
Rajathanthiram
Komban
Idhu Enna Maayam
Kaaval (5 songs)
Kaaka Muttai
Half Ticket (2016) (Marathi)
Trisha Illana Nayanthara
Trisha Leda Nayanthara
Eetti
2016
Visaranai
Vicharana
Theri (50th film)
Policeodu
Enakku Innoru Per Irukku
Meendum Oru Kadhal Kadhai
Bruce Lee
Kadavul Irukaan Kumaru
2017
Mupparimanam
Lens
2018
Semma
G. V. Prakash Kumar Movies as an Actor
The below are GV Prakash Movies List:
Year
Film
Role
Notes
2008
Kuselan
Himself
Cameo appearance in "Cinema Cinema" song
2013
Naan Rajavaga Pogiren
Himself
Cameo appearance in "College Padam" song
Thalaivaa
Bar dancer
Cameo appearance in "Vaanganna" song
2015
Darling
Kathir
Edison Award for Debut Actor
SIIMA Award for Best Debut Actor
Filmfare Award for Best Male Debut – South
JK Enum Nanbanin Vaazhkai
Himself
Cameo appearance in "Title" song
Trisha Illana Nayanthara
Jeeva
2016
Pencil
Shiva
Enakku Innoru Per Irukku
Johnny
Kadavul Irukaan Kumaru
Kumar
2017
Bruce Lee
Bruce Lee
Anbanavan Asaradhavan Adangadhavan
Jeeva
Cameo appearance
2018
Naachiyaar
Kaathavarayan
Semma
Post-production
4G
Post-production
Ayngaran
Post-production
Adangathey
Post-production
Kuppathu Raja
Post-production
100% Kadhal
Filming
Sarvam Thaala Mayam
Filming
Untitled Adhik project
Filming
Rettai Kombu
Pre-production
Karuppar Nagaram
Pre-production
G. V. Prakash Kumar Upcoming Movies
Semma
4G
Ayngaran
Adangathe
Kuppathu Raja
100% Kadhal
Sarvam Thaala Mayam
Untitled Adhik Project
Rettai Kombu
Karuppar Nagaram
G. V. Prakash Kumar As singer
The below are GV Prakash Songs List:
Year
Film
Song(s)
Notes
2017
Mersal
"Mersal Arasan"
composed by A. R. Rahman
Bruce Lee
" Sugar Mint-u Kari "
2016
Kadavul Irukaan Kumaru
"Hey paathu podi" , " Nee pona theruvula " , " Gum Zaare "
Adra Machan Visilu
"Yaru Iva"
composed by N. R. Raghunandan
Theri
"Eena Meena Teeka", "En Jeevan II"
2015
Eetti
"Un Swasam", "Naan Pudicha Mosakutiye"
Trisha Illana Nayanthara
"Bittu Padam Di", "Yenachu Yedhachu"
Kaaval
"Un Kannukullara"
Kaaka Muttai
"Karuppu Karuppu", "Edhai Ninaithom"
Idhu Enna Maayam
"Iravaaga Nee", "Irukiraai"
Komban
"Appappa"
Pencil
"Yaarai Polum", "Kangaliliae II" , "LED Kannala II"
Rajathanthiram
"Yen Idha Paarvaigal"
Darling
"Anbe Anbe", "Sattena Idi Mazhai"
2014
Ugly
"Suraj Hai"
Hindi
Poriyaalan
"Kan Rendum"
composed by M. S. Jones
Naan Sigappu Manithan
"Elelo", "Idhayam Unnai Theduthey"
Irumbu Kuthirai
"Penne Penne"
2013
JK Enum Nanbanin Vaazhkai
"Nee Enna Pesuvaai", "Facebook Login"
Thalaivaa
"Yaarindha Saalai"
Raja Rani
"Imaye", "Hey Baby"
Biriyani
"Edhirthu Nil"
composed by Yuvan Shankar Raja
Annakodi
"Pothi Vacha"
Udhayam NH4
"Yaaro Ivan", "Vaa Iravugal"
Naan Rajavaga Pogiren
"Yaarivano"
Madha Yaanai Koottam
"Kona Kondakari"
composed by N. R. Raghunanthan
2012
Neerparavai
"Para Para"
composed by N. R. Raghunanthan
Sundarapandian
"Rekkai Mulaiththen"
composed by N. R. Raghunanthan
Thaandavam
"Anicham Poovazhagi", "Adhigaalai Pookal"
Muppozhudhum Un Karpanaigal
"Oru Murai"
2011
Mayakkam Enna
"Pirai Thedum"
2010
Va
"Unnai Kann", "Sharp Sharpji"
Aadukalam
"Yaathe"
Aayirathil Oruvan
"Indha Paadhai"
2007
Unnale Unnale
"Hello Miss"
composed by Harris Jayaraj
2005
Anniyan
"Kadhal Yaanai"
composed by Harris Jayaraj
1995
Muthu
"Kuluvalilae"
composed by A. R. Rahman
Indira
"Ini Achamillai"
composed by A. R. Rahman
Bombay
"Kuchi Kuchi"
composed by A. R. Rahman
1994
May Madham
"Madrasai Suthi", "Palakkattu Machanukku"
composed by A. R. Rahman
1993
Uzhavan
"Kaathu Kaathu Dinam Kaathu"
composed by A. R. Rahman
Uzhavan
"Maari Mazhai Peyaadho"
composed by A. R. Rahman
Gentleman
"Chikku Bukku Rayile"
composed by A. R. Rahman
G. V. Prakash Kumar As Television
| Year | Show | channel | Notes |
| --- | --- | --- | --- |
| 2018 | Sundays with Anil and Karky | Zee Tamil | Geust |
G. V. Prakash Kumar Images
Read other biographies: Aarthi Doss | Samantha Akkineni | Sshivada | Nivetha Thomas| Amit Bhargav | Sriranjani Amit | Lakshmy Ramakrishnan | Athulya Ravi | Sathish| Vishal | Ganesh Venkatraman | Andrea Jeremiah | Attakathi Dinesh