Dhamaka is an upcoming Malayalam movie starring Arun A Kumar and Nikki Galrani in the lead role. Directed by Omar Lulu, the story was penned by Sarang Jayaprakash, Venu O. V. and Kiran Lal from a story by Lulu. Touted to be comedy-drama, the film also stars Dharmajan Bolgatty, Mukesh, Urvashi, Hareesh Kanaran, and Innocent Vareed Thekkethala in the important roles. Dhamaka movie is slated to be released on 2 January 2020.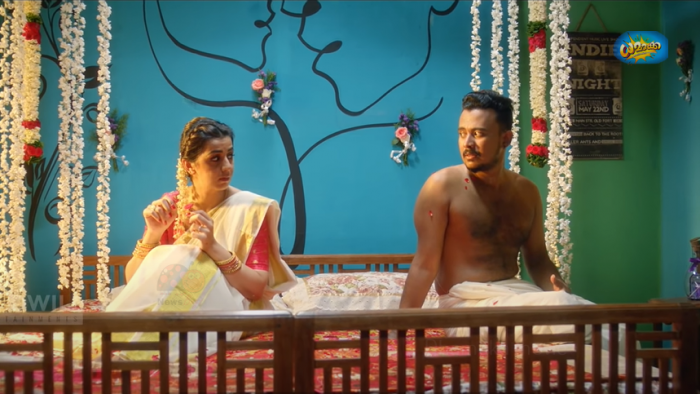 Story Plot
Dhamaka film revolves around a groom Eyo (Arun A Kumar) who has erectile dysfunction on his wedding night. Annie (Nikki Galrani), a wealthy divorcee had challenged her ex-husband saying she will get marry to a young guy and have a baby soon (she is in a hurry to have a kid). Watch Dhamaka full movie whether her challenge wins and Eyo get back his confidence.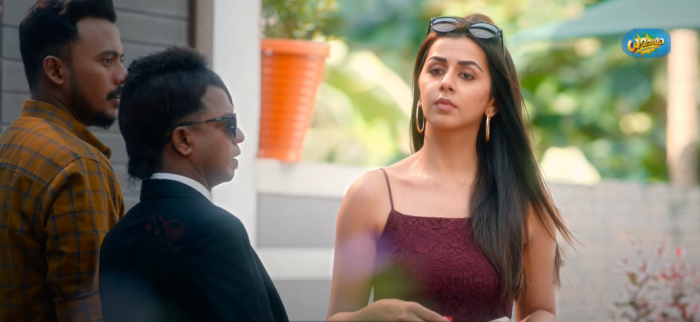 Dhamaka Movie
Here is the sneak peek video of Dhamaka movie,
Dhamaka Full Movie Details
Director
Omar Lulu
Screenplay
Sarang Jayaprakash
Venu O. V.
Kiran Lal
Online Streaming OTT Platform
Yet to be updated
Genre
Comedy Drama
Story
Muthukumaran
Starring
Arun A Kumar, Nikki Galrani
Music
Gopi Sundar
Cinematographer
Sinoj P. Ayyappan
Editor
Dileep Dennis
Production Company
Good Line Productions
Release date
2 January 2021
Language
Tamil
Dhamaka Movie Cast
Here are the complete cast list of ucpoming malayalam movie Dhamaka,
Arun A. Kumar as Eyo Pauly
Nikki Galrani as Annie / Ann Maria, Eyo's wife
Dharmajan Bolgatty as Shiva, Eyo's friend
Hareesh Kanaran as Dr. Sexena / Biju
Mukesh as Pauly
Urvashi as Annamma Pauly
Innocent as Pauly's father
Sabumon Abdusamad as Britto, Annie's first husband
Edavela Babu as Annie's father
Shaalin Zoya as Pinky, Eyo's sister
Salim Kumar as Dr. Gopinath
Sooraj Thelakkad as Britto's bodyguard
Neha Saxena as Thresia
Saraf Sabith as Friend at Pataya Hotel
Ponnamma Babu as Valyammachi
Kalabhavan Haneef
Molly Kannamaly as Maria Chedathi
Sabith Shajahan as Annie's brother
Binu Adimaly as Family Court advocate
Pareekutty as Advocate clerk
Noorin Shereef as dancer in "Adipoly Dhamaka"
Omar Lulu as a dancer in "Adipoly Dhamaka"
Fukru as a dancer in "Adipoly Dhamaka"
Dhamaka Movie Trailer
Watch Dhamaka movie full trailer video here,
Dhamaka Movie songs
Watch all the songs of Dhamaka malayalam film,
Stay Tuned with Newsbugz.com for more Entertainment news.