Deepa Jayakumar Wiki, Biography, Politics, Husband, Age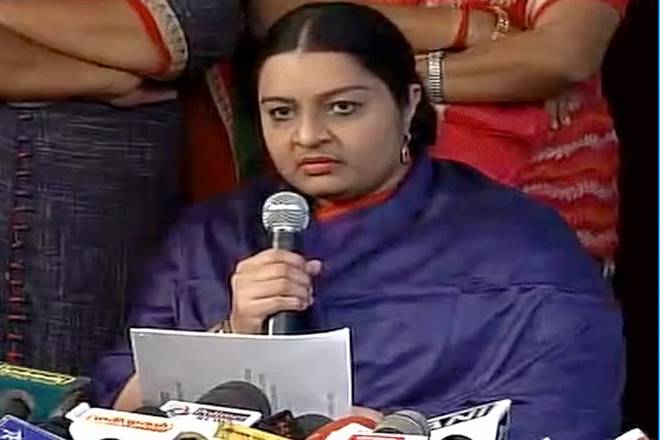 Deepa Jayakumar is an Indian Politicians who made her entry into politics. She is the niece of former Cheif Minister of Tamil Nadu J.Jayalalitha. She formed a party early this year named MGR Amma Deepa Peravai which was later changed to AIADMK J.Deepa. Her husband's name is Madhavan who also formed a party opposing her. Check out below for Deepa Jayakumar Wiki, Biography, Politics, Husband, Age, Personal Life and other details
Read Candidates Biography: E. Madhusudhanan Wiki | Deepa Jayakumar |  H.Raja | Karuppaiah aka Karu Nagarajan Wiki (BJP) | Subburaman Thirunavukkarasar Wiki (Congress) | Marudhu Ganesh Wiki (DMK)

Deepa Jayakumar Personal Life
Deepa Jayakumar was born on November 10, 1974, at Poes Garden in Chennai, Tamil Nadu. She is the niece of Former Chief Minister J.Jayalalitha who passed away on 5th December 2016. Deepa's father's name is Jayakumar and Her mother's name is Vijayalakshmi. Her father passed away in the year 1995 and her mother in the year 2013. She is married to Madhavan. Deepa completed her schoolings at Adharsh Vidyalaya in Chennai. Deepa completed her graduation in B.A. at Madras University and graduated in M.A. English from Madurai Kamarajar University in India.
Initially, she worked as a sub-editor at New Indian Express for some time and then moved to the UK in the year 2010. She then graduated in M.A. in International Journalism at Cardiff University in Wales.
Deepa Jayakumar Political Entry
After the demise of former Cheif Minister J.Jayalalitha, there are plenty of political changes going on in Tamil Nadu. Deepa, who is the niece of J.Jayalalitha, on request of some senior citizens of AIADMK party wanted to contest in the election and do service for the Tamil People. But her entry was opposed by many people. Her husband Jayakumar opposed her and started a party against her and said that he will also be contesting in the election.
Deepa initially named the party as MGR Amma Deepa Peravai which was later changed to AIADMK J.Deepa Peravai. She nominated in R.K.Nagar By-Election earlier which was cancelled and now she again nominated her name as a contestant for the R.K. Nagar By-Election which is scheduled on 21st of December, 2017.
Read Candidates Biography: E. Madhusudhanan Wiki | Deepa Jayakumar |  H.Raja | Karuppaiah aka Karu Nagarajan Wiki (BJP) | Subburaman Thirunavukkarasar Wiki (Congress) | Marudhu Ganesh Wiki (DMK)

Deepa Jayakumar Wiki
| | |
| --- | --- |
| Name | Deepa Jayakumar |
| Nickname | Deepa |
| Profession | Politician |
| Father's Name | Jayakumar |
| Mother's Name | Vijayalakshmi |
| Date of Birth | 10 November 1974 |
| Age | 43 |
| Hometown | Chennai, Tamil Nadu, India |
| Nationality | Indian |
| Married | Yes |
| Husband Name | Madhavan |
| Current City | Chennai, Tamil Nadu, India |
Deepa Jayakumar Gallery
Read other biographies: H.Raja | Piyush Manush | Thirumugan Gandhi | Arun Krishnamurthy