B. Jeyamohan (Writer) Wiki, Biography, Age, Books, Novels, Movies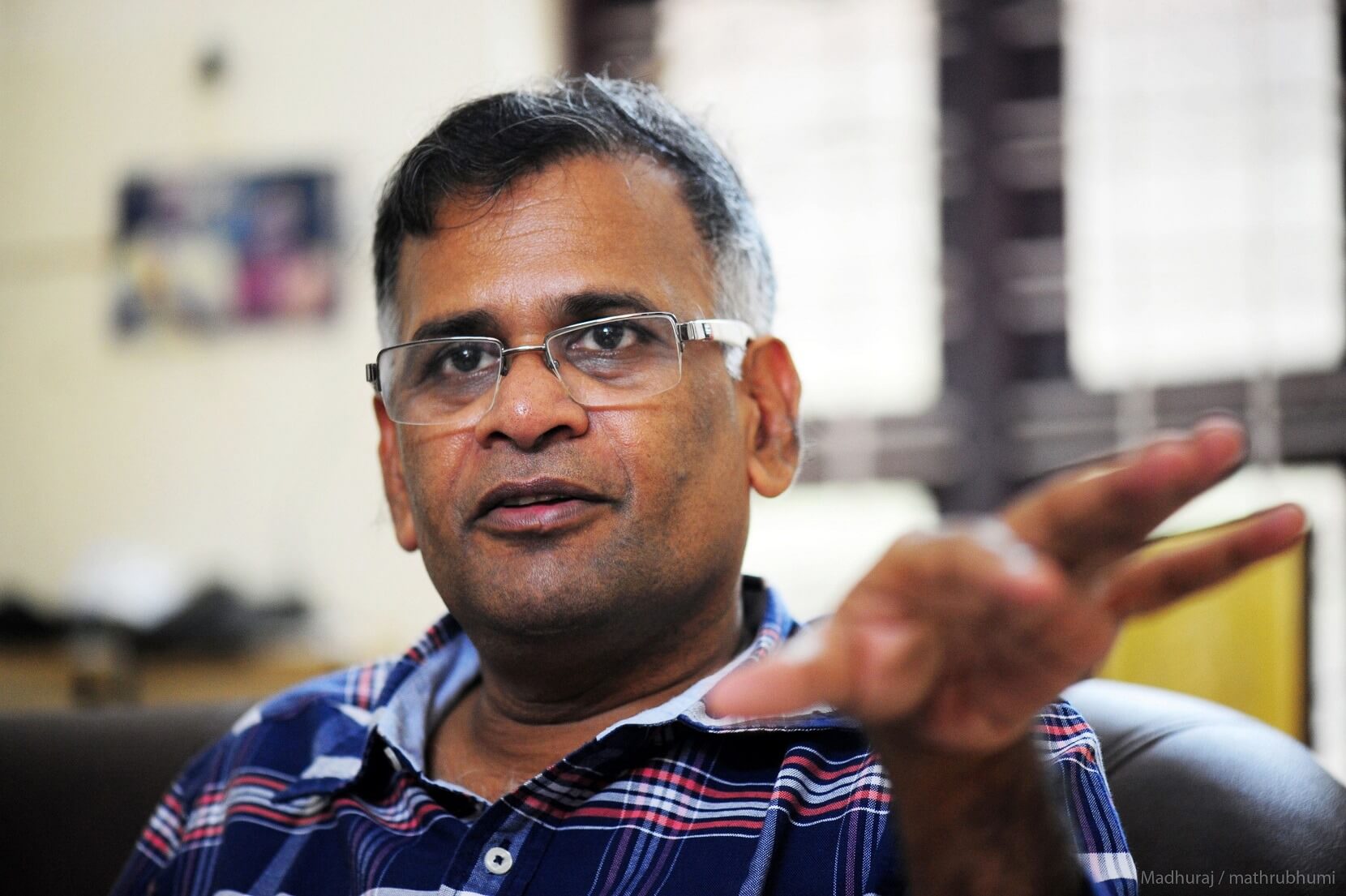 B. Jeyamohan also pronounced as Jayamohan is a renowned writer of Tamil and Malayalam languages. He is also known as a literary critic from Nagercoil in Kanyakumari District, the south Indian state of Tamil Nadu. Vishnupuram is his well known and critically acclaimed work. His other famous novels include Rubber, Pin Thodarum Nizhalin Kural, Kanyakumari, Kaadu, Pani Manithan, Eazhaam Ulagam and Kotravai. He is deeply influenced by the works of great humanitarian thinkers Leo Tolstoy and Mohandas Karamchand Gandhi. In 2014 Jayamohan started his most ambitious work Venmurasu, a modern narration of the epic Mahabharata. Check out below for B. Jeyamohan (Writer) Wiki, Biography, Age, Family, Books, Novels, Movies, Images, and More.
Read other Biographies: Swaminathan Gurumurthy | P. Vetrivel | Arvind Kejriwal | Bharatiya Janata Party | Merin Joseph
B. Jeyamohan (Writer) Details
B. Jayamohan was born on 22 April 1962 in Nagercoil, Tamil Nadu, India. He was born to S.Baguleyan Pillai and B.Visalakshi Amma in the village Arumanai, Nagercoil. He was inspired by his mother for his literary works and considers her as goddess Saraswathi. He has 2 siblings, an elder brother, and a younger sister. Due to his father transfers, they lived in different parts of Tamil Nadu and south Kerala. He completed his commerce studies at Pioneer Kumarasamy College in Nagercoil, he became a victim of depression following his dearest friend death. After a series of incidents, he took up a temporary job at the Telephones department in Kasargode. His correspondence with senior Tamil writer Sundara Ramasami started during this period and he maintained the relationship till his death.
In 1987, the journal Kollippaavai published his poem Kaidhi. The same year, Nadhi was published in Kanaiyazhi. Bodhi and Padugai were his next published ones. Padugai was praised by critics. Jeyamohan wrote his first full-fledged novel Rubber in 1988 which revealed the ecological and sociological impact of rubber cultivation in Kerala and Tamil Nadu. The novel was awarded Akilan Memorial prize. In the year 1991, Jeyamohan married Arunmozhi Nangai, and the couple has two children. Jeyamohan has worked in Department of Telecommunications at different places of Tamil Nadu.
B. Jeyamohan Biography
| | |
| --- | --- |
| Name | B. Jeyamohan |
| Real Name | B. Jeyamohan |
| Nickname | B. Jeyamohan |
| Profession | Indian Film Writer, Novelist, and critic |
| Date of Birth | 22 April 1962 |
| Age | 56 |
| Zodiac sign | Yet to be Updated |
| Father Name | S. Baguleyan Pillai |
| Mother Name | B. Visalakshi Amma |
| Religion | Hindu |
| Educational Qualification | Yet to be Updated |
| School | Yet to be Updated |
| College | Yet to be Updated |
| Hobbies | Reading Books and Listening Music |
| Hometown | Nagercoil, Tamil Nadu, India |
| Nationality | Indian |
| Married | Yes |
| Wife Name | Arunmozhi Nangai |
| Current City | Yet to be Updated |
B. Jeyamohan Facebook: https://www.facebook.com/Jeyamohan-189102654440188/
B. Jeyamohan Twitter: Yet to be updated
B. Jeyamohan Instagram: Yet to be updated
B. Jeyamohan Bibliography
Jayamohan Novels
Rubber(1990)
Vishnupuram (1997)
Pin Thodarum Nizhalin Kural (1999), inspired by the rise and fall of Nikolai Bukharin, a contemporary examination of power, purpose and morals/righteousness
Kanyakumari (2000)
Kaadu (2003) (translated into English as The Forest by Janaki Venkatraman)
Eazhaam Ulagam (2003)
Anal Kaatru (2009)
Iravu(2010)
Ulogam (2010), The Metal, analyzing the psyche of an assassin
Kanninilam
Vellai Yanai(2013) – the Fictionalized account of the first labor movement of India in the backdrop of Casteism, British Rule and the Madras Famine
Ashokavanam (in progress)
Jayamohan Epics
Kotravai (2005) – The Goddess of the Paalai land, a re-interpretation of the Tamil epic Silappadhikaram
Venmurasu – Novel series based on Mahabharata
Mudharkanal – Published online January – February 2014
Mazhaippadal – Published online March-May 2014
Vannkkadal – Published online June to August 2014.
Neelam – Published online August to September 2014
Prayagai – Published online October 2014 to January 2015
Venmugil Nagaram – Published online February to May 2015
Indraneelam – Published online June to August 2015
Kaandeepam – Published online September to November 2015
Veiyon – Published online December 2015 to early March 2016
Panniru Padaikkalam – Published online March 2016, to June 2016
Solvalar Kaadu – Published online July 2016 to September 2016
[Kiratham] – Published online October 2016 to January 2017
Maamalar – Published online February 2017 to May 2017
Neerkolam – Published online October 2017 to August 2017
Ezhuthazhal – Published online September 2017, OnGoing
Jayamohan Short Story Collections
Thisaigalin Naduvey (1992)
Mann (1993)
Aayirangaal Mandabam (1998)
Koondhal (2003)
Jeyamohan Sirukathaigal (2004)
Jeyamohan Kurunovelgal (2004), Novellas
Nizhalvelikkadhaigal (2005), also titled as Devadhaikadhaigalum Peikkadhaigalum
Visumbu (2006), science fiction stories
Oomaichennaai (2008)
Aram (2011)
Eeraaru Kaalkondezhum Puravi
Venkadal
Plays
Children's literature
Pani Manidhan (2002), The Ice Man (Yeti)
Non-fiction
Jayamohan  Literary criticism
Novel – 1992
Tharkaala Malayala Kavidhaigal, on contemporary Malayalam poetry – 1992
Asokamithran Arubathandu Niraivuvizha malar, souvenir volume for writer Asokamithran's sixtieth birthday celebrations – 1993
Sundara Ramasami Niraivuvizha malar (1994), souvenir volume for writer Sundara Ramasami's sixtieth birthday celebrations
Naveena Thamizhilakkiya Arimugam (1998), an introduction to modern Tamil literature
Naveenathuvathirku pin Thamizh kavidhai (1999), Post-modern Tamil poetry, with focus on Poet Devadevan
Sanga Chittirangal, vignettes from Tamil Sangam poems
Munsuvadugal
Merku Chaalaram, introduction to Western literature
Indraya Malayala Kavidhaigal (2002), on contemporary Malayalam poetry
Nedumpathaiyoram (2002), translated compilation of editorials originally published in the Malayalam publications Mathrubhumi and Bashaboshini
Ilakkiya Munnodigal Varisai (2003), a collection of seven volumes on pioneering modern Tamil litterateurs[60]
Ullunarvin Thadathil (2004)
Samakaala Malayala Kavidhaigal (2005), on contemporary Malayalam poetry
Ilakkiya Uraiyaadalgal Pettigal (2005), interviews and dialogues with modern Tamil writers
Aazhnathiyai Thedi (2006)
Eezha Ilakkiyam Oru Vimarsana Paarvai (2006), criticism of Eelam literature
Kanneerai Pinthodardhal (2006) – Following the trail of tears, a review of 22 Indian novels
Kamandala Nadhi – Nanjilnadan Padaippulagam (2007) – on Tamil writer Nanjil Nadan
Ezhudhum Kalai (2008) – The art of writing
Puthiya Kaalam (2009)
Kadaitheruvin Kalaignan (2010) – on Tamil writer A Madhavan
Pookkum Karuvelam – Poomaniyin Padaippulagam (2011) – on writer Poomani
Oliyalaanadhu – Devadevanin Padaippulagam (2012) – on poet Devadevan
Ezhudhiyavanai Kandupidithal – Ilakkiya Vivadha Katturaigal
Philosophy/Spirituality
Hindu Gnana Marabil Aaru Dharisanangal (2002), the six visions of Hinduism
Indhiya Gnanam (2008)
Siluvayin Peyaraal, In the Name of the Cross, discourse on Jesus Christ the philosopher
Hindu Madham: Sila Vivadhangal
Politics
Saatchi Mozhi (2008), discourses on politics
Indraya Gandhi (2009), treatise on the continuing relevance of Gandhi and Gandhian principles
Anna Hazare (2011), (Collection of essays describing Anna Hazare's Gandhian philosophy and fight against corruption)
Culture
Pannpadudhal
Thannuraigal
Kodungollur Kannagi (2005), on the cult of Kannagi – translated from Malayalam
Ethirmugam (2006), collection of debates on the Internet 2000 – 2006
Memoirs/biographies
Su.Ra Ninaivin Nathiyil – on his mentor Sundara Ramasami
Logi (Logithadas Ninaivu) (2008) – on Malayalam filmmaker Lohithadas
Life/experience
Vaazhvile Oru Murai
Nigazhdhal Anubavak Kurippugal – 2007
Je Chaitanyavin Sinthanai Marabu – 2007
Indru Petravai – 2008, Notes from the diary
Naalum Pozhudhum
Ivargal Irundhargal
Purappadu – 2013
Travels
Pulvelidesam – 2008, Grasslands, travels in Australia
General
Nalam – essays on health – 2008
Malayalam
Nedumpathaiyoram – 2002
Uravidangal
Nooru Simhasanangal
Film/screenwriting
B. Jeyamohan Tamil Movies
Kasthuri Maan – 2005
Naan Kadavul – 2009
Angadi Theru – 2010
Neerparavai – 2012
Kadal – 2013
6 Mezhuguvarthigal – 2013
Kaaviya Thalaivan – 2014
Papanasam – 2015
Yemaali – 2018
2.0 – 2018
Thalapathy 62 – 2018
B. Jeyamohan Malayalam Movies
Ozhimuri – 2012
Kaanchi – 2013
1 By Two – 2014
Naku Penda Naku Taka – 2014
B. Jeyamohan  Awards
Akilan Memorial Prize (1990)
Katha Samman (1992)
Sanskriti Sammaan (1994)
Paavalar Virudhu from Isaignani Ilayaraja Ilakkiya Peravai (2008)
Mugam award for 'Aram' collection
Fiction award for 'Kotravai' from The Tamil Literary Garden (2009)
Kerala Film Critics Association award for Best Scriptwriter for Ozhimuri (2012)
T A Shahid Memorial award (2012) for Best Scriptwriter for Ozhimuri
Kannadhasan award from Kovai Kannadasan Kazhagam (2014)
Iyal award from The Tamil Literary Garden for 2014 (presented 2015)
Refused to accept the Padmashri award from Government of India (2016) on the grounds preserving his integrity
A translation of his short story (Periyamma's words) was awarded 2017 Close Approximations Fiction Prize from critically acclaimed Asymptote
Lifetime achievement award, Codissia Book Festival(Coimbatore) – 2017
B. Jayamohan Writer Images
Read other Biographies: E. Madhusudhanan | Marudhu Ganesh | AR Murugadoss | Karthick Naren | Milind Rau |  Shankar | Arun Prabhu Purushothaman