Ashish Vidyarthi Wiki, Biography, Age, Family, Movies, Television, Awards, Images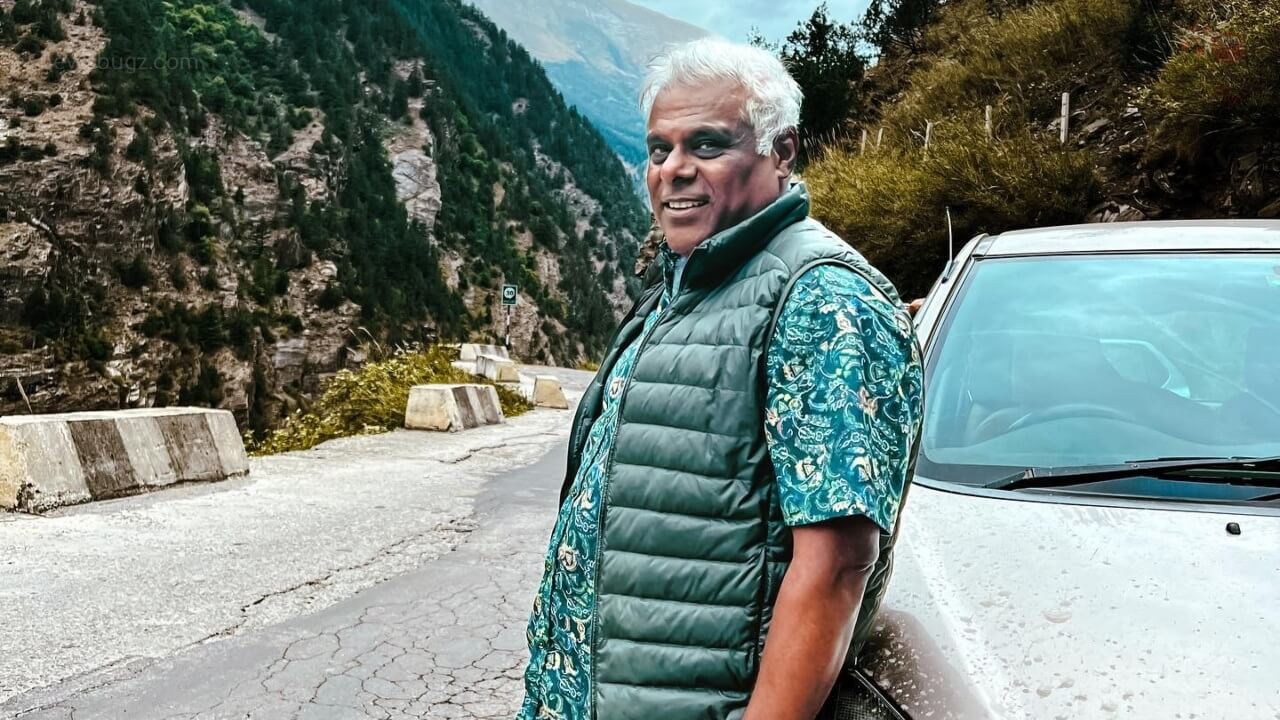 Ashish Vidyarthi is an Indian actor, who works in multiple language films, mainly in Bollywood, Tamil, Kannada, Telugu, Malayalam, English, Bengali, Odia, and Marathi cinema. He is well known for his antagonist characters. He was first noticed by the television audience in the Sai Paranjpye comedy series Hum Panchi Ek Chawl Ke. He started acting in minor roles in regional television serials. He started his film career with a supporting role in the Kannada film Anand. His break in Hindi films came with Naajayaz and Baazi. On April 2023, he made the headline for marrying Rupali Barua, daughter of yesteryear actress Shakuntala Barua. Their wedding photos made viral on social media.
Biography
Name
Ashish Vidyarthi
Real Name
Ashish Vidyarthi
Nickname
Ashish
Profession
Actor, Food Vlogger
Date of Birth
19 June 1962
Age (as of 2023)
Listening to Music, Singing, Traveling, and Trying New Restaurants.
Zodiac sign
Gemini
Family
Father: Govind Vidyarthi (Theatre Artist)
Mother: Reba Vidyarthi (Kathak Dancer)
Brother: 1 (Elder)
Marital Status
Married (April 2023)
Affairs/Girlfriends
NA
Wife
Rajoshi Vidyarthi (Actress)
Rupali Barua
Children
Son: Arth Vidyarthi
Religion
Hindu
Educational Qualification
Graduate
School
Shiv Niketan School, Delhi
Bharatiya Vidya Bhavan's Mehta Vidyalaya, New Delhi
College
Hindu College, New Delhi
National School of Drama, New Delhi
Hobbies
Listening to Music, Singing, Traveling and Trying New Restaurants.
Birth Place
Delhi, India
Hometown
Delhi, India
Current City
Bengaluru, Karnataka, India
Nationality
Indian
Social Media Profiles
Interesting Facts
He is a vlogger who shares his food vlogs on his self-titled youtube channel.
His Instagram account has more than 1.2 M followers (as of May 2023).
Movies
| Year | Film | Role | Language |
| --- | --- | --- | --- |
| 1991 | Kaal Sandhya | | Hindi |
| 1993 | Sardar | V. P. Menon | Hindi |
| 1994 | Drohkaal | Commander Bhadra | Hindi |
| 1994 | 1942: A Love Story | Ashutosh | Hindi |
| 1995 | Oh Darling Yeh Hai India | | Hindi |
| 1995 | Baazi | Shiva | Hindi |
| 1995 | Naajayaz | Ratan | Hindi |
| 1996 | Jeet | Inspector Pratap Bidyarthi | Hindi |
| 1996 | Is Raat Ki Subah Nahin | Ramanbhai | Hindi |
| 1997 | Vishwavidhaata | Rai Bahadur | Hindi |
| 1997 | Bhai | David | Hindi |
| 1997 | Mrityudaata | Mohanlal | Hindi |
| 1997 | Daud: Fun on the Run | Inspector Nair | Hindi |
| 1997 | Koi Kisise Kum Nahin | Ashok | Hindi |
| 1997 | Ziddi | ACP Inder Saxena | Hindi |
| 1998 | Major Saab | Shankar | Hindi |
| 1998 | Soldier | Dinesh Kapoor | Hindi |
| 1998 | Yamraaj | Raja Bhaiya | Hindi |
| 1998 | Pape Naa Pranam | Assassin | Telugu |
| 1999 | AK-47 | Dawood | Kannada |
| 1999 | Haseena Maan Jaayegi | Bhai | Hindi |
| 1999 | Arjun Pandit | Haldiram | Hindi |
| 1999 | Benaam | Damak | Hindi |
| 1999 | Trishakti | Rajeshwar Raja | Hindi |
| 1999 | Jaanwar | Inspector Arjun Pradhan | Hindi |
| 1999 | Vaastav: The Reality | Vitthal Kaanya | Hindi |
| 2000 | Badal | Jeet Ram | Hindi |
| 2000 | Kaho Naa... Pyaar Hai | Inspector Shinde | Hindi |
| 2000 | Bichhoo | Devraj Khatri | Hindi |
| 2000 | Gaja Gamini | Scientist | Hindi |
| 2000 | Joru Ka Ghulam | Pappu Anna | Hindi |
| 2000 | Refugee | Makkad | Hindi |
| 2000 | Shesh Thikana | Soumyabrata | Bengali |
| 2000 | Nightfall (2000 film) | Kopton | English |
| 2000 | Madhuri | Kishan | Telugu |
| 2001 | Vande Matharam | Major Sujan | Kannada |
| 2001 | Kotigobba | Mark Anthony | Kannada |
| 2001 | Ek Rishtaa: The Bond of Love | Hari Singh | Hindi |
| 2001 | Jodi No.1 | Sir John | Hindi |
| 2001 | Kyo Kii... Main Jhuth Nahin Bolta | Kalra Bhai | Hindi |
| 2001 | Dhill | DSP Shankar | Tamil |
| 2002 | Sainika | Captain Badshah | Kannada |
| 2002 | Ansh: The Deadly Part | Dawoo | Hindi |
| 2002 | Ab Ke Baras | Rudra Singh | Hindi |
| 2002 | Chor Machaaye Shor | Tito | Hindi |
| 2002 | Hum Kisise Kum Nahin | Pillai | Hindi |
| 2002 | Kya Yehi Pyaar Hai | Raj Patil (Raja) | Hindi |
| 2002 | Shararat | Arora | Hindi |
| 2002 | Waah! Tera Kya Kehna | Charles | Hindi |
| 2002 | Zindagi Khoobsoorat Hai | Gul Baloch | Hindi |
| 2002 | Baba | 'Ippo' Ramaswamy | Tamil |
| 2002 | Ezhumalai | Nagalingam | Tamil |
| 2002 | Bagavathi | Easwarapandiyan | Tamil |
| 2002 | Thamizh | Periyavar | Tamil |
| 2002 | Thamizhan | GK | Tamil |
| 2002 | Sreeram | Encounter Shankar | Telugu |
| 2002 | Law & Order | Don Chota | Telugu |
| 2002 | Nandhi | Different Dyani alias Dhanraj | Kannada |
| 2003 | Ramachandra | "Sodukku" Chockalingam | Tamil |
| 2003 | Ek Aur Ek Gyarah | Cobra | Hindi |
| 2003 | LOC: Kargil | Col. Ravindran, 2 Rajputana Rifles | Hindi |
| 2003 | Border Hindustan Ka | Major Ansari | Hindi |
| 2003 | Ek Hindustani | | Hindi |
| 2003 | Fun2shh... Dudes in the 10th Century | Ghoshal | Hindi |
| 2003 | Jaal: The Trap | Naved Rabhani | Hindi |
| 2003 | Love at Times Square | | Hindi |
| 2003 | Talaash: The Hunt Begins... | Police Commissioner | Hindi |
| 2003 | Dum | Thilak | Tamil |
| 2003 | Bombaiyer Bombete | Mr. Gore | Bengali |
| 2003 | CID Moosa | Commisioner Gowri Shankar | Malayalam |
| 2004 | Durgi | | Kannada |
| 2004 | Kismat | Vikas Patil | Hindi |
| 2004 | Shikaar | Kanwar Singh | Hindi |
| 2004 | Agnipankh | Pakistani Army Commander | Hindi |
| 2004 | AK-47 | Dadua | Hindi |
| 2004 | Ghilli | Sivasubramanian | Tamil |
| 2004 | No | DK | Telugu |
| 2004 | Gudumba Shankar | Kumaraswamy | Telugu |
| 2004 | Vijayendra Varma | Nanaji | Telugu |
| 2004 | Jananam | Muthukaruppan | Tamil |
| 2005 | Spiritual Reality | | Hindi |
| 2005 | Thunta | | Kannada |
| 2005 | Aakash | | Kannada |
| 2005 | Nammanna | | Kannada |
| 2005 | Jurm | Police Inspector | Hindi |
| 2005 | Eashwar Mime Co. | | Hindi |
| 2005 | Athanokkade | Anna | Telugu |
| 2005 | Narasimhudu | Police Commissioner | Telugu |
| 2005 | Aaru | Naadhan | Tamil |
| 2006 | Thandege Thakka Maga | Dharmanna | Kannada |
| 2006 | Suntaragaali | Kalinga | Kannada |
| 2006 | Mere Jeevan Saathi | Torani | Hindi |
| 2006 | E | Dr. Ramakrishnan | Tamil |
| 2006 | Annavaram | Tapas Balu | Telugu |
| 2006 | Raraju | Kotireddy Venkat Reddy | Telugu |
| 2006 | Agantakudu | | Telugu |
| 2006 | Brahmastram | Rudra | Telugu |
| 2006 | Pokiri | Sub-inspector Pasupathy | Telugu |
| 2006 | Simhabaludu | | Telugu |
| 2006 | Madhu | Siluvai | Tamil |
| 2006 | Chess | SP Swaminathan | Malayalam |
| 2006 | Kranti | Vishnu | Bengali |
| 2006 | Nayak The Real Hero | Kali Gunda | Bengali |
| 2007 | Aa Dinagalu | M. P. Jayaraj | Kannada |
| 2007 | The Challenge | Sanju | Hindi |
| 2007 | Awarapan | Rajan D. Malik | Hindi |
| 2007 | Main Rony Aur Jony | | Hindi |
| 2007 | Azhagiya Tamil Magan | Anand Chelliah | Tamil |
| 2007 | Malaikottai | Chittappa Kanthaswamy | Tamil |
| 2007 | Chirutha | Mattu Bhai | Telugu |
| 2007 | Athidhi | Danny Bhai | Telugu |
| 2007 | Tulasi | | Telugu |
| 2007 | Lakshyam | DIG Ajay Prakash | Telugu |
| 2007 | Manikanda | Balasingam | Tamil |
| 2007 | Black Cat | Prabhul Kumar | Malayalam |
| 2007 | Rakshakan | CI Sugathan | Malayalam |
| 2007 | Bhasmasuran | | Malayalam |
| 2007 | Greptar | Balaram Ghosh | Bengali |
| 2007 | Kalishankar | Debu Soren | Bengali |
| 2007 | Kalishankar | Debu Soren | Odia |
| 2008 | Janumada Gelathi | | Kannada |
| 2008 | Citizen | | Kannada |
| 2008 | Paramesha Panwala | | Kannada |
| 2008 | Mr. Black Mr. White | | Hindi |
| 2008 | Jimmy | | Hindi |
| 2008 | Dhanam | Cop #1 | Tamil |
| 2008 | Ellam Avan Seyal | Anbukkarasu | Tamil |
| 2008 | Kuruvi | Konda Reddy | Tamil |
| 2008 | Theekuchi | Pasupathy Pandian | Tamil |
| 2008 | Bheemaa | Commissioner | Tamil |
| 2008 | Konchem Koththaga | | Telugu |
| 2008 | Kantri | Seshu | Telugu |
| 2008 | Ontari | Lal Mahankali | Telugu |
| 2008 | Satyameba Jayate | | Bengali |
| 2008 | Neel Rajar Deshe | | Bengali |
| 2009 | Bhagyada Balegara | | Kannada |
| 2009 | Devru | | Kannada |
| 2009 | Lahore | Mohd. Akhtar | Hindi |
| 2009 | Adada Enna Azhagu | Alexander | Tamil |
| 2009 | Red Alert: The War Within | Velu | Hindi |
| 2009 | Kisse Pyaar Karoon | Police Inspector | Hindi |
| 2009 | Yodha | Patil | Kannada |
| 2009 | Solla Solla Inikkum | Madhiyazhagan | Tamil |
| 2009 | Kanthaswamy | Pallur Paramajothi Ponnusamy (PPP) | Tamil |
| 2009 | Ganesh Just Ganesh | Mahadevan | Telugu |
| 2009 | I G Inspector General | | Malayalam |
| 2009 | Daddy Cool | Bheem Bhai | Malayalam |
| 2010 | Black Stallion | Irumban John | Malayalam |
| 2010 | Khuda Kasam | Home Minister | Hindi |
| 2010 | Porki | Ali Bhai | Kannada |
| 2010 | Varudu | Raj Gopal | Telugu |
| 2010 | Jothegara | ACP Veerabhadra | Kannada |
| 2010 | Rakta Charitra | Mandha | Hindi |
| 2010 | Uthamaputhiran | Periyamuthu Gounder | Tamil |
| 2010 | Vallakottai | Nachiyar | Tamil |
| 2010 | Adhurs | Dhanraj | Telugu |
| 2011 | Ala Modalaindi | John Abraham | Telugu |
| 2011 | Fighter | DIG | Bengali |
| 2011 | Chattam | Shivaji | Telugu |
| 2011 | Mappillai | Devaraj | Tamil |
| 2011 | Kandaen | Narmadha's Father | Tamil |
| 2011 | Udhayan | Ayyanaar | Tamil |
| 2011 | Madatha Kaja | Nanda | Telugu |
| 2011 | Dam 999 | Durai | English |
| 2011 | Gosainbaganer Bhoot | Habu Sardar | Bengali |
| 2012 | Khokababu | Ballu | Bengali |
| 2012 | Jaaneman | Sridhar | Bengali |
| 2012 | Bachelor Party | Chettiyar | Malayalam |
| 2012 | Awara | Indrajit | Bengali |
| 2012 | Barfi! | Mr. Chatterjee | Hindi |
| 2012 | Challenge 2 | Guru Nayak | Bengali |
| 2012 | Thiruthani | | Tamil |
| 2012 | Shakti | Police Officer | Kannada |
| 2012 | Genius | Peddapuram Peda Babu | Telugu |
| 2013 | Naayak | CBI Officer | Telugu |
| 2013 | Baadshah | Crazy Robert | Telugu |
| 2013 | Bachchan | Mahesh Deshpande | Kannada |
| 2013 | Minugurulu | Father | Telugu |
| 2013 | Kevvu Keka | Gottam Gopalakrishna | Telugu |
| 2013 | Bhai | David | Telugu |
| 2013 | Chandee | Minister | Telugu |
| 2013 | Abdul Kalam | Dr. Yuvraj Shankar | Telugu |
| 2013 | Greeku Veerudu | P. R. | Telugu |
| 2013 | R... Rajkumar | Manik Parmar | Hindi |
| 2013 | Nirbhoya | | Bengali |
| 2014 | Bachchan | Inspector | Bengali |
| 2014 | Haider | Brigadier T. S. Murthy | Hindi |
| 2014 | Punha Gondhal Punha Mujra | Himself | Marathi |
| 2014 | Autonagar Surya | | Telugu |
| 2014 | Amara | Sethupathi | Tamil |
| 2014 | Teenkahon | Joydeb Guha | Bengali |
| 2014 | Rang Rasiya | Raja Thirumal | Hindi |
| 2014 | Aagadu | SP Mallikarjun | Telugu |
| 2014 | Meaghamann | Sharma | Tamil |
| 2014 | Avatarachi Goshta | Himself | Marathi |
| 2015 | Siddhartha | Yeshwanath | Kannada |
| 2015 | Yennai Arindhaal | Golden Raj | Tamil |
| 2015 | Anegan | Commissioner Gopinath | Tamil |
| 2015 | Rahasya | Sachin Mahajan | Hindi |
| 2015 | Gopala Gopala | Shankar Narayana | Telugu |
| 2015 | Jadoogadu | | Telugu |
| 2015 | Kick 2 | Settlement Durga | Telugu |
| 2015 | Sher | Chhota | Telugu |
| 2015 | En Vazhi Thani Vazhi | | Tamil |
| 2015 | Besh Korechi Prem Korechi | Dibakar | Bengali |
| 2015 | James Bond | Don | Telugu |
| 2015 | Once Upon a Time in Bihar | Madan Sharma | Hindi |
| 2015 | Agnee 2 | Python | Bengali |
| 2015 | Black | Biru Pande | Bengali |
| 2016 | Aligarh | Advocate Anand Grover | Hindi |
| 2016 | Angaar | | Bengali |
| 2016 | Hero 420 | | Bengali |
| 2016 | Nannaku Prematho | Kapil Sinha / Satpal Singh | Telugu |
| 2016 | Janatha Garage | Raghava's business partner | Telugu |
| 2016 | Rokto | Villain | Bengali |
| 2016 | Bollywood Diaries | Vishnu | Hindi |
| 2017 | Begum Jaan | Harsh | Hindi |
| 2017 | Radha | Home Minister | Telugu |
| 2017 | Pataki | Rudrapratap | Kannada |
| 2017 | March 22 | Muslim Maullah | Kannada |
| 2017 | Bachche Kachche Sachche | Munna | Hindi |
| 2017 | Sarkari Kelasa Devara Kelasa | Minister | Kannada |
| 2017 | Oxygen | CBI Officer | Telugu |
| 2017 | Andhhagadu | Dr. Ashish | Telugu |
| 2018 | Jole Jongole | Police Officer | Bengali |
| 2018 | Inttelligent | Venkateswara Rao | Telugu |
| 2018 | Mukhyan | Police Inspector | Malayalam |
| 2018 | Dhumketu | Commissioner Dibakar Gupta | Bengali |
| 2018 | Chalbaaz | Dada | Bengali |
| 2018 | Pantham | Defence Lawyer | Telugu |
| 2018 | Captain Khan | Abdur Rahman | Bengali |
| 2019 | iSmart Shankar | Ramamoorthy | Telugu |
| 2019 | The Lion King | Scar | Hindi |
| 2020 | Uriyattu | | Malayalam |
| 2021 | Helmet | | Hindi |
| 2021 | Tryst With Destiny (film) | | Hindi |
| 2022 | Kaun Pravin Tambe? | Coach | Hindi |
| 2022 | GoodBye | P.P. Singh | Hindi |
| 2023 | Writer Padmabhushan | Madhusudhan Rao | Telugu |
| 2023 | Kuttey | Harry | Hindi |
| 2023 | Khufiya | Ruthless Exconvict Viraj Surve | Hindi |
Television Shows and OTT Shows
| Year | Title | Role | Language | Notes |
| --- | --- | --- | --- | --- |
| 1990 | Truck Dhina Dhin | Mama | Hindi | |
| 1995 | Dastaan | Lankesh | Hindi | |
| 2016 | 24 | Roshan Sherchan | Hindi | Season 2 |
| 2016 | Kahanibaaz | Ashish Vidyarthi | Hindi | |
| 2019 | M.O.M. - Mission Over Mars | K. Murlidharan | Hindi | Web series |
| 2020 | Criminal Justice: Behind Closed Doors | Dipen Prabhu, Public Prosecutar | Hindi | Web series |
| 2021 | Sunflower | Dilip Iyer | Hindi | Web series |
| 2021 | Tryst with Destiny | Mr. Mudira | Hindi | Web series |
| 2022 | Raktanchal | Ramanand Rai | Hindi | Season 2 |
| 2022 | Rudra: The Edge Of Darkness | Jt. CP Raman Acharya | Hindi | |
| 2022 | Aar Ya Paar | Business tycoon | Hindi | |
| 2022 | TVF Pitchers | Kishen Charan Desai | Hindi | Season 2 |
| 2022 | Half Pants Full Pants | Railway guard Subbarao | Hindi | |
| 2023 | Rana Naidu | Surya Rao Naidu / Surya Mohammad Khan | Hindi, Telugu | |
| 2023 | Trial By Fire | Neeraj Suri | Hindi | |
Awards
Won
1995: National Film Award for Best Supporting Actor: Drohkaal
1996: Bengal Film Journalists' Association – Best Actor Award (Hindi): Is Raat Ki Subah Nahin
1997: Star Screen Award for Best Villain: Is Raat Ki Subah Nahin
2005: Filmfare Award for Best Villain – Telugu: Athanokkade
2012: Nandi Award for Best Character Actor: Minugurulu
Nominated
1996: Filmfare Best Villain Award for Drohkaal
1997: Filmfare Best Villain Award: Is Raat Ki Subah Nahin
2012: SIIMA Award for Best Actor in a Negative Role (Telugu): Ala Modalaindi
2014: SIIMA Award for Best Actor in a Negative Role (Kannada): Shivajinagara
Images
Take a look at the latest photos of Ashish Vidyarthi,